What Do the New Sales Numbers Say About Battery Vehicles?
According to data collected by Bloomberg, U.S. sales of hybrid, plug-in, and battery-only automobiles rose 23 percent to upwards of 287,000 units. Full-size pickups also made huge gains as it rose 22 percent.
The rise has been fueled by Ford Motor's (NYSE:F) increased selection of hybrid and plug-in models and demand for Tesla Motors's (NASDAQ:TSLA) luxury brand of battery sedans. Alan Baum, principal of Baum & Associates, told Bloomberg that "Ford is obviously increasing sales, but what's more important is they're now a serious player in this space."
While Toyota Motor's (NYSE:TM) Prius continues to reign supreme over the hybrid outings from other auto companies, Toyota is likely to come under increasing pressure as competition mounts from companies like Ford. Increasingly stringent environmental rules in the U.S., Europe, and Japan — which call on cars to offer more vehicles with less carbon emissions while consuming less gas — means that the gap between the Prius and car models like the Ford Fusion Hybrid will continue to shrink. In fact, the hybrid and plug-in versions of Ford's Fusion sedan and C-Max wagon increased their deliveries to 46,197 — over five times the volume from a year earlier.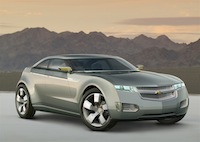 Regardless of the push towards hybrid vehicles, full-size pickups continued their impressive run as deliveries exceeded 928,000 in the first half — more than triple the sales of electric vehicles. Trucks are the top source of profit for companies such as General Motors  (NYSE:GM) and Ford, which make an average of $8,000 to $10,000 profit per pickup compared to $3,000 for a mid-size car.
Tesla's Model S, priced at $69,900, likely sold around 8,931 units, but does not report sales on a monthly basis. The estimate reveals the possibility that Tesla has been overtaken in the first half volume lead after leading in the first quarter. GM's Volt, which gets about 38 miles on battery power before gasoline is used, had a 12 percent increase to 9,855 units in the first half. Nissan Motor's Leaf sold 9,839 units putting it just behind the Volt.
Baum estimates that electric-drive sales could have grown nearly 27 percent in the first half of this year.