What Does a Hybrid Battery Pack Mean for Tesla? This Analyst Knows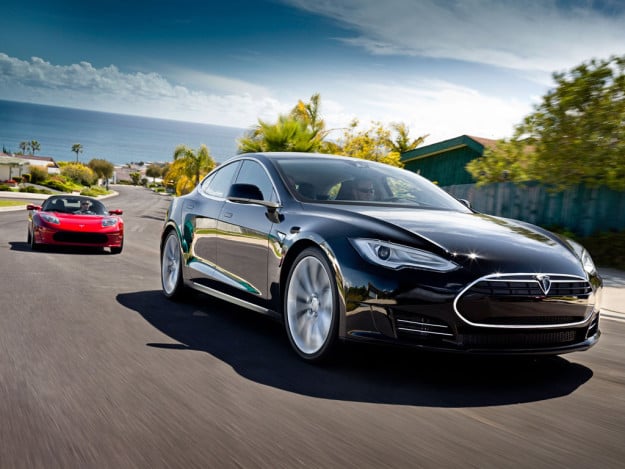 Hints about what Tesla Motors (NASDAQ:TSLA) CEO Elon Musk has up his sleeve has one analyst upping his rating on the stock, and as word spreads, others may soon follow.
According to Street Insider's Monday report, Global Equities analyst Trip Chowdhry made some changes to his Tesla stock assessment, reiterating his Overweight rating on the stock but raising his price target from $150 to $225. The reason behind his increased optimism lies in Tesla's recent patent applications, specifically what Street Insider says is an "Electric Vehicle Extended Range Hybrid Battery Pack System."
The patent applications were filed in July, and Chowdhry believes these hybrid battery packs in development could play a serious role in Tesla's future auto success.
The analyst argues a hybrid battery pack could increase the range of Tesla vehicles by approximately 40 percent and increase battery life by approximately 30 percent, reflecting a significant improvement for Tesla not only because it offers drivers a longer range of battery life, but also because it helps alleviate concern about electric vehicles running out of charge when consumers are out of the range of a Supercharger station.
Musk has undoubtedly kept his promise about Superchargers popping up all over the U.S. and now outside its borders, but certain buyers are still concerned about the risk Tesla vehicles pose when they run out of charge.
Although the electric car company remains adamant about the safety of its vehicles — and Musk has even committed to taking a cross-country road trip himself via Model S to prove to consumers that they are safe traveling long distances in an electric vehicle — Tesla is still combatting naysayers who believe that driving long distances in the company's electric cars isn't only inconvenient and impractical, it's also unsafe.
Chowdhry thinks the new hybrid battery pack will give Tesla consumers and investors more reason to celebrate and less reason to worry in the future. He predicts the new technology will become available for the Model S in the mid-2015, but that date is still unconfirmed by the company. When the technology is released, Tesla may see its shares soar farther, but for now, shares of Tesla are still at all-time highs of around $169.88 Monday morning as of 11:45 a.m. Eastern.
Don't Miss: 6 Concept Cars Well Worth the Investment.