Why Choosing GM's Next CEO May Get Complicated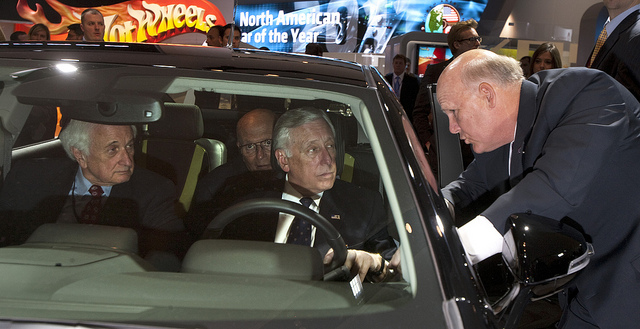 Picking a successor to the highly respected CEO of General Motors (NYSE:GM) would never be an easy decision, but the automaker's board has a large pool of candidates with no clear front-runner, leading observers to consider the negatives of such an open-ended race. Tension among its top executives is the last thing GM needs in the coming years.
The discussion about the next chief executive at GM has intensified since April, when stock filings showed Dan Akerson did not acquire any new vesting interests. Akerson's reign would therefore end in 2015, leaving the upcoming year as the time for GM to pick the respected chief executive's successor. According to a report by Reuters, many company officials believe Akerson has accomplished most of his goals at GM and, as a sitting board member, will consider succession a final task of his tenure.
The complexity of selecting his successor comes from the lack of an obvious candidate. Most auto industry analysts and insiders see numerous viable candidates at GM, while an outsider — as Akerson himself was — could become the wild card at any point in the process. The case for succeeding Akerson could be made for four GM executives.
Head of GM North America Mark Reuss, Vice Chairman Steve Girsky, global product development chief Mary Barra, and chief financial officer Dan Ammann are all contenders to get behind the wheel steered so steadily by Dan Akerson. Of the four, only Ammann is in his forties, while the other three are either 50 or 51. Reuss has been considered a logical choice because of his expertise in automobiles, but Akerson's role as outsider — and his successful reign as CEO — might lead him to persuade the board to choose another non-automotive figure.
In an interview with Automotive News, Akerson said he values someone who is "innately bright, intellectually curious," more than a CEO who is an agent of change.  Reuss, who is the leading GM executive and considered a bona fide car expert, may not have the same hunger for change as other candidates.
The open race strikes some industry experts as a cause for concern. Any one of the four who isn't chosen could decide to leave the company. The Yale School of Management's Jerry Sonnenfeld related an anecdote about Henry Ford II in explaining to Reuters why the situation could complicate GM's operations. Ford told Sonnenfeld that his company strived to follow GM's smooth succession plan, the news agency reports.
"These four at GM are being set up with a horse race instead of a relay race," Sonnenfeld told Reuters.
Don't Miss: 10 Cities With the Most Fuel-Efficient Cars.