Will a Next-Gen Mustang Roll Off Ford's Assembly Line Next Year?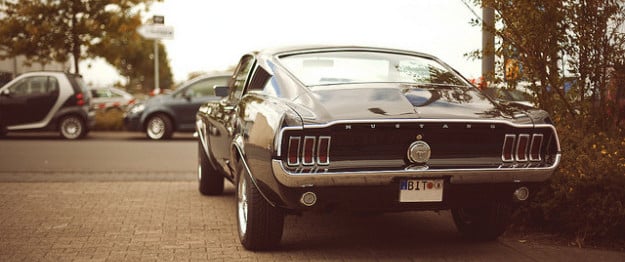 Ford's (NYSE:F) Flat Rock plant will lie idle for two weeks longer than usual this summer, preparing for production of its midsize Fusion and, according to rumors, the next-generation Mustang. Sales of the all-new Fusion have soared 25 percent this year, and Ford is struggling to keep up with the increased demand. The company could also be attempting to breathe new life into its iconic pony car, the Mustang, whose sales have hit historic lows in the United States in recent years.
Nine years ago, the automaker moved Mustang production to the Flat Rock Assembly Plant, located approximately 25 miles southwest of Detroit, from Dearborn, Michigan. In those years, 1 million of the vehicles have rolled off assembly lines. Now, with an investment of $555 million, Ford is looking to expand the flexibility of that plant so it can take advantage of its increasing market share and growing demand in North America. In April, Ford reported its best quarter in more than a decade, thanks to the strength of its new models, and a 15 percent increase in first quarter-profit in its North American division.
Next year, the company is expected to begin churning out the next-generation Mustang — coinciding with the car's 50th anniversary — and soon after it will prepare for production of the next-generation full-size Lincoln MKS, as union and supplier sources told The Detroit News. However, the automaker will not confirm its specific production plans, and it has yet to publicly acknowledge its plans to redesign the Mustang. Jim Tetreault, Ford's vice president of North American manufacturing, did hint that changes at Flat Rock were underway during a telephone interview with that publication last week.
"Our goal is to launch Fusion, put on a second shift and increase production before we have a different cycle of products this time next year," Tetreault said. "It's a little bit early to be specific, but there will be some changes at Flat Rock next year."
The Flat Rock plant currently runs on one shift, producing the current-generation Mustang. Once the assembly plant is reworked during the one-month shutdown, which will begin in the last week in June, a second shift of 1,400 workers will be brought in to manufacture the Fusion starting in August, which is also produced at Ford's three-shift factory in Hermosillo, Mexico.
Ford has upgraded many of its automobile assembly plants in recent years, including the Michigan Assembly Plant in Wayne and Cuautitlán Assembly Plant in Mexico, which will allow the company to adjust specific vehicle production to meet changing demand. For Flat Rock, improvements came in the form of a new paint shop and a flexible body shop that will reduce retooling time needed during model changeovers and allow the plant to manufacture multiple vehicles on different car platforms.
All these changes are providing evidence to support rumors that Ford will begin manufacturing the next-generation Mustang and the new Lincoln MKS next year. Furthermore, Tetreault told Flat Rock workers at an event in September that if Ford needed to 'build a new vehicle, you'll be in the running for it." So if rumors are correct those new vehicles will be the redesigned Mustang and MKS — a car critical to Lincoln's hope of success. Both cars will compete in key sectors; the Mustang will stand up against rival General Motor's (NYSE:GM) new Corvette Stingray, while the Lincoln MKS is aimed at competing with Toyota's (NYSE:TM) luxury Lexus cars.
Follow Meghan on Twitter @MFoley_WSCS
Don't Miss: Will The New Chrysler 200 Make Good On Fiat's Investment?