Will Robots Lead to Safer Cars for Ford?
According to Ford (NYSE:F), they are the world's first automaker to employ the use of robotic automated drivers for the purposes of testing durability.
The need for robotic drivers was necessitated by the ever-increasingly durability of Ford's trucks. As the durability of the trucks increased, it became important to subject the trucks to tougher and tougher testing tracks. While test drivers initially rejected the idea when it was first discussed, it became increasingly apparent that the test surfaces were becoming too much for human testers.
Some of the harsher test tracks call for drivers to go over miles of curbs, potholes, and other difficult terrain. Eventually, it simply became too much for human drivers. "There are three routes we don't let drivers go on at all anymore. It was too hard on them," Dave Payne, manager of vehicle development operations, said. He also explained that the automated driving system is completely separate from Ford's work on driverless cars.
Three years ago, Ford went to Autonomous Solutions to inquire about automated drivers. The company, located in Logan, Utah, produces automated vehicles for mining, agriculture, and the military. For Ford's purposes, they asked about a system that was portable — in order to move from car to car — with increased durability. The talks resulted in Ford implementing ASI's automated technology in the durability testing of cars — a first.
The robotic test vehicles are controlled via GPS antenna, transmitters, and receivers along with cameras, control units, and a motor attached to the steering wheel. While a computer executes the travel plan, everything is monitored from a base capturing all of the data coming from the vehicle. The cars have remote switches at the base which allow users to shut down all vehicles and if communication is lost between user and vehicle, the robotic system automatically shuts off.
The price tag for the system comes in at just under $100,000 per vehicle, but can be set up using Ford's engineers, requiring no outside hiring. The robots are able to run for 11.5 hours straight meaning a car test-run of 150,000 miles and ten years of ownership is possible in only three months.
ASI CEO Mel Torrie is in discussions with other automakers regarding the possibility of implementing a similar system.
Some automakers have inquired about the possibility of using the robots to test crash safety scenarios where the car may get destroyed, opening up the possibility that the technology could some day allow for more comprehensive car safety testing.
Here's how Ford has traded so far this year: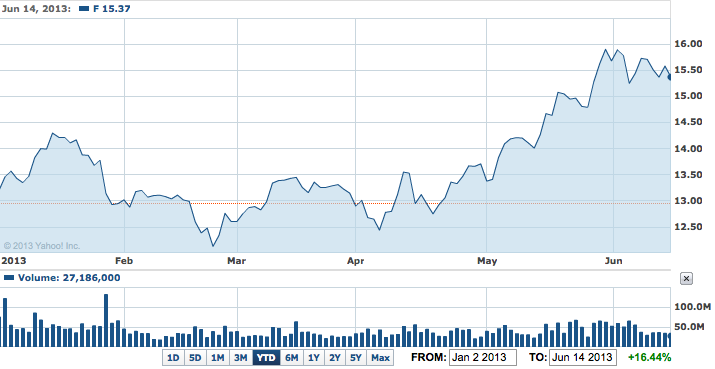 Don't Miss: 9 Most Popular Cars To Drive On a Lease.