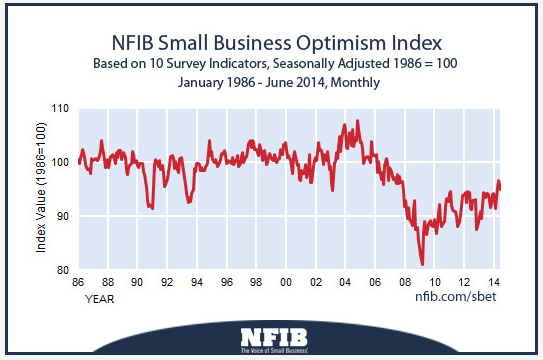 After a strong three-month rally and improved employment conditions, small business optimism declined last month as capital outlays and planned spending faded along with expectations for better business conditions. Making matters worse, economic growth is expected to remain subdued amid the typical political environment.
The National Federation of Independent Business, a nonprofit small business association representing small and independent businesses, reported that its Small Business Optimism Index fell to 95 in June, down 1.6 points from the prior month. May was the best reading for the index since September 2007. At the beginning of 2013, the index posted a reading of 88.9. The latest reading is still below the pre-recession average of 100.
"While reports of actual net job creation per firm were positive, consumer and business owner optimism remain low, with both spending growth and sales expectations weak. This means there are more jobs but not much more output," said NFIB chief economist Bill Dunkelberg. "With election day months away and no sign of change in Washington, economic growth for the rest of the year will continue to be sub-par. The unemployment rate will fall more due to people leaving the labor force than to jobs being created and fewer hands making GDP."
Overall, two of the index components improved in June, six declined, and two were unchanged. NFIB owners increased employment by an average of 0.05 workers per firm last month (seasonally adjusted), the ninth positive month in a row and the best string of gains since 2006. However, just 54 percent of small business owners reported capital outlays, down 1 point from the previous month. The percent of owners planning capital outlays in the next three to six months also declined 2 points to 22 percent.
As seen in the chart above, small businesses are still most concerned with taxes and government regulation, with both remaining mostly unchanged from a year earlier. In fact, 22 percent of businesses say taxes are their top problem, while 20 percent say government red tape. Only 13 percent are most concerned about sales, one of the lowest readings since December 2007.
"The number of allegedly 'contrived scandals' in Washington grows, none are being resolved and many are growing in severity," said Dunkelberg. "The latest Reuters/University of Michigan poll shows 10 percent of consumers characterizing government policy as 'good' and over 50 percent say 'poor'. Other than 'economic conditions,' the 'political climate' is the most frequently cited reason for not expanding businesses. This is the major impediment to a stronger recovery. Owners are experiencing far too much uncertainty and no sign that the powers that be will get any of it resolved."
More From Wall St. Cheat Sheet:
Follow Eric on Twitter @Mr_Eric_WSCS