With shares of Google (NASDAQ:GOOG)(NASDAQ:GOOGL) trading around $576, is GOOG an OUTPERFORM, WAIT AND SEE, or STAY AWAY? Let's analyze the stock with the relevant sections of our CHEAT SHEET investing framework:
T = Trends for a Stock's Movement
Google is a global technology company focused on improving the ways people engage with information. The business is based on the following areas: search, advertising, operating systems and platforms, and enterprise. The company generates revenue primarily by delivering online advertising. Google is a search giant with most of the market share largely because of its execution and delivery. An increasing number of consumers and companies worldwide are coming online, which will surely increase the amount of eyes on the company's ads and, in turn, advertising revenue. At this rate, look for Google to remain on top of the Internet world.
A BBC editor is providing a look into what it's like to be on the opposite side of one of Google's European Union removal requests after one of his blog posts was removed from some searches. The BBC is the United Kingdom's public broadcasting service. It is part entertainment and part news agency. Like many other news organizations, the BBC has a website with results that can show up in a Google search depending on the topic of the query. The BBC just received a notice from Google informing it that a blog post by one of its editors had been removed from search results on Google's European versions. BBC economics editor Robert Peston wrote the blog post that Google removed from its results. He responded by writing another blog post detailing the situation. The post details the perspective from the opposite side of the request, from that of a person whose work was removed from a Google search results page. It turns out that Google removing a link from search results doesn't remove it entirely. Peston was able to find the story using another search term, showing that removals do not completely blacklist such links from all related Google searches. Google has started removing requested links by European users in light of the European Union's Court of Justice ruling that enforced that users have the right to be forgotten.
Now, a major news agency is complaining that its content is getting removed. Google was reluctant to remove links in the first place. That is why Google was the defendant in the European court case that determined individuals have "the right to be forgotten," meaning that they can request Google remove old, outdated results from its results pages. Google later denounced the ruling as "censorship" but quickly put up a form for removal requests so that it could continue to do business in European Union countries. So far, Google has received more than 50,000 requests. The tech giant has also recently started to remove links, leaving notices on affected pages and informing webmasters of the removals of their pages. The BBC received one of these emails in regards to Peston's blog post. From this incident, the aftermath of the court ruling gains a new dimension. First, that when Google removes a link due to a request, it informs the owner of the link that was removed from Google search results. As CNET noted in its coverage, this could result in the Streisand effect, whereby a removed link — or the request that one be removed — could draw more attention to it. This is especially true if the affected party decides to broadcast that they received such a notice from Google. After all, the resulting BBC post has generated some buzz online.
T = Technicals on the Stock Chart Are Strong
Google stock has been moving higher over the last couple of months. However, the stock is currently trading sideways and may need time to stabilize. Analyzing the price trend and its strength can be done using key simple moving averages. What are the key moving averages? The 50-day (pink), 100-day (blue), and 200-day (yellow) simple moving averages. As seen in the daily price chart below, Google is trading above its rising key averages which signal neutral to bullish price action in the near-term.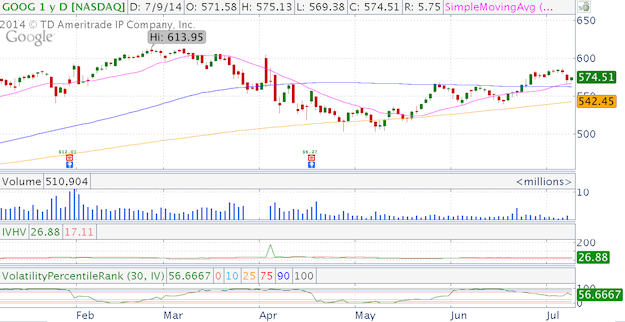 (Source: Thinkorswim)
Taking a look at the implied volatility (red) and implied volatility skew levels of Google options may help determine if investors are bullish, neutral, or bearish.
| | | | |
| --- | --- | --- | --- |
| | Implied Volatility (IV) | 30-Day IV Percentile | 90-Day IV Percentile |
| Google Options | 26.88% | 56% | 54% |
What does this mean? This means that investors or traders are buying a significant amount of call and put options contracts, as compared to the last 30 and 90 trading days.
| | | |
| --- | --- | --- |
| | Put IV Skew | Call IV Skew |
| August Options | Flat | Average |
| September Options | Flat | Average |
As of today, there is an average demand from call buyers or sellers and low demand by put buyers or high demand by put sellers, all neutral to bullish over the next two months. To summarize, investors are buying a significant amount of call and put option contracts and are leaning neutral to bullish over the next two months.
On the next page, let's take a look at the earnings and revenue growth rates and the conclusion.
E = Earnings Are Mixed Quarter-Over-Quarter
Rising stock prices are often strongly correlated with rising earnings and revenue growth rates. Also, the last four quarterly earnings announcement reactions help gauge investor sentiment on Google's stock. What do the last four quarterly earnings and revenue growth (Y-O-Y) figures for Google look like and more importantly, how did the markets like these numbers?
| | | | | |
| --- | --- | --- | --- | --- |
| | 2014 Q1 | 2013 Q4 | 2013 Q3 | 2013 Q2 |
| Earnings Growth (Y-O-Y) | -49.31% | 5% | 21.08% | -5.53% |
| Revenue Growth (Y-O-Y) | 10.38% | 16.92% | 11.94% | 15.52% |
| Earnings Reaction | -3.67% | 4.01% | 13.79% | -1.55% |
Google has seen mixed earnings and increasing revenue figures over the last four quarters. From these numbers, the markets have been pleased with Google's recent earnings announcements.
P = Average Relative Performance Versus Peers and Sector
How has Google stock done relative to its peers, Yahoo (NASDAQ:YHOO), Microsoft (NASDAQ:MSFT), Baidu (NASDAQ:BIDU), and sector?
| | | | | | |
| --- | --- | --- | --- | --- | --- |
| | Google | Yahoo | Microsoft | Baidu | Sector |
| Year-to-Date Return | 3.19% | -2.11% | 5.91% | 21.56% | 3.33% |
Google has been a relative performance leader, year-to-date.
Conclusion
Google is an Internet giant that provides valuable search and advertising services to a growing user base worldwide. The stock has been moving higher over the last couple of months, but is currently trading sideways. Over the last four quarters, earnings have been mixed while revenues have been increasing, which has left investors pleased. Relative to its strong peers and sector, Google has been an average year-to-date performer. WAIT AND SEE what Google does next.
Let's analyze the stock with the relevant sections of our CHEAT SHEET investing framework:
Using a solid investing framework such as this can help improve your stock-picking skills. Don't waste another minute — click here and get our CHEAT SHEET stock picks now.
More From Wall St. Cheat Sheet: