With shares of Amazon (NASDAQ:AMZN) trading around $328, is AMZN an OUTPERFORM, WAIT AND SEE, or STAY AWAY? Let's analyze the stock with the relevant sections of our CHEAT SHEET investing framework:
T = Trends for a Stock's Movement
Amazon serves its customers through its retail websites and focuses on selection, price, and convenience. The company also manufactures and sells Kindle devices. Amazon offers programs that enable sellers to sell their products on the company's websites, including the sellers' own branded websites, and fulfill orders through them. Amazon also provides platforms that allow authors, musicians, filmmakers, app developers, and others to publish and sell content. Online commerce has been on the rise because of the convenience, efficiency, and relatively low prices offered.
With a standoff with Hachette continuing to linger on, Amazon has attempted to appease the major publishers' authors with a potentially lucrative royalties offer. The online retail giant's months-long feud with Hachette has focused on ebook sales. Amazon wants to take home more on ebook sales from the publisher, while Hachette has said it's unwilling to oblige. Amazon has made it more difficult for shoppers to purchase Hachette books as a negotiating tactic, and even said customers looking to get some Hachette products might be better off shopping with a competitor. Through all of this, Hachette authors have been pretty unhappy, with many of them taking to social media to campaign against Amazon. So Amazon's latest tactic is an attempt to appease those writers. The so-called "everything store" is offering to let individual Hachette authors keep 100 percent of ebook revenues for their titles sold through the site during the course of the dispute, cutting the feuding corporate powers out in the process.
The Wall Street Journal reports Hachette brushed off the offer, saying: "Amazon has just sent us a brief proposal. We invite Amazon to withdraw the sanctions they have unilaterally imposed, and we will continue to negotiate in good faith and with the hope of a swift conclusion." The move puts Hachette in the awkward position of denying its authors a short-term resolution to a problem they say is affecting them. After Hachette rejected the offer, Amazon issued a statement highlighting that. "What they're really making clear is that they absolutely want their authors caught in the middle of this negotiation because they believe it increases their leverage," Amazon said. "All the while, they are stalling and refusing to negotiate, despite the pain caused to their authors. Our offer is sincere. They should take us up on it."
It's sort of a funny statement, considering Amazon certainly has leverage to gain by getting Hachette authors on their side. The move feels sort of like a child who's been denied permission by one parent trying to get the other on his side — only the child is super-powerful within the family dynamic, perhaps a kid actor or budding sports star who represents the family's best bet at fortune. (About 60 percent of Amazon's ebook sales came through Hachette last year, according to The Journal.) But it also represents Amazon acknowledging that it's upsetting more than just a dueling corporation in the process. More than 300 authors penned a letter to Amazon this summer urging the company to resolve the dispute without hurting authors, according to Publishers Weekly.
T = Technicals on the Stock Chart Are Mixed
Amazon stock has been moving higher in recent times. However, the stock is currently pulling back and may need time to stabilize before heading higher. Analyzing the price trend and its strength can be done using key simple moving averages. What are the key moving averages? The 50-day (pink), 100-day (blue), and 200-day (yellow) simple moving averages. As seen in the daily price chart below, Amazon is trading between its rising key averages which signal neutral price action in the near-term.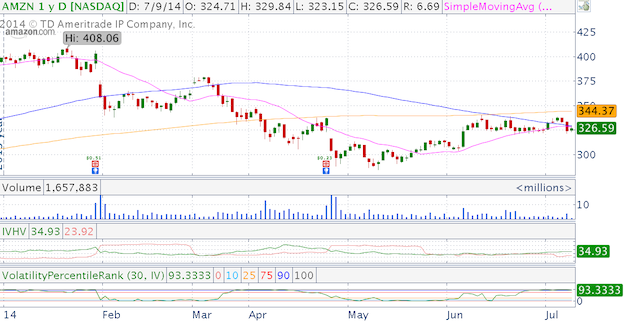 (Source: Thinkorswim)
Taking a look at the implied volatility (red) and implied volatility skew levels of Amazon options may help determine if investors are bullish, neutral, or bearish.
| | | | |
| --- | --- | --- | --- |
| | Implied Volatility (IV) | 30-Day IV Percentile | 90-Day IV Percentile |
| Amazon Options | 34.93% | 93% | 90% |
What does this mean? This means that investors or traders are buying a very significant amount of call and put options contracts, as compared to the last 30 and 90 trading days.
| | | |
| --- | --- | --- |
| | Put IV Skew | Call IV Skew |
| August Options | Average | Average |
| September Options | Average | Average |
As of today, there is an average demand from call and put buyers or sellers, all neutral over the next two months. To summarize, investors are buying a very significant amount of call and put option contracts and are leaning neutral over the next two months.
On the next page, let's take a look at the earnings and revenue growth rates and the conclusion.
E = Earnings Are Increasing Quarter-Over-Quarter
Rising stock prices are often strongly correlated with rising earnings and revenue growth rates. Also, the last four quarterly earnings announcement reactions help gauge investor sentiment on Amazon's stock. What do the last four quarterly earnings and revenue growth (Y-O-Y) figures for Amazon look like and more importantly, how did the markets like these numbers?
| | | | | |
| --- | --- | --- | --- | --- |
| | 2014 Q1 | 2013 Q4 | 2013 Q3 | 2013 Q2 |
| Earnings Growth (Y-O-Y) | 27.78% | 137.32% | -85% | -150% |
| Revenue Growth (Y-O-Y) | 22.84% | 20.31% | 19.23% | 22.36% |
| Earnings Reaction | -9.88% | -10.99% | 9.38% | 2.83% |
Amazon has seen increasing earnings and revenue figures over the last four quarters. From these numbers, the markets have had mixed feelings about Amazon's recent earnings announcements.
P = Average Relative Performance Versus Peers and Sector
How has Amazon stock done relative to its peers, eBay (NASDAQ:EBAY), Barnes & Noble (NYSE:BKS), Overstock (NASDAQ:OSTK), and sector?
| | | | | | |
| --- | --- | --- | --- | --- | --- |
| | Amazon | eBay | Barnes & Noble | Overstock | Sector |
| Year-to-Date Return | -17.60% | -7.62% | 49.16% | -51.20% | -5.81% |
Amazon has been an average performer, year-to-date.
Conclusion
Amazon is one of the largest Internet commerce companies in the world, and it aims to serve the needs of consumers, companies, and entrepreneurs around the globe. The stock has been moving higher in recent times, but is currently pulling back. Over the last four quarters, earnings and revenues have been rising. However, investors have had mixed feelings about recent earnings announcements. Relative to its peers and sector, Amazon has been an average performer year-to-date. WAIT AND SEE what Amazon does this quarter.
Let's analyze the stock with the relevant sections of our CHEAT SHEET investing framework:
Using a solid investing framework such as this can help improve your stock-picking skills. Don't waste another minute — click here and get our CHEAT SHEET stock picks now.
More From Wall St. Cheat Sheet: