With shares of AT&T (NYSE:T) trading around $35, is T an OUTPERFORM, WAIT AND SEE, or STAY AWAY? Let's analyze the stock with the relevant sections of our CHEAT SHEET investing framework:
T = Trends for a Stock's Movement
AT&T is a provider of telecommunications services in the United States and worldwide. Services offered include wireless communications, local exchange services, and long distance services. AT&T operates in four segments: Wireless, Wireline, Advertising Solutions, and Other. The communications products offered through AT&T's segments reach audiences using just about every widely adopted medium: Internet, voice, television, and mobile. As consumers continue to adopt this technology, providers like AT&T stand to see rising profits.
AT&T said its growing power will be its customers' gain. The second biggest U.S. mobile phone carrier and operator of the television and Internet business U-verse is making its case before Congress today that its $48.5 billion takeover of satellite-TV provider DirecTV (NYSE:DTV) will lower prices. "This transaction will allow us to price more competitively and provide consumers with a higher quality experience," AT&T Chief Executive Officer Randall Stephenson told a panel of the House Judiciary Committee today. The committee is examining the implications of the AT&T deal announced last month, a transaction that along with Comcast's (NASDAQ:CMCSA) plan to buy Time Warner Cable (NYSE:TWC) stands to reconfigure U.S. telecommunications. There may be too much consolidation in the industry happening too quickly, Representative John Conyers, a Michigan Democrat, said at the hearing. The concept that merging allows companies to better compete may spur further deals, he said. "What's to stop competitors from using the same argument to justify even further consolidation," he said. Future mergers "will without question result in fewer firms and may harm consumers by limiting choices and raising prices."
Consumer groups have sought to block approval, saying AT&T has failed to show that combining with the nation's largest satellite-television company wouldn't harm competition. "The proposed merger would remove a pay-TV competitor from many local TV markets — a direct competitive harm," John Bergmayer, senior staff attorney with the Washington-based policy group Public Knowledge, said in his prepared testimony for the hearing. "Yet it offers only to do some limited price-matching for three years." DirecTV is in every state, and AT&T sells U-Verse, its bundled broadband and television product, in parts of 21 states. AT&T would gain 38 million video subscribers in the U.S. and in Latin America to compete as cable-TV providers such as Comcast bulk up. AT&T and DirecTV would combine their complementary services and allow the new company to meet demands from consumers, who want bundled services that combine pay TV and broadband services, Stephenson told the panel.
"This transaction gives AT&T the capability to be a more effective competitor to cable," he said. Stephenson and DirecTV CEO Michael White are also scheduled to testify today before the antitrust subcommittee of the Senate Judiciary Committee. Members of Congress could raise objections about the effect of the merger on content providers and about the reduction of pay-TV providers in cities covered by U-Verse, Paul Gallant, an analyst at Guggenheim Securities, said in a research note. The AT&T deal, like Comcast's merger, needs approval from U.S. regulatory agencies that opposed AT&T's unsuccessful bid in 2011 for T-Mobile (NASDAQ:TMUS), saying it would damage competition. Congress doesn't have a vote on the mergers. It oversees the regulatory agencies, approving their budgets.  AT&T, in announcing its deal May 18, promised the new company wouldn't raise rates for at least three years on stand-alone broadband service and DirecTV video purchased separately. The Dallas-based provider pledged to roll out more high-speed broadband connections, a sweetener for the administration of President Barack Obama, which has made more broadband a policy priority. AT&T said it will commit to abiding by the principles of net neutrality for three years, meaning it won't block websites or selectively speed or slow Internet traffic. The Federal Communications Commission is writing new net-neutrality rules to replace regulations it passed in 2010 that were rejected by a court this year.
T = Technicals on the Stock Chart Are Mixed
AT&T stock has been range-bound over the past couple of years. The stock is currently trading sideways and may need time to stabilize. Analyzing the price trend and its strength can be done using key simple moving averages. What are the key moving averages? The 50-day (pink), 100-day (blue), and 200-day (yellow) simple moving averages. As seen in the daily price chart below, AT&T is trading between its rising key averages which signal neutral price action in the near-term.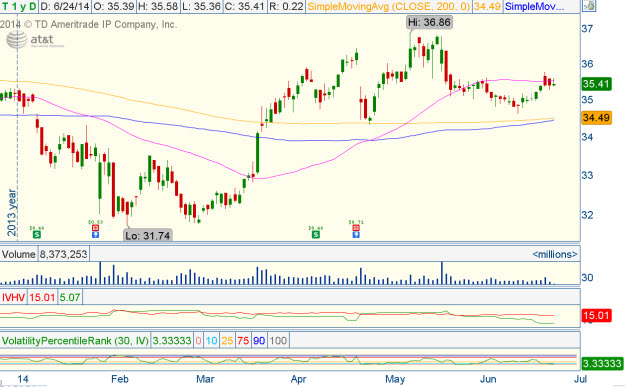 (Source: Thinkorswim)
Taking a look at the implied volatility (red) and implied volatility skew levels of AT&T options may help determine if investors are bullish, neutral, or bearish.
| | | | |
| --- | --- | --- | --- |
| | Implied Volatility (IV) | 30-Day IV Percentile | 90-Day IV Percentile |
| AT&T options | 15.01% | 3% | 0% |
What does this mean? This means that investors or traders are buying a very small amount of call and put options contracts, as compared to the last 30 and 90 trading days.
| | | |
| --- | --- | --- |
| | Put IV Skew | Call IV Skew |
| July Options | Average | Average |
| August Options | Average | Average |
As of today, there is an average demand from call and put buyers or sellers, all neutral over the next two months. To summarize, investors are buying a very small amount of call and put option contracts and are leaning neutral over the next two months.
On the next page, let's take a look at the earnings and revenue growth rates and the conclusion.
E = Earnings Are Increasing Quarter-Over-Quarter
Rising stock prices are often strongly correlated with rising earnings and revenue growth rates. Also, the last four quarterly earnings announcement reactions help gauge investor sentiment on AT&T's stock. What do the last four quarterly earnings and revenue growth (Y-O-Y) figures for AT&T look like and more importantly, how did the markets like these numbers?
| | | | | |
| --- | --- | --- | --- | --- |
| | 2014 Q1 | 2013 Q4 | 2013 Q3 | 2013 Q2 |
| Earnings Growth (Y-O-Y) | 4.48% | 291.96% | 14.29% | 7.58% |
| Revenue Growth (Y-O-Y) | 3.57% | 1.78% | 2.23% | 1.58% |
| Earnings Reaction | -3.77% | -1.15% | -1.84% | -1.14% |
AT&T has seen increasing earnings and revenue figures over the last four quarters. From these numbers, the markets have been pleased with AT&T's recent earnings announcements.
P = Excellent Relative Performance Versus Peers and Sector
How has AT&T stock done relative to its peers, Verizon (NYSE:VZ), Sprint (NYSE:S), T-Mobile (NASDAQ:TMUS), and sector?
| | | | | | |
| --- | --- | --- | --- | --- | --- |
| | AT&T | Verizon | Sprint | T-Mobile | Sector |
| Year-to-Date Return | 0.64% | 0.24% | -23.20% | -2.08% | -5.10% |
AT&T has been a relative performance leader, year-to-date.
Conclusion
AT&T is a communications and entertainment company that operates around the world. The company is making its case before Congress today that its $48.5 billion takeover of satellite-TV provider DirecTV will lower prices. The stock has been consolidating in recent years and is currently trading sideways. Over the last four quarters, earnings and revenues have been increasing, which has left investors pleased. Relative to its peers and sector, AT&T has been a year-to-date performance leader. Look for AT&T to OUTPERFORM.
Let's analyze the stock with the relevant sections of our CHEAT SHEET investing framework:
Using a solid investing framework such as this can help improve your stock-picking skills. Don't waste another minute — click here and get our CHEAT SHEET stock picks now.
More From Wall St. Cheat Sheet: