10 Drinks and Cocktail Recipes for Your March Madness Party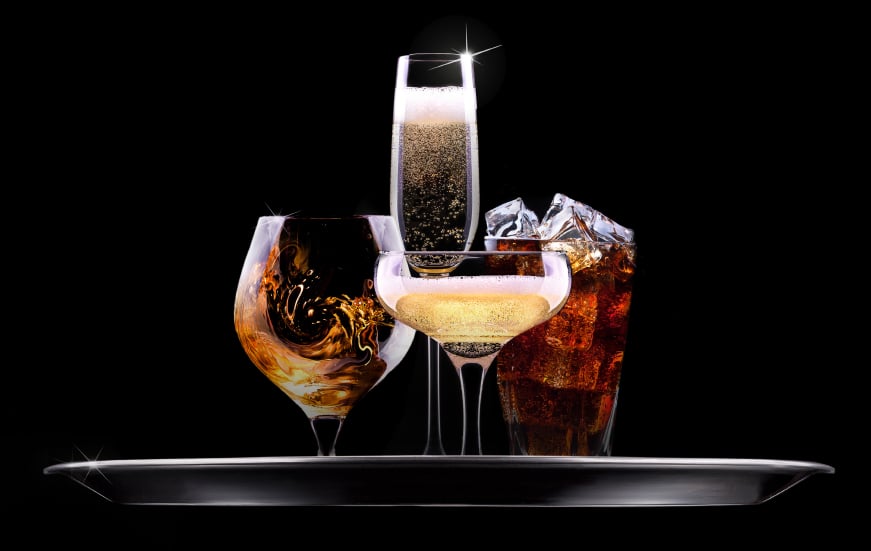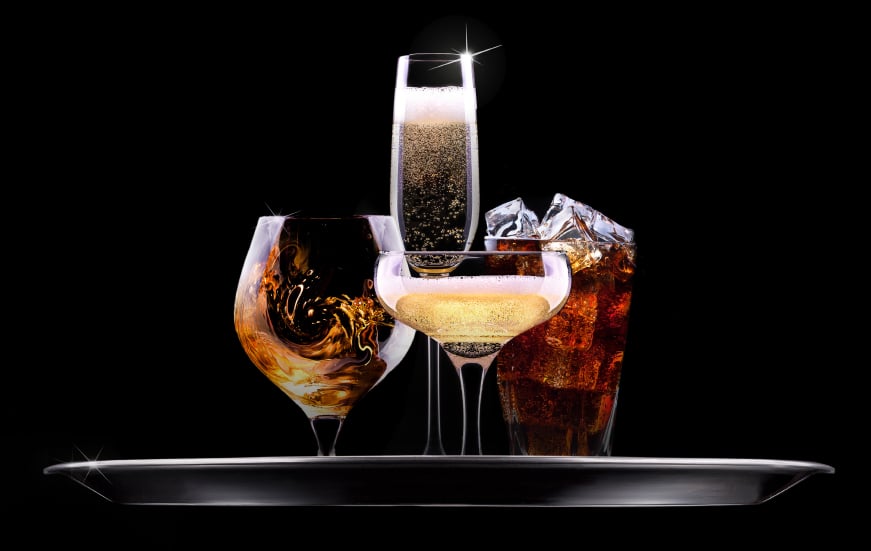 One of the largest non-official work holidays is here: March Madness. If you follow college basketball to any degree, you know that the last few weeks of March will be one part work, three parts sneaking peeks at how your bracket is doing. No matter who you think is a shoo-in for the upcoming tournament, we all know you're going to be more than a little distracted from your day job until the final game has been played.
American businesses lose billions of dollars each year in lost productivity during March Madness season, either because employees take personal days or because they're streaming the games on their computers when they should be working in Excel. The first week of March Madness is nonstop excitement – the upsets are huge, the comebacks are unbelievable, and the injuries are cringe-worthy water cooler fodder.
You might be content to sit on your couch or at the nearest Buffalo Wild Wings to watch the games, but if you're already missing work, why not go all out and throw a viewing party? You grab the chips and salsa, we'll provide the drink recipes. Grab a couple beers and whip up some of these cocktails, which are sure to please any crowd. We've talked with drink experts around the country to curate a list of cocktails and beverages that will make any party you throw worth attending.
1. Corsair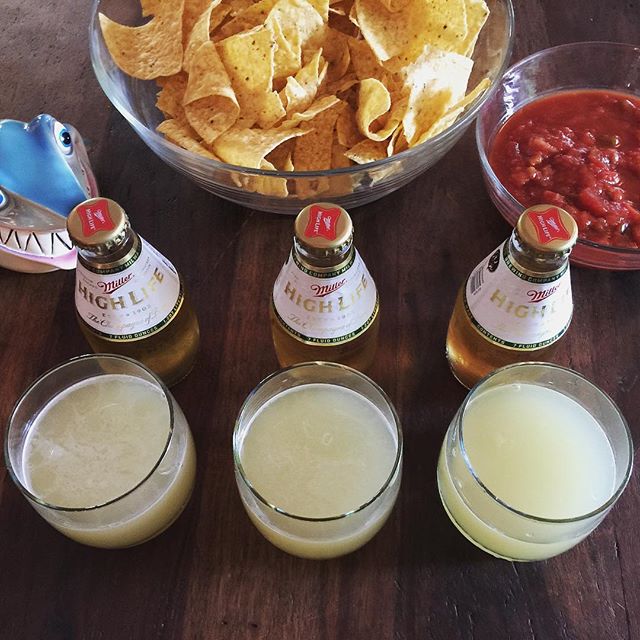 This recipe is, "A classy beer/margarita hybrid that pairs perfectly with your sports snacks," wrote Kat Rudberg, the founder of Crafted Taste. The boozy subscription company curates recipes from bartenders and creates kits to send out each month to its subscribers, so you can perfect the at-home cocktail with minimal hassle. Crafted Taste sent The Cheat Sheet a few cocktail recipes that pair well with the snacks you'll have on hand, including this number that's a spin on the Corsair originally created by Dave Arnold for his bar in New York City, Booker & Dax. If you don't want to track down the ingredients yourself, Crafted Taste offers each of their past kits for sale online.
Ingredients:
2 ounces limoncello
2 ounces blanco tequila
¾ ounce fresh lime juice
½ ounce preserved lemon syrup
10 drops Bittermen's Hellfire Shrub
2 hearty pinches of salt
Garnish: Miller High Life
Directions: Add ice to a coupe glass and swirl; set aside to chill. Pour 2 ounces of limoncello into an empty cocktail shaker; add 2 ounces of blanco tequila and ¾ of an ounce of fresh lime juice.
Then add ½ of an ounce of preserved lemon syrup, 2 hearty pinches of salt, and 10 drops Bittermen's Hellfire Shrub. Add ice and shake vigorously for 10 to 20 seconds.
Discard ice from the coupe glass, and strain the mixture into the chilled glass. Serve with a pony bottle of Miller High Life on the side.
2. Bloody Bull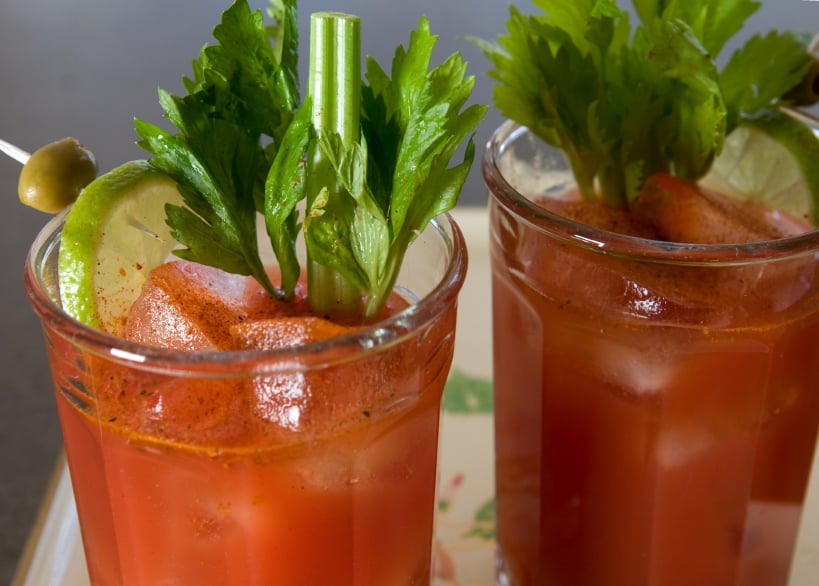 You want a drink in hand while watching the games, but you also want to pace yourself with the all-day marathons. This spin on a traditional Bloody Mary is perfect for those brunch-hour match-ups, provided by Liquor.com contributor Tony Abou-Ganim. If necessary, it'll also serve as a delicious hair of the dog remedy.
Ingredients:
2 ounces vodka
2 ounces tomato juice
2 ounces prepared beef bouillon
½ ounce of fresh lemon juice
3 dashes Worcestershire sauce
2 dashes Tabasco Sauce
1 pinch Kosher salt
1 pinch coarsely ground black pepper
Garnish: lemon wedge
Directions: Add all the ingredients to a shaker and fill with ice. Roll the shaker back and forth until everything is well mixed. Strain into a Collins glass filled with fresh ice and garnish with a lemon wedge.
3. Frozen Irish Coffee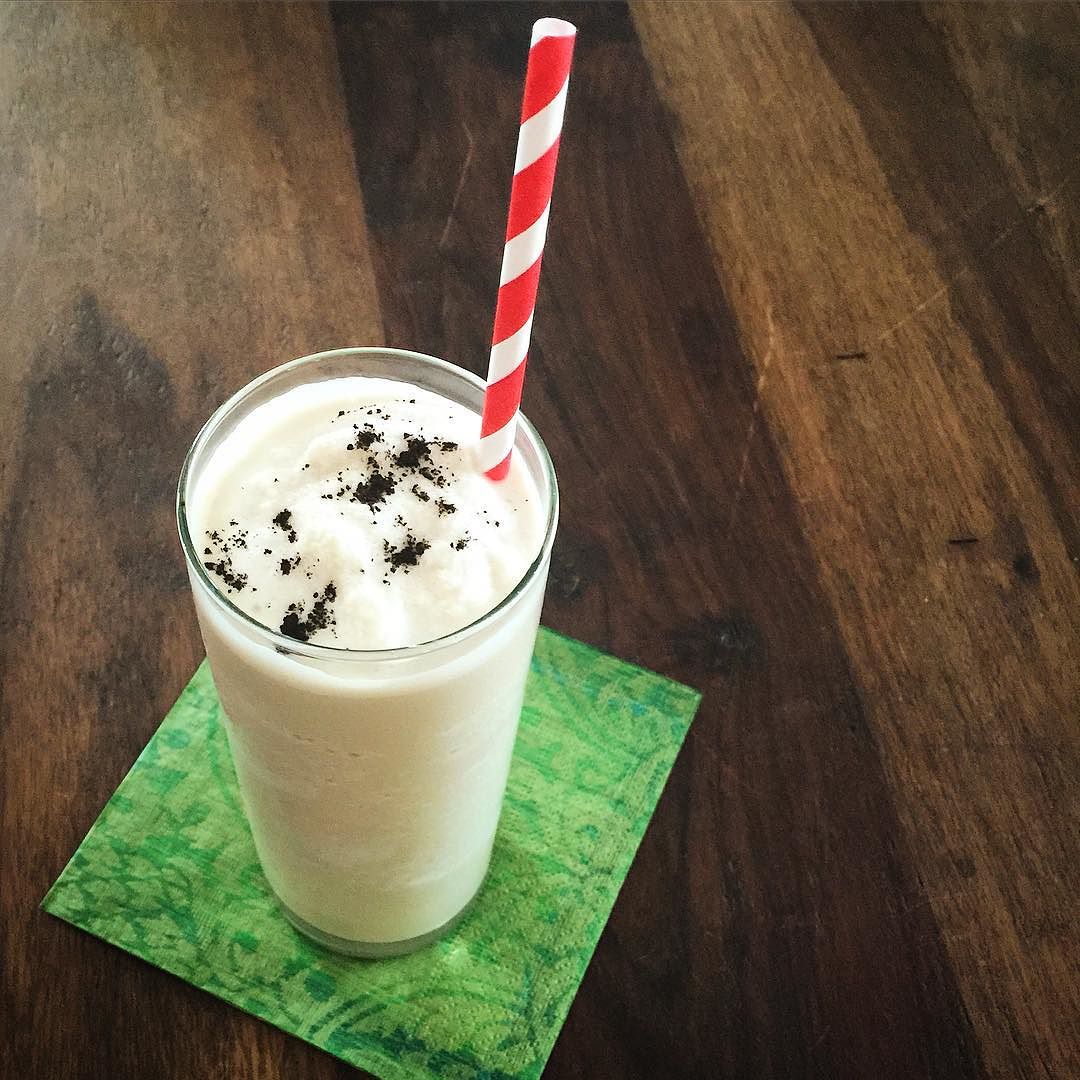 If you prefer your morning pick-me-up to be on the sweeter, caffeinated side, try this Irish coffee recipe instead of reaching for the Tabasco sauce right away. "This frozen version of the Irish Coffee cocktail comes from the Erin Rose in New Orleans, La. The Erin Rose is a popular spot for locals and industry members, located just steps from Bourbon Street," Rudberg of Crafted Taste wrote. Plus, the ice cream means it could also serve as a late-night dessert drink, just when you need to fight off the heavy eyelids from a full day of hoops action.
Ingredients:
1 scoop vanilla ice cream
2 ounces milk
1 ounce espresso
1 ounce demerara syrup
1 ounce Irish whiskey
Garnish: light dusting of ground coffee
Directions: Add scoop of vanilla ice cream to a blender, followed by milk, espresso, and demerara syrup. Add Irish whisky and 5 ice cubes, blending until an icy, smooth consistency is reached.
Pour into a highball glass and garnish with a light dusting of ground coffee.
4. The Slam Dunk
Aptly named for the season, this warm drink is created with a fix-it-and-forget-it style: Throw the ingredients into a slow cooker, allow them the warm and blend, and allow your guests to serve themselves. The beauty of this drink is it can be made in large batches, which is perfect for larger gatherings. The recipe features The Famous Grouse, a type of blended Scotch whisky, and was created by Dana Richardson at the TAG Restaurant in Denver.
Ingredients:
13 ounces The Famous Grouse
6.5 ounces The Famous Mint Tea
1 bottle Bordeaux red wine
3.25 ounces St. Elizabeth Allspice Dram
3 naval or blood oranges
13 whole star anise pods
Directions: Using a microplane grater, remove the zest from 2 of the oranges over a pot or slow cooker. Add the remaining ingredients and bring to a simmer. As soon as it begins to simmer, lower the heat to the low setting. After 5 minutes, serve into punch or tea cups.
Use a channel knife to cut the orange into twists and add one twist to each drink with a star anise pod.
5. Morgenthaler's Amaretto Sour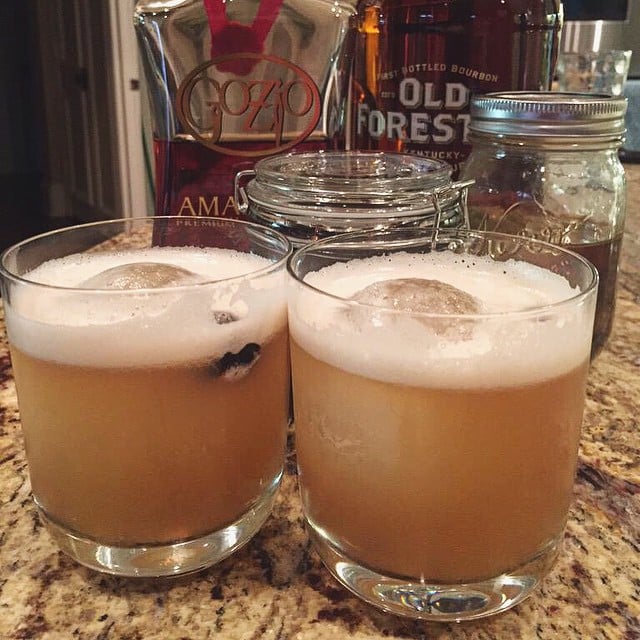 According to Rudberg, this updated version of a classic cocktail tones down the sweetness, but ups the booze factor. It's also a guaranteed crowd-pleaser. "Jeffrey Morgenthaler makes the bold claim that his Amaretto Sour is the best in the world. You be the judge," she wrote.
Ingredients:
1.5 ounces amaretto
¾ ounce bourbon; cask-proof recommended
1 ounce fresh lemon juice
1 teaspoon simple syrup; 2:1 syrup recommended
½ ounce egg white, beaten
Garnish: lemon peel twist and brandied cherry
Directions: In an empty cocktail shaker, pour 1.5 ounces amaretto. Add bourbon and fresh lemon juice, followed by simply syrup and egg white. Dry shake (no ice added) for 5 to 10 seconds, then add ice and shake vigorously for an addition 5 to 10 seconds.
Add ice to an old fashioned glass, and strain mixture into it. If desired, garnish with a lemon peel and brandied cherry.
6. The Alley-oop
Ginger, raspberries, and mint combine to create a unique cocktail, sent to The Cheat Sheet featuring George Dickel Rye Whisky. (Of course, it's your prerogative to use any rye whisky at your disposal.)
Ingredients:
1.3 ounces George Dickel Rye® Whisky
½ ounce lemon juice
¼ ounce ginger syrup
1 teaspoon simple syrup
¾ ounce sparkling water
Raspberries
Mint leaves
Directions: Muddle, shake, and double-strain into a punch glass or coupe.
Beer recommendations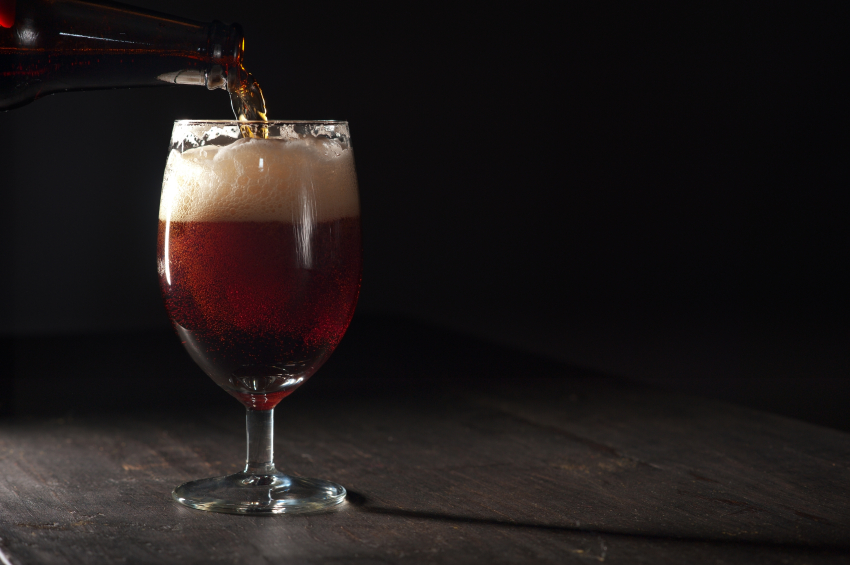 Chances are, you're also stocking up on your beer selection for the tournament. If you want to try a new selection or choose brews that are likely to please the whole crowd, alcohol delivery service Drizly has a few suggestions to offer. "We took a look back at which beers conquered the brackets last year and some of our Cinderella picks for this time around. No matter which team you're rooting for, any of these brews would be a great game-watching companion," wrote Trisha Antonsen, Drizly's chief cocktail officer and editor-in-chief, in an email to The Cheat Sheet.
"Top seeds for 2016 are a no-brainer. Coors Light, Miller Lite, Bud Light, and Stella Artois are the powerhouse favorites, all topping our charts during 2015 March Madness," Antonsen added. If you're looking for something a little more unique, Antonsen predicts these four beers could be popular this season.
Follow Nikelle on Twitter and Facebook
More from The Cheat Sheet: