Simple Recipes for 10-Ingredient Dinners You Have to Try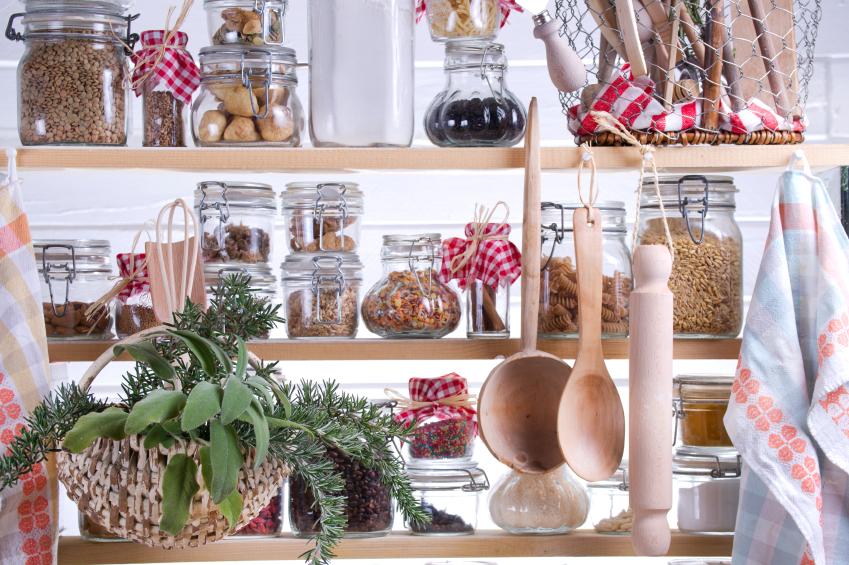 There's something romantic about minimalism. When we declutter our closets or even downsize our homes, life seems to get a little less complicated, and perhaps a little more enjoyable. The same is true of our food. There's something victorious about conquering a recipe at the Julia Child level, with unique ingredients that span page after page. But when it comes to making a decent weeknight meal, hardly anyone has time for that. This is why we all need more 10-ingredient dinners.
Good food doesn't have to be complicated to be hearty, healthy, and mouthwatering. With that in mind, we've taken a look across the internet to find these nine 10-ingredient meals. Some pair protein with vegetables and starches or grains to fill you up, while others take the one-skillet approach to comforting soup or pasta favorites.
As recipes get simpler, so do the ingredients. You won't be hunting the bottom shelves of the specialty aisles to make these meals, which means your grocery list (and the bill total) will likely be more manageable, too. Ready to get cooking instead of ordering takeout for the fourth night in a row? Here are some ideas to get you started.
1. Quick Turkey Pot Pie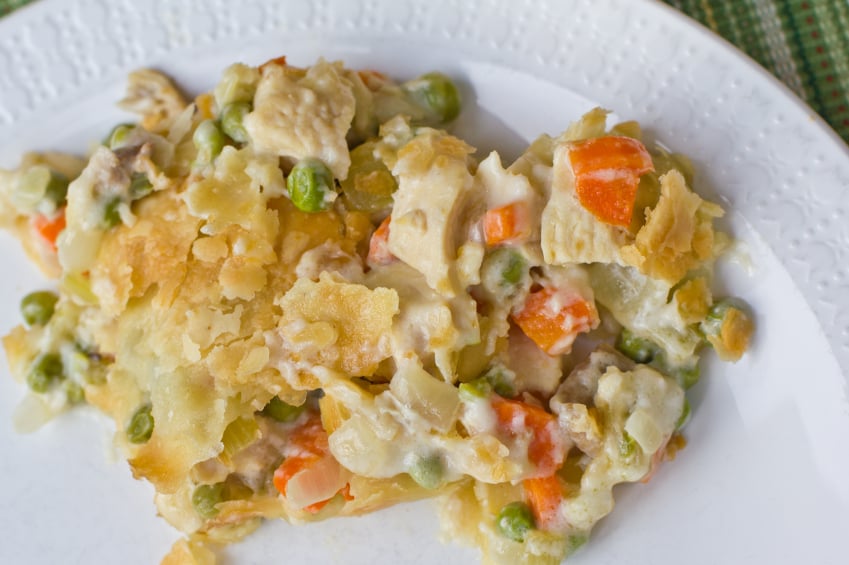 When it comes to one-dish wonders, a pot pie is about as good as it gets. This version from Women's Health uses leftover turkey breast, either from a big family get-together or a simple meal. Of course, substituting any leftover chicken you have would also make this recipe a hit. Despite the full flavors of veggies, herbs, and protein all tucked under a whole wheat tortilla, each serving is only 154 calories — making this a healthy option as well.
Ingredients:
2 tablespoons flour
1¼ cups chicken broth
1 cup crosswise-sliced broccoli florets
⅓ cup chopped red onion
⅓ cup thinly sliced baby carrot
2 teaspoons canola oil
1 teaspoon sage
¼ teaspoon ground black pepper
2 cups cooked leftover turkey breast, cut into chunks
1 (9-inch) whole-wheat tortilla
Directions: Preheat oven to 375 degrees Fahrenheit. Whisk flour with ¼ cup broth; set aside.
In a 9-inch ovenproof skillet, combine broccoli, onion, carrot, oil, sage, pepper, and salt to taste. Cook, stirring occasionally, about 5 minutes. Add reserved flour mixture and broth. Cook, whisking constantly, until thickened, about 1 minute. Add turkey. Cover with tortilla. Pierce tortilla several times with a sharp knife. Coat lightly with cooking spray.
Bake until tortilla is browned and mixture bubbles, about 20 minutes.
2. Buffalo Chicken Macaroni and Cheese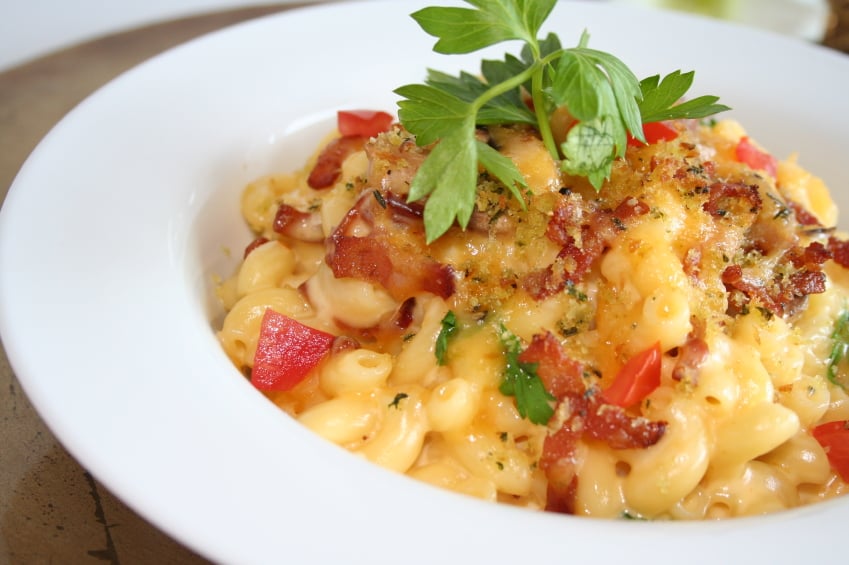 A simple ingredient list makes dinner prep easy, but so does using your slow cooker. Both are part of the magic in this recipe from Snappy Gourmet. You'll need to cook the chicken ahead of time, and chop a few veggies. But after that, all you'll need to do is toss the ingredients into your slow cooker for a few hours. The blogger suggests choosing a pasta like Barilla's Pipettes to ensure it's able to cook through. However, if you're set on using a whole-wheat pasta or another form that takes longer to cook, the blogger simply suggests cooking it before adding it to the crockpot.
Ingredients:
1 (12-ounce) can evaporated milk
1 cup milk
½ cup buffalo style hot sauce, such as Frank's
¼ teaspoon garlic powder
Salt & pepper to taste
3 cups shredded cheese (such as white cheddar, cheddar, or your favorite melting cheese)
1 cup finely chopped vegetables (such as celery, carrots, and/or onions)
1 pound precooked chicken, finely chopped
½ pound small uncooked pasta
Optional toppings
Additional chopped vegetables
Crumbled blue cheese
Shredded cheese
Directions: Coombine evaporated milk, milk, hot sauce, garlic powder, salt, and pepper in the bottom of a slow cooker. Stir in cheese, vegetables, chicken, and pasta until everything is coated.
Cover and cook on low for about 1 hour. Remove lid, stir, cover again, and cook another 30 to 60 minutes, or until pasta is fully cooked. (The blogger suggests checking intermittently to make sure the ingredients around the sides aren't burning; scraping off quickly if necessary.)
Garnish with you choice of toppings.
3. Crockpot Chicken Tacos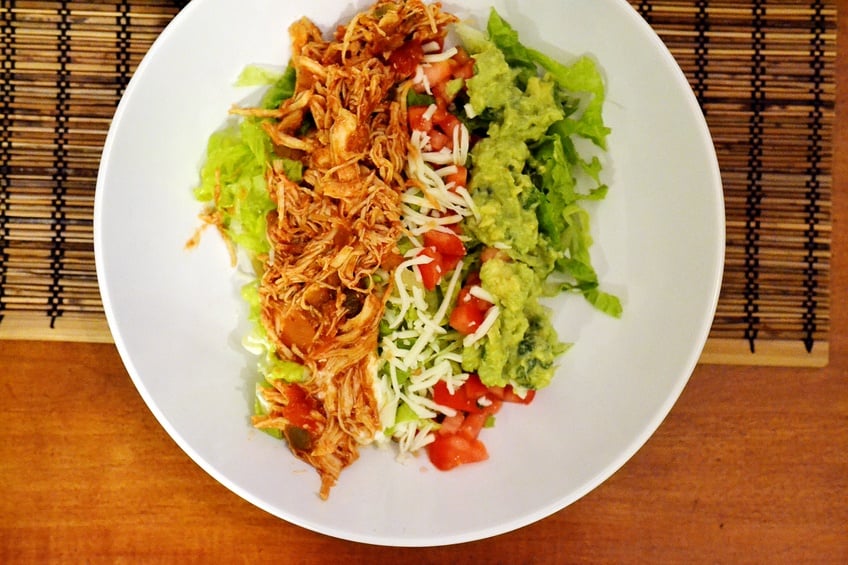 We stay in the easy land of slow cookers for this next recipe, which technically brags that it only uses three ingredients to make the taco base. While this is true, we're going to count the additional taco necessities as your extra ingredients — though everyone can agree tossing salsa, sour cream, and cheese on the table isn't a huge burden. These chicken tacos are a family favorite for the blogger at Two Healthy Kitchens, a bonus when you're trying to feed a family without much time for dinner prep.
Ingredients:
1 ½ pounds boneless, skinless chicken breasts
1 1.25-ounce packet low-sodium taco seasoning
1 16-ounce jar of your favorite salsa
For serving
Tortillas or taco shells
Shredded lettuce
Chopped tomatoes
Shredded cheese
Black beans
Corn
Chopped avocados or guacamole
Reduced-fat sour cream
Hot sauce
Directions: Place chicken in the bottom of the crock-pot along with taco seasoning and salsa. Cover and cook on low for 6 to 8 hours or high for 4 hours.
Just before serving, use two forks to shred the chicken. Stir to evenly distribute salsa throughout chicken, then serve immediately with desired toppings.
4. Tex-Mex Cheesy Beef Quiche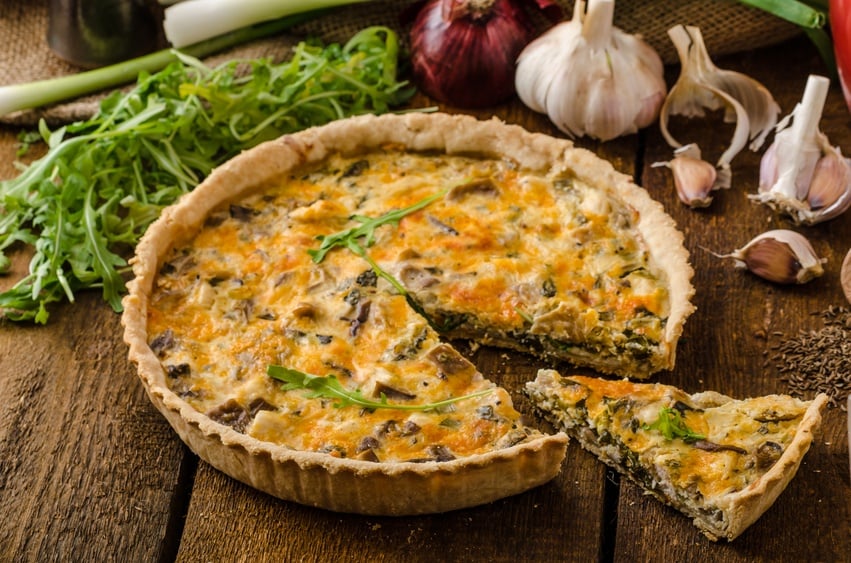 Part taco, part quiche, this crowd-pleaser from Diethood makes meal prep a snap, while also delivering hearty flavors your family will love. The process is even easier using a store-bought pie crust. For larger families, doubling this recipe would be just as easy with the same number of ingredients. You'll notice this ingredient list technically has 11 items, though we don't consider water to be much of a hassle to locate in your kitchen.
Ingredients:
1 refrigerated pie crust, room temperature
1 pound lean ground beef
4 green onions, thinly sliced, white parts only
1 (10-ounce)  can diced tomatoes with green chilies
Salt and fresh black pepper, to taste
¼ teaspoon chili powder
4 eggs
¼ cup water
¼ cup whipped cream cheese
¼ teaspoon nutmeg
2 cups Mexican style taco shredded cheese
Directions: Preheat oven to 375 degrees Fahrenheit. Coat a 9-inch pie plate with nonstick cooking spray. Arrange pie crust in plate.
In a skillet set over medium-high heat, cook beef until browned, breaking up with a spoon. Drain any accumulated fat, then stir in green onions, canned tomatoes, salt, pepper, and chili powder.
In a large mixing bowl whisk together eggs, water, cream cheese, and nutmeg until well combined. Spoon ground beef mixture into previously prepared pie crust. Pour egg mixture over beef and top with shredded cheese. Bake for 35 to 40 minutes, or until set. Let cool briefly, then serve.
5. Salsa Shrimp Lettuce Wraps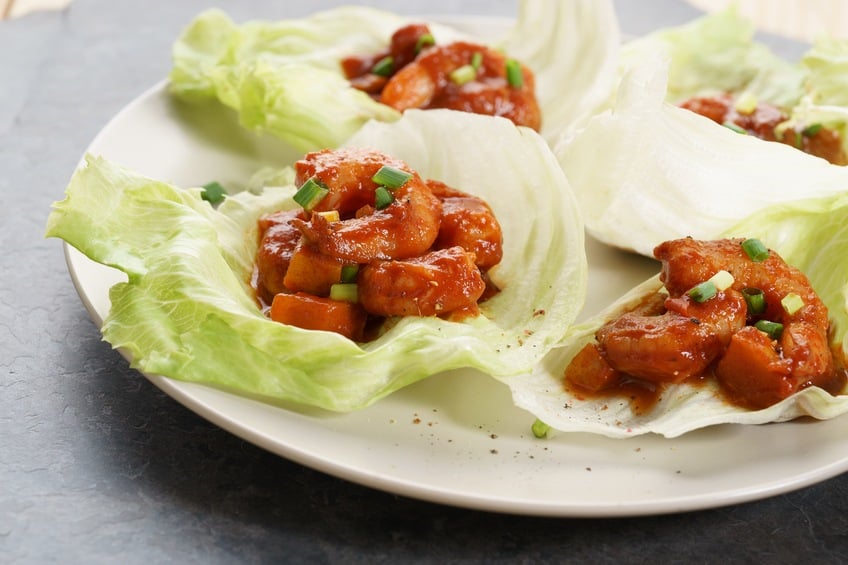 Many easy-to-make dinners are heavy on carbs, including some of these dishes. However, lighter dinner fare can still be just as satisfying and as simple to make. Case in point: These salsa shrimp lettuce wraps from Chocolate Moosey. The recipe will have you quickly cook shrimp (which takes 5 minutes, tops), then get a flavor boost with prepared mango salsa. The blogger suggests using Sabra's mango peach salsa, though your favorite version will work fine, too. It's light, but the flavors will be bold. To round it out, we suggest making rice on the side.
Ingredients:
1 tablespoon olive oil
1 clove garlic, minced
12 ounces raw medium shrimp, peeled, deveined, and patted dry
¾ cup mango peach salsa
2 teaspoons lime juice
¼ teaspoon salt
1 head Boston lettuce
1 green onion, chopped
Directions: Add olive oil to a large skillet over medium heat. Add the garlic and shrimp. Cook for 3 to 5 minutes, flipping once, until the shrimp is pink and cooked through. Remove from the heat, then add salsa, lime juice, and salt. Stir well to combine.
Separate the lettuce leaves and add shrimp filling to them. Top with green onion and serve.
6. Copycat Panera Broccoli Cheddar Soup Recipe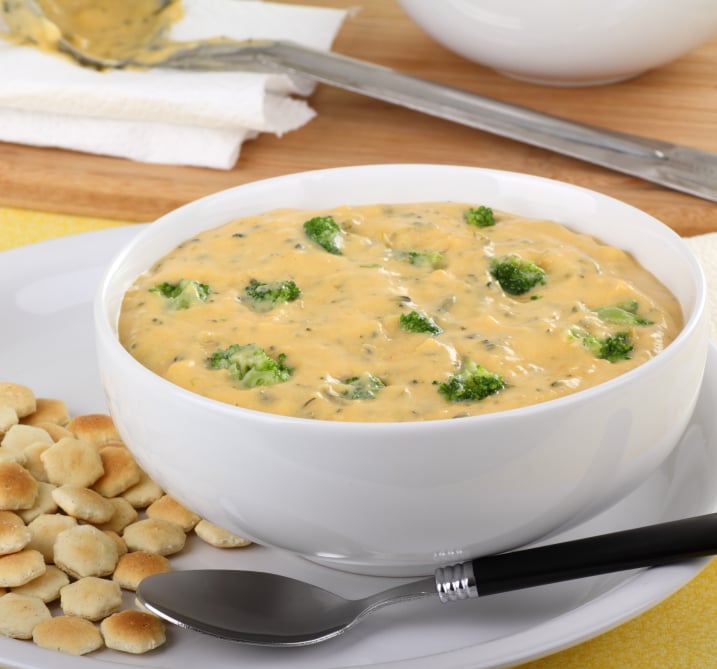 This recipe from Cincy Shopper claims to have the same indulgent creamy, cheesy goodness we expect from a broccoli soup at Panera Bread. First-hand testing reveals the soup recipe does have a similar texture and flavor to the soup we've all come to love. It probably won't win any health awards, but when you're looking for a simple recipe that satisfies on a cold day, this broccoli soup is the ticket.
Ingredients:
½ chopped onion
¼ cup melted butter
¼ cup flour
2 cups half-and-half
2 cups chicken stock
2 large bunches broccoli, cut into florets
2 carrots, cut into matchsticks
¼ tsp nutmeg
8 ounces shredded sharp cheddar cheese
Salt and pepper, to taste
Directions: Melt butter in a skillet set over medium heat. Add flour and cook, stirring constantly, to cook out floury taste, about 5 minutes. While whisking constantly, stream in half-and-half. Add in chicken stock in the same manner, then let simmer for 20 minutes.
Add vegetables. Reduce heat to low and let simmer for 25 minutes. If you want a smooth soup, purée with a blender, working in batches. You can also use an immersion blender.
Add cheese and nutmeg. Stir to combine. Season with salt and pepper. Serve.
7. Caramelized Pork and Sweet Potatoes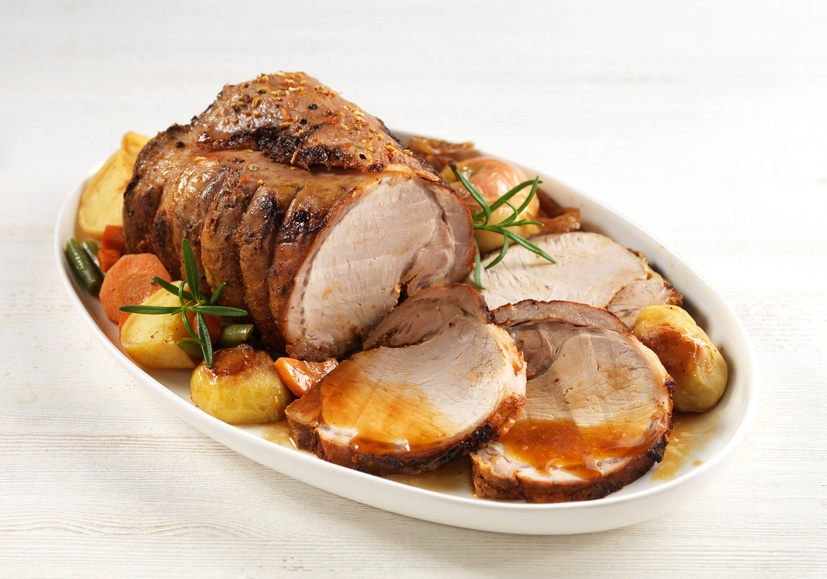 In an effort to help busy families, Real Simple put together a list of simple ingredients, and then created menus centered around those main pantry staples. This recipe for pork and sweet potatoes is a one offering the came up with. The recipe also includes directions for switching out the pork for another protein like salmon or chicken. That way, you can purchase similar ingredients while still adding variation to your weekly meals. One thing to note: Make sure the pan you use to roast the meat can also be used on the stove to create the sauce. It's a simple process, but some pans aren't safe to use on a burner.
Ingredients:
Vegetable cooking spray

2 

medium sweet potatoes, scrubbed and thinly sliced

2 

tablespoons olive oil

2 

tablespoons fresh rosemary leaves, chopped

2 (1-pound) 

pork tenderloins, halved; 4 skinless, boneless chicken-breast halves; or 1½ pounds salmon fillet, cut into 4 pieces
½ teaspoon kosher salt
Freshly ground black pepper

2 

tablespoons Dijon mustard

3 

tablespoons sugar
Juice from 1 orange
Directions: Heat oven to 450 degrees Fahrenheit. Lightly coat 2 baking pans with cooking spray. In a bowl, toss the sweet potato slices with oil. Arrange potatoes in a single layer on one baking pan. Sprinkle with half the rosemary. Place in the oven and roast until tender, about 30 minutes.
Meanwhile, season each side of the meat or salmon with salt and a few grinds of pepper. Spread with mustard. Sprinkle with sugar and remaining rosemary. Arrange the meat or fish on the second baking pan. Roast, turning once, until cooked through, 20 minutes for pork or chicken, 10 minutes for salmon.
Check the potatoes for tenderness; cook longer if necessary. Arrange on four plates and top with the meat or fish. Cover to keep warm.
Place the baking pan used for the meat or fish over medium heat on the stovetop. Add the orange juice and cook until slightly thickened, about 2 minutes. Pour the juice over meat or fish. Season with salt and pepper to taste.
8. Light Cheeseburger Quinoa Skillet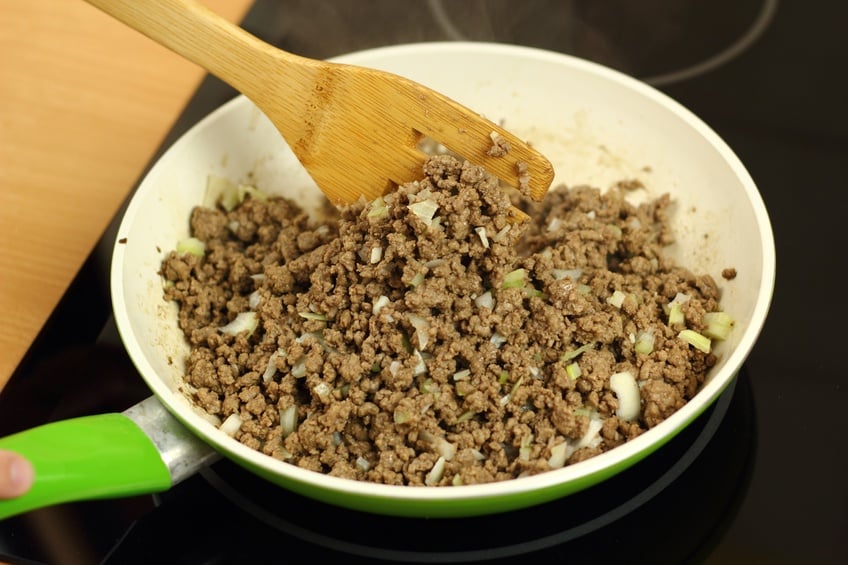 Quick dinners like Hamburger Helper are tempting to pick up, but they can be nutritional nightmares with lots of added sodium and fat. This cheeseburger skillet from The Creative Bite has the same idea, but it uses quinoa as your grain, adding a triple punch of protein along with lean beef and turkey. You'll get lots of flavor from the juices and seasonings you add, and it's still topped with plenty of cheese. For even more burger flavor, you'll finish this dish with dill pickles.
Ingredients:
½ pound 99% lean ground turkey
½ pound 96% lean ground beef
1 tablespoon seasoning salt
1 cup diced onions
(14.5-ounce) can diced tomatoes
1½ cups low-sodium spicy V8 vegetable juice
1½ cups low-sodium chicken broth
2 cups quinoa, uncooked
1 cup reduced fat shredded cheddar
¼ cup dill hamburger pickles, roughly chopped
Directions: In a deep skillet over medium-high heat, cook both meats, onion, and seasoning salt for 5 to 6 minutes. Meat should be fully cooked and onion should be tender. Remove to a plate and set aside. Add broth, vegetable juice, and quinoa to same pan. Bring to a boil, reduce to a simmer, cover, and cook for about 20 minutes.
Add the meat mixture and diced tomatoes to the quinoa. Cover and cook for an additional 10 to 15 minutes, or until quinoa is tender. Add cheese and pickles. Cover once more and cook for 3 to 5 minutes, just until the cheese melts. Serve.
9. Creamy Gnocchi with Mushrooms and Sun-Dried Tomatoes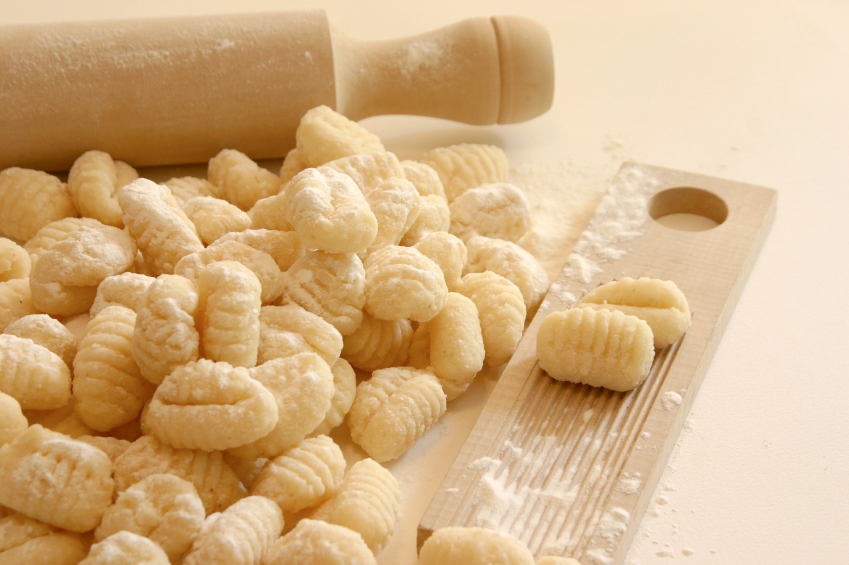 This dish from Two Sisters Kitchen is quickly becoming a staple in my own kitchen thanks to its quick preparation and delicious flavors. Plus, using gnocchi instead of standard pasta gives the meal a unique flavor and texture, while retaining classic Italian flavors. The true beauty of this recipe is its versatility. Don't have pancetta or mushrooms? Substitute them out for bacon or broccoli. Add artichokes or other vegetables that are in the same flavor profile as the sun-dried tomatoes. Basically, you can't go wrong.
Ingredients:
2 packages potato gnocchi
4 ounces pancetta, diced
1 (8-ounce) can sun-dried tomatoes in olive oil, chopped, 1 tablespoon oil reserved
11 ounces white mushrooms
5 to 6 garlic cloves, minced
1 teaspoon dried parsley
½ cup whipping cream
1 (12-ounce) can evaporated milk
½ teaspoon fresh pepper
Grated Parmesan cheese
Directions: In a large pot of boiling, salted water, cook gnocchi according to package directions. Drain well.
Meanwhile, cook pancetta in a large skillet over medium high heat with 1 tablespoon reserved oil. Cook until browned, and crisp, about 2 to 3 minutes.
Reduce heat to medium, add mushrooms, and stir. Add garlic, sun-dried tomatoes, and parsley. Cook, stirring often, until mushrooms have softened, about 5 minutes.
Add heavy cream and evaporated milk to skillet and reduce heat to medium low. Cook for about 5 minutes, or until sauce is reduced. Add cooked gnocchi and toss to combine. Serve with Parmesan.