10 of the Best Store-Bought Thanksgiving Treats
Everyone wants to bring their host or hostess something that will ensure at least the option of a repeat invite, which is why we've rounded up 10 unique, seasonally-inspired store-bought confections to dazzle this Thanksgiving. Bring on the Pumpkin Chai Chocolate Chunk Cookie Dough.
1. Cookie Dō
Everyone is guilty of having risked salmonella and other food-borne illness because of an unquenchable urge to sneak a spoonful of raw cookie dough (oops!). After one too many times of doing it Kristen Tomlan set out to come up with a solution and created Cookie Dō, a company that produces raw (you guessed it…) cookie dough. Unlike others on the market however you can actually bake these — though they're so delicious they're unlikely to ever make it to the oven. Tomlan has developed dozens of flavors including a number of seasonal ones like Pumpkin Chai Chocolate Chunk, available in both original and gluten-free ($17).
2. Godiva
Godiva is a sure (and Kosher!) bet. No one, those with dairy allergies withstanding, can knock chocolate, and Godiva makes it easy by packaging its sugarmill treats in gifts set. Among its current standouts are its Hot Cocoa Gift Set ($20) and a box with 50 Holiday Wrapped Assorted Chocolate Truffles ($28), which offers some semblance of portion control.
3. Sprinkles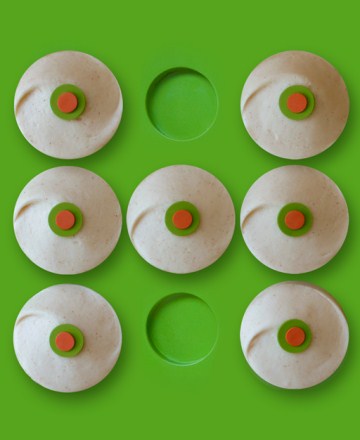 Available through the end of this month, Sprinkles Pumpkin cupcakes blend pumpkin cake with ginger, clove, nutmeg, and cinnamon. Each is then topped with a sweet cinnamon cream cheese frosting. ($3.75 each or $42 for a dozen. Mini cupcakes are $2.)
4. Taartwork
Here's a literal way to express yourself with food. Taartwork gives you the chance to personalize an apple, pumpkin, or baked chocolate pie with custom lettering and designs. Dairy-free crust is available, and they comes in 4- and 9-inch sizes (prices available upon request).
5. Arctic Zero
By definition Thanksgiving is a day to be lax with your diet, but if your host or hostess is in the midst of a strict diet plan busting it with high fat, high calorie treats shouldn't be in the cards. Instead opt for one of Arctic Zero's healthy (seriously…they're healthy!) frozen desserts. Made without all the fat and calories you'll find in traditional ice cream, each pint (they also have bars) is handcrafted, low glycemic, lactose-free, gluten-free, and GMO-free. Buttery Pecan is a seasonal favorite made with just 75 calories per serving (that's 300 for the whole pint). It also rich in protein and fiber (prices vary).
6. Tipsy Scoop
When calories aren't an issue beeline for the Tipsy Scoop, a brand that combines two of America's favorites — ice cream and booze — by infusing frozen treats with liquors. Its seasonal flavors include: Spiked Spiced Pumpkin pie, Candy Corn Vodka Martini, and Salted Caramel Apple Brandy ($36 for the 3-pack).
7. Ticket Chocolate
Ticket Chocolate is best known for its S'mores Kits, a solid option for sure, but if you're looking for something that doesn't require piecing together, checkout its handcrafted marshmallows. Available in a few different flavors, opt for one of its seasonal ones like Pumpkin Cheesecake ($18), which come in a ready-to-gift box. Each pumpkin spice marshmallow is dipped in pumpkin cheesecake flavored caramel. A box contains eight (approximately 2 inches long) confections.
8. Treat House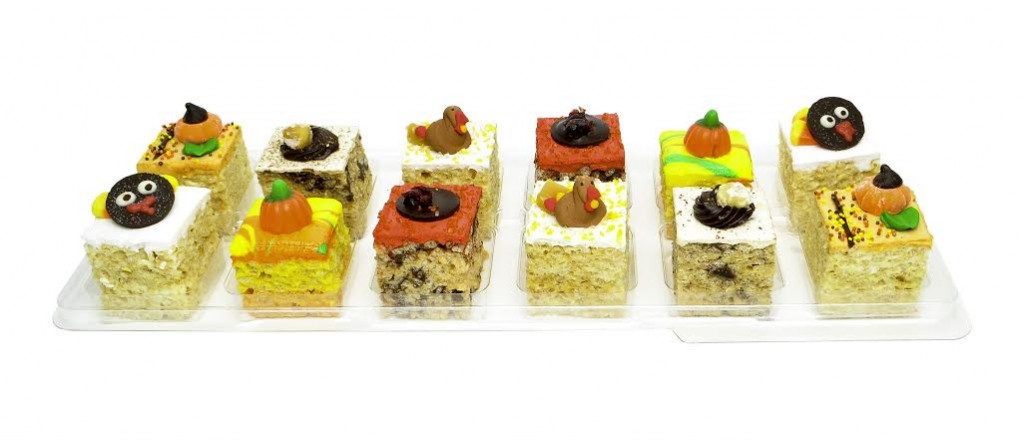 Your childhood rice crispy treats gets a high-brow makeover thanks to Treat House. All of its marshmallows are made in-house, and they come infused them with everything from lemon, to vanilla, to chocolate before they're mixed in with the crispy rice puffs, decorated, and topped with more sweets. A 12-pack with a gift box goes for $32 and they've got a seasonal Thanksgiving themed one that includes Caramel Sea Salt, French Toast, Cranberry Chocolate, Pumpkin Spice, Sugar Cookie, Chocolate Hazelnut, and Butterscotch Pumpkin.
9. Sugarfina
Sugarfina is a gourmet candy brand that lets you pick and choose from a very wide selection of sweets, or opt for ones that have been pre-selected and packaged, like the above Happy Holidays Bento Box ($65).
10. Fatty Sundays
Fatty Sundays makes over a dozen different flavored (and themed) chocolate covered pretzels, all of which are dipped and decorated. Among its holiday flavors are Pecan Pumpkin ($7), pretzels dipped in white chocolate and smothered with pecans and graham cracker crumbs.