10 Restaurants You Have to Try in Cincinnati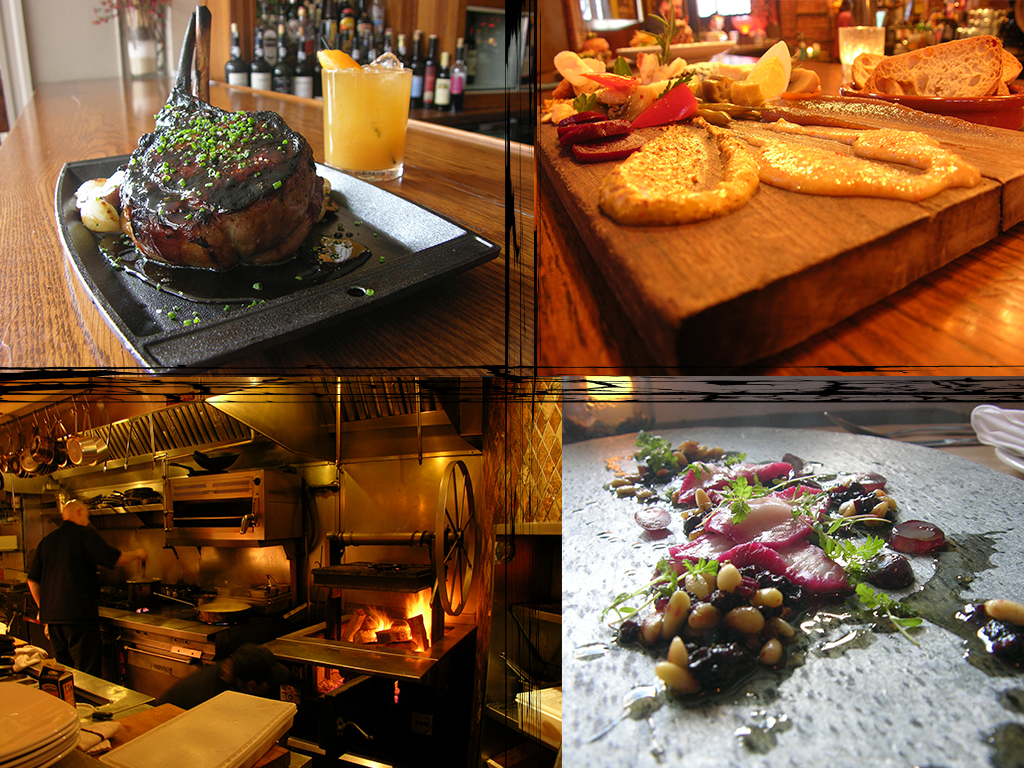 For some, there's nothing quite like fresh dining experiences in unfamiliar environments. May it either be for business relations or just for the hell of it, exploring a previously unknown city's culinary creations is one of the greatest joy's in life for those of us with an adventurous palate.
There's something rewarding about indulging in the eateries that locals merely consider as "just another dinner option." Everything's new and exciting to the tourist, so when friends come to town I relish in the thought of dining around town in Cincinnati. The historic, obscure, and down to earth themes are reoccurring in all ten of the spots on our Cincinnati-focused Cheat Sheet today.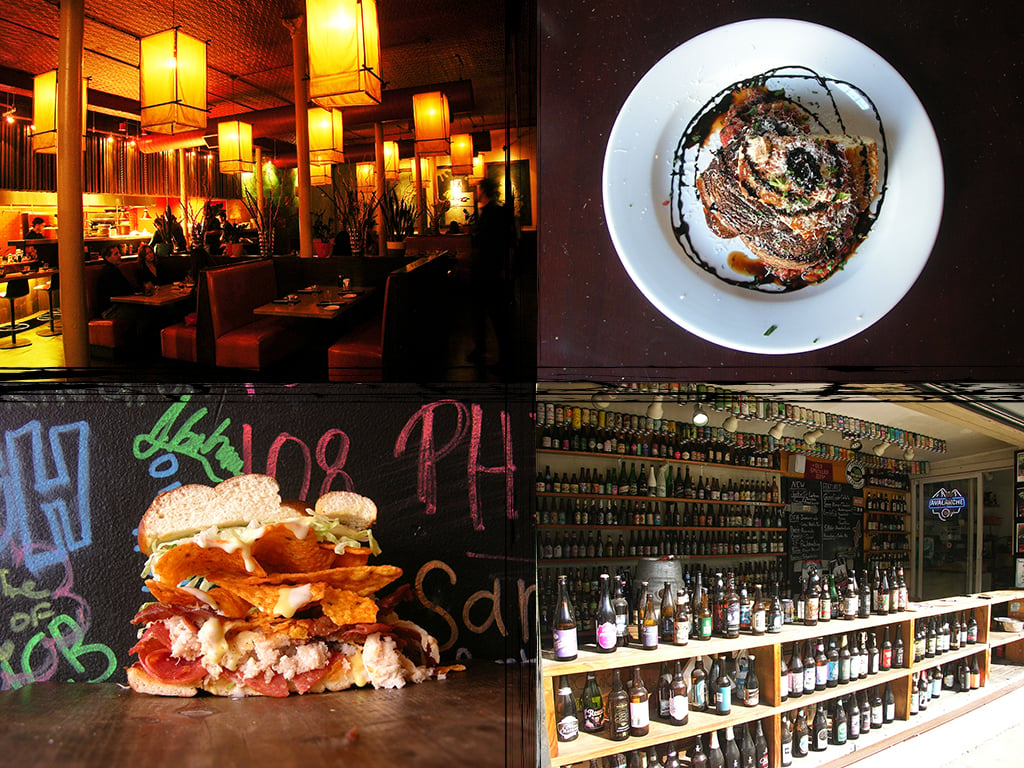 If you've never been to Cincy, please don't harbor the notion that it's only a chili, steak, and rib experience, because it is way more than that. Nicknamed "Porkopolis" due to its illustrious and elongated love affair with swine, the city that once ruled the Midwest as a brewing capital is experiencing a culinary renaissance of sorts, and don't even get me started on the local craft beer options because that's a whole other tangent entirely.
So if atmosphere matters, and late 1800s architecture is your cup of bourbon, Cincinnati has a treasure trove of slick spots that are all a 10 to 15 minute drive from downtown. Naturally, these are just a few of the best The Nasty 'Nati has to offer, so more than one visit might need to be in order.
1. The Rookwood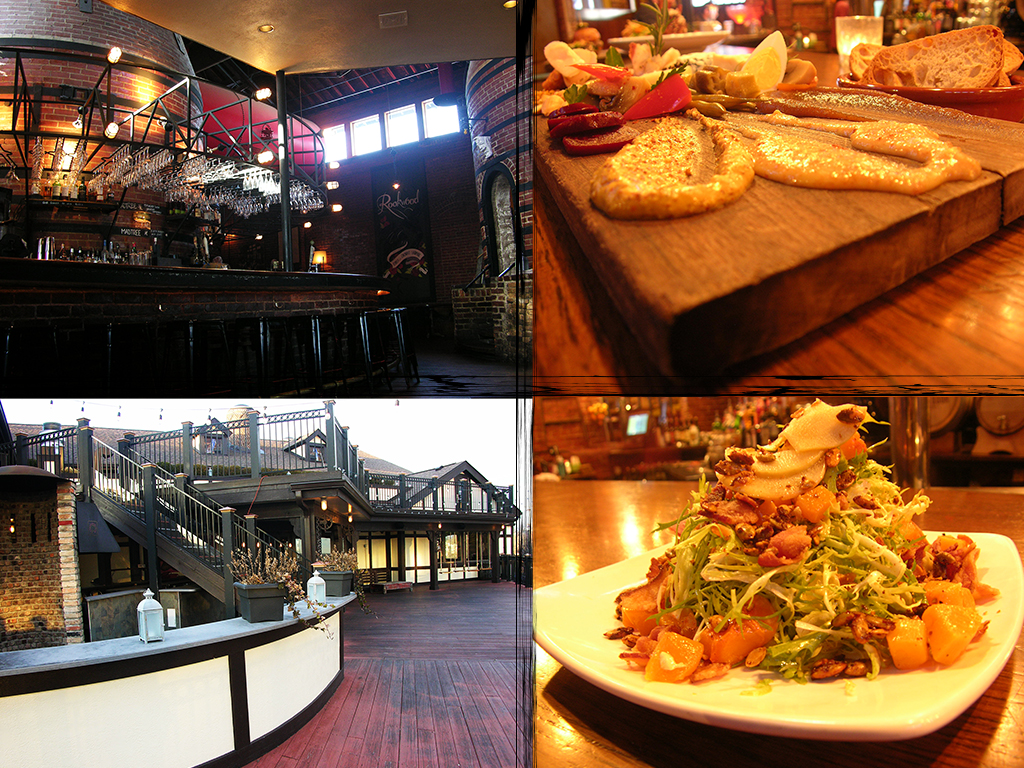 The Spot: Nestled upon a precipice high atop Mt. Adams sits The Rookwood, an ancient and ethereal restaurant that serves gratuitous amounts of farm-to-table flavor and bountiful pours of strong drink. It's a place where you eat sliced donut French toast drizzled in Ohio maple syrup that's been encrusted with candied pork belly, all while listening to a DJ spin funk and soul records while reclining in a massive kiln. If the weather's nice and there's a pig and/or goat roast going on, hop outside and enjoy the patio, with its rope swings, full bar, firepit, and rooftop veranda.
The Chefs: Executive Chef Jackson Travis Rouse takes "old meets new" to a whole new level, with a farm-to-table approach that rotates with the seasons. With his love for funk and soul music inspiring his hand, Rouse is a guy who lives by these simple words: "A chef is only as good as his produce."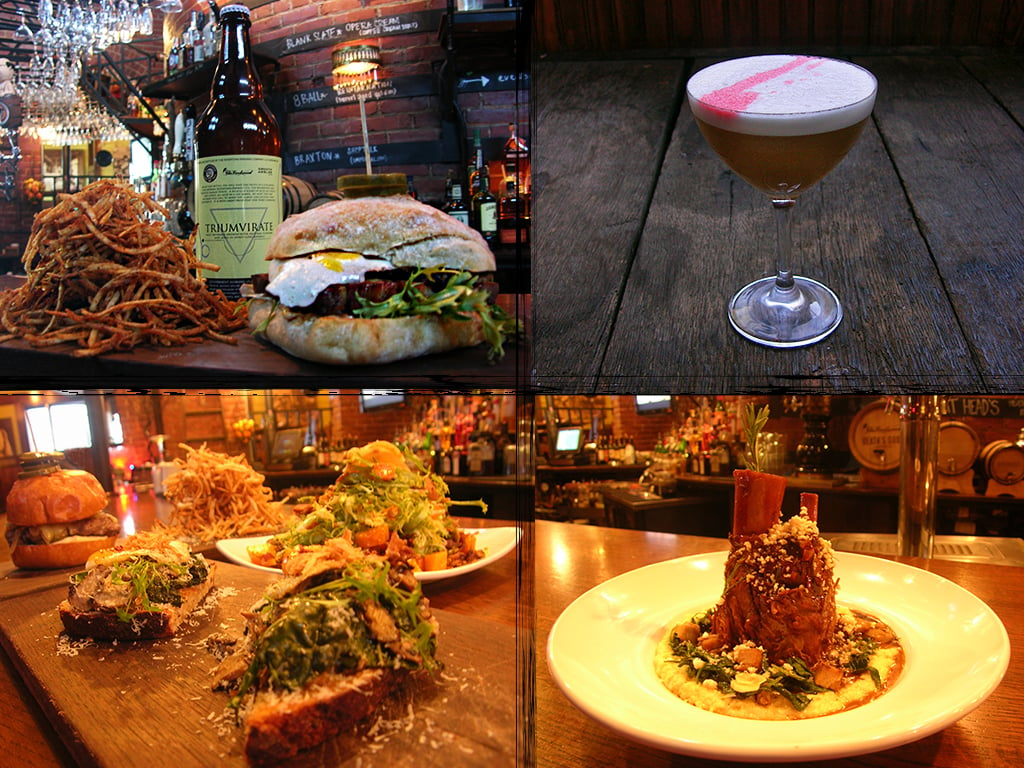 The Grub: Pasture-raised Heluka heritage breed pork from Iowa, wild foraging lamb and chicken from Kentucky, 25 different lettuces, rare Asian radishes, housemade mustard — almost everything used in this kitchen is sourced from within 65 miles of the restaurant. For lunch you can't go wrong with the "Sin City Pork Belly Sandwich," which features mountains of braised pork belly, housemade bacon mayo, crispy goetta sausage, oven dried tomatoes, frisse greens, and local quail eggs on a freshly baked local ciabatta bun, all served with Grippos dusted hay-stack fries.
For dinner, I recommend starting off with a rotating charcuterie board and the roasted curry-cashew-cauliflower, followed by the pork shank for the main course. This free-range pork entree is a slow cooked, bone-in delight that features flavors of foraged spice berry and rosemary, all on top of a bed of locally ground cheese grits, and comes adorned with things like alligator kale, charred leeks, house bacon, and cracklins.
The Libations: Drink-wise the local craft selection and bottle options that are made exclusively for The Rookwood speak for themselves, and while they do influence the menu significantly and should be sampled if you are new to Cincy, it's chief mixologist and bar guru J.T. Howard who really brings the thunder to the booze department. The man behind drinks like the egg white topped bourbon, ginger, chili spice "Smokin' Barrels" likes to rotate his bourbon-focused drink menu to mirror both the seasons and Rouse's culinary inclinations. Howard also has plans to start making root beer in house, and with a multi-faceted approach that includes every juice in house being hand-squeezed, I can already tell it's going to be fantastic.
The Verdict: Hearty, locally sourced, savory, and completely delicious, after one visit you will see why The Rookwood made the list today. If you can visit them on Labor Day weekend, you can experience a pig roast and fireworks. Also, Sunday brunch is amazing here, just be sure to call ahead in advance about reservations.
2. The Anchor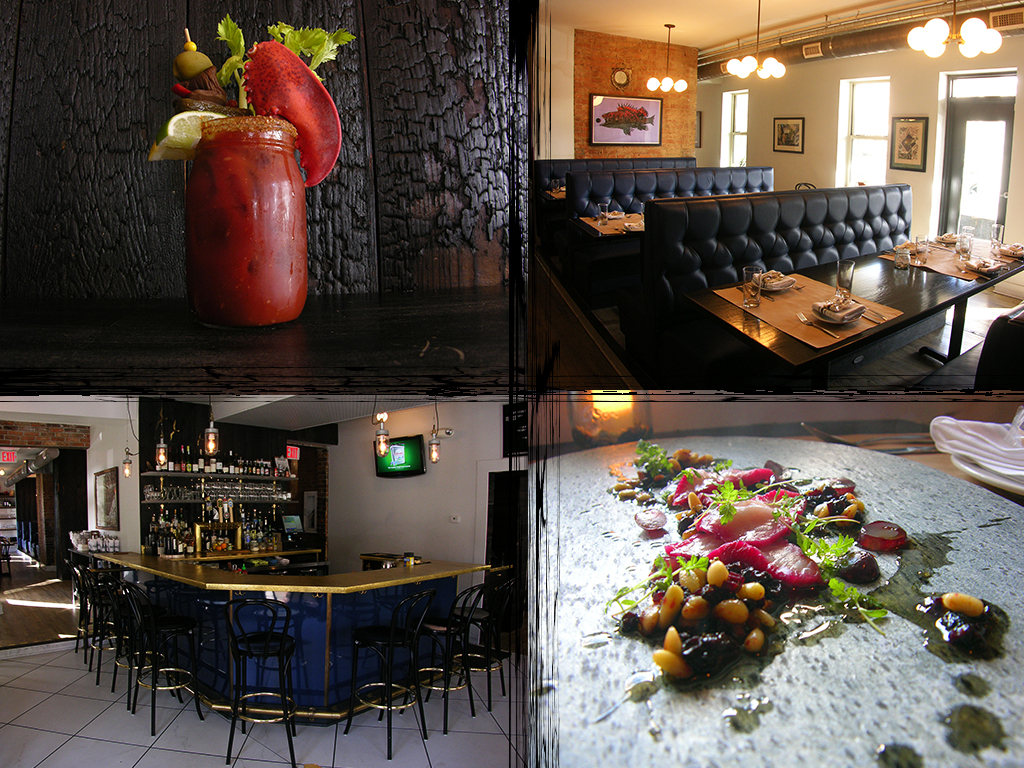 The Spot: Long before there was talk of a streetcar actually coming to fruition, and everyone else was beginning to bicker over where to set-up shop a block away on Vine Street, a corner spot across from a dilapidated park was getting a new owner. Five years later, the park has been enriched by millions of dollars, the streetcar rails now rest right outside the front door, and fresh restaurants and homes are being resurrected out of late 1800 brick and mortar buildings for half a million dollars a pop, all while Cincinnati Music Hall continues to overlook it all.
The Anchor has an open porch layout overlooking Washington Park. Inside, the wall's are timber lined and purposefully charred, the restrooms are co-ed and merely labeled as "HEAD," and everywhere you look, little touches of nautical brass and rigging are tastefully placed, a homage to the food and drink served therein.
The Chefs: Chef Steven Shockley promises never to "trend hop" when it came to cooking at The Anchor. Working alongside the best suppliers in the business, Shockley utilizes seasonal availability so that you get the absolute best at his table. He's a man who buys the entire fish and fillets it by hand in house in order to guarantee its quality and authenticity before pickling his own veggies and kimchi, while making obscure offerings like gin-cured salmon and tuna prosciutto.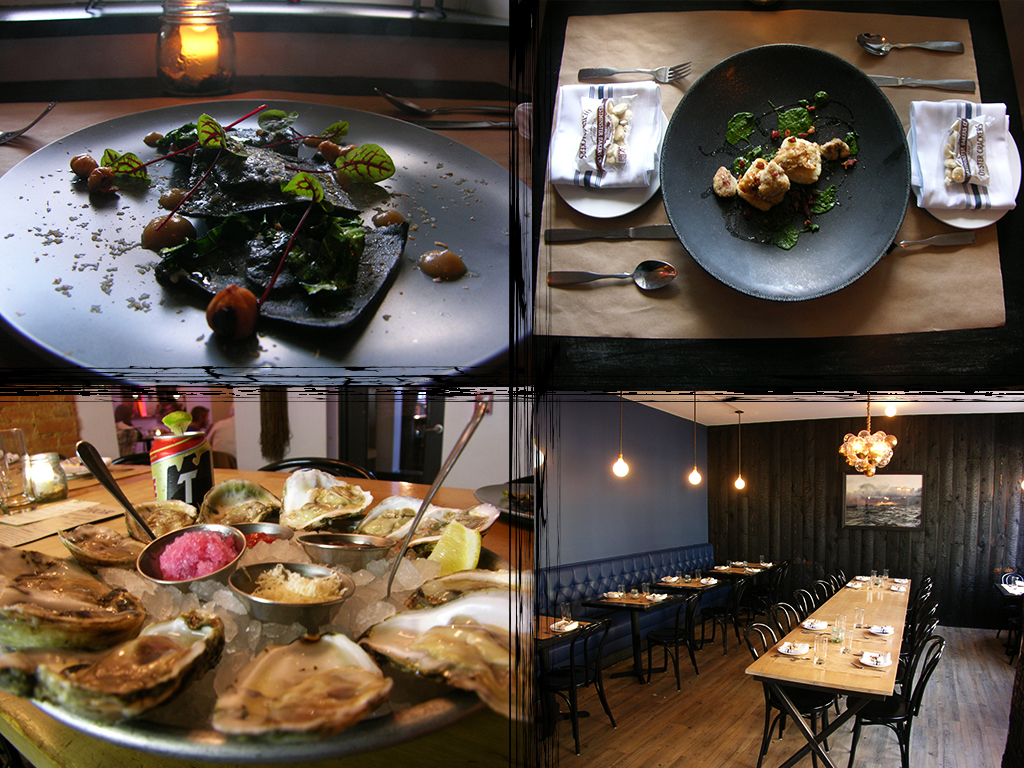 The Grub: Pictured in the first slide is a beat and ginger cured hamachi sashimi, with Citra hops, currants, ice vinegar, pine nuts, and tangerine micro greens. If they happen to have it or something similar, be sure to get it, as these dishes are extremely limited. After that there is the Squid Ink Ravioli, complete with scallop mousse, baby collard greens, hazelnuts, and a smoked applesauce finishing sauce. The Anchor Rockefeller isn't to be missed either, what with those hog fat fried oysters, sitting atop their buttermilk biscuits, along with the pancetta, spinach puree, and those tender, butter poached sweet breads.
The Libations: Long known for their nautical take on damn near everything, the drink menu at The Anchor is noticeably punctuated by The Longshoreman's Bloody Mary. Featuring housemade pickled veggies, just enough spice, and an array of briny accouterments like shrimp and lobster claws, it's easy to see why this drink cleans up the awards. For those of you wanting something refreshingly zippier, I highly recommend getting the Blackbeard, with its fig/vanilla infused vodka, ginger simple syrup, fresh lemon juice, and bitters.
The Verdict: Upscale in every way, The Anchor is a cut above for those of you who crave seafood even when they're landlocked. If you happen to be here on a Thursday night for $6 martinis, select oysters are a buck a pop and so are cans of Tecate. Just be sure to call for reservations if you are coming for lunch or dinner, and don't expect to find them open on Sunday or Monday.
3. Gilpin's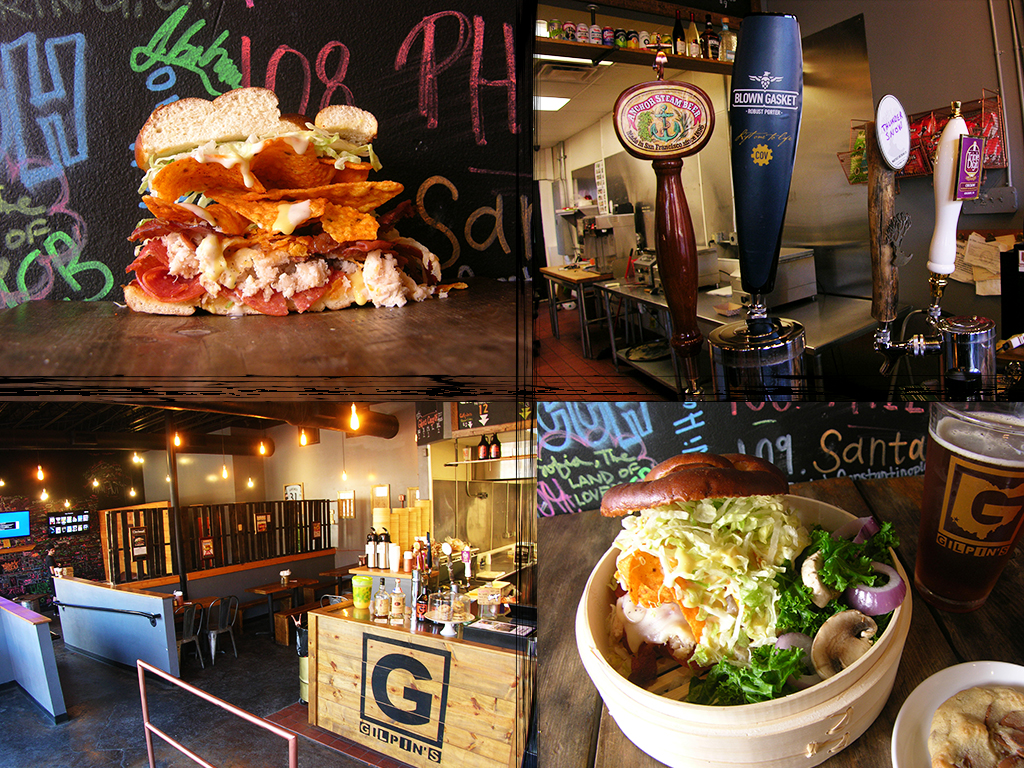 The Spot: Sometimes you just want a freaking sandwich and a beer, without all of the pretentiousness and price tag of a boutique hipster hell hole. Fortunately for us, there are two Gilpin's locations, with the Clifton/U.C. location as the preferred locale, as it is the only one that serves booze. It's a spot that screams college go-to, but with all of the proper trimmings of a well designed deli. There's a Nintendo Wii if you feel like getting your ass handed to you in Mario Kart, Foozeball is free, and comfortable nooks for reading or studying are well placed in front of massive windows.
In true deli fashion, this is a place where you pull down a weathered wooden clipboard, peruse your options, and then order and pay all at once at the counter. There's a "what you see is what you get" kind of attitude here, and it's refreshing to see a solid sandwich shop not trying to be something it is not.
The Chefs: Brad Gilpin's bringing steamed food back from the brink in a big way. First started in 2008 as an option for people who want better late night grub, Brad's dream of owning a place where "you could walk out a bar, fall on your face, look up, and see food," has come to fruition in a big way. With micro-franchises already in the works, new locations popping up, and a pretty large fan base, Mr. Gilpin is moving forward "full steam ahead."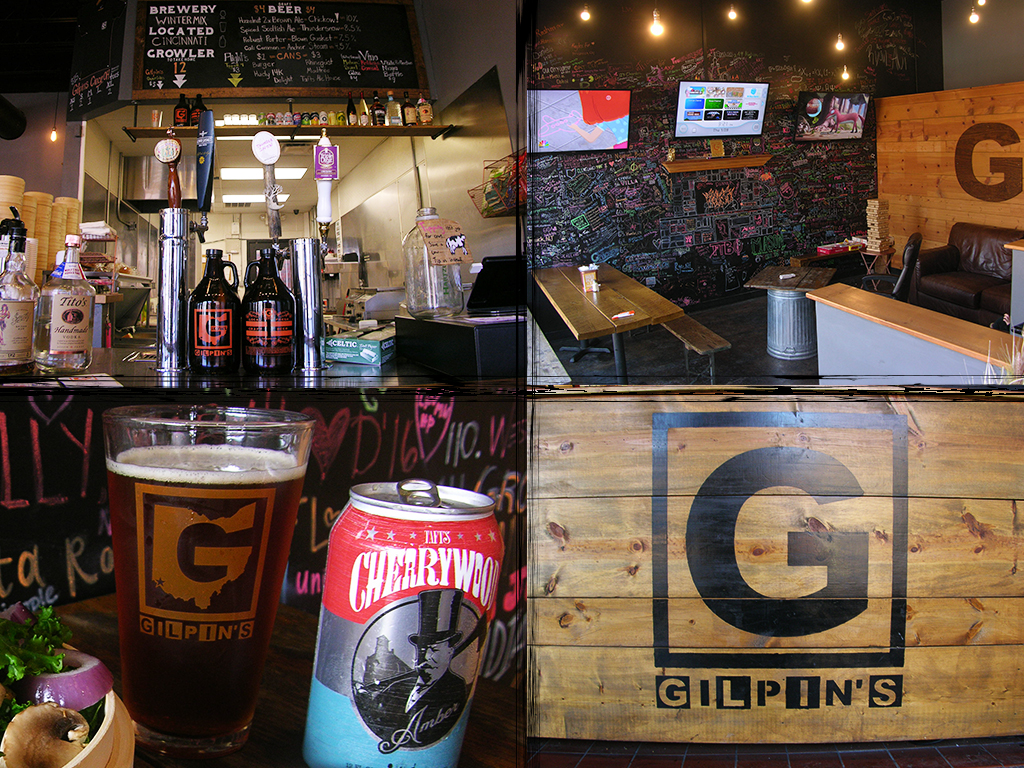 The Grub: Don't expect carb-laden bagels here folks, because Gilpin's is a pretzel bun palace with plenty of tasty options to choose from. Personal faves include The Razzle Dazzle, with its pepperoni, turkey, bacon, provolone protein punch getting hit with mounds of Doritos, honey mustard, lettuce, and Frank's hot sauce. It's a wild fiesta of flavor, and contrary to what you might think, the softly steamed bun is not soggy at all, nor is the locally baked cookie that follows. Recommendations also include the steamed kale salad, and hitting a brunch sandwich if hangovers are in play.
The Libations: Much like its cuisine, Gilpin's beverage program is a no-frills take on going out. Patrons can grab a high ABV craft beer on tap, a $3 can of something local, or they can opt for a bottomless dinner or brunch, where an entree serves as a gateway to endless cocktails for $10.
The Verdict: This is a place that defies any preconceived notions of what a deli or a bar "should be." Gilpin's of Clifton is a stiff middle finger to temerity and still hits on all pistons when lunch is served. I recommend hitting them up on a Sunday between 11 and 3 for brunch instead of on Saturday to avoid massive amounts of hungover college kids, and be sure to grab a spot near the Wii if you want Mario Kart time.
4. Brewriver Gastro Pub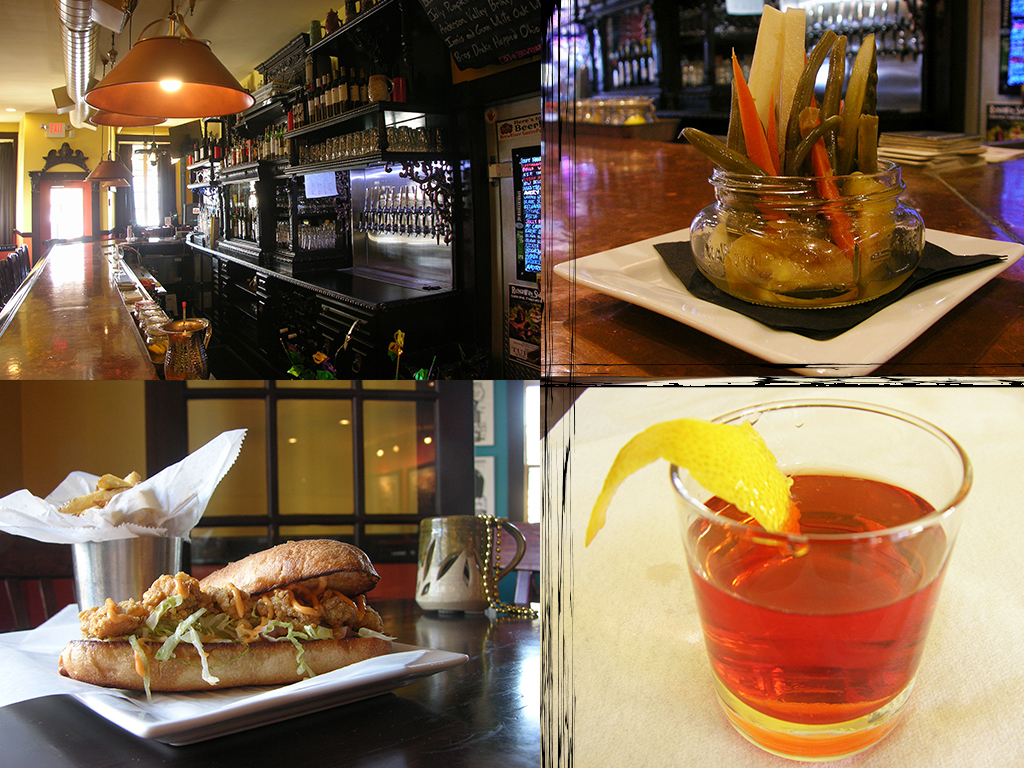 The Spot: The band Clutch once said, "Everybody needs a little time outside." I think of these words every time I attend one of  Brewriver's beer-soaked spring cajun crawfish boils. On the banks of the mighty Ohio River, you can lounge on the patio of what was once one of Cincinnati's most historic dive bars, a two-story slice of Creole and voodoo, complete with live music, one beast of a bar, and a large space upstairs for reservations and larger parties. Just remember that there's ample parking catty-corner across the street for when this place gets packed.
The Chefs: Head chef Michael Shields trained under Emeril for six years and has taken New Orleans influence to a whole new level. Much like its atmosphere, there's a down-home feel here, and not painting themselves into a corner as just a place that serves cajun cuisine has been key. Going with a true gastro pub take on cooking, Shields utilizes beer in 99% of his dishes, including desserts, pickles, and sauces.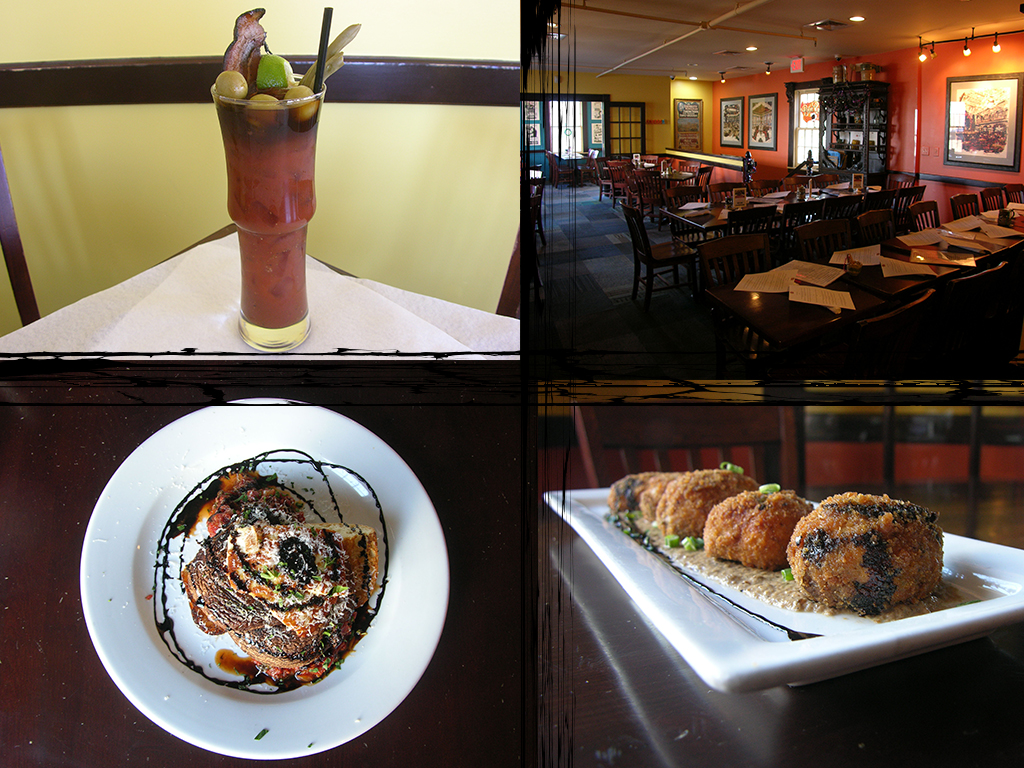 The Grub: I recommend starting with a bowl of dark gumbo and some stuffed large button mushrooms with spinach pesto and housemade balsamic shroom sauce. From there, I suggest getting a Gulf Oyster Po' Boy, with its house pickled ginger, Sriracha aioli, and shredded lettuce on a Sixteen Bricks bun. Served with handcut fries, the only thing I find myself craving more than this dish is their crawfish or the Cajun barbecued shrimp.
The Libations: True to its name, Brewriver rocks 23 craft drafts year round, specializes in beer cocktails, and offers pairings with local breweries for a flat fee for people who want to try multiple dishes and local beers. There also is a dedicated wine list that compliments the cuisine, and the stout, bacon, and pickle-laden Bloody Mary only can be bested by their housemade Sazerac, which was adopted directly from the Roosevelt Hotel in New Orleans and is still made the exact same way.
The Verdict: Crawfish boils and patio parties aside, Brewriver Gastro Pub is on of my favorite hidden gems in Cincy, and it really is a great alternative to areas that are oversaturated with "trendy eateries." It does get pretty busy at night, so be sure to call ahead in advance for reservations, and don't be afraid to ask for beer samples to go with that house smoked bacon.
5. Dutch's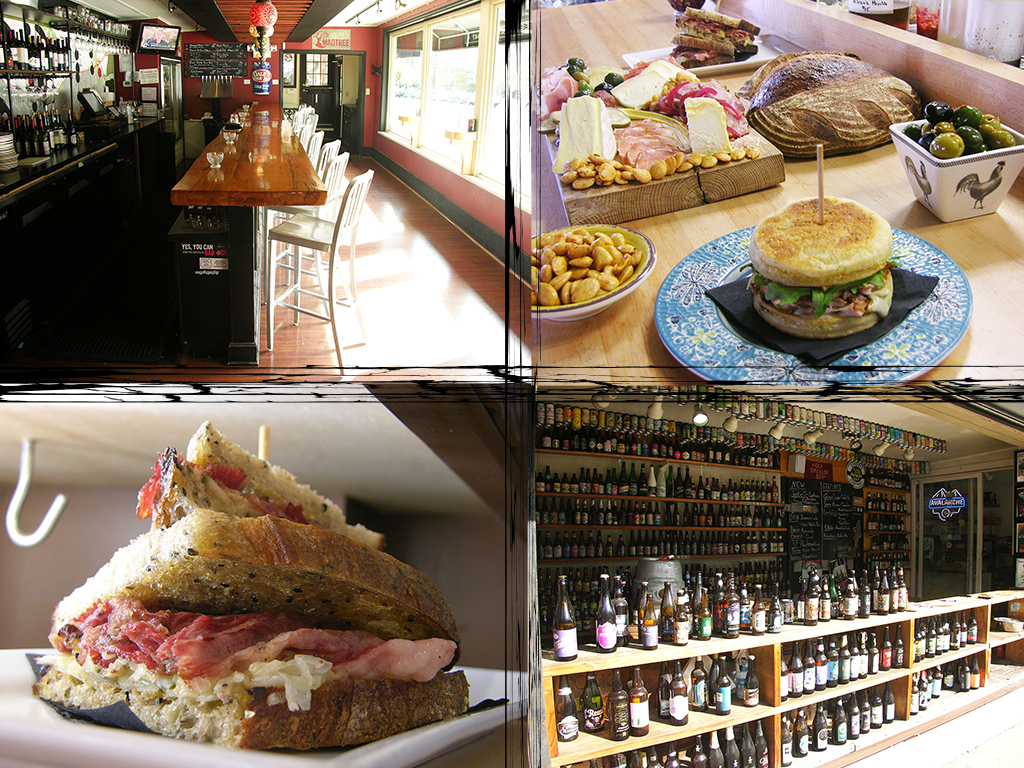 The Spot: What started as an icehouse and pony keg back in 1947 has morphed into one of the most magnificent places to drink and eat in all of Cincinnati. When former Stone Brewing employee Jay Ashmore took over the place back in 2007 with his wife Pam, it was a skeleton of its once busy self. The attached storage room was a mess, a hilly mudpit lived out back, having a Starbucks next door sucked, and the craft selection at the pony keg dock was pretty pathetic.
Within no time, the old storage space was turned into a grand communal dining room, the sloping mud pit became a patio and Bocce Ball playground, Starbucks moved out and became Dutch's Larder, and they now stock over 800 different bottle and can options for consumption on or off premise. It's a place where if you like what you try chances are that you can get it to go, but with its classy European environment my only question is, "Why in the hell would you even want to go home?"
The Chefs: Jim Cornwell is the king of all things culinary at Dutch's, and his direct approach is absolutely amazing. Be sure to try out his burgers, which are only served on Thursday evenings, with things like the Español Burger featuring hazelnut marcona-almond romesco, manchego cheese, crispy Serrano ham, and sherry vinaigrette dressed greens.
The Grub: The Reuben is an all-time favorite at Dutch's, so definitely try it in all of its glory. Other notables are Cornwell's custom charcuterie boards, lamb bacon braised brussel sprouts, and a shortrib grilled cheese with pickled shallots and red wine. I also strongly encourage people to try the smoked wagyu beef sandwich, as its camembert cream topping is heavenly, and don't skip out on the brown butter and thyme roasted almonds which are reportedly a stronger aphrodisiac than red wine and chocolate.
The Libations: First of all, don't expect any liquor here, because Dutch's is 100% wine and beer oriented. As I mentioned earlier, there are over 800 bottle options to choose from, dozens of different wine choices, and a draft selection that tops out with eight offerings, all of which can be quite obscure any given day.
The Verdict: When describing Dutch's, I typically refer to it as "a magical, European-inspired happy place." There's just something about this spot that speaks volumes above its meager footprint, and I still have yet to find someone who doesn't like it here. Be sure to remember that they are closed on Mondays, dinner service stops a hair on the short side, and that if you want a seat you'd better get there early, as they don't take reservations.
6. Pontiac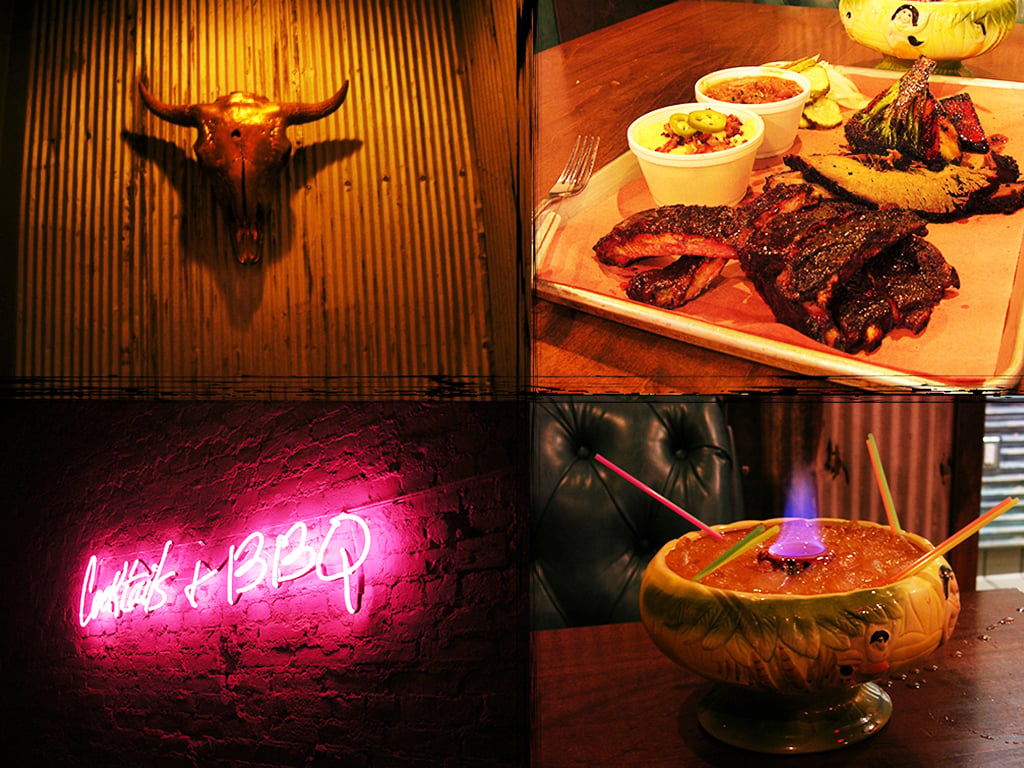 The Spot: Shotgun bar-designed, dimly lit, rustic, rough, and completely straightforward, Pontiac is the kind of dive that screams "stick around for at least a drink and a peek at the menu." There is no downstairs dining, seating space is limited to 70 persons, the patio is tiny, and it shoulders a saloon feel that is only emphasized all the more by its rusted pin-up signs, unique glowing neons, gold painted bovine skulls, and an emphasis on bar seating. On warm days, the giant glass windows up front are retracted so that everyone inside can enjoy the breeze.
The Chefs: After conducting the ultimate barbecue roadtrip, Jeremy Manis came back to Cincy with a new-found appreciation for slow cooking and one hell of a gameplan. After opening on January 13, 2015, Manis worked diligently to offer his patrons "different dialects of barbecue" all rolled together into a singular dining experience. The results are nothing short of salivating.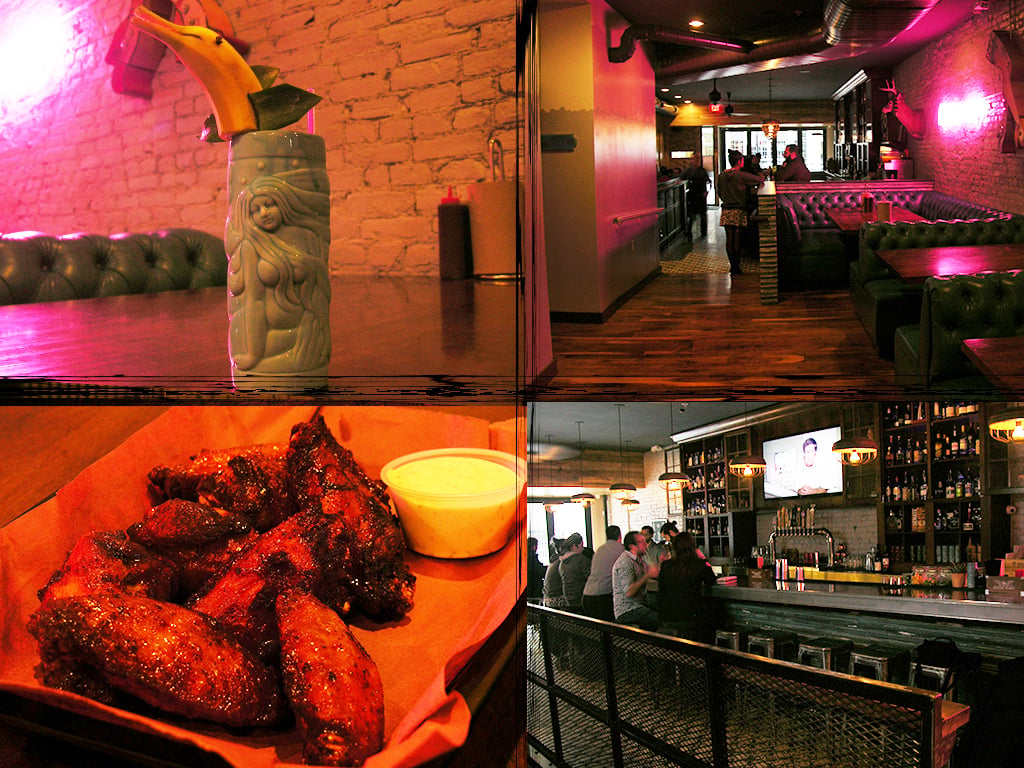 The Grub: While winning locals over due to "rib brand loyalty" has proven tough, the barbecue found here is easily some of the best in the city. Awarded for being one of the best eateries in the city, Pontiac has a few offerings that warrant attention. While sample plates like the one seen in the first slide are typically not made available, for the sake of showcasing a wide array of edibles one was concocted for us.
Pontiac's menu rotates with the seasons. Upon my most recent visit, I sampled the best fried pickle chips I've ever had, smokey sweet potatoes, charred broccoli, housemade pickles, baked beans, bacon/cheese grits, smoked ribs, and succulent brisket.
The Libations: When Pontiac was about to open, Mike Georgiton from Senate fame transitioned over to assist his culinary counterpart, Jeremy Manis. A veteran of cocktail mixology, the sharp-witted beverage director took what he had learned over at Senate, visited a slew of tiki bars, hated almost every drink they offered, and then promptly said, "Screw it boys. We're making our own tiki drinks." So bring on the rum, because while the craft beer options and bourbon remain staples, massive Hawaiian Punch Bowls are the way to go if you happen to bring some friends or have an extra liver handy.
The Verdict: If savory smoked meats and veggies served atop butcher paper-wrapped metal lunch trays strikes your fancy, be sure to check Pontiac out. Just don't expect reservations or the ability to say no to Georgiton's sumptuous servings of rum-soaked drinks.
7. Red Feather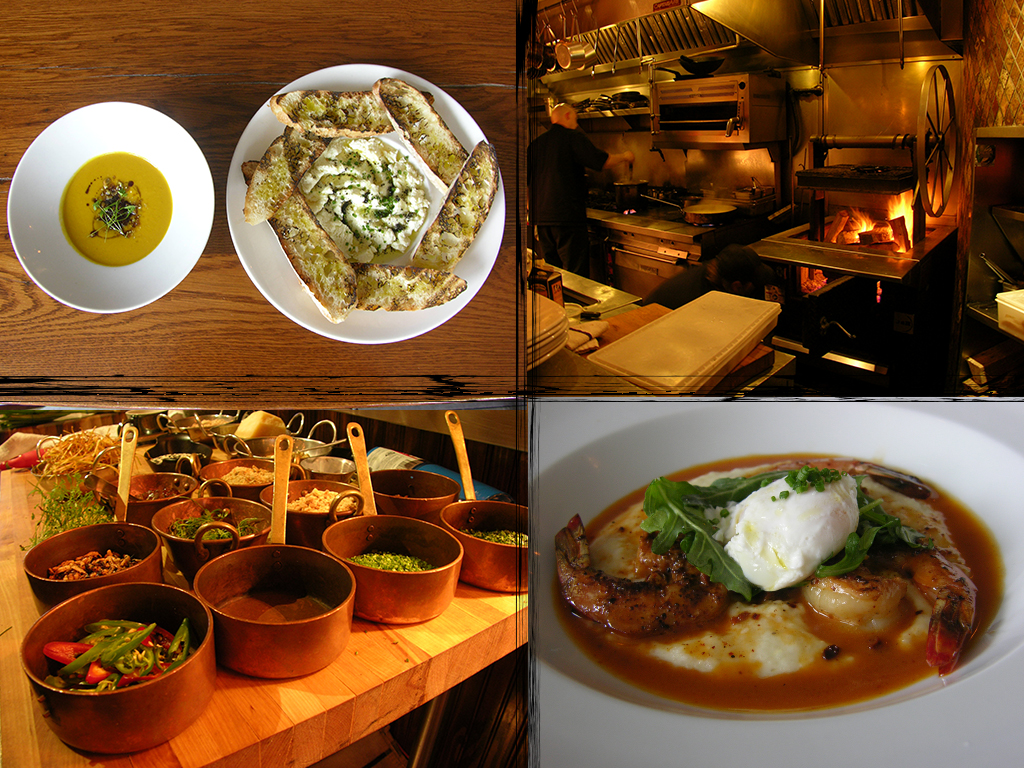 The Spot: No list can be complete without at least one white tablecloth dining experience, and while it may not be the most grandiose upscale dinner engagement in Cincinnati, there is a charm to Red Feather that makes it seem larger than life. This double-sided rustic slice of Cincy is a blend of welcome bar, properly placed flatware, worn tables and chairs, and an old-school wood fire open kitchen. It's an environment that is welcoming to all, and with the majority of its wooden furniture being hand-built or re-purposed, there's an attraction to this place that I cannot pinpoint, but absolutely adore nonetheless.
The Chefs: I was not entirely familiar with Brad Bernstein prior to this interview and photo shoot, but I have long been a fan of his sous chef, Andrew Mersmann. Both men harbor a deep interest in offering an elite level of quality when it comes to cuisine, all with generous portions as their backbone. With a strong interest in doing things the hard way, this dynamic duo will spend three days making a single pork chop, and offer a slew of alternatives for patrons who are not meat eaters.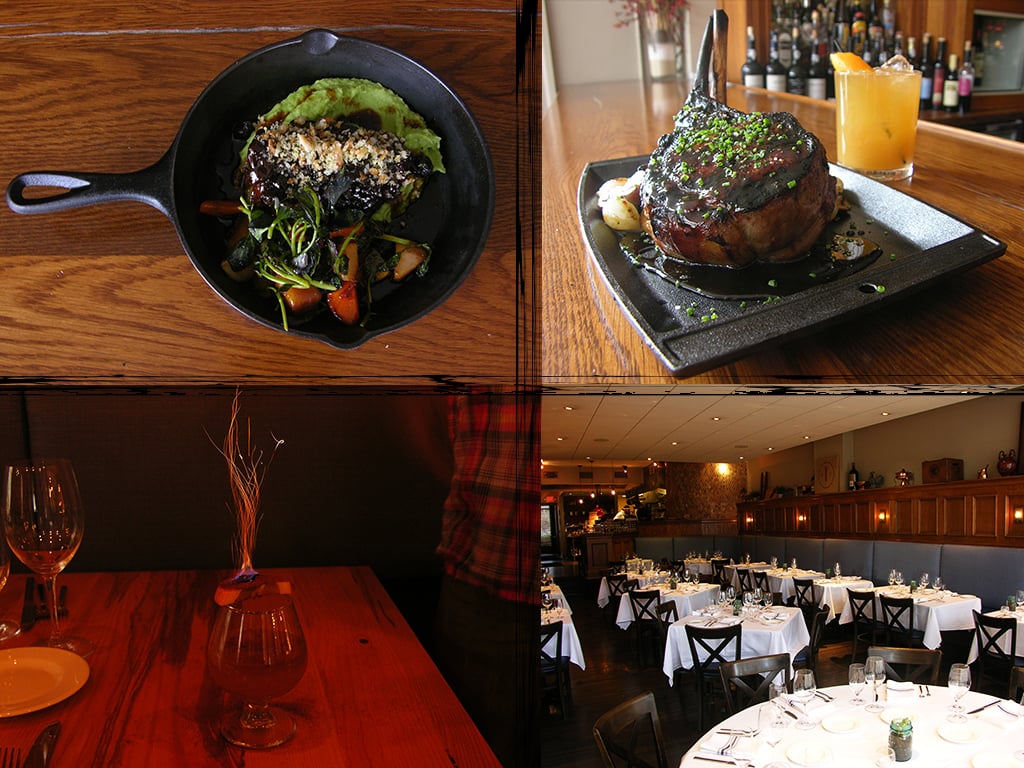 The Grub: There are a plethora of options that warrant consideration at Red Feather, and it all starts with soup. After a butternut, apple fennel-filled delight, feast upon a splash of Shigoku oysters in mignonette, followed by the best shrimp and grits north of Tennessee. Entree-wise, I recommend trying the Crispy Skin Salmon with its mushroom puffed wild rice, or the cast iron clad short rib, which rocks watercress, root veggies, and one mother of a braising jus. Having said that, the aforementioned three day process that goes into making that double-sized serving of free range pork chop remains nothing short of astounding, and may be the best pork chop I've ever had.
The Libations: Since craft beer is in limited but notable supply at Red Feather, perhaps it is best to focus on the wine and mixology side of things. There's the wine cellar, which houses over 400 bottle options and multiple vintages at any given point.  Sommelier Devon Barrett also has one of Cincy's largest dessert wine selections, so keep that in mind when it's closing time. Other amazing options include the J.B., which is a smoked tea and bourbon cocktail, or The Firefly, which is the wild concoction seen here that features incendiaries of cinnamon and orange.
The Verdict: Red Feather is a fantastic option for those who don't mind a 10 minute jaunt outside of downtown. Here, unpretentious food is served in a formal setting, where you can spend $20 or $200 in a single sitting. Just don't forget to call in a reservation for this spot, because space is limited, especially for brunch on Sundays.
8. Nation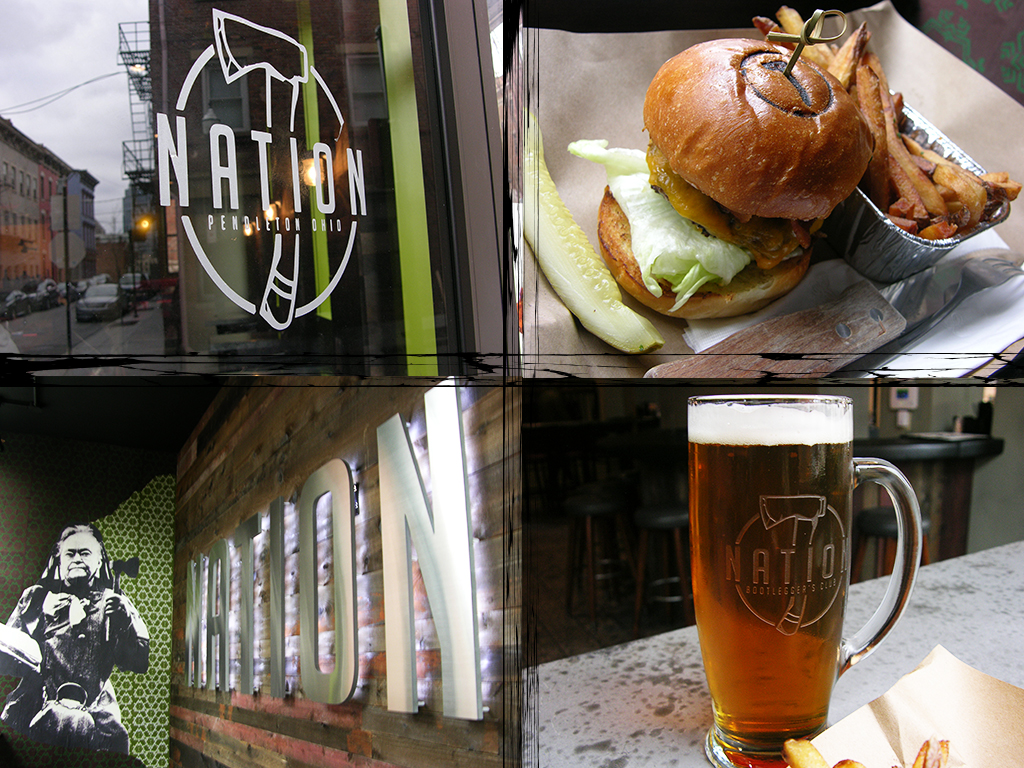 The Spot: Cornered deep in the Pendleton arts district near Cincy's massive Horseshoe Casino, Nation stands as a beacon in the heart of an area that is still in the renovation stages. Bar friendly, booth-equipped, and always busy, the only burger joint on today's list is packed full of Prohibition-themed rhetoric and memorabilia, and boasts both a welcoming patio space and a duo of cubbie-like dining rooms for those who don't want to be amidst the masses.
Part pour-house and part eatery, Nation is a must if you are ever in Cincy and are craving a burger in a unique environment. Since all burger orders come with a Girl Scout thin mint cookie, Nation has contributed insane sums to the organization, and being that they are so extremely community focused,  a dollar from every "Bit Burger" of the month goes to a local non-profit.
The Chefs: The guys behind the grill at Nation are a force of nature, and since all burger patties here are a local, free-range affair, these double stacked servings of American magic get a ton of special treatment. The cooks here like to go the extra mile, making sure that the barbecue sauce is made fresh in house and served hot, that the fries are cut and blanched a certain way to guarantee that they're always crispy, and that all of the sauces are made from scratch.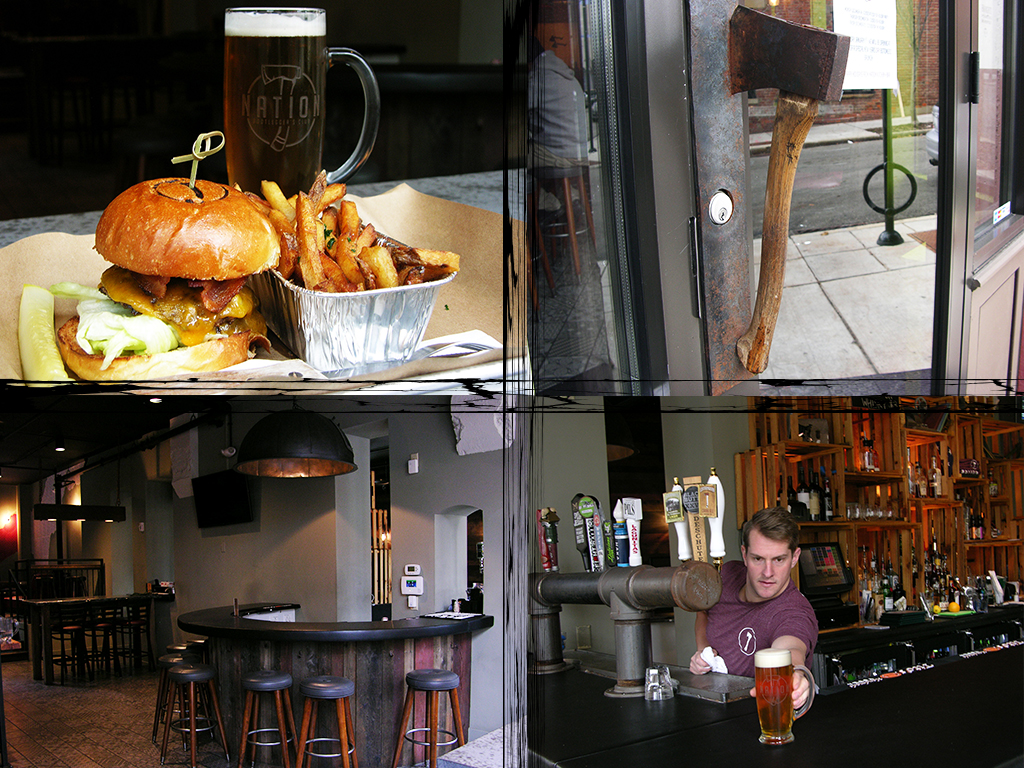 The Grub: Patrons at Nation can always play it safe and go with "The Hatchet," as it certainly is a solid double cheeseburger combo, fully equipped with some of the best fries in the city and a beer for just $14. But I say dive deeper and grab "The Temperance" cheeseburger and add bacon, just like the one seen here. This is one of the best bacon cheeseburgers out there, and that Sixteen Bricks challah bun is pure magic if you put some housemade garlic aioli on it. Another fun one to try is the quesadilla burger, which comes wrapped in a flour tortilla, and is packed with queso, pepper jack cheese, lettuce, and pico de gallo. Also, be sure to ask what the "Bit Burger" of the month is, and get some nacho tater tots because everyone's arteries need a workout from time to time.
The Libations: Being extremely bar oriented, Nation has this hard drinking attitude that is punctuated by the use of things like housemade chocolate liqeur, and beverages like "The Tight Corset," which is comprised of Hendrick's gin, St. Germain, Creme Yvette, orange bitters, lemon juice, brut, and comes garnished with a grapefruit twist. Naturally, there's a lot of bourbon to be had here as well, and the dozen or so tap handles all pour a wide array of rotating craft options. There also is the "Carrie Ale," which is an approachable blonde that has been brewed exclusively for Nation by Cincinnati-based Listermann Brewing.
The Verdict: Nation is a pretty slick spot and makes for a great option for anyone wanting a fun spin on the traditional American burger joint. Sitting in "Nation Hall" is a must if you are dining alone or with a friend, and be sure to call in advance to see if there's a wait, because chances are strong that there will be.
9. Taste of Belgium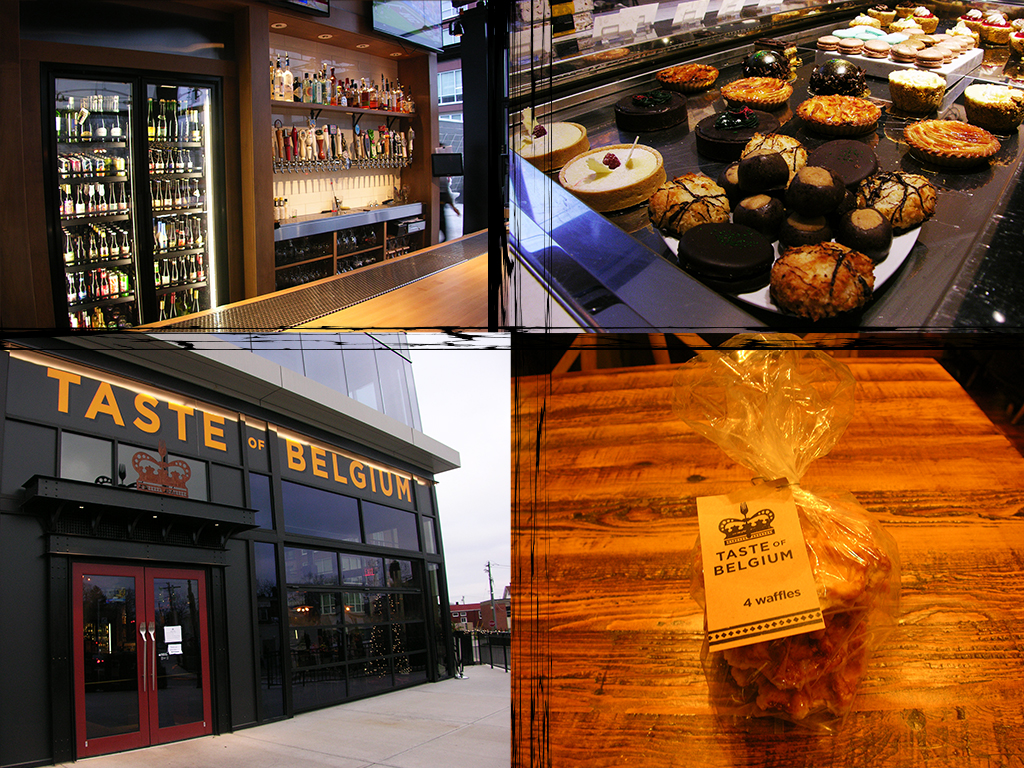 The Spot: Easily the newest building of the bunch, Taste of Belgium (ToB) has three very different sit-down locales in Cincy, with the location furthest away from downtown undoubtedly being the best. Located in the Rookwood shopping district, the latest and greatest incarnation is gorgeously polished, spacious, and well designed. Giant windows, tall ceilings, multiple seating options, an outdoor patio, and private dining spaces for larger parties are all worth noting here.
The Chefs: Jean-Francois Flechet is more than just a Belgian man with a hankering for amazing waffles. It took him years to perfect the process, and it's amazing to see how far he has come. What started as just a guy at the back of a farmer's market with a waffle iron and a dream has grown into something massive, as Flechet now has custom waffle irons built exclusively for his various locations, and ships waffles across the country.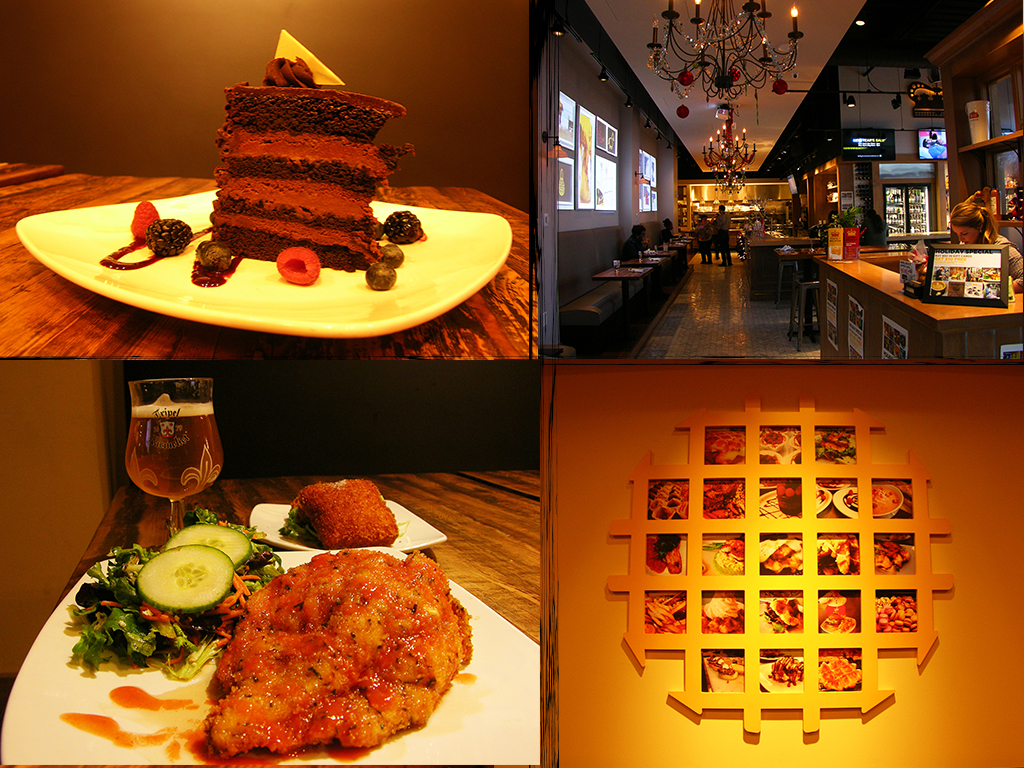 The Grub: Definitely get a "Waffle and Chicken" when you come, because this award-winning Belgian take on a soul food staple is fantastic, as this dish never disappoints when drizzled with all that local Ohio maple syrup. Other notable dishes are the frites (which can be had a multitude of different ways), Flechet's family recipe for cheese croquettes, the merguez lamb corndogs, and the 'Nati crepe for anyone wanting to try Cincy's infamous goetta sausage. Also, the brunch menu here is outstanding, so be sure to get a McWaffle sandwich and a banana Nutella crepe.
The Libations: At this particular location, a focus on craft draft and higher end cocktails is the name of the game. Trappist ales, Flemish sours, and all manner of Belgian beer can be found here, which makes sense considering that Belgium for the longest time had more breweries per capita than any other nation. There also is a strong local craft presence, and one-off beers that have been made exclusively for ToB can be found in rotation pretty regularly. Also, be sure to sample some old and young Genever when you're here. It's the great granddaddy of gin, and since it just so happens to be Belgian, ToB gets it shipped in for curious first-timers like yourself.
The Verdict: Taste of Belgium is a powerhouse, as Flechet's waffles are even served at the local baseball diamond, and are heralded as "The Official Waffle of the Cincinnati Reds." This is a place where you can eat, drink, and live like a Belgian any time you want, and both the service and the culinary delights are top notch regardless of which location you visit. Reservations are not required but are recommended, and I suggest catching them for happy hour one afternoon in order to properly soak it all in.
10. Kaze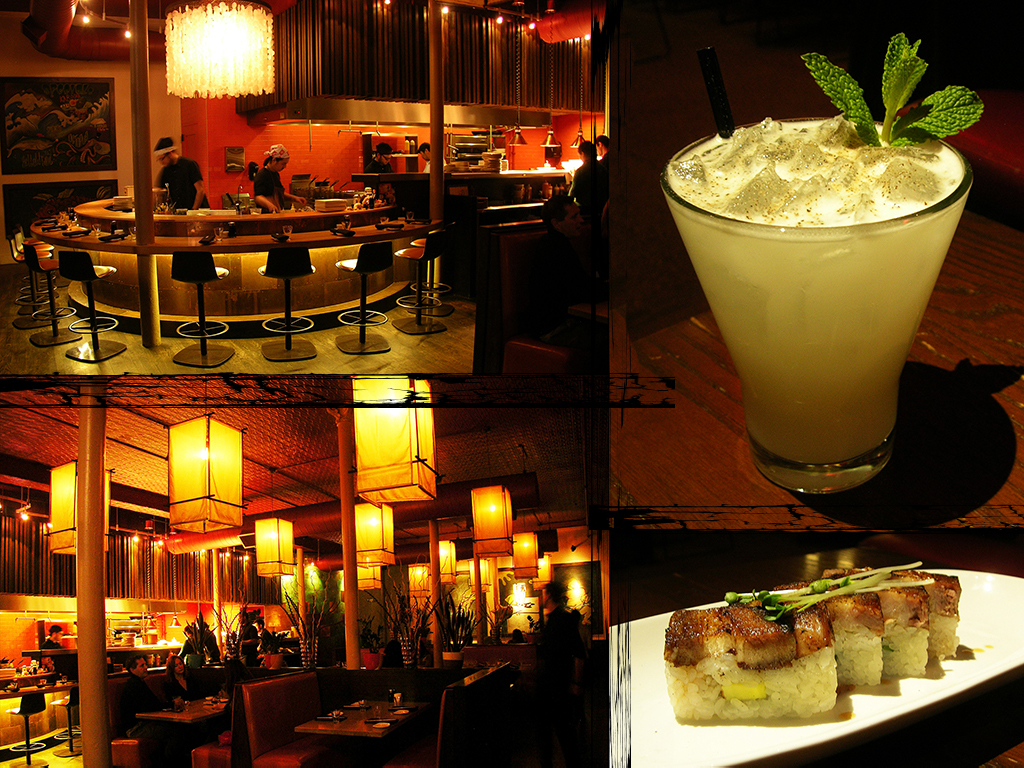 The Spot: Stuffed inside the old "Cincinnati Paint" building on a street corner in OTR, Kaze resides with all of the Asian-inspired atmosphere you could ever want, with enough space to seat half of the Japanese military. Its front dining room is lofty and gently lit by massive lanterns, offering ample booth, table, and sushi bar seating, with chalk pastel adorned paintings at every corner.
Misplace your direction and you will discover the back bar area and the beer garden instead of the latrine, a discovery that rewards you with sights of stacked sake casks, jutting barn rooflines, old Godzilla films, and those monolithic red lanterns. Tip-toe out to the beer garden and you will immediately notice that half of it is heated and covered stable-style, with a nicely stocked bar, complete with fire pits, exposed brick, trees, and both bench and open table seating.
The Chefs: After playing around with sushi in America for a few years, head chef Hideki Harada took a prolonged trip to Japan, where he entered culinary school in Osaka and rekindled his love affair with the art form. Heavily street food influenced, but with a "kaiseki" sense of fine dining purpose, Harada's spin on Japanese cuisine is equal parts "izakaya" pub food, and top-tier, sashimi-grade perfection.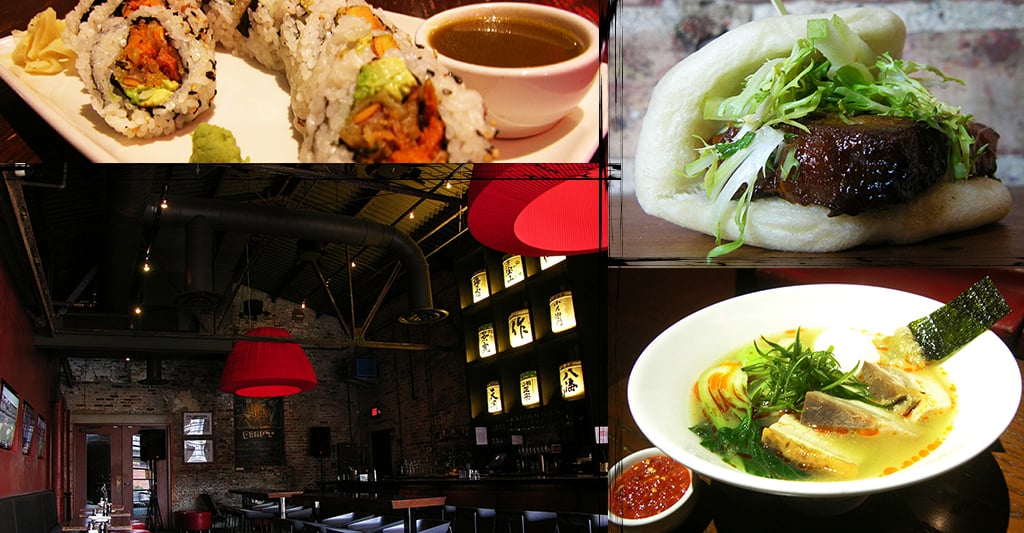 The Grub: Rich, warming, and pork belly-laden, the ramen here is a real crowd favorite, and with the addition of bok choy, green onion, and a poached egg, there's a lot to love in a bowl of this broth. I also strongly recommend trying one of Harada's pork steamed buns, complete with thinly sliced apple, frisee, and mustard vinaigrette. It's the perfect blend of sweet, savory, soft, and fatty. Other notable delights are The Kato sushi roll, which is stuffed with vegetable fritter, avocado, and comes with a chimichurri dipping sauce, and the Pork Battera, complete with tamago, jalapeno, and a zesty guacamole.
The Libations: In order to have a beer garden you need to have some suds on tap, and Kaze has you covered in that department with seven rotating draft selections and one Japanese beer on at all times. Beverage director, Margaret Kosch, adds her own spin on things by bringing out some unique cocktails, like the pale "Zombie Geisha," which blends house-infused jalapeno basil nigori sake, white rum, mint simple syrup, and lemon all together in a glass. Personally, I'm a fan of the "Tokio Mule," because when you mix vodka with elderflower, lemon, and Crabbies ginger beer magic typically happens.
The Verdict: To this day Kaze remains one of the best places for grabbing some happy hour goodness in Cincy. The atmosphere is both upscale and unique, and I love that it has three strikingly different environments to choose from, all in one location. Personally, I'm a huge fan of Kaze's beer garden when weather permits, so if you plan on heading down to OTR to check it out, be sure to call ahead in case you need reservations.
More from Culture Cheat Sheet: