These Filling 100 Calorie Snacks Are Perfect for Weight Loss
Battling weight loss can be tough when you're constantly up against hunger pains. Fortunately, there's a way to eat throughout the day while continuing to lose weight. The key is to have small, low-calorie snacks on hand, so when hunger strikes, you have the willpower to ignore that office candy bowl and walk right past those donuts in your morning meeting.
These handy snacks are easy to prepare ahead of time, portable, and less than 100 calories each.
Popcorn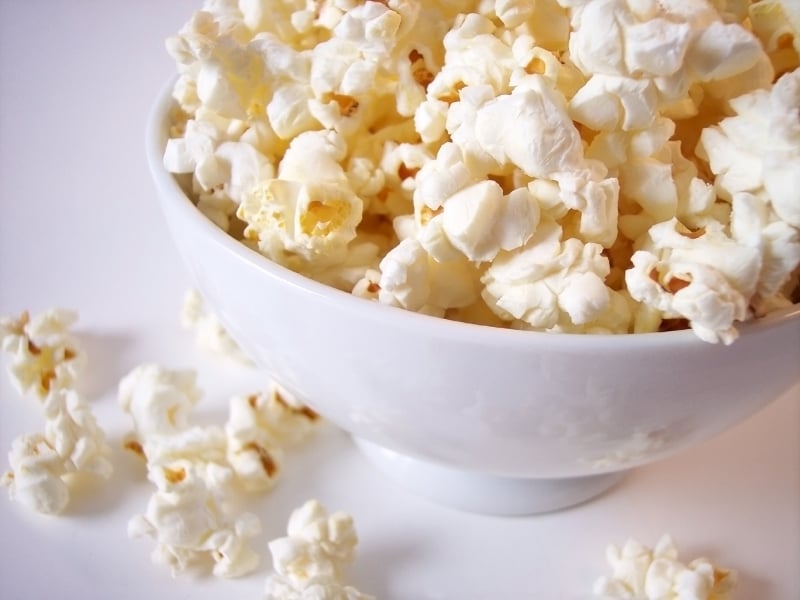 When you are feeling snacky, popcorn is the perfect low-calorie snack to reach for. Help yourself to six cups of microwave popcorn and only take a 100-calorie hit. Not only is popcorn high in fiber, which helps you stay full longer, but it's the perfect snack to eat while you read, work, or watch a movie because you can eat aimlessly, without the guilt! If you have time, skip the microwave popcorn and pop your own popcorn so you can control the salt levels and try out different, low calorie toppings. Pro tip: avoid purchasing popcorn with tons of added butter; that packs on calories and fat.
Cucumbers and cream cheese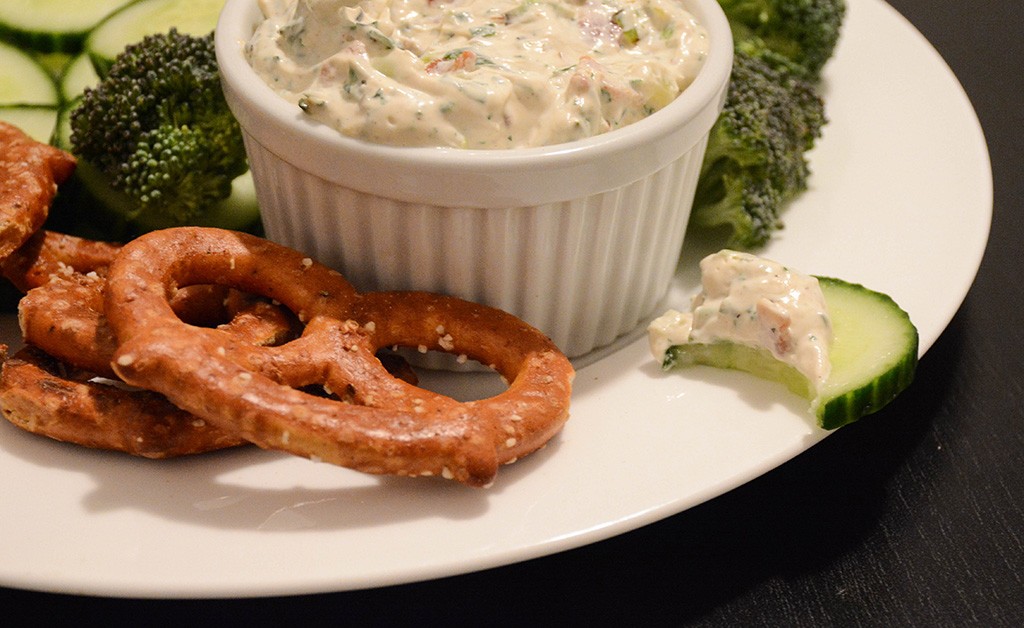 Slice up a cucumber into thin slices; peeling the skin is optional. Take two tablespoons of cream cheese, and spice it up by adding in some chopped up roasted red peppers. Mix together, and either use the cream cheese as a dip for the cukes, or spread it on the cuke slices with a knife for a flavorful midday snack.

Deli roll-ups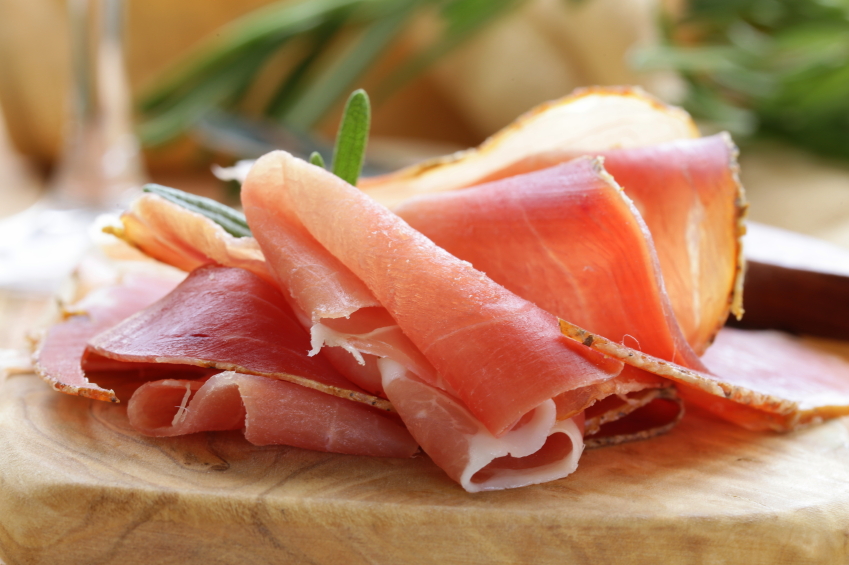 When you're craving a bit of meat, skip the bread and put a slice of deli cheese or a smear of cream cheese directly on the deli meat. Roll up the meat, and you have a low calorie meat and cheese snack, minus the starchy bread. For different combinations, try two slices of extra-lean ham with two tablespoons of light, whipped cream cheese or one slice of turkey meat with a slice of reduced-fat Swiss cheese. Sprinkle with salt and pepper and enjoy!
Mexican potato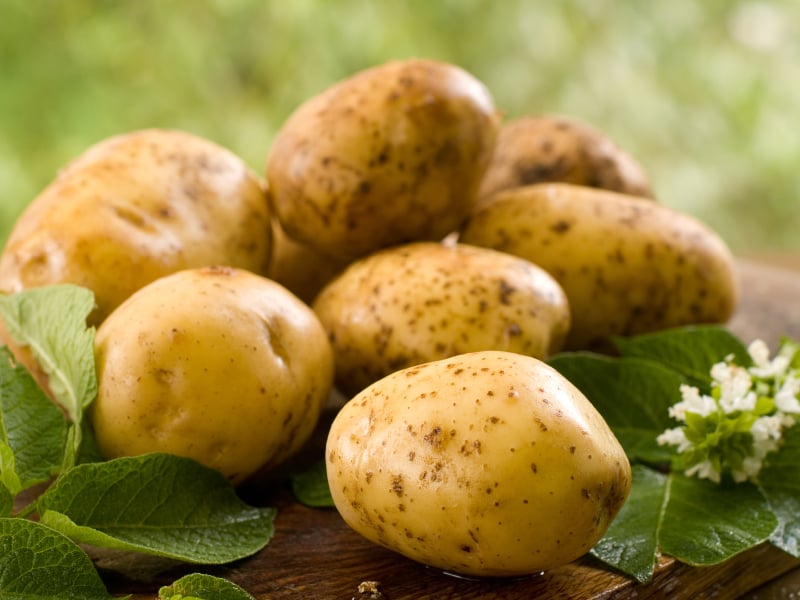 Sometimes you need something warm and satisfying for a mid-afternoon snack. When the feeling hits, take a medium potato (about the size of a computer mouse), pierce it with a fork, and pop it in the microwave on high for about five minutes. Cut the potato in half and top with a tablespoon of plain Greek yogurt and a tablespoon of salsa. Save the second potato half for the next time you need a hot, 100-calorie snack. To mix it up, use a sweet potato and other low-calorie toppings, like light sour cream. 
Mini quesadilla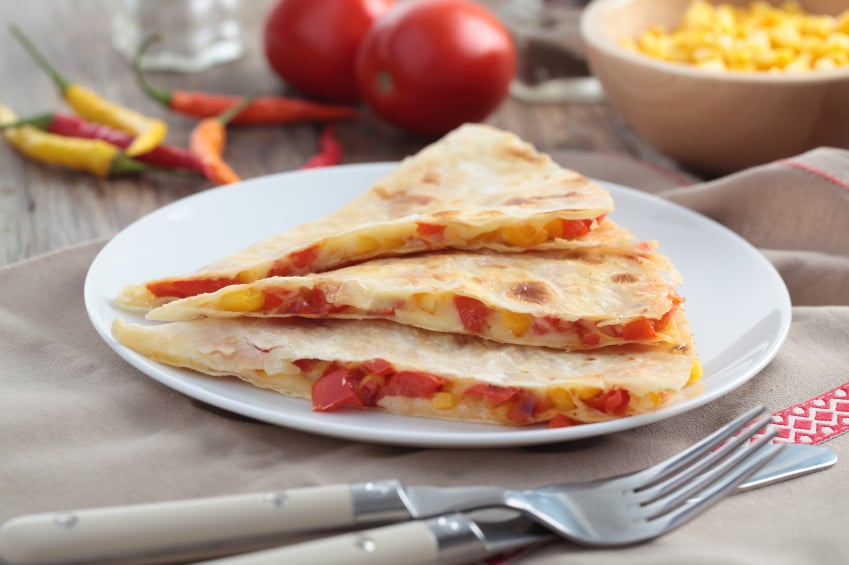 When you're craving a little comfort food, this low calorie snack will do the trick. Sprinkle an ounce of grated, low-fat cheddar cheese and some fresh tomatoes on a small corn tortilla–extra points if it's whole wheat. Fold in half and microwave for 20 seconds. You can prepare this in advance and pack it away in a plastic container or piece of tin foil, or bring the ingredients with you and whip out a mini treat any time hunger strikes.
Apples and cheese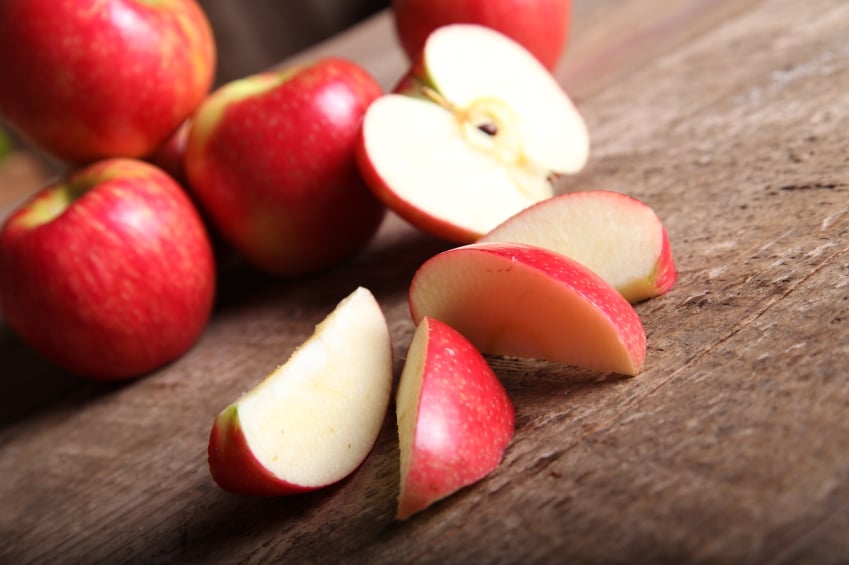 Slice up half of a medium sized apple and pair with one ounce of cheese or one light, mozzarella cheese stick. For the best sweet and salty mix, avoid granny smith apples, since they  lean more on the bitter side. If you're more of a peanut butter person, swap out the cheese for half a tablespoon of your favorite crunchy peanut butter.
Caprese salad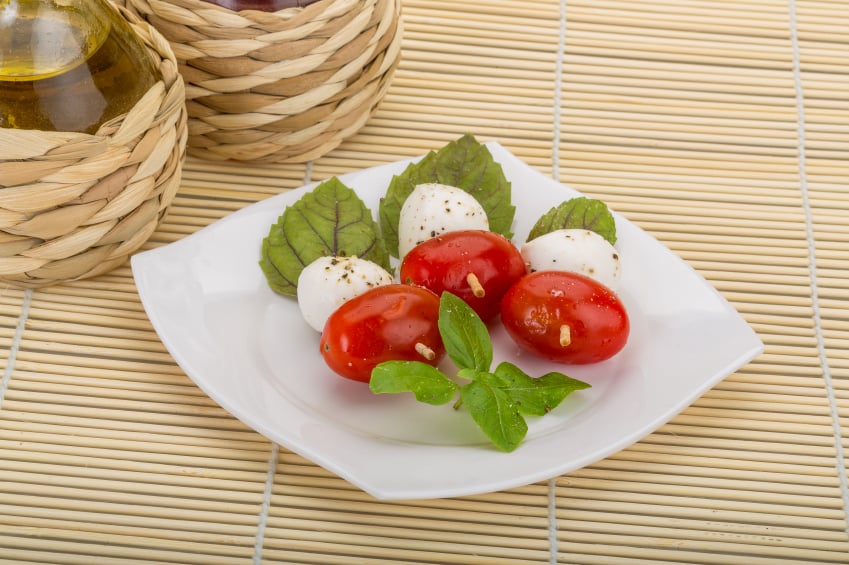 If you love the flavors of a caprese salad, create a mini version next time you're in need of a quick, low-calorie snack. Slice one tomato (or grab a few cherry tomatoes) and pair it with one ounce of fresh mozzarella and some fresh basil. Sprinkle with salt and pepper and drizzle with a tablespoon of balsamic vinegar for a fuss-free snack that will make you feel like you're dining in style.
Hard-boiled egg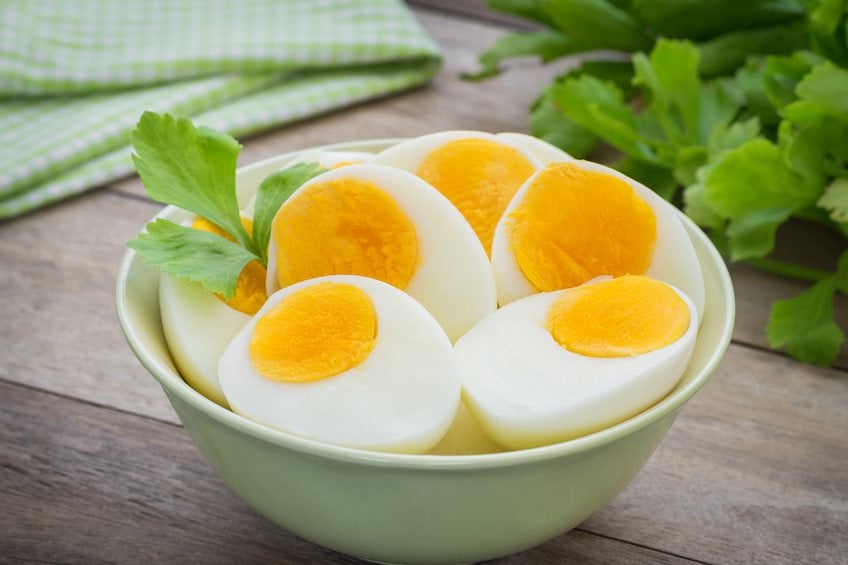 For a satisfying snack that's less than 100 calories, not much beats the standard hard-boiled egg. Prepare ahead of time and enjoy this protein-packed snack anytime of day. Mix it up by sprinkling the egg with salt, pepper, and paprika for a different taste. Add a teaspoon of mayonnaise to make a quick deviled egg and still keep the calorie count right around 100.
Broth-based soup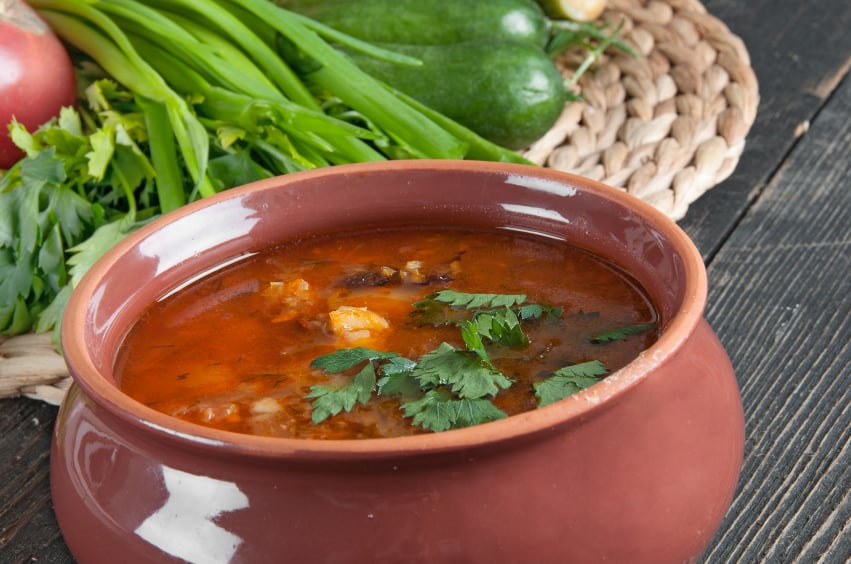 During the winter, your veggies and hummus may not do the trick as you crave something filling and warm. Throw a broth-based canned soup in your bag, heat it up, and enjoy a cup of warm goodness when hunger hits. Opt for a lower sodium version that is packed with fiber filled veggies to keep you full longer. Or, keep the sodium low by cooking homemade soup and bringing a bit to work each day in a reusable container.
Greek yogurt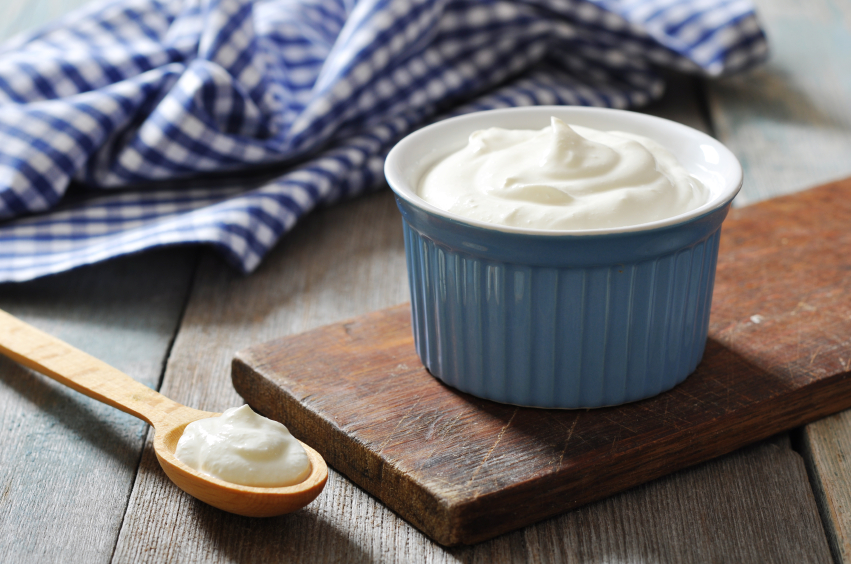 There's a reason gym-goers and health fanatics love Greek yogurt — it's packed with tons of protein and can be incorporated into your breakfast, lunch, or dinner. If you're looking for a quick snack to fill you up before your next meal, try a yogurt from Chobani's Simply 100 line. They come in a variety of delicious flavors and pack 10 grams of protein, probiotics for healthy digestion, and no artificial sweeteners. That being said, going for the plain version with fresh fruit is an even better option. 
Hummus with celery sticks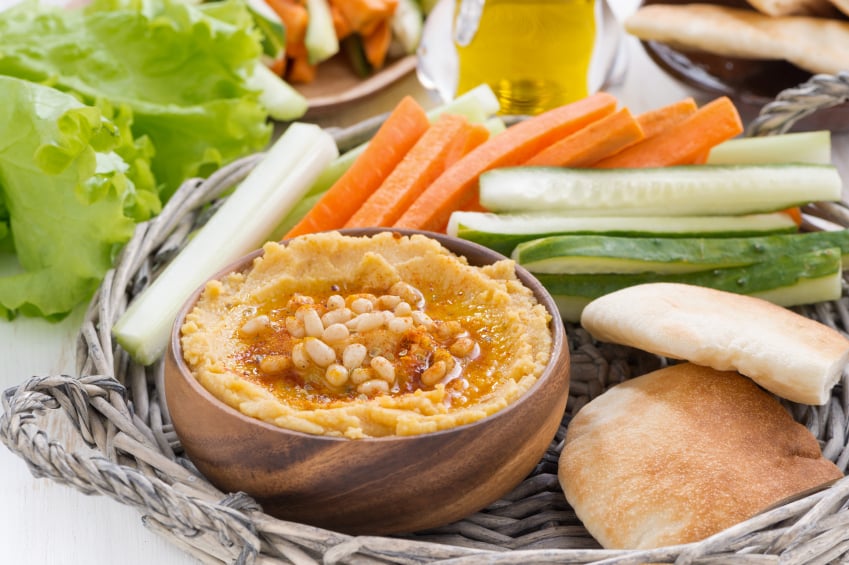 Whether you make it yourself or buy it from the store, hummus is always a delicious and healthy snack option. The calories can add up if you're dipping pita chips and crackers into your hummus, though. Skip the chips and go for celery as your dipper of choice to enjoy a guilt-free snack that will keep you satisfied for hours. An entire stalk of celery only contains six calories, so feel free to load up on veggies paired with two tablespoons of hummus.
Check out The Cheat Sheet on Facebook!