15 Royal Traditions Queen Elizabeth II Broke for Meghan Markle
Meghan Markle isn't your typical royal family member by any stretch. She's the first biracial, American, divorcee to marry into the British royal family – and marry a prince and potential heir to the throne, no less. The Duchess of Sussex has turned heads and inspired tons of gossip thanks to her refusal to follow well-established royal traditions.
Perhaps her husband, Prince Harry, finds her lack of rule-following refreshing. After all, he's been described as the black sheep of the family and went through his own rebellious phase. But what about Queen Elizabeth II? What does she think of her granddaughter-in-law breaking protocol?
Shockingly, the Queen isn't just accepting of Meghan Markle just the way she is – she even assists her with royal tradition breaking from time to time. Ahead, check out all the royal traditions that Queen Elizabeth broke for Meghan Markle.
1. Christmas is for royal family members only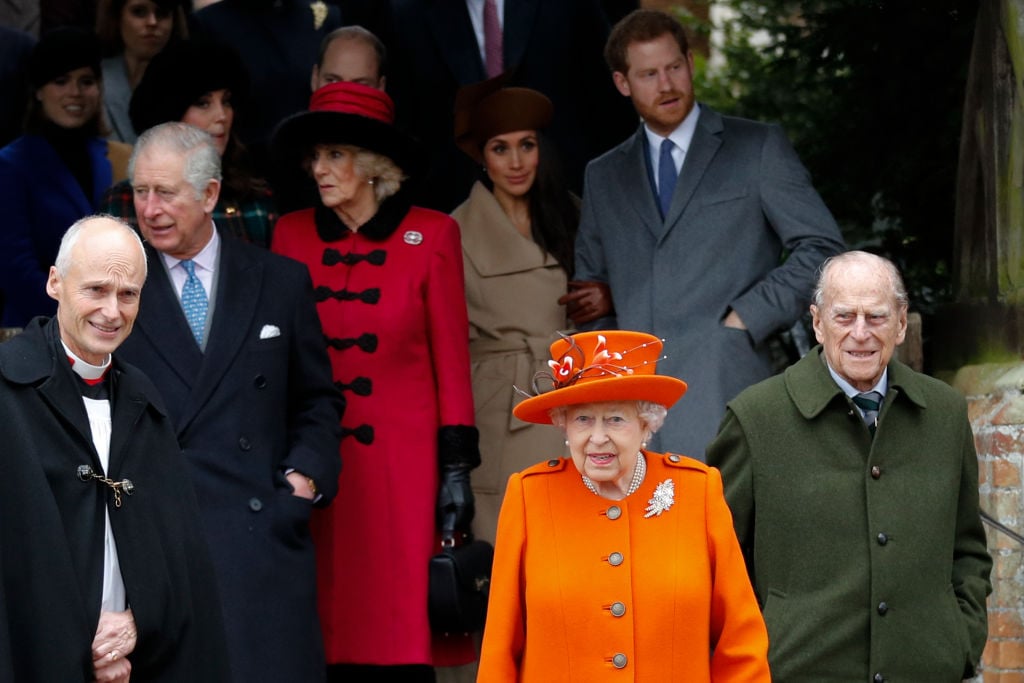 It's common knowledge that the Queen takes Christmas very seriously. Royal family members are required to put in an appearance at their Sandringham Estate royal celebration, but typically no one is invited to join unless they're part of the family.
That's what made it so surprising when Meghan Markle got invited to the 2017 royal Christmas gathering before she was technically married to Prince Harry. For Christmas 2018, the Queen is even inviting Meghan's mom Doria Ragland to come too.
Next: Her coat of arms is unique.

2. The coat of arms honors the whole family
An official coat of arms was created for Meghan Markle in May 2018, but it didn't follow the tradition of including the whole family. For example, Kate Middleton's coat of arms references her mother's maiden name. But Meghan's coat of arms is just for her. This could be because there's so much family drama with Meghan's extended relatives.
Meghan Markle's coat of arms features elements that represent her past including a blue background symbolizing the Pacific Ocean and gold rays for the California sunshine.
Next: People couldn't believe her wedding happened here.

3. Divorcees don't get a church wedding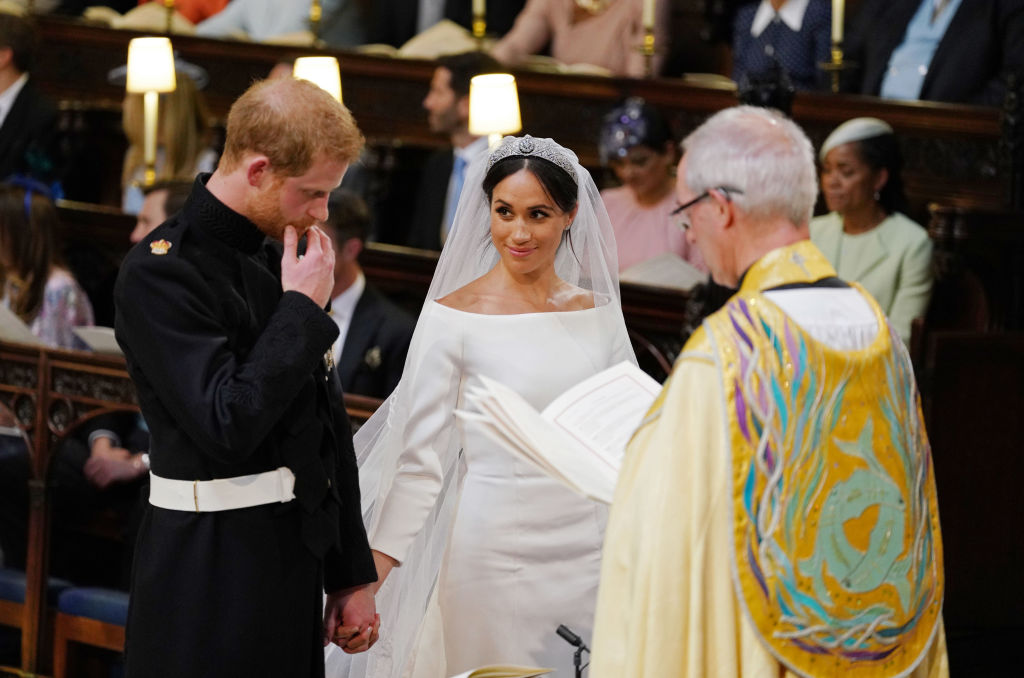 There was a time when members of the royal family weren't even allowed to marry someone who was divorced – that's how Queen Elizabeth became Queen in the first place (when her uncle abdicated the throne to marry an American divorcee).
Even though the rules are more relaxed now, royal family members still don't get church weddings when they marry someone who is divorced. When Prince Charles got remarried to Camilla, they had a simple civil ceremony that the Queen didn't attend. But for Prince Harry and Meghan Markle, Queen Elizabeth allowed a huge church wedding even though Meghan has been married before.
Next: This month was always taboo.

4. No royals get married in May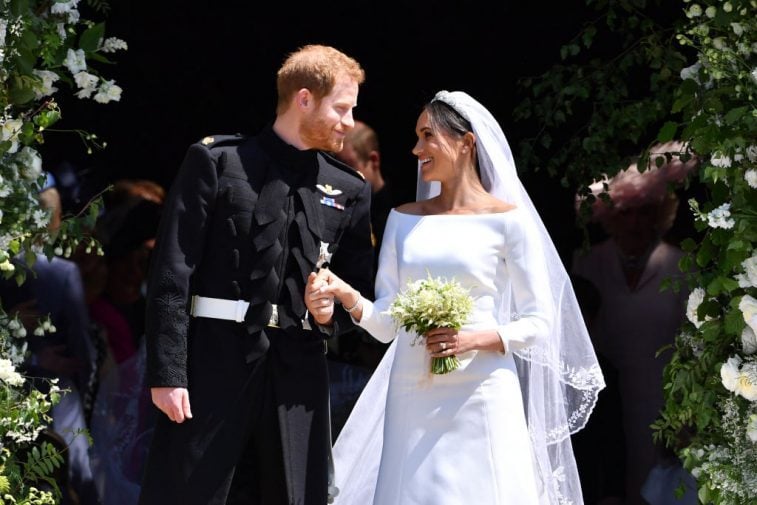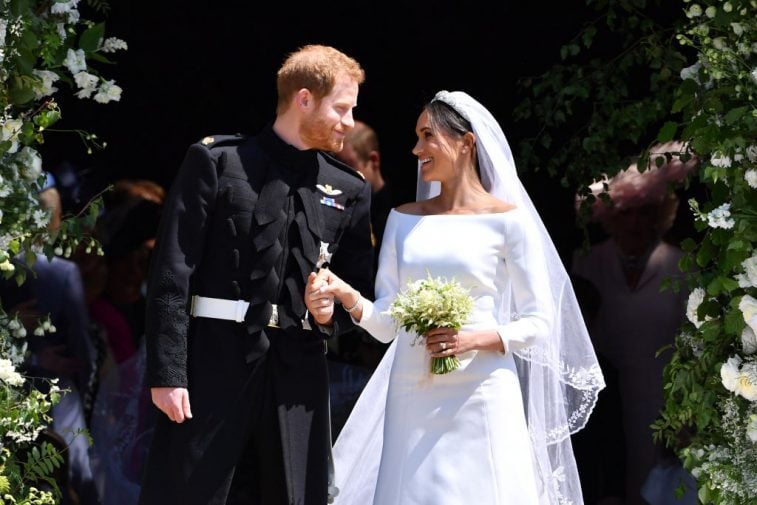 Queen Victoria, great-great-grandmother of Queen Elizabeth, believed in the superstition that it was unlucky to get married in the month of May. "Married in May, rue the day" is the popular adage she followed.
That's why it's so strange that the Queen approved Prince Harry and Meghan Markle's May wedding date. The Queen's own sister Princess Margaret got married in May and eventually divorced, ostensibly proving the myth. The Queen must truly believe Meghan and Harry can overcome the "curse" of May.
Next: The wedding invitations had this one unique detail.

5. The bride is called 'Miss' on the wedding invitations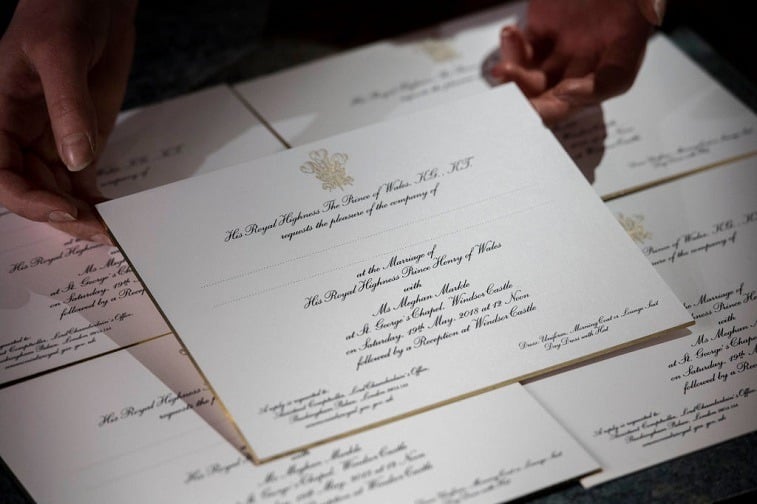 Royal wedding invitations are exceedingly formal. Usually, the bride is referred to as, "Miss," but that wouldn't have been appropriate for Meghan Markle, who has been married before. Instead, the Queen approved the invitation that said, "Ms Meghan Markle." (In the U.K., there's no period after Ms).
Next: The Queen allowed this concession for a major wedding moment.

6. The bride's father walks her down the aisle at a royal wedding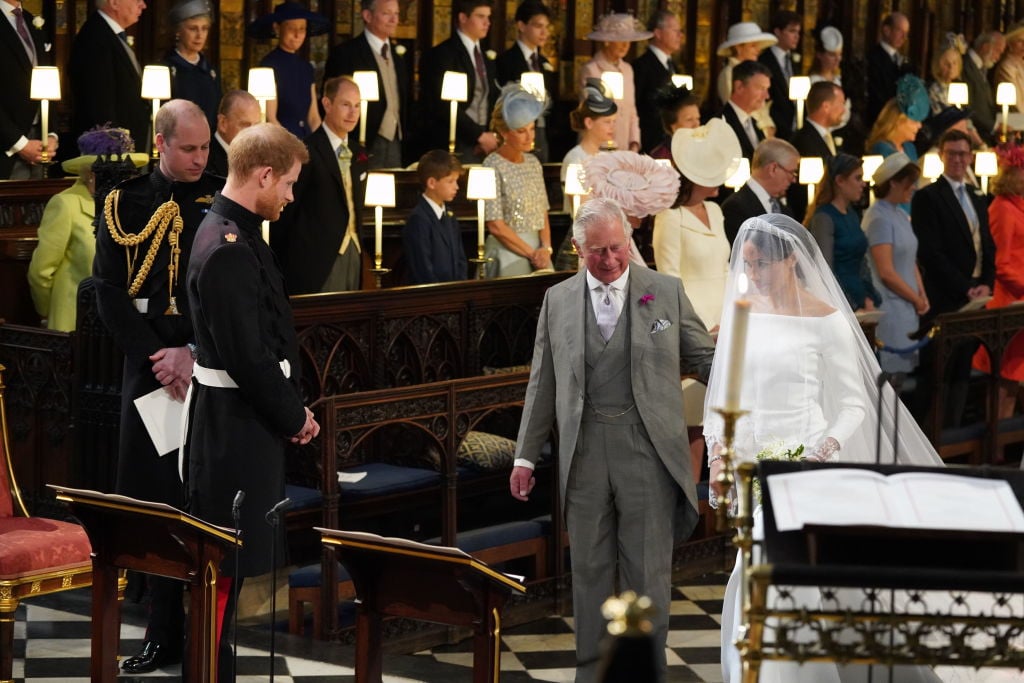 Who could forget the drama surrounding Meghan Markle and her father, Thomas Markle, right before the wedding? Sources speculated for weeks on whether he would attend or not and if he would be the one to give her away.
In the end, her new father-in-law Prince Charles walked Meghan down the aisle — a break in protocol that was approved by the Queen.
Next: Perhaps Meghan's personality helped influence this change.

7. The best man and the host give wedding speeches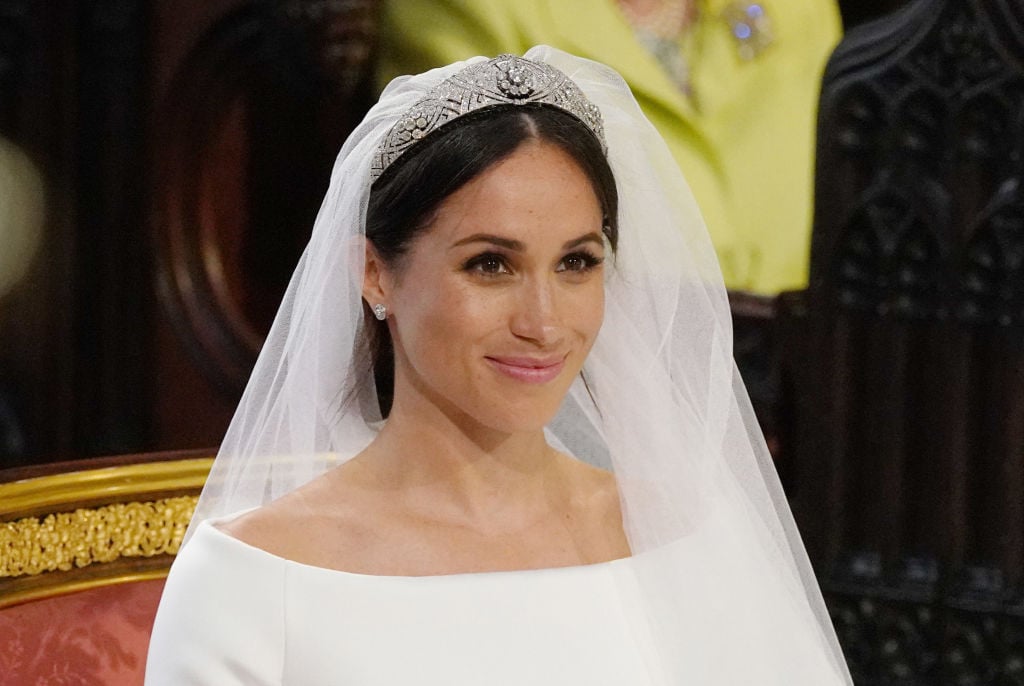 Traditionally, the best man and the wedding host – usually the Prince of Wales – offer toasts at a formal royal wedding. But at Prince Harry and Meghan Markle's nuptial celebration, the bride herself was granted the opportunity to make a speech. Probably because she has a real way with words.
Next: Most royal grooms don't do this one thing.

8. Grooms don't wear wedding rings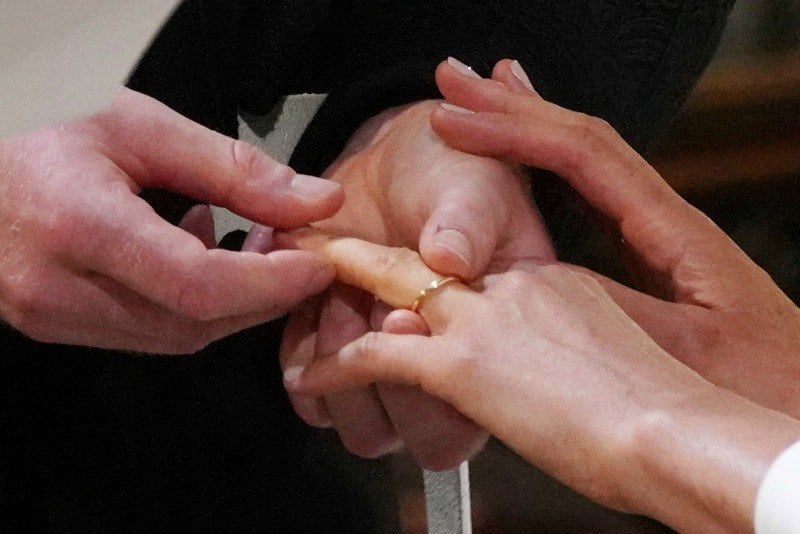 Most royal men don't wear wedding rings. Prince William doesn't and neither does Prince Philip or Prince Charles. But perhaps Harry likes jewelry, or maybe his new bride believed in the more American tradition of both men and women wearing wedding jewelry. No matter what the reason, Prince Harry wears a wedding ring and the Queen doesn't mind.
Next: Meghan may living in the U.K. now, but she'll never forget her American roots.

9. Royal weddings exclusively include British music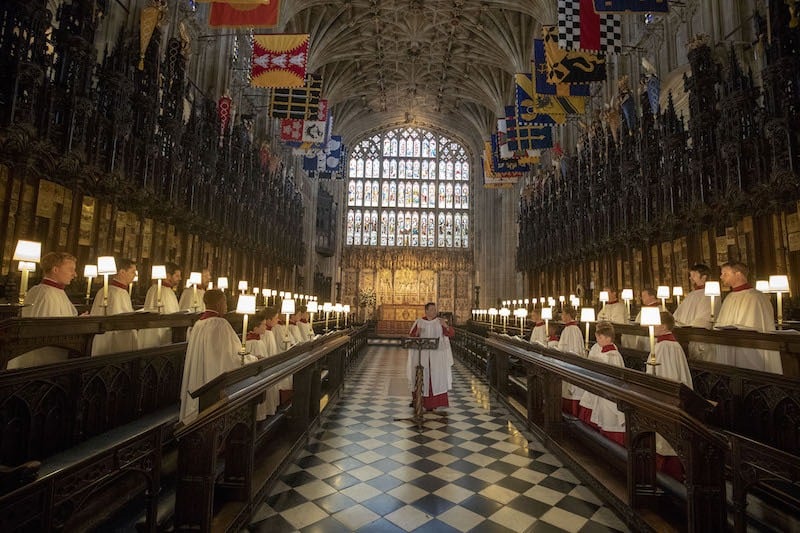 There might not be much discussion about including music from other countries when a British royal family member marries someone from the same country. But in the instance of the Duke and Duchess of Sussex, the bride had a few American songs she wanted included in the ceremony. The Queen gave the go-ahead to break the standard in this case.
Next: Most royals would never dare do this, but Meghan did.

10. There's usually no garlic allowed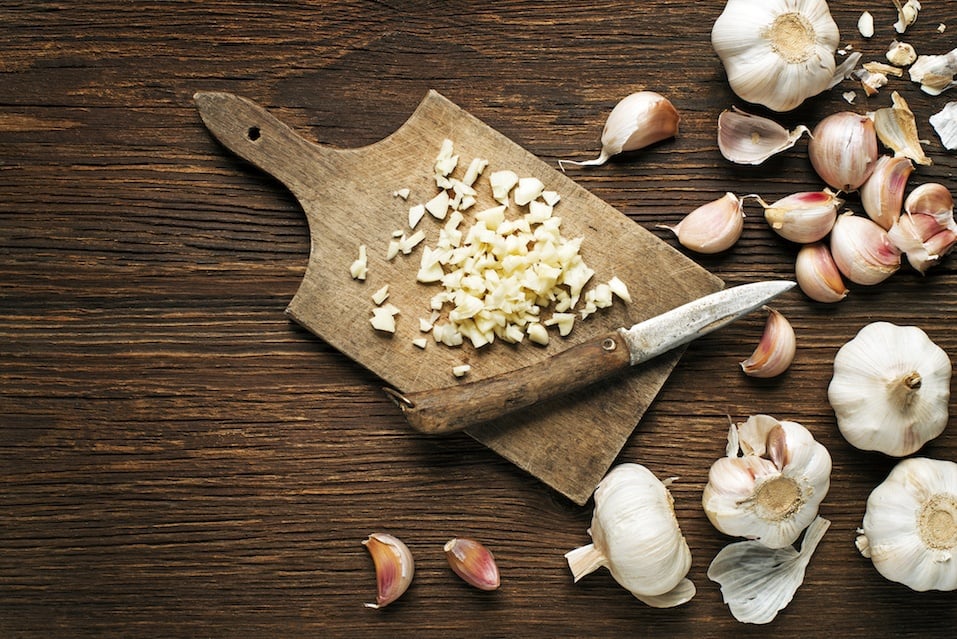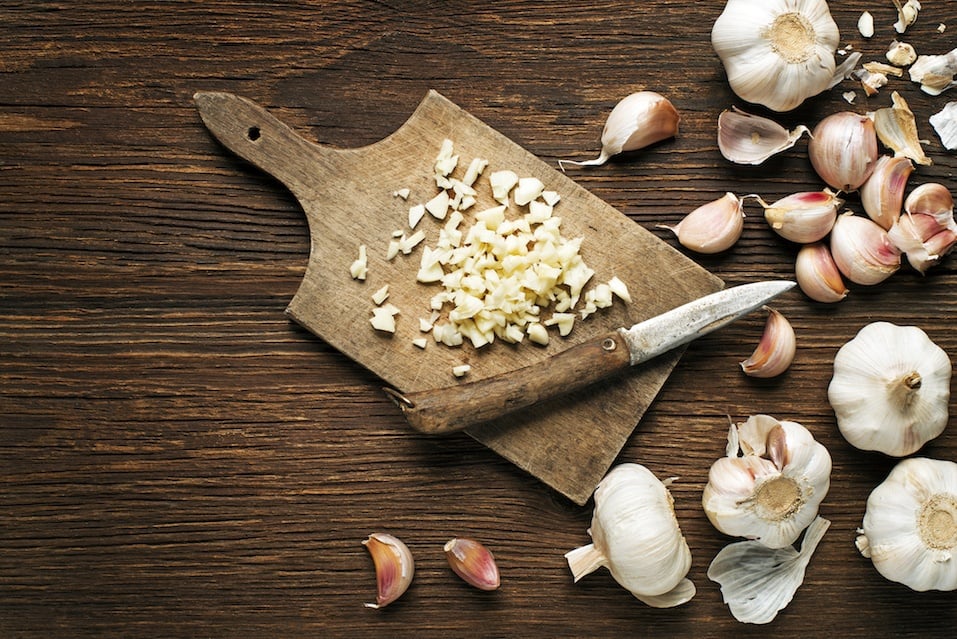 No garlic breath!
Queen Elizabeth doesn't just hate eating garlic – she despises it so much that she doesn't allow anyone in the royal family to eat it, either. That's why it's so surprising that Prince Harry and Meghan Markle were roasting a chicken with lots of garlic on the night he proposed. The pair didn't even try to hide their forbidden spice usage.
Next: She's not afraid to break this rule to look good.

11. Royals can't bare their shoulders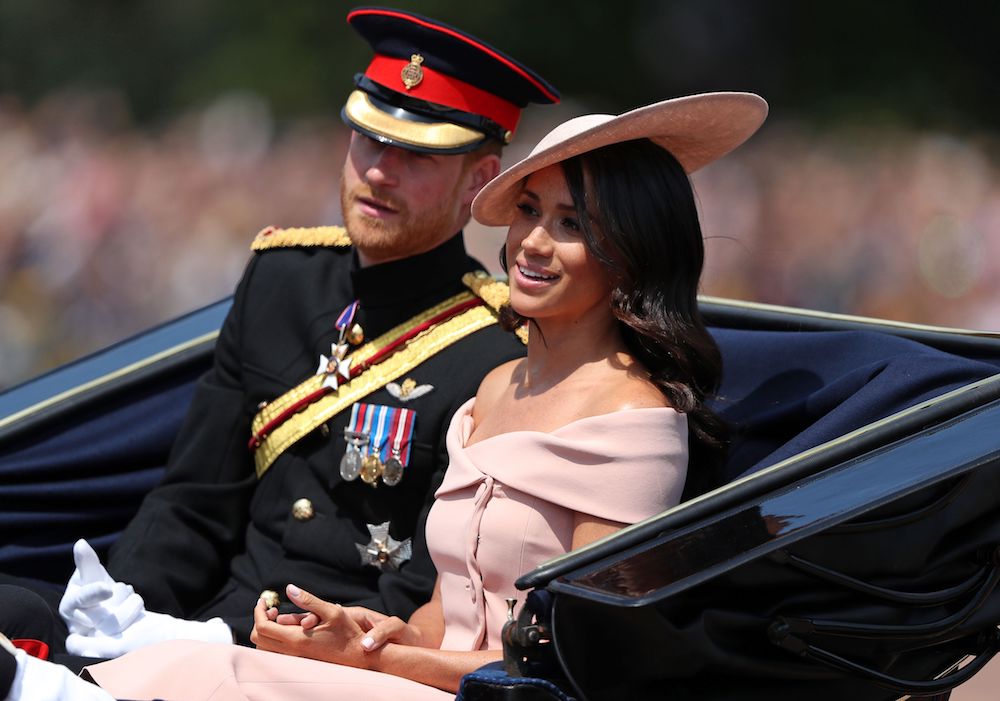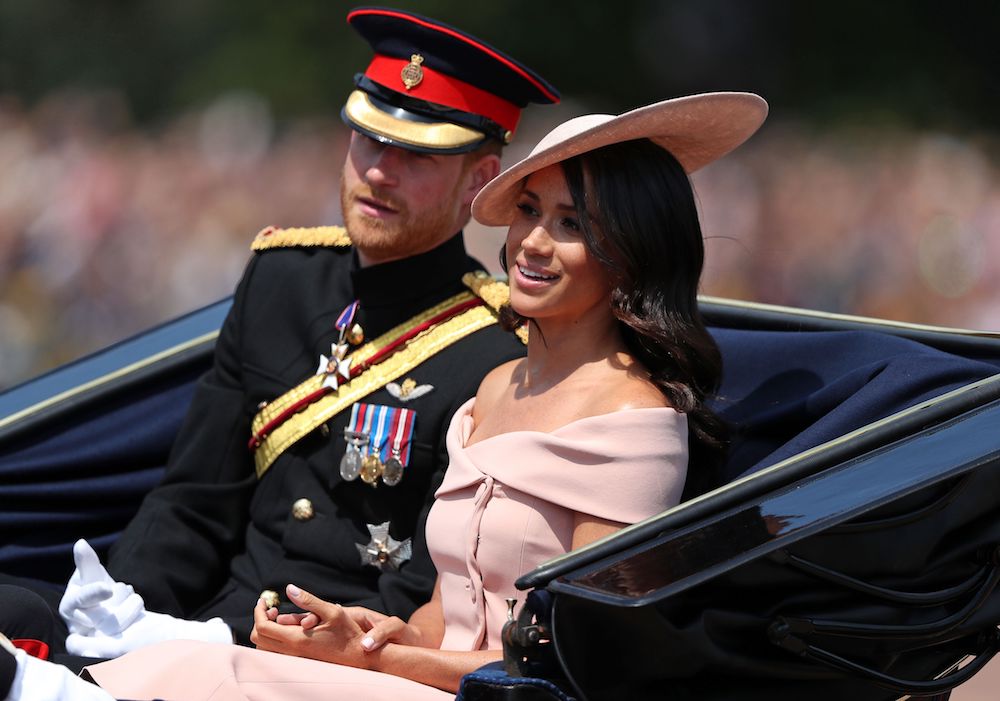 It's always been tradition that women of the royal family aren't permitted to expose their shoulders. So you can imagine the surprise when the Duchess of Sussex arrived at her first Trooping of the Color, a birthday celebration for Queen Elizabeth, in an off-the-shoulder Carolina Herrera dress. Apparently the Queen let that rule slide for Meghan Markle.
Next: Kate Middleton breaks this one rule, too.

12. Wedge heels aren't allowed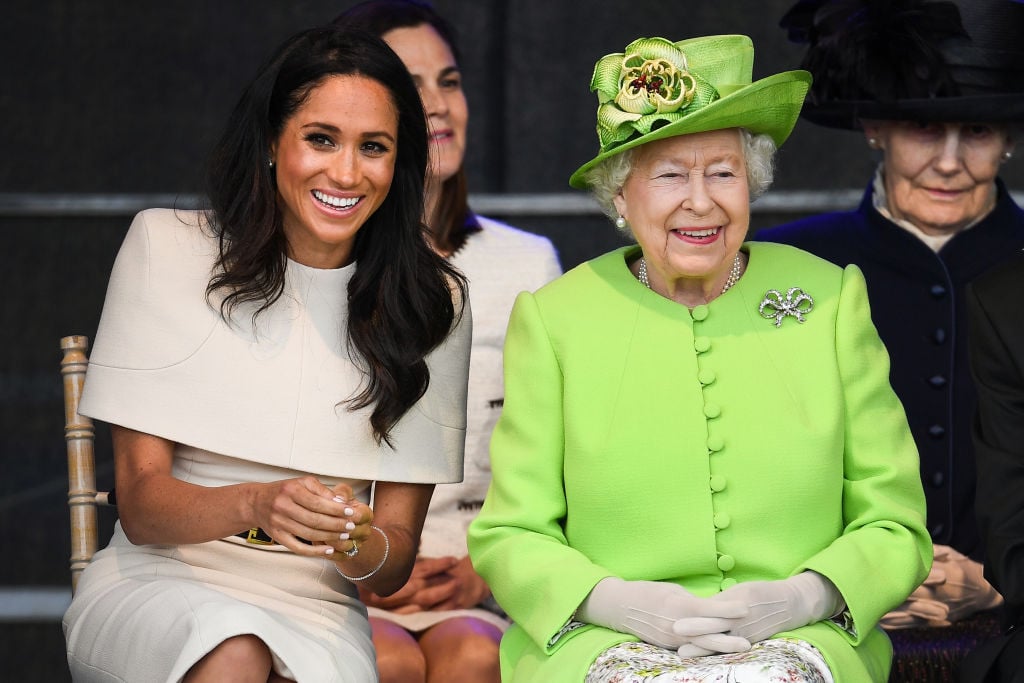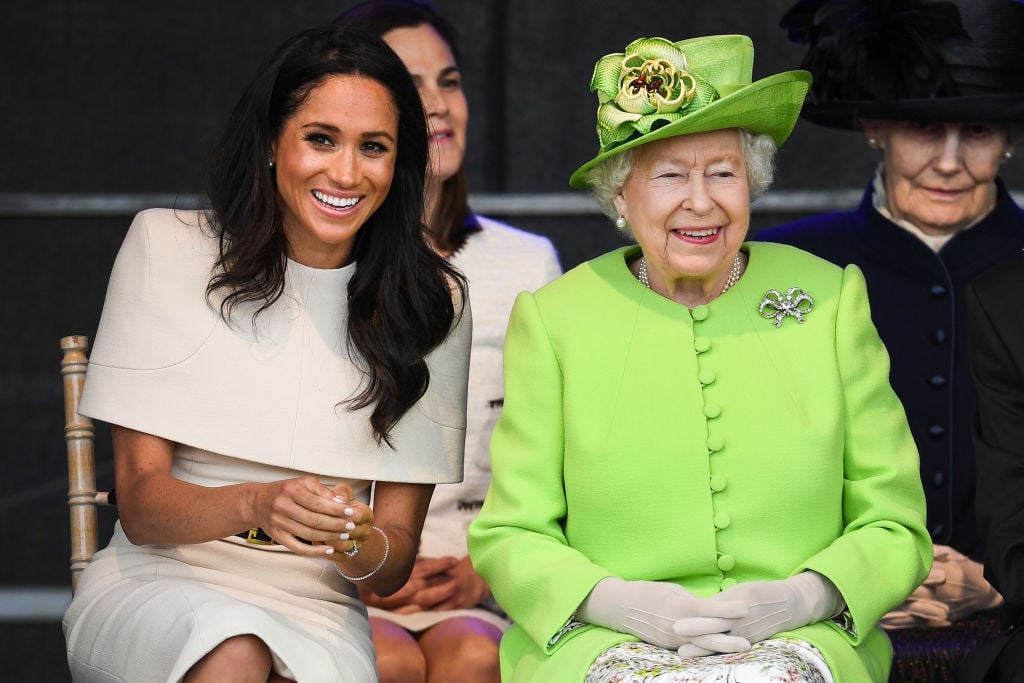 Just like her dislike of garlic, the Queen abhors wedge style heels and most royal women would never don them in her presence. But Meghan Markle chose fashion sense over tradition when she wore them anyway. Apparently, Kate Middleton has done the same and neither has been reprimanded for it.
Next: Meghan Markle was doing this even before she got married.

13. Royal ladies wear hosiery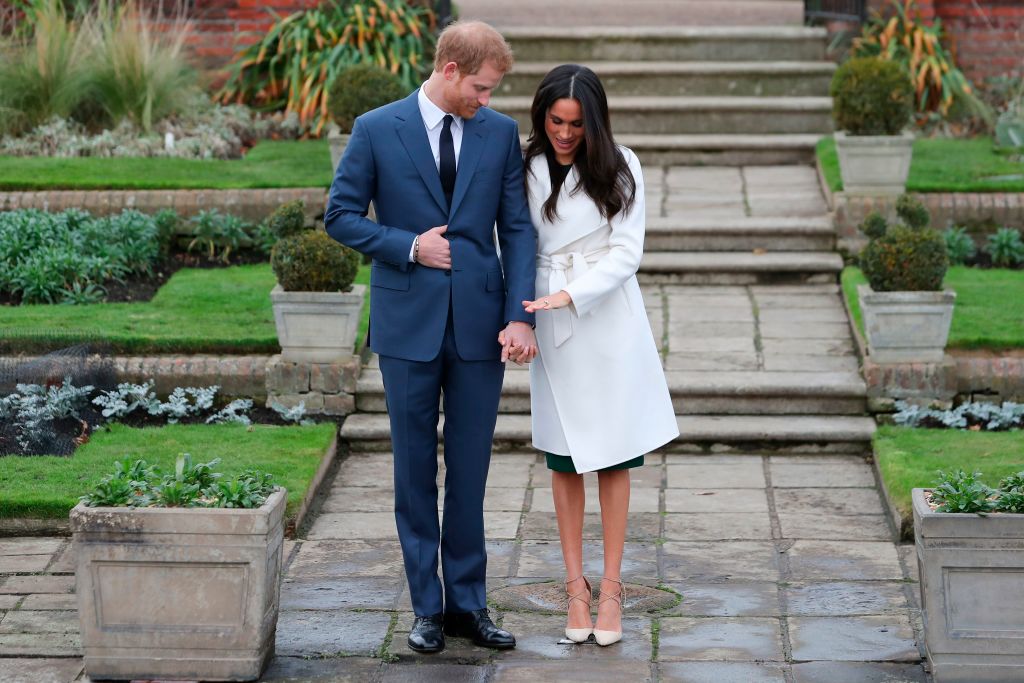 Hosiery companies with suffering sales fell in love with Kate Middleton – after all, she helped increase sales and make flesh-colored stocking cool again. But they don't have similar feeling for Meghan Markle. Even though royal women are supposed to cover their legs with stocking in public, the Duchess of Sussex skipped out on hosiery during her engagement photos.
Next: This rule breaking may have been an accident.

14. She crossed her legs incorrectly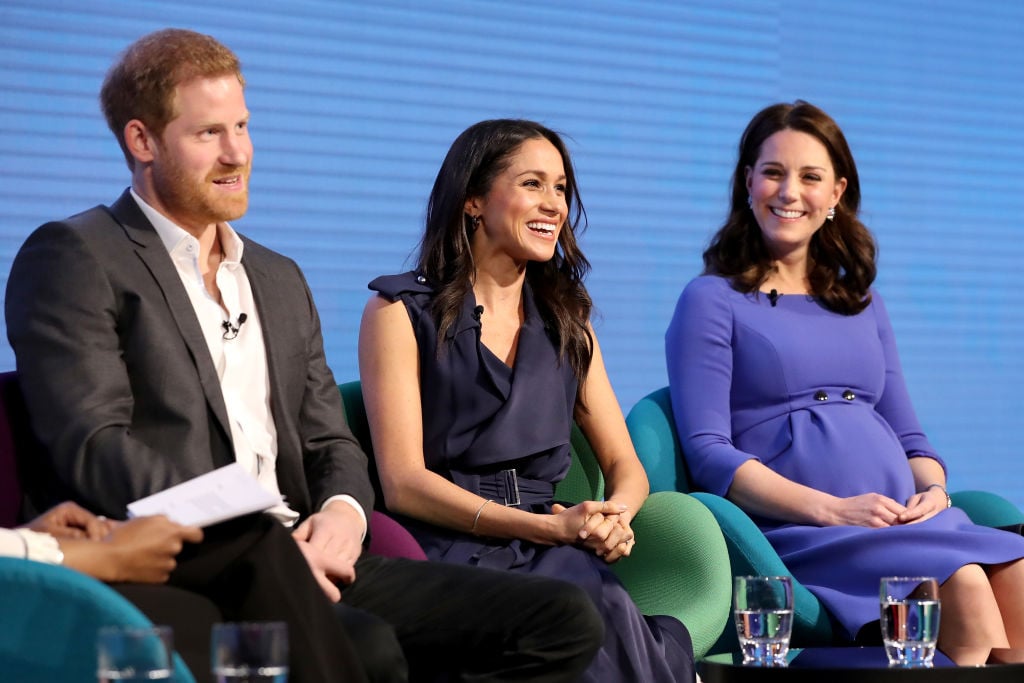 It's no coincidence that all the ladies in the royal family cross their legs the same way. This so-called "duchess slant" involved demurely crossing the legs at the ankle and angling the legs. But Meghan Markle attended a Buckingham Palace event and crossed her legs at the knee like she was used to doing.
The Queen may not have loved it, but she didn't throw her out.
Next: Blame this royal protocol breaking on true love.

15. Meghan and Harry can't keep their hands off one another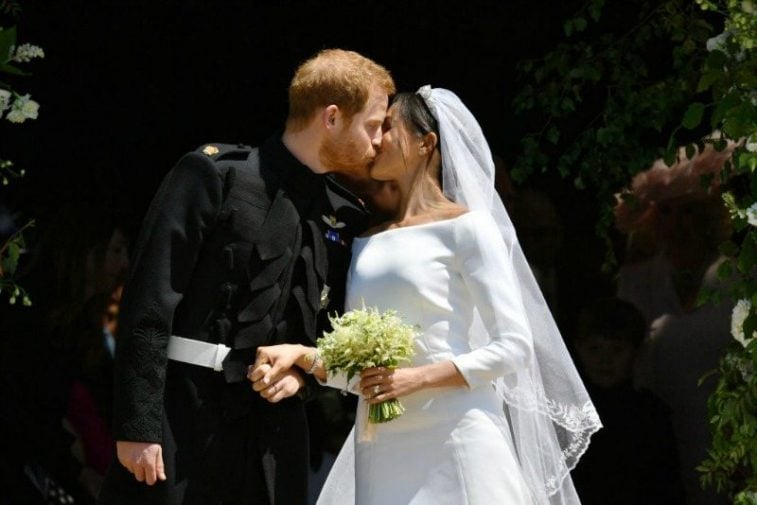 The rule may be unwritten, but it's still understood that public displays of affection (PDAs) are strongly frowned upon. That's why it's so shocking when the Duke of Duchess of Sussex are caught holding hands or even kissing in public situations.
Even if they've received a royal reprimand from the Queen, it can't stop their love, which manifests in a very physical way.