15 Things You Can Make With Unicorn Cereal and 1 You Should Stay Away From
If you nabbed a box of the trendy and elusive Kellogg's Unicorn Cereal, count your lucky stars. The cereal, which comes after a blockbuster release in the United Kingdom and Germany, remains on shelves for a limited time only. And if its popularity across the pond gives us any indication, it might fly off those as well. Does anything top pouring yourself a big bowl of these magical loops? Making something delicious out of them, of course! We found these awesome recipes to whip up some magic, and one cautionary tale you do not want to try (Page 16).
1. No-bake cereal bars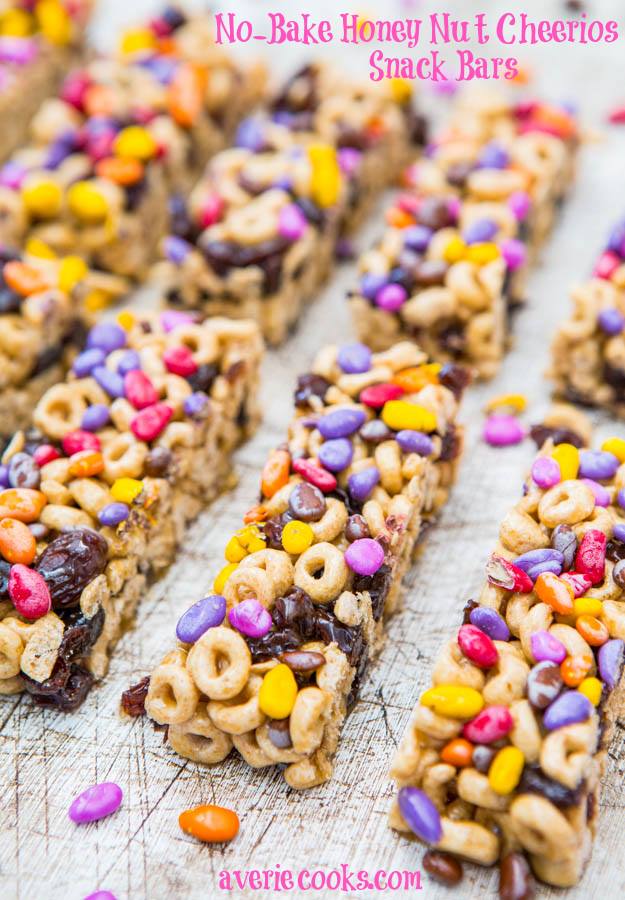 Let's get real: Sometimes, you just don't want to turn on the oven. These no-bake cereal bars work perfectly with any cereal you have lying around. That said, the bright colors of Kellogg's Unicorn Cereal will look especially great. Toss in some M&Ms, sunflower seeds, peanuts, or whatever sounds good to you for extra pizzazz.
Next: Your kids (and kids at heart) will love this twist on a classic.
2. Unicorn krispies
We all remember the classic Rice Krispy Treats, right? Bring these school lunchbox favorites into the 21st century with Kellogg's Unicorn Cereal. The fruity flavor will take the fun up a notch, and the bright colors can brighten up any day. Feel free to mix and match cereals, too. The sky's the limit with this super simple recipe.
Next: This fresh look at Chex Mix can get seriously addicting.
3. A sweet take on Chex Mix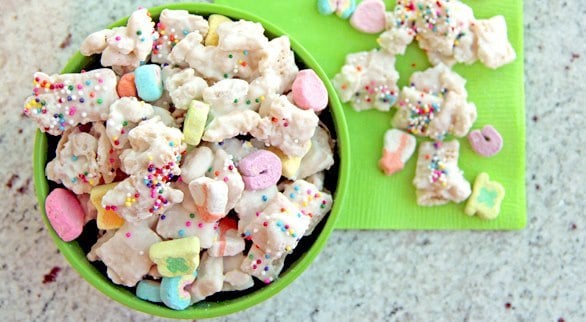 If you love the game day favorite, you will go nuts for this dessert version. While the recipe calls for Lucky Charms, it works just as well with unicorn cereal, or whatever you have lying around. Serve this sweet mix at a party or pack it in your kids' lunches as a pick-me-up after a tough day on the playground. But be careful: You can't have just one handful.
Next: An adult version of a kids' favorite? Yes please!
4. Rum-infused squares for the grown-ups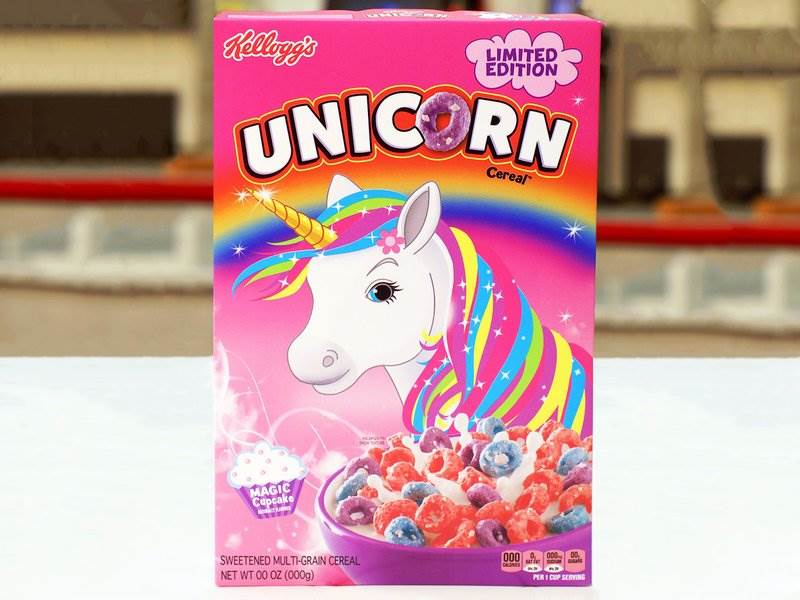 Don't worry, these rum-infused unicorn cereal bars will not get you tipsy. They only use a few tablespoons for the entire recipe, for just a little tropical flavor. If you need a colorful, fun dessert that will take you and your friends back to childhood, look no further. Since the unicorn cereal already has sprinkles, you can skip them. Either that, or double down on the confetti. Your choice!
Next: If you want to drink your cereal, we've got you covered.
5. The drunken unicorn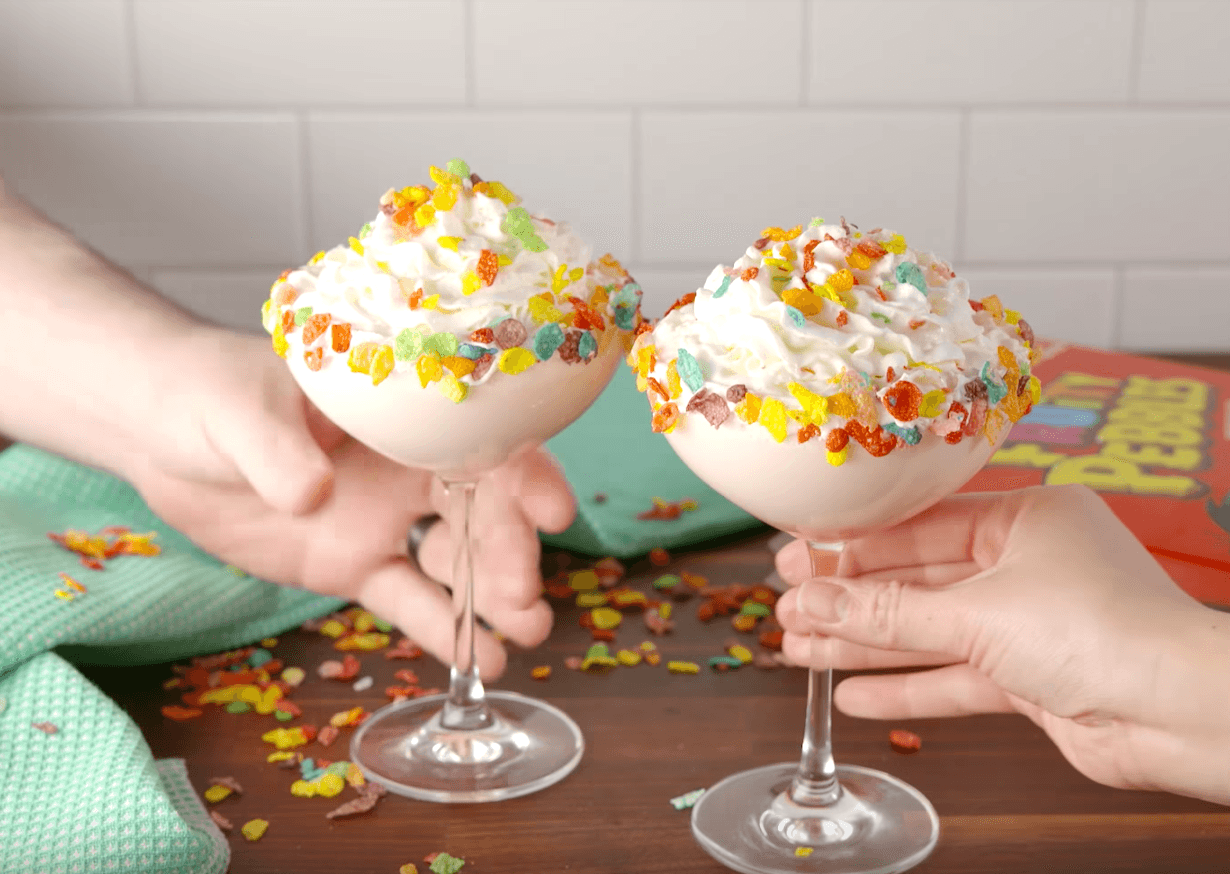 This recipe calls for Fruity Pebbles, but we think it tastes just as great with Kellogg's Unicorn Cereal. It makes use of that sweet, slightly fruity milk that gets left at the bottom of the bowl, with vodka for a real, grown-up treat. Using additional cereal as a garnish makes it totally photo-worthy, too. Go ahead. Treat yourself.
Next: Chill out with these delicious cereal popsicles.
6. Breakfast popsicles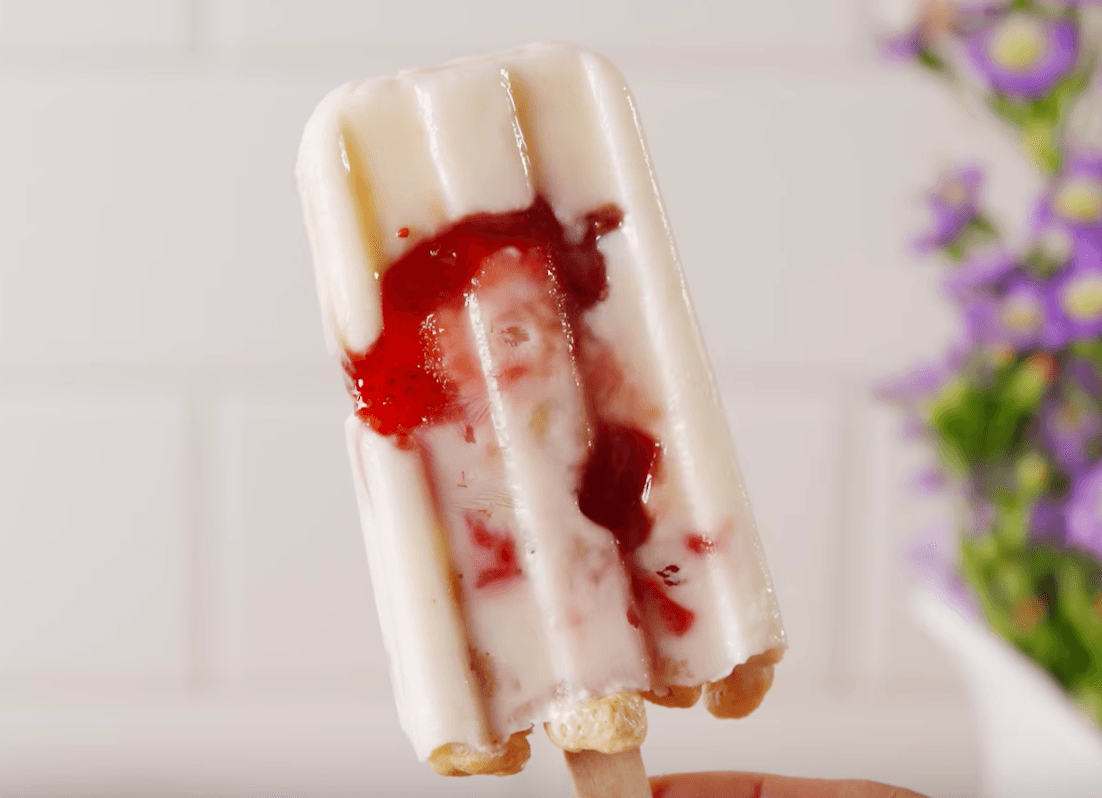 Start a hot day off in the coolest way with these unicorn cereal pops. Using yogurt, milk, jam, and fresh fruit, they actually contain some healthy ingredients, too. Think of it like a frozen answer to milk and cereal.
Next: Bring out your inner child with these creative shooters.
7. Unicorn cereal shooters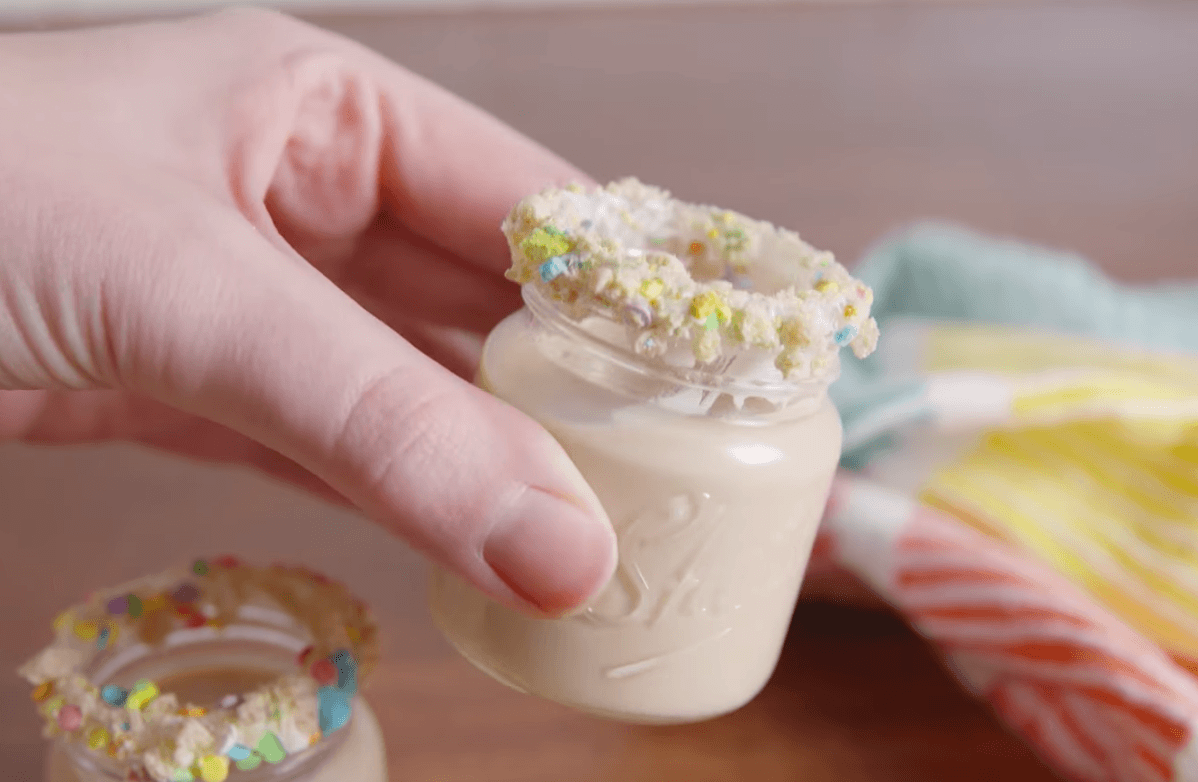 These Bailey's cereal shooters combine alcohol, milk, and cereal for a sweet treat that's all grown up. Rolling the rim in crushed-up cereal adds crunch to the creamy drink, and a little color for fun. Substitute unicorn cereal for the Lucky Charms in this recipe, or make a variety, just for fun.
Next: Give your French Toast a little color with the following idea.
8. Rainbow French Toast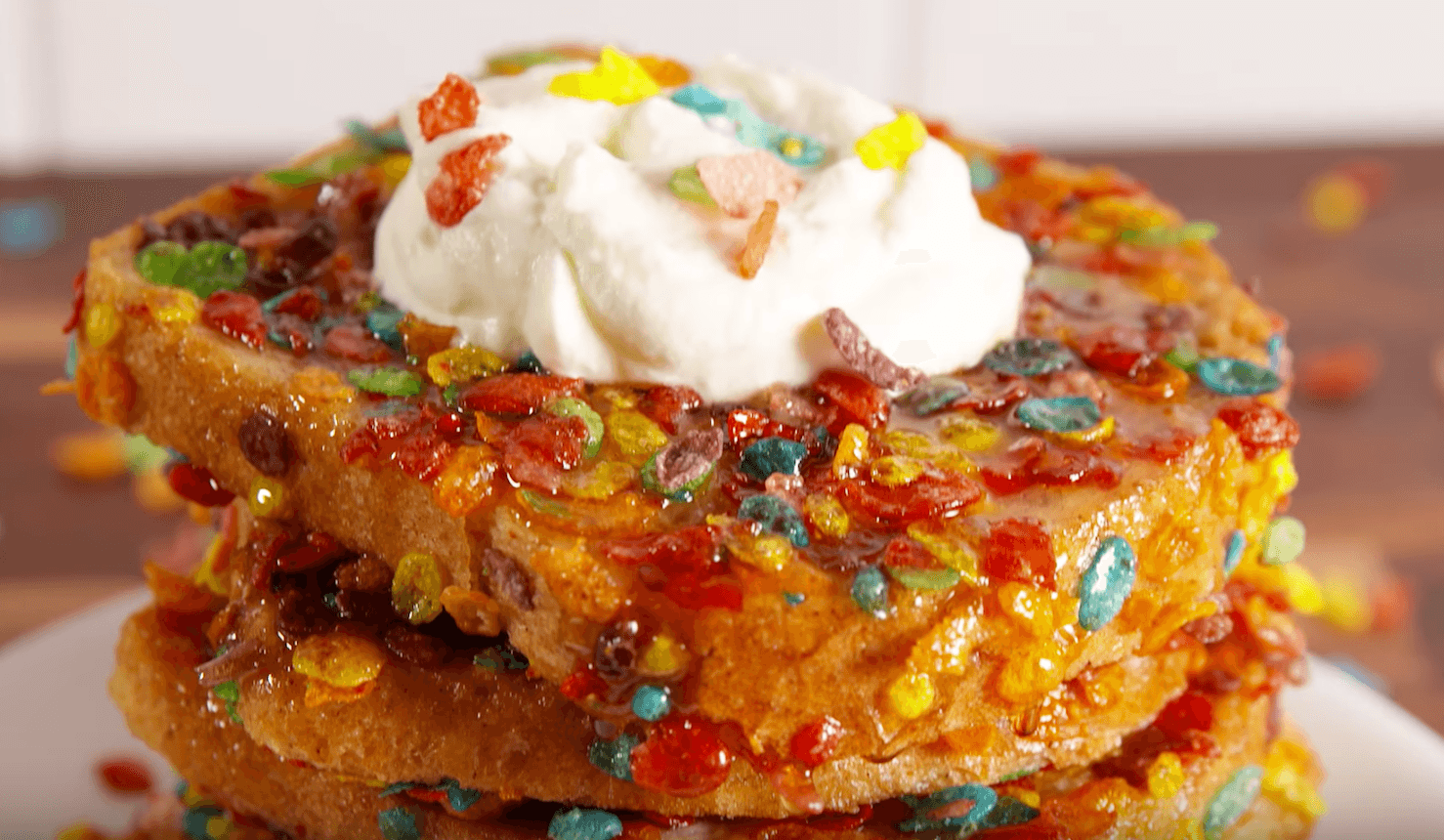 Have you ever thought your basic French Toast needed a little extra pizzazz? This recipe for Fruity Pebbles French Toast works just as well with unicorn cereal, and looks pretty too. Crush up the cereal just a little bit, to coat the bread more evenly. Your family will love the fresh take on a classic breakfast. Don't forget to grab a photo before everyone digs in!
Next: For a chilly day, whip up a batch of this beautiful drink.
9. Unicorn hot chocolate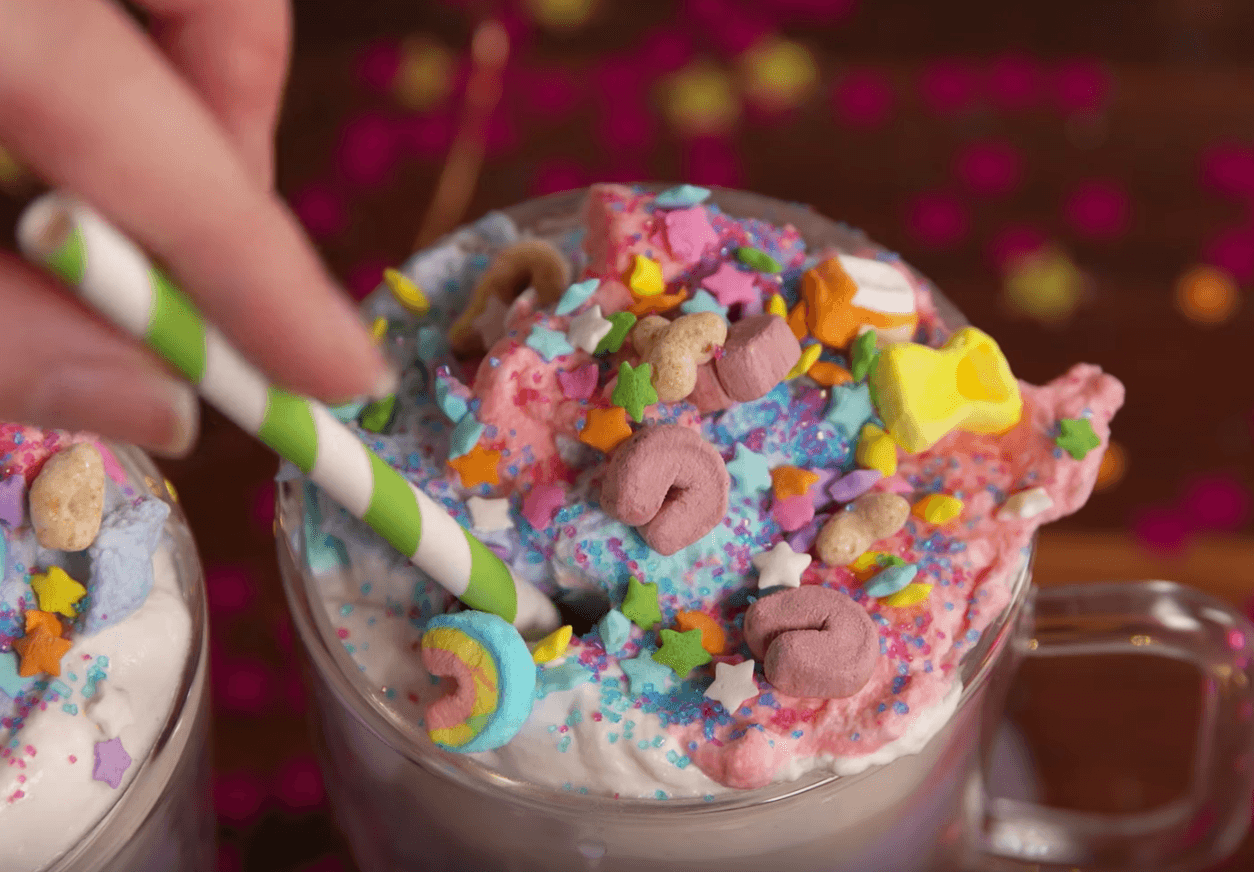 What better way to use Kellogg's Unicorn Cereal than in unicorn hot chocolate? We recommend using both unicorn cereal and Lucky Charms for that fun factor that will make you say "Starbucks who?" You might want to brush your teeth extra hard after this super-sweet drink. Might we suggest pairing it with a salad for dinner?
Next: These ice cream sandwiches will brighten up any day.
10. Unicorn cereal ice cream sandwiches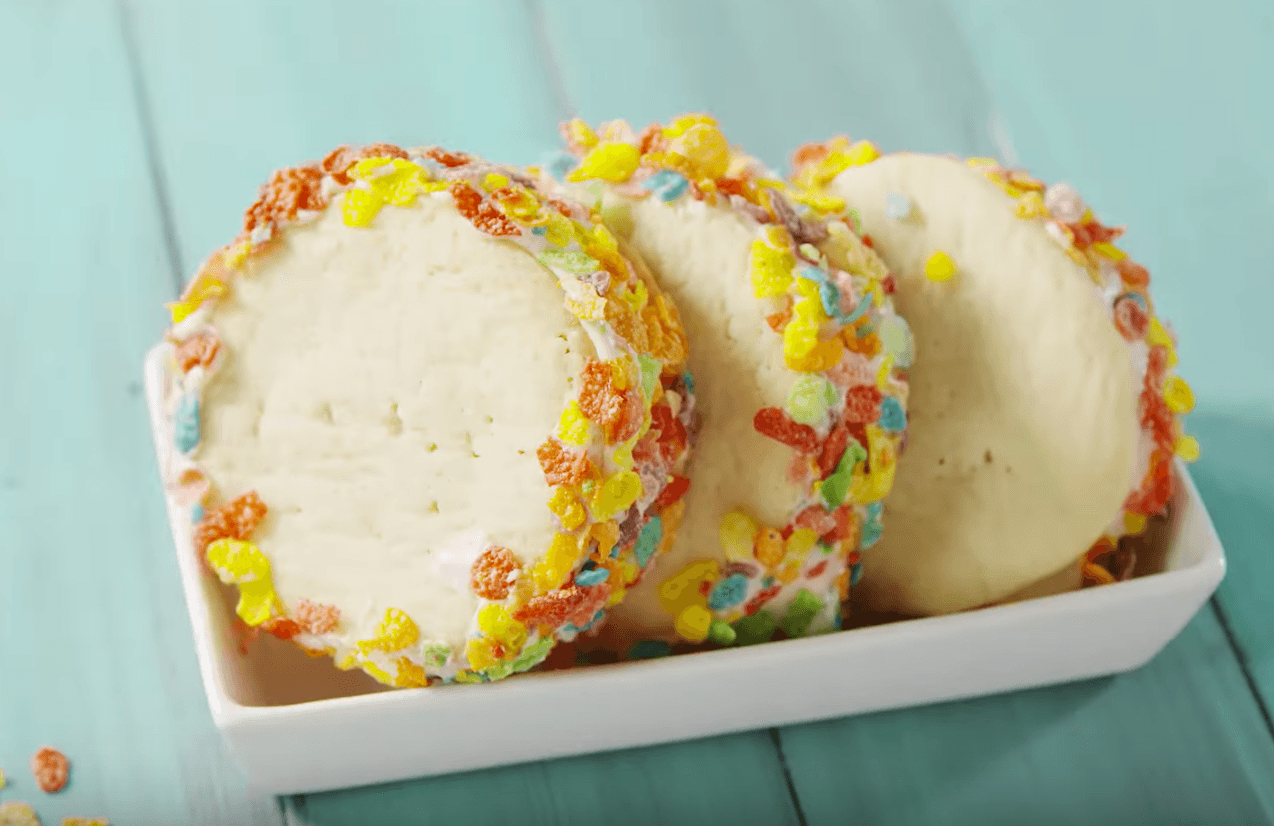 If you ever thought an ice cream sandwich needed a little extra color, have we got a recipe for you. Slightly crushed-up unicorn cereal substitutes perfectly for the Fruity Pebbles here, with a similarly sweet and fruity taste. Vanilla ice cream works great too, or get creative with your favorite flavors.
Next: This ice cream cake will look great at your next potluck.
11. Cereal ice cream cake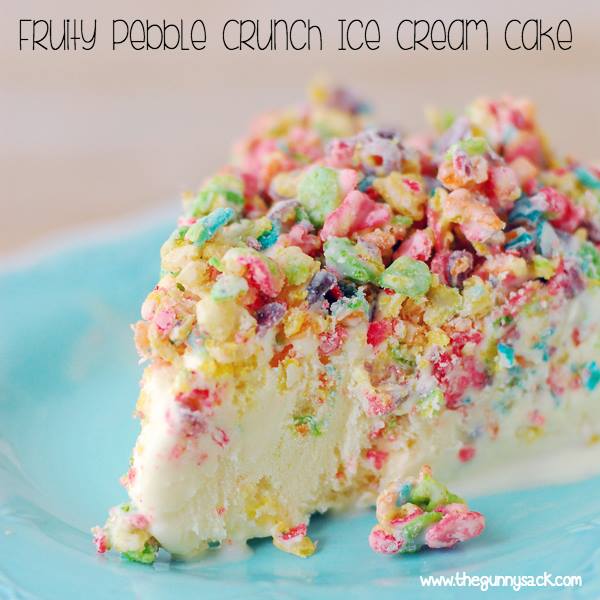 Warm-weather parties just cry out for ice cream cake, but why settle for store-bought? This recipe makes whipping up your own a snap, and your creativity will definitely leave your guests impressed. Use Kellogg's Unicorn Cereal in place of Fruity Pebbles here for a similar flavor and that trendy take, but crush them up to distribute the crunch evenly throughout the ice cream.
Next: These treats don't just come out at Halloween, anymore.
12. Caramel apples with cereal coating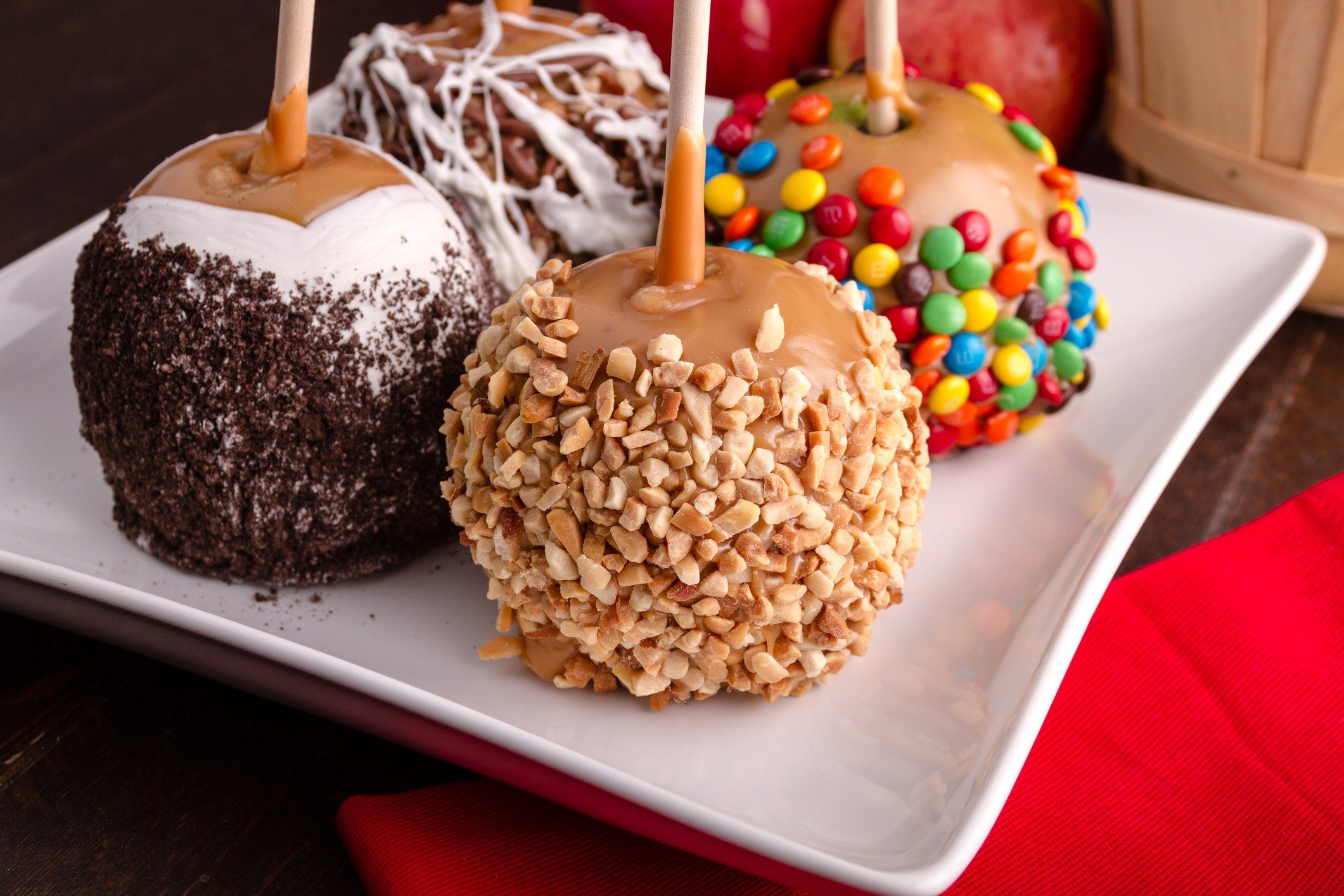 Novelty caramel apples have gained popularity in recent years, and the colorful unicorn cereal just begs to get in on the fun. These cereal-crusted caramel apples work great with whatever cereal you have in your pantry. We think the bright colors and magical flavor go especially well with caramel apples.
Next: Arrested Development fans will love this sweet treat.
13. Cereal-crusted frozen bananas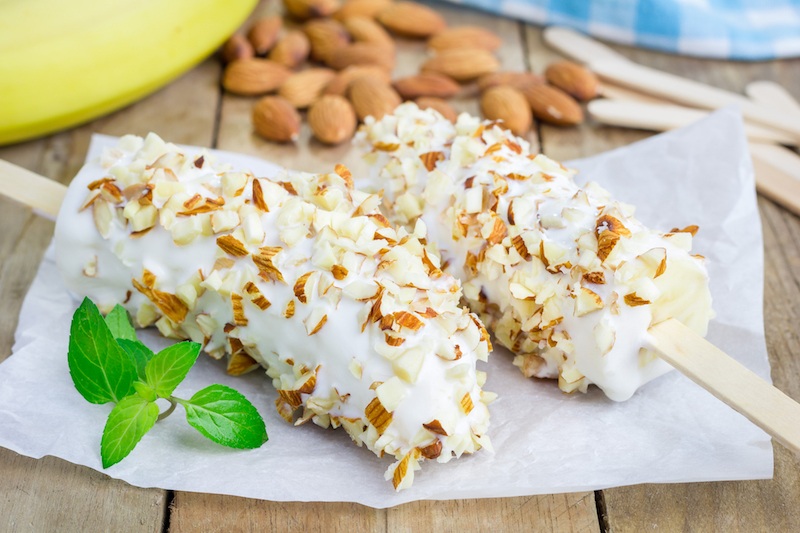 Many of us love picking up one of these treats at the local fair. But you can actually make frozen bananas at home with very little effort. A frozen banana bar with several topping options — including unicorn cereal, nuts, sprinkles, and candy — will jazz up your next backyard bash. Go wild with your flavor combinations and discover a new favorite.
Next: Take donuts to the next level with the following hack.
14. Unicorn cereal glazed donuts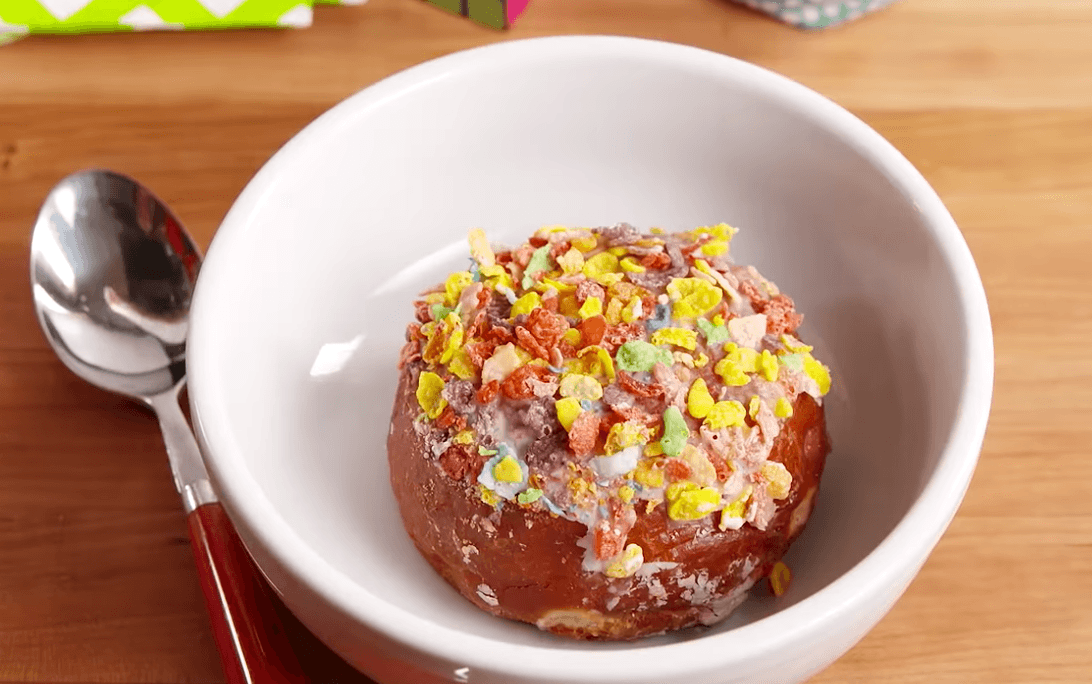 If you like donuts, you will love covering your glazed donuts in Kellogg's Unicorn Cereal. Just frost those babies and sprinkle on the cereal. For an even easier morning, buy plain glazed donuts and customize them at home. Nobody will ever know the difference.
Next: Have your dessert and drink it too with this recipe.
15. Unicorn milkshakes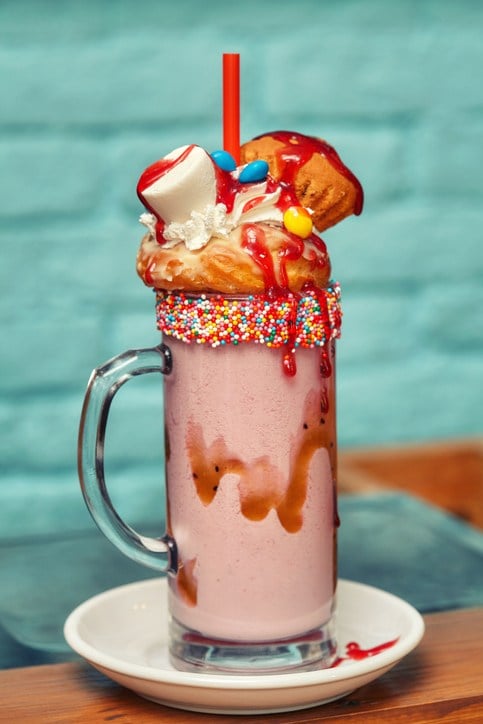 We already pair cereal with milk, so it's not much of a stretch to just blend it all together. Kellogg's Unicorn Cereal milkshakes look pretty and taste even better, with that magical, fruity flavor. Save some cereal to garnish the top, for a real eye-catching treat.
16. Savory unicorn recipes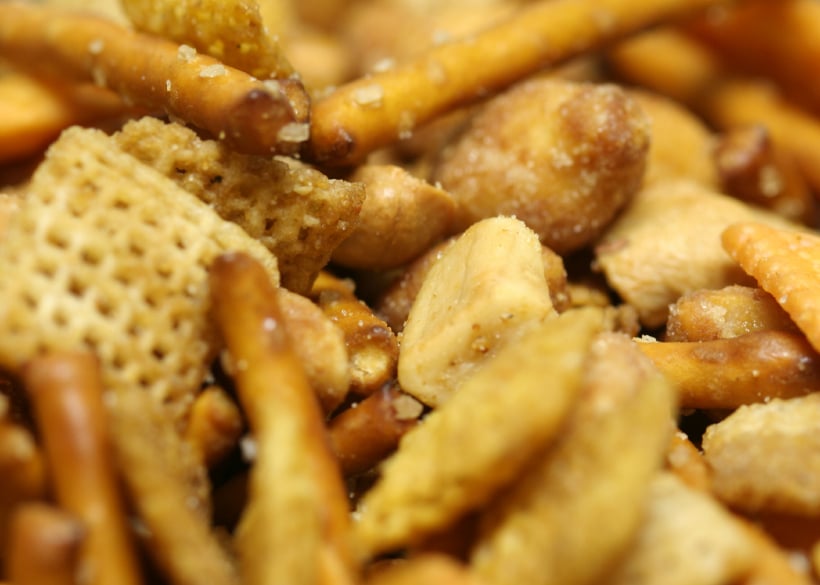 While we love making sweet treats with Kellogg's Unicorn Cereal, it does have its limitations. No matter how hard we tried, savory recipes just don't work. For new twists on spicy Chex Mix, umami granola, or anything zesty, stick to plainer cereals like Cheerios. Like unicorns themselves, this cereal does best on the sweet side.
Follow The Cheat Sheet on Facebook!