20-Minute Beer-Battered Green Beans Make an Addictive Snack
Inviting some pals over to hang out can quickly turn stressful when you realize they're going to expect some food. Before you reach for your phone to order delivery, take a few deep breaths. Homemade eats don't have to be difficult. With original recipes from our Everyday Appetizers series, you can pull off showstopping starters without losing your cool. 
Something about eating at a bar demands fried food. Whether it's a humble plate of French fries or an elegant riff on guacamole, no one can turn down the crispy eats as they wash down a few drinks. Most bars easily crank out great renditions of these snacks over the course of the day, until happy hour arrives. The rush of the after-work crowd can overwhelm even the best of kitchens, which means you could wind up with a plate of mushy, oil-soaked potatoes. Instead of playing food roulette at your local watering hole, make these beer-battered green beans in your own kitchen for some bar grub that will never disappoint.
About this recipe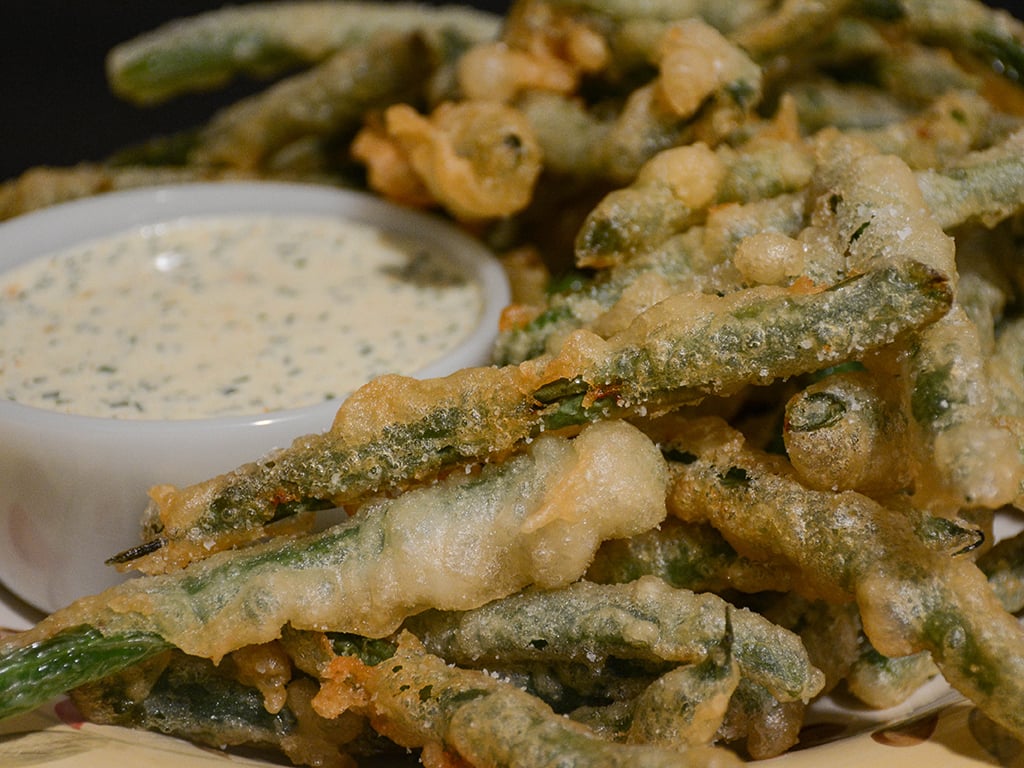 Though you'll find plenty of fryers designed for home kitchens on the market, they really aren't necessary. As long as your kitchen is equipped with a deep, heavy pot, a good thermometer, and some type of small strainer, you already have everything you need. Even if you're lacking any of these tools, you can easily find quality versions for very little money. You're actually better off buying an analogue fry thermometer instead of one of the fancy electric models, because they never malfunction and they're a lot easier to monitor. Just pour the oil into the pot, set the thermometer into place, and let it heat while you make the dressing and batter.
Once your pot is heating, set to work on the dressing. Instead of throwing chopped garlic into the food processor with the rest of the ingredients, you want to mash it into a paste first. Chopped cloves never seem to fully break down, so you wind up with unpleasant chunks of raw garlic. Just sprinkle a little bit of salt over the chopped clove, then use the side of your knife to mash it smooth. The salt acts as an abrasive to help break it down, and it also helps season the finished dressing. Then, just add it to the food processor with the rest of the ingredients. You can use just about any combination of soft herbs you like, but we especially like dill. If you like things extra spicy, simply increase the amount of cayenne. You'll be amazed at how much better this dressing tastes compared to a bottled version.
The next step is making beer batter, and it's absurdly easy. All you have to do is whisk the beer into some all-purpose flour. Don't be tempted to make the batter in advance, though, because the carbonation is what helps keep the coating light and crisp. From there, just dunk your beans, one large handful at a time. Carefully transfer the beans to the oil, and let them start to fry. Use your strainer or a pair of tongs to stir them around, because they'll try as hard as possible to stick together. After about 3 minutes, they'll be golden and crisp. Transfer to a paper towel-lined baking tray, then instantly sprinkle them with salt. Don't be shy with the seasoning, because neither the beans nor the batter contain any salt. You also want to hit them while they're fresh from the oil, because it helps the salt stick. If you wait until they cool, the grains will just bounce off the surface.
Like most fried foods, this snack is best the moment it's done, so dig in. If you can't find any fresh green beans, you can also substitute other produce like small florets of broccoli or cauliflower. Thinly sliced carrots would also work. Whatever you do, stay away from frozen vegetables. They're too wet and will just leave you with a mushy disaster.
Beer-Battered Green Beans with Spicy Buttermilk Dressing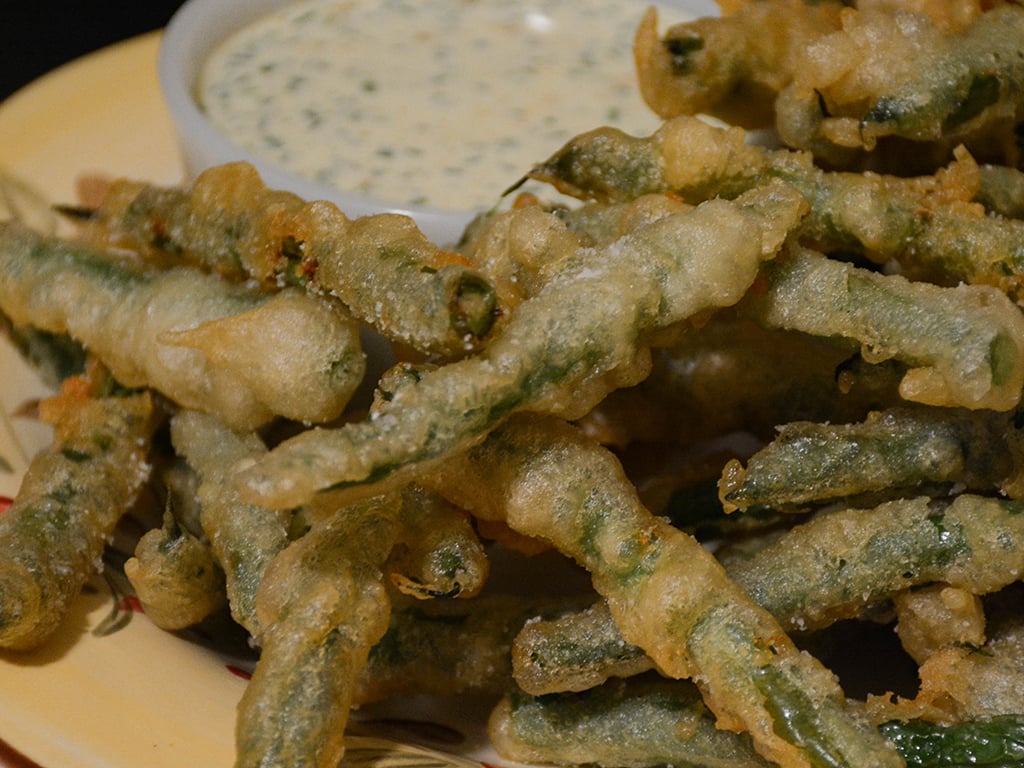 You'll have more dressing than you need for this recipe, but leftovers are great on a salad or sandwich. For a thicker dip, replace the buttermilk with sour cream. This pile of crispy beans is enough to feed 4.
Ingredients:
Dressing
½ cup mayonnaise
½ cup buttermilk, well-shaken
1 garlic clove, minced
4 tablespoons chopped fresh herbs, such as parsley, dill, and chives
¼ to ¾ teaspoon cayenne pepper
1 teaspoon white wine vinegar
Salt and pepper
Green beans
3 quarts corn oil
1 cup all-purpose flour
1 cup lager or other light-bodied beer, plus more
1 pound green beans, trimmed
Salt
Directions: Preheat corn oil to 350 degrees Fahrenheit it a deep, heavy pot with a fry thermometer attached. Meanwhile, mince garlic with salt, and mash into a paste using the side of your knife. Add garlic, mayonnaise, buttermilk, herbs, ¼ teaspoon cayenne, vinegar, a sprinkle of salt, and a few grinds of pepper in a food processor. Blend to combine. Taste and adjust seasoning, adding more cayenne for a spicier dressing. Refrigerate until ready to use.
In a medium mixing bowl, whisk beer into flour until mostly smooth. A few small lumps are fine. Batter should be the consistency of pancake batter. If needed, add a splash or two more of beer to thin. Working in batches, dip green beans into batter to fully coat. Carefully transfer to hot oil. Fry, stirring often, until beans are tender and batter is golden, about 3 minutes. Remove beans to a paper towel-lined sheet tray. Immediately season hot beans with salt. Repeat with remaining green beans, allowing temperature to return to 350 degrees Fahrenheit each time. Serve with spicy buttermilk dressing.
More from Culture Cheat Sheet: