20-Minute Greek Appetizer: Chicken Souvlaki With Radish Tzatziki
Inviting some pals over to hang out can quickly turn stressful when you realize they're going to expect some food. Before you reach for your phone to order delivery, take a few deep breaths. Homemade eats don't have to be difficult. With original recipes from our Everyday Appetizers series, you can pull off showstopping starters without losing your cool. 
Street fairs draw massive crowds thanks to music acts, cool vendors, and food. Lots of food. While most choices are good, Greek offerings are some of the most popular. Maybe it's because so few of us ever cook the cuisine at home. It's time for this madness to stop because cooking Greek food in your own kitchen isn't that hard. This simple chicken souvlaki is all the proof you need.
About this recipe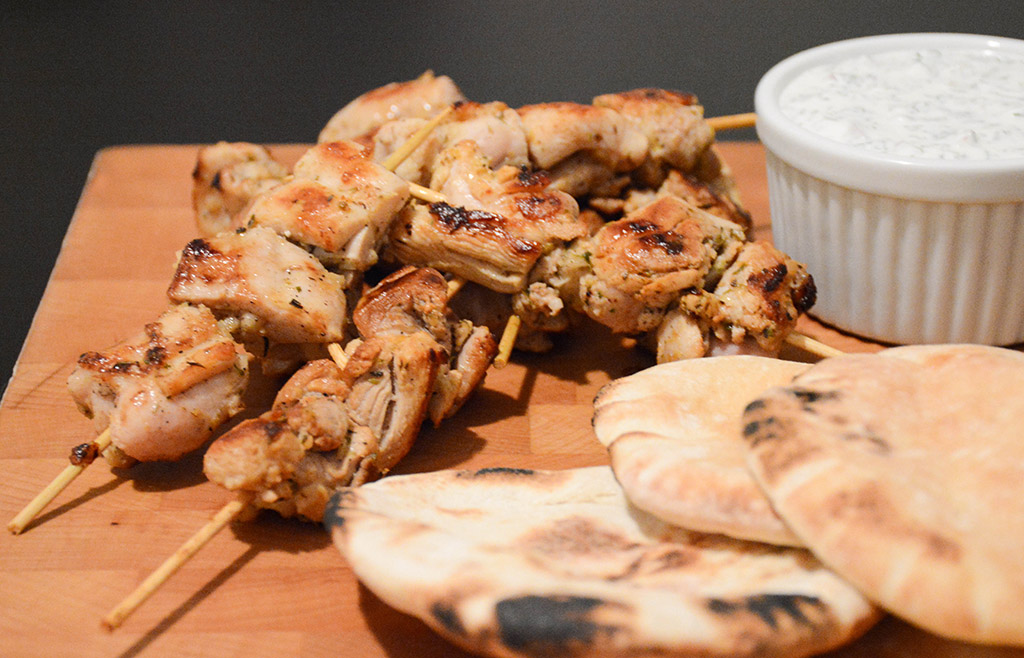 Trying something new is always a little intimidating, so we wanted to keep this recipe as easy as possible. We used a really bold marinade to get huge flavor in just a few minutes and switched up the usual tzatziki by using spicy radishes in place of cucumber. We also stuck with supermarket staples, so you won't have to make any separate trips to find obscure ingredients.
These skewers are intended to be appetizers, so we cut the chicken into relatively small pieces. This means they cook super fast, but it also means you definitely want to use chicken thighs rather than breast meat, which can easily dry out. The quick cook time also means they're perfect for the stove. You can grill the souvlaki outside if you really want to, but you'll end up spending more time waiting for the equipment to get hot than you will actually grilling.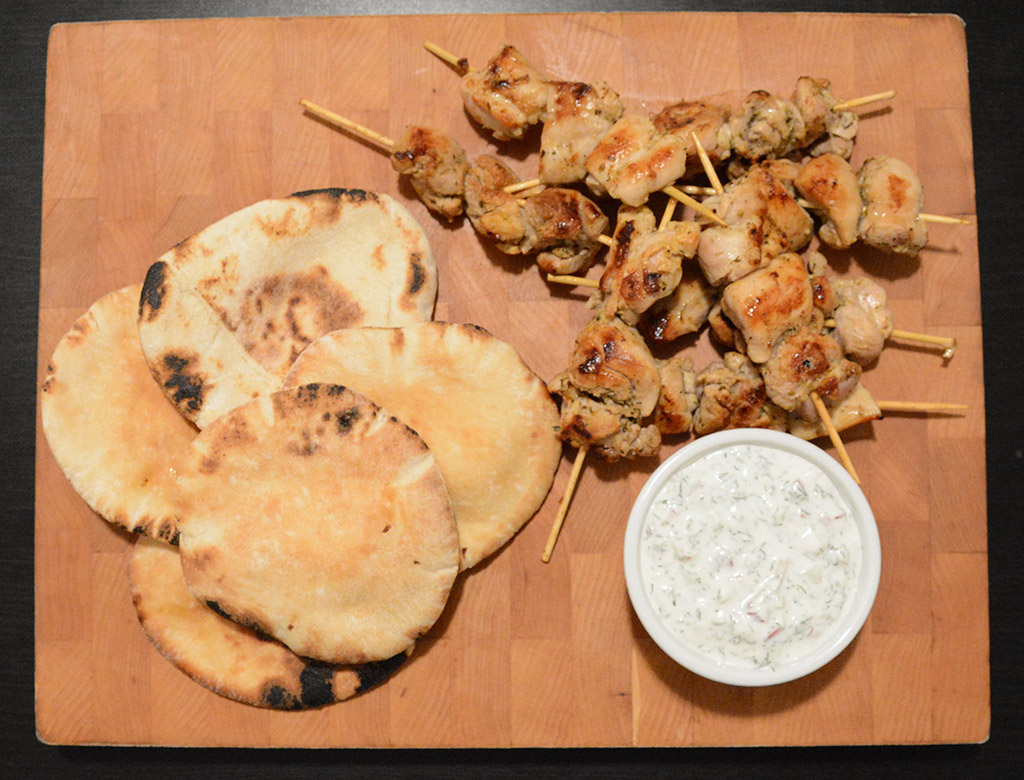 For the marinade, we used raw garlic, lemon juice, lemon zest, olive oil, and dried oregano. Because these ingredients all have bold taste, the chicken just needs a few minutes to marinate before you're ready to skewer. In the meantime, mix the radish tzatziki.
When you're ready to skewer, think about size. These are appetizers, so you really only need about three pieces of chicken for each. Most store-bought wooden skewers are pretty long, so we cut ours in half with a pair of scissors. Do your best to keep the number equal for each of the eight skewers, but don't stress over it if some have an extra piece.
Now we're ready to cook. The best tools for the job are a cast-iron skillet or grill pan. If you don't have either, pick your biggest, heaviest skillet. If you don't have anything in the 12-inch range, you'll want to cook the chicken in batches to avoid crowding the pan. After about 6 to 8 minutes, the souvlaki will be perfectly charred on the outside and juicy on the inside. Toast up some pita, grab your tzatzki, and get ready to feast.
If you're cooking for friends, they'll likely be expecting some equally delicious refreshments. Keep the Greek theme going with a fruity red wine from the area. Serious Eats also said Moschofilero, a type of white with plenty of citrus and acidity, goes great with this style of food. Or get familiar with Greece's favorite spirit, ouzo, by shaking up a refreshing cocktail from SheKnows.
Chicken Souvlaki with Radish Tzatziki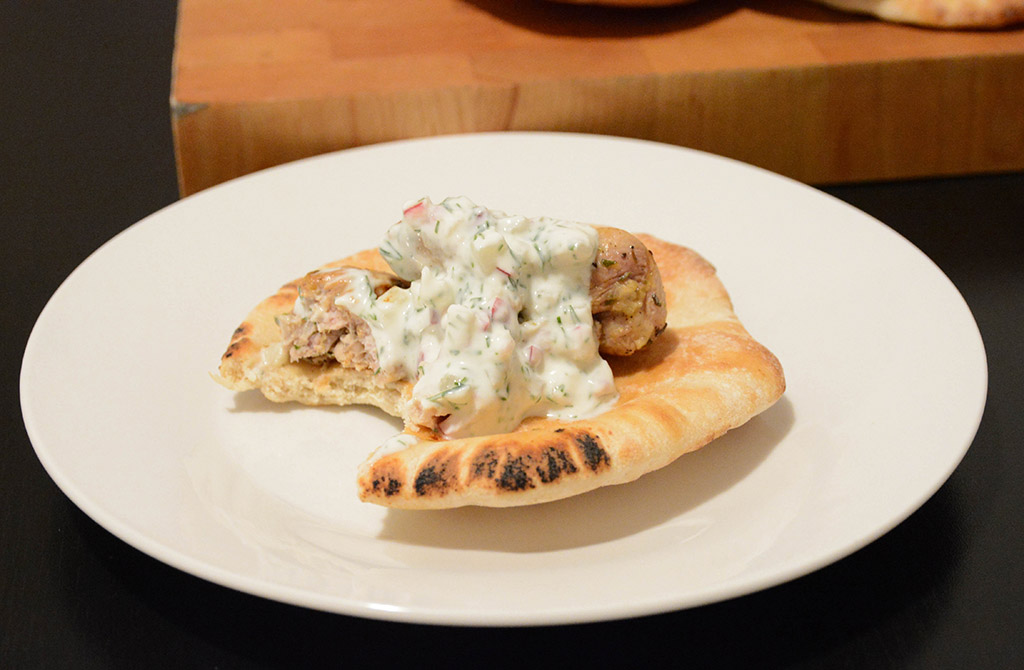 Don't be tempted to make the tzatziki too far in advance because it's really best fresh. And if you can't find mini pitas, simply cut regular ones into quarters. This recipe makes enough to serve 4 to 6.
Ingredients:
2 garlic cloves, minced
1¼ teaspoons plus a pinch of kosher salt, divided
1 teaspoon lemon zest
3 tablespoons lemon juice
2 tablespoons olive oil
¼ teaspoon pepper
½ teaspoon dried oregano
1 pound boneless, skinless chicken thighs, cut into 1½-inch pieces
½ cup Greek yogurt
½ cup finely chopped radishes
1 tablespoon finely chopped fresh dill
Toasted mini pitas
Directions: Add a pinch of salt to the garlic and use your knife to mash it into a paste. Add three quarters of pasted garlic to a medium bowl along with 1 teaspoon salt, lemon zest, lemon juice, olive oil, pepper, and oregano. Whisk to combine, add chicken, and toss to coat.
In a small bowl, combine remaining garlic paste with yogurt, radishes, dill, and remaining ¼ teaspoon salt. Mix well to combine and refrigerate until ready to use.
Thread chicken onto eight small wooden skewers. We cut regular ones in half to get the right size. Discard remaining marinade.
Preheat a large cast-iron skillet or grill pan over medium-high heat. Alternatively, heat a small drizzle of oil in another heavy skillet. Once hot, add skewers. Cook until outside is nicely browned and chicken is fully cooked, turning occasionally, about 6 to 8 minutes. Serve skewers with toasted pita and radish tzatziki.
See you back here next week.
Follow Christine on Twitter @christineskopec
More from Culture Cheat Sheet: