A 2017 Story Told by Only Donald Trump's Tweets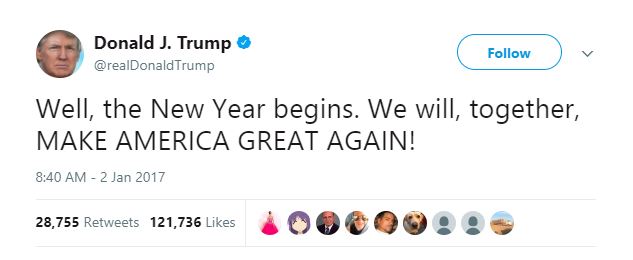 What a ride it has been through 2017. We've seen protests, famous men going down for sexual misconduct, alleged UFO videos, and just about everything imaginable with Donald Trump. But why go back through every little detail about the America's most stressful year, beginning to end, in recent memory? Let's allow President Trump to tell the story of 2017 from his own point of view, as only Trump can; with his tweets.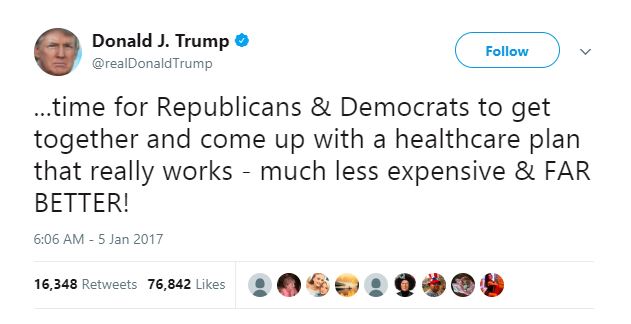 President-elect Trump tweeted on Jan. 5 in a thread that it was time for both Republicans and Democrats to work together for a healthcare plan that works. I'm sure that worked out well. Let's keep going …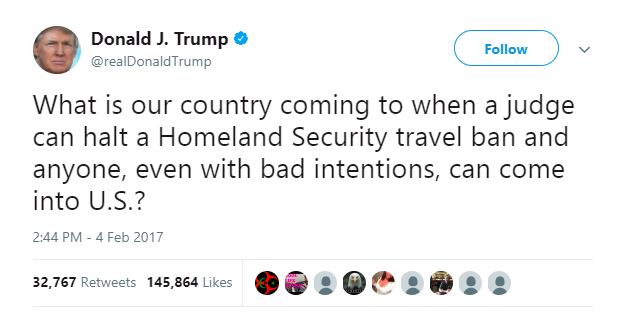 Just weeks into his presidency, Trump put a travel ban in place that was designed to keep Muslim's from immigrating to the United States. Shortly after, a Seattle-based federal judge — appointed by George W. Bush — declared the ban unconstitutional.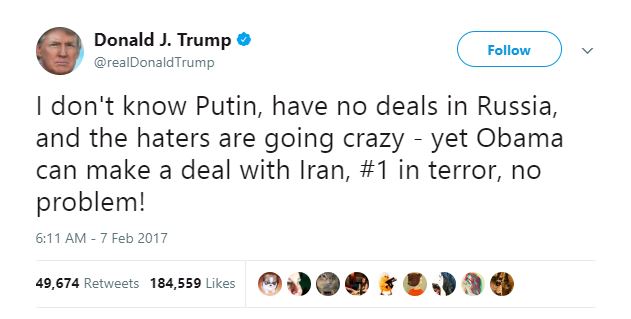 Just days after the tweet about his attempted Muslim-ban, Trump started in on the Russia investigation. Then in its infancy, Trump tried to deflect his ties to Russia and Vladimir Putin with criticism of former President Barrack Obama.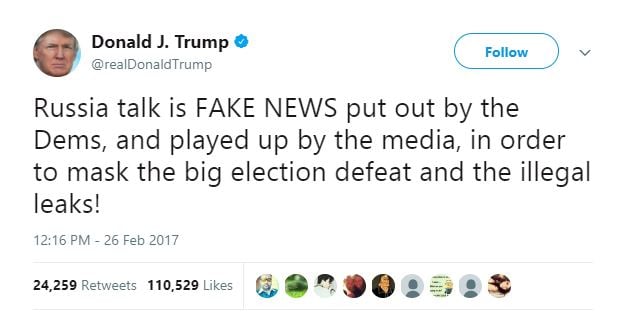 In late February, Trump is clearly becoming more and more nervous about the Russia investigation. It's now labeled as "fake news," and merely an attack by the Democrats and the unfair media. He stopped short of saying that the FBI was out to get him, however.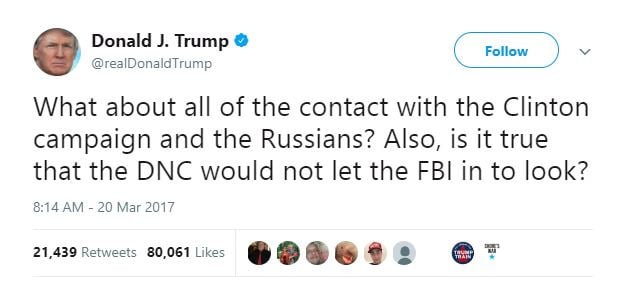 A month later, the spin on the Russians turned to Trump's presidential opponent, Hillary Clinton.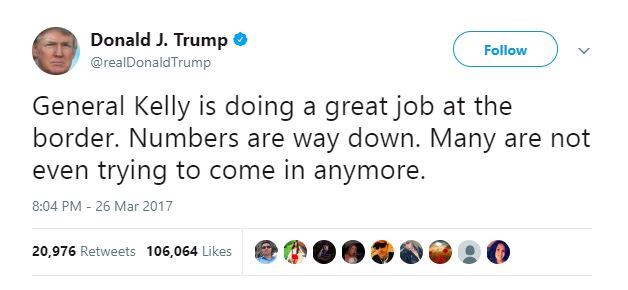 A big part of Trump's campaign was that he promised to build a massive border wall between the United States and Mexico. After finding that doing so would be an outrageous cost — one that few Republican lawmakers supported — Trump started downplaying the extent of illegal immigration. Gee, why aren't they trying to get into America these days?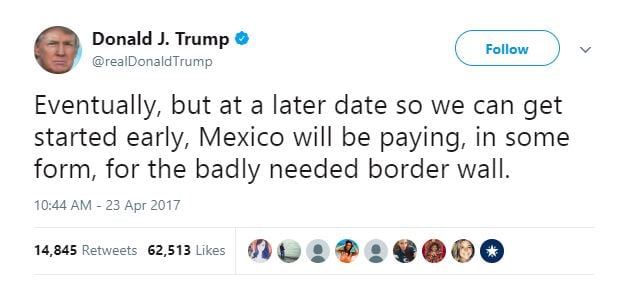 In late April, Trump still hadn't given up on the wall. Even though the Mexican president has promised that they would not be paying for a massive border, Trump claims that it'll happen somehow. The whole notion of a continuous border wall is absurd for many reasons, but the topic cooled off as the year went on.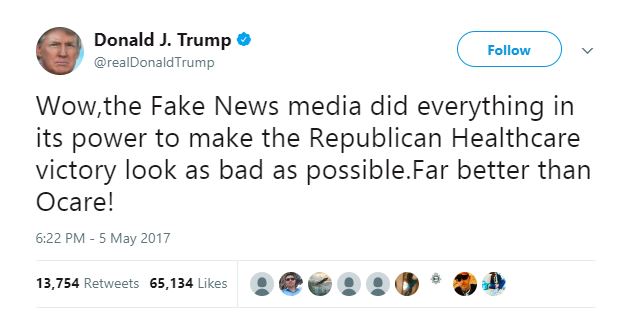 In May, Trump tweeted about a perceived victory in the Republican effort to repeal the Affordable Care Act and replace it with tax breaks for the wealthy. But why would the media frame that as a bad thing?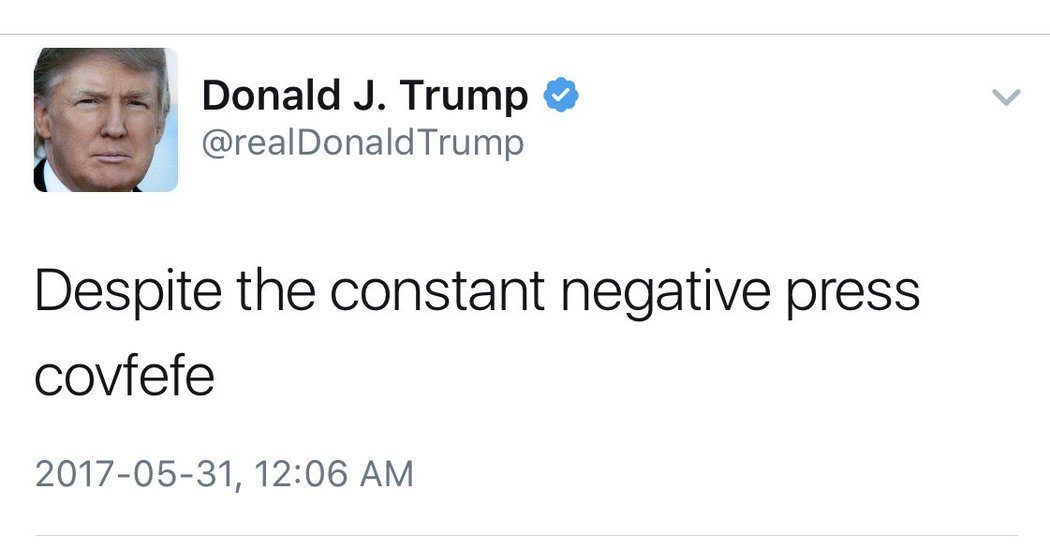 Who could forget this key moment in the Trump presidency? The President deleted this tweet not long after sending it, but he still managed to get the point across about all the constant negative press covfefe.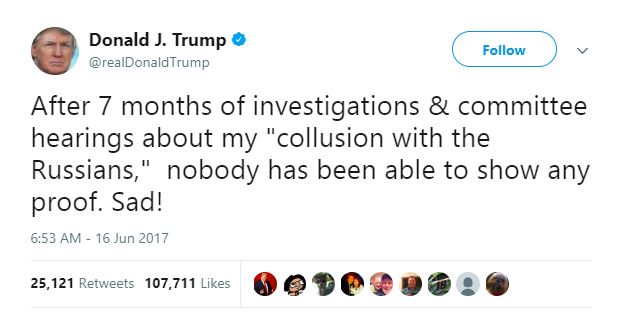 With the investigation still on-going about the Trump campaign and Russia, he tweeted about how no evidence had emerged. Shocking that it wouldn't be made public in such a delicate situation!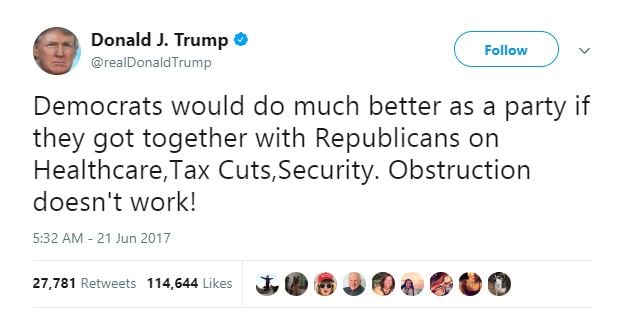 Obstruction doesn't work. Just ask the Republicans from the entire eight-year Obama presidency.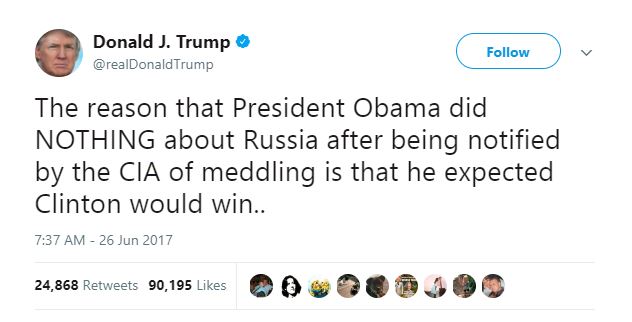 This is false, of course, but we're only up to June and Trump is teetering on the border of admitting involvement with Russia here.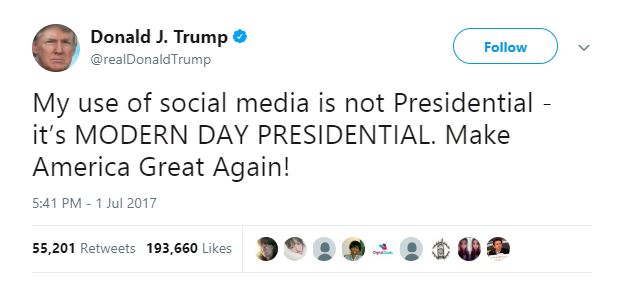 He says "modern day presidential" like it's a good thing.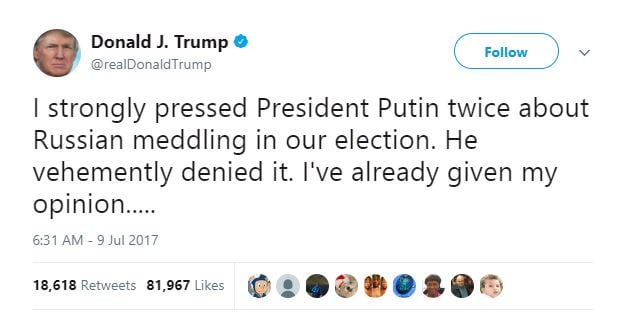 Well, if Putin says he didn't do it, then it must be true. No reason to believe the Russian president would lie, right?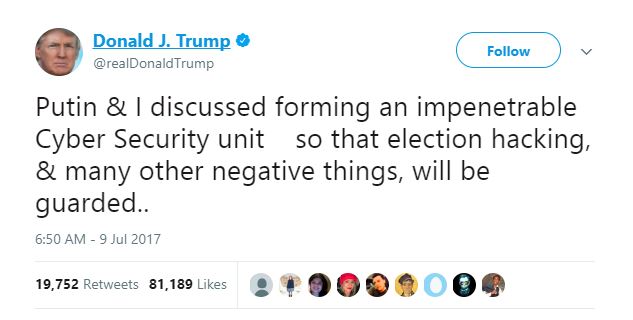 After clearing up the fact that Russia definitely did not and would never hack the United States and interfere with an election, Trump went on to discuss joining up with Putin on cyber security. This is fine.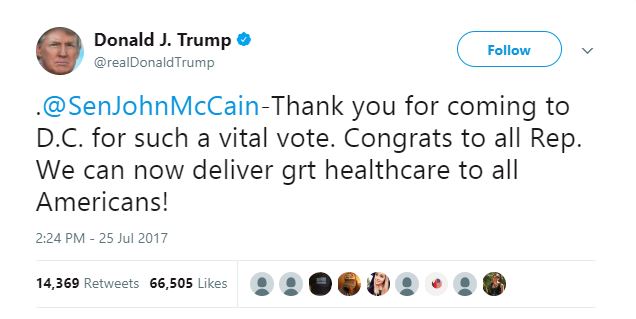 Arizona Senator John McCain made sure to be in Washington D.C. for the vote on another Trump Obamacare repeal, and the president expressed his appreciation. Three days later, McCain's thumbs down vote killed the bill.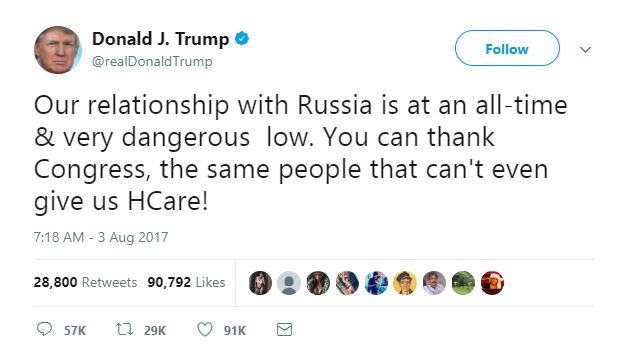 You've gotta give it to Donnie, he's not shy in blaming other lawmakers — Republican and Democrat — for creating the bad relationship with Russia. Why can't they be more friendly with Putin, like Trump is?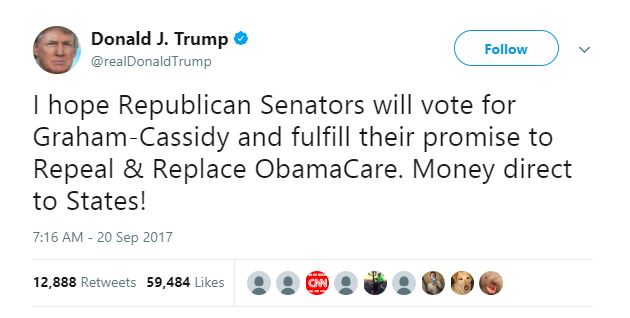 Another tweet about repealing the Affordable Care Act, this time in mid-September. Graham-Cassidy was yet another failure.

This tweet came in late September, but as of December there were large portions of Puerto Rico without power and fresh water. But you won't hear the president talk about that much these days.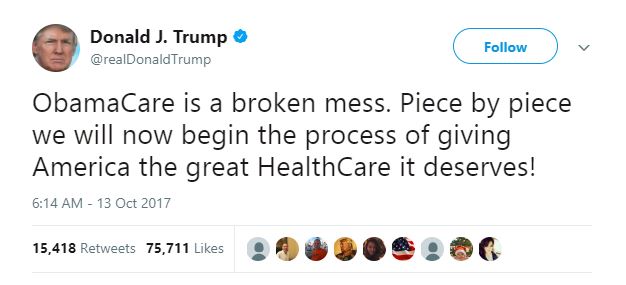 It's October, and the president is still tweeting about trying to repeal the Affordable Care Act.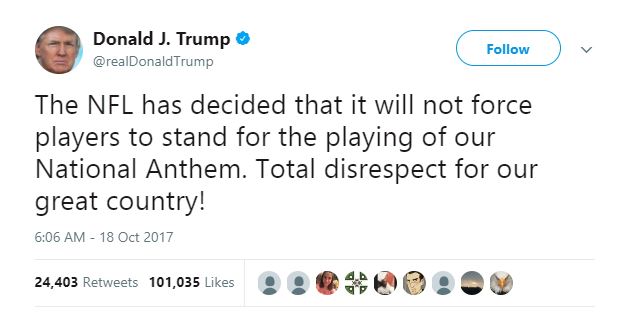 As the pressure begins to bubble to the surface on Russia, Trump turns his attention at demonizing NFL players that choose to kneel during the national anthem to protest against inequality. More distractions aimed at firing up his dwindling base.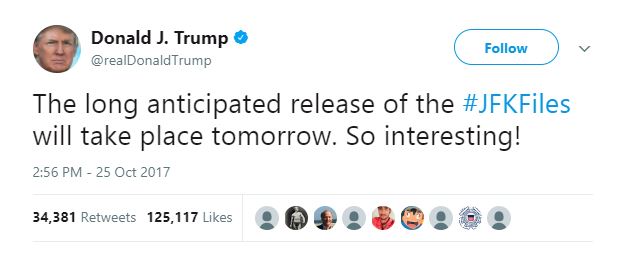 The JFK files ended up being a nothingburger. Another disappointing moment from 2017.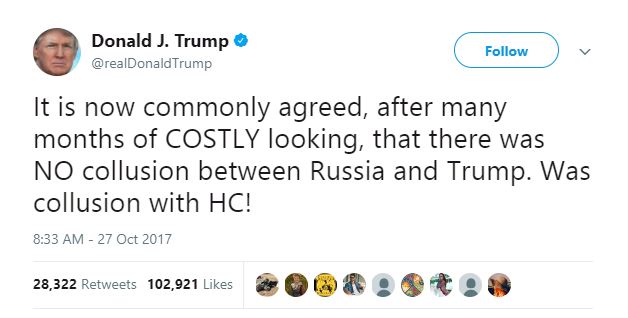 It's not commonly agreed, and there is still no conclusion on the collusion between Russia and Trump. The investigation is on-going, and Michael Flynn has plead guilty to breaking the law — something the White House has known since January. Yeesh. Trump finishes out this doozy by pointing the finger at Hillary Clinton once again.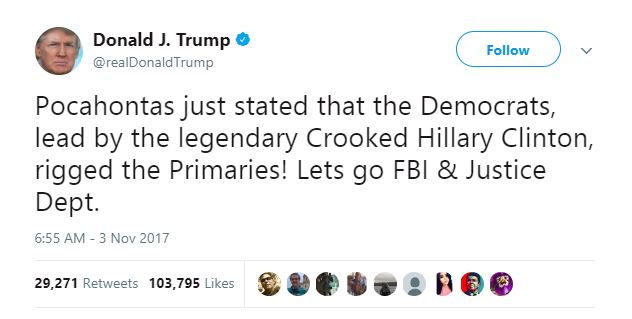 Trump nailed so many spots on the bingo card with this tweet. He got his nickname for Massachusetts Senator Elizabeth Warren, "Crooked Hillary Clinton," and the Democrats. He finished by imploring the FBI to investigate the DNC rigging the primary, despite the fact that the private organization doing so — while unethical — isn't illegal.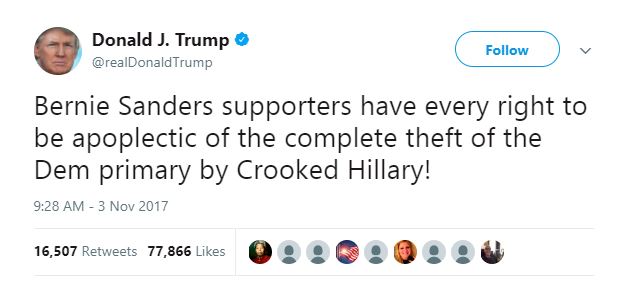 Trump pulled out the thesaurus for this tweet. It wouldn't be right to do this whole thing without a tweet mentioning Bernie Sanders by name.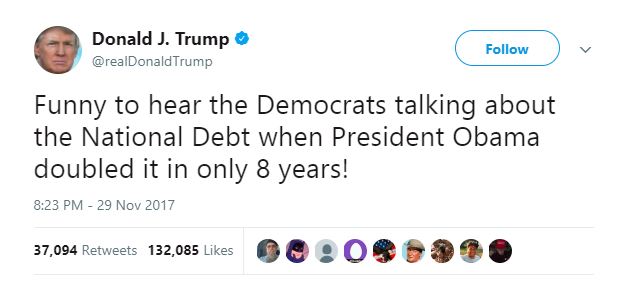 More deflection to Obama. How dare anyone question the Trump tax cut, which will create $1.6 trillion in debt over the next 10 years? How will that be paid for? Most believe that the Republicans in Congress will even out the tab by cutting Social Security and Medicare, something Trump promised never to allow.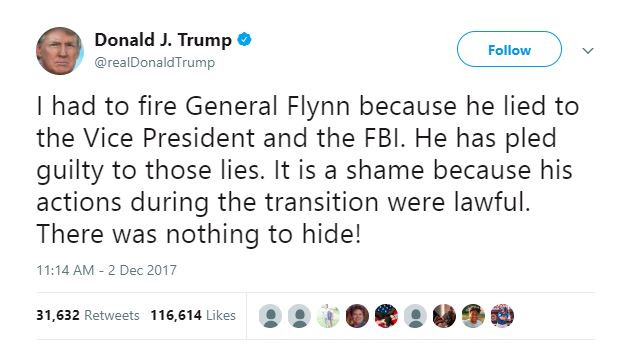 It's a shame that he broke the law and helped the Trump campaign collude with the Russians, because he was otherwise a good guy. Nothing to hide!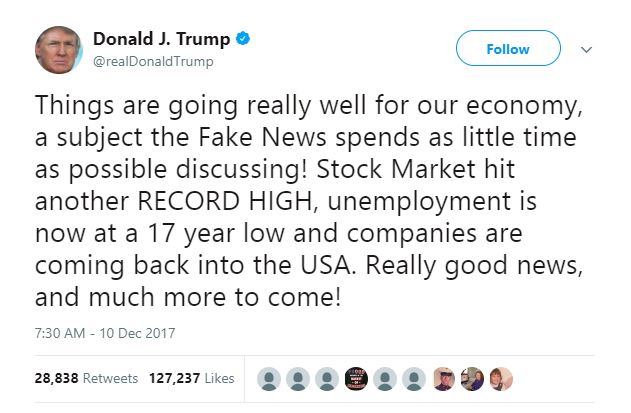 All the great things about the economy, but without a mention of the fact that it has been trending upward for several years. This came just days before a Congress approved a tax cut that will overwhelmingly benefit wealthy individuals and corporations, which Trump claims are hurting.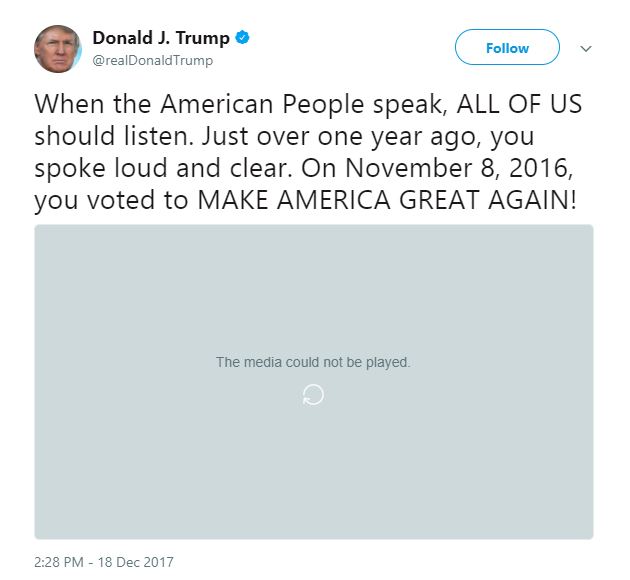 On Nov. 8, 2016, over 3 million more Americans voted for Hillary Clinton than for Donald Trump.
Check out The Cheat Sheet on Facebook!