25 U.S. Cities Where Home Rental Prices Are Skyrocketing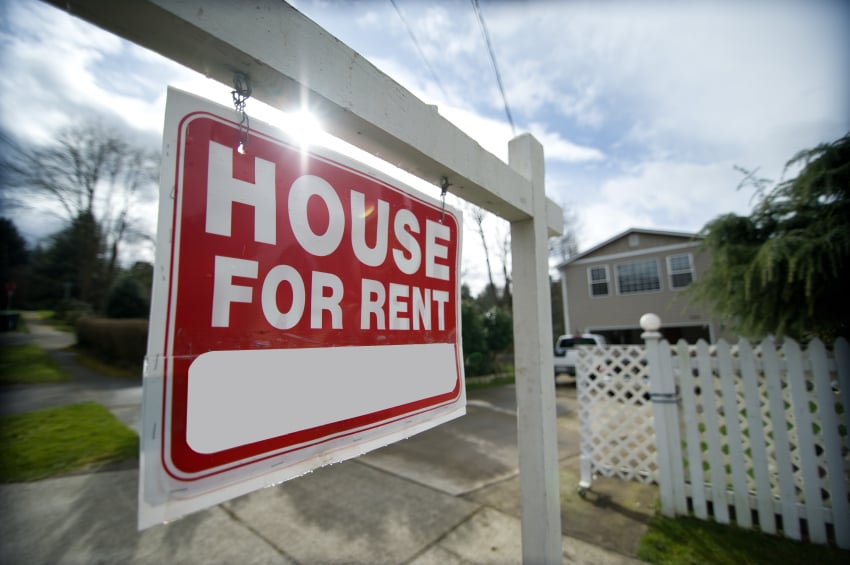 These days, the only people benefiting from rent prices are the landlords who own the properties. A variety of factors, including stagnated wages and tight housing markets, means people are often priced out of the rental market in several cities — they can forget about entertaining the idea of affording a down payment on a house.
But in some places, rents are increasing so much that it might be a good idea to compare those costs with the cost of a down payment and mortgage on owning your own house. It might cost you a little more per month, but in the long run would earn you equity. It's probably not the right solution for everyone, but it's worth it to compare those costs, even if you've always rented and are comfortable with that setup.
A recent report from RentRange, a company that specializes in rent data across the United States, shows the 25 cities where rents for single-family homes have skyrocketed in the past year. All of them are close to a 10% increase in rental costs compared to October of 2014, and many markets have increases significantly higher than that.
The data from RentRange also provides the average yield for landlords in each city — in other words, the percentage of income the property owners are earning in these markets.
If you're about to move, rent prices for single-family homes in metropolitan areas in the South and the western U.S. showed the biggest increases, especially in California and Florida. But if you're looking to invest in real estate and are considering buying up rental properties, landlords tended to have the greatest yields in the Midwest and central U.S. The yield in Birmingham and Hoover in Alabama was 14.8% and in Dallas-Fort Worth, Texas was 13.4%, for example. Many of the yields in Kansas, Ohio, and Oklahoma were above 10%, compared to yields in California that tend to be in the 5-6% range.
We've included below the list of each metropolitan area where rent prices for homes has significantly increased in the last year.
Cape Coral-Fort Myers, Fla.: 23.6%
Sacramento-Arden-Arcade-Roseville, Calif.: 17.6%
North Port-Bradenton-Sarasota, Fla.: 17.2%
San Francisco-Oakland-Fremont, Calif.: 17%
Charleston-North Charleston, S.C.: 16.5%
Los Angeles-Long Beach-Santa Ana, Calif.: 16.3%
San Jose-Sunnyvale-Santa Clara, Calif.: 16.1%
Denver-Aurora, Colo.: 14.6%
Dallas-Fort Worth-Arlington, Texas: 14%
San Diego-Carlsbad-San Marcos, Calif.: 13.6%
Nashville-Davidson-Murfreesboro-Franklin, Tenn.: 13.2%
Portland-Vancouver-Hillsboro, Ore./Wash.: 12.6%
Augusta-Richmond County, Ga./S.C.: 12.3%
Stockton, Calif.: 12.1%
Seattle-Tacoma-Bellevue, Wash.: 11.9%
Columbus, Ohio: 11.5%
Tulsa, Okla.: 11.5%
Kansas City, Mo./Kan.: 10.6%
Little Rock-North Little Rock-Conway, Ark.: 10.4%
Tampa-St. Petersburg-Clearwater, Fla.: 10.3%
Orlando-Kissimmee-Sanford, Fla.: 10%
Oxnard-Thousand Oaks-Ventura, Calif.: 10%
Birmingham-Hoover, Ala.: 9.8%
Bakersfield-Delano, Calif.: 9.7%
Houston-Sugar Land-Baytown, Texas: 9.6%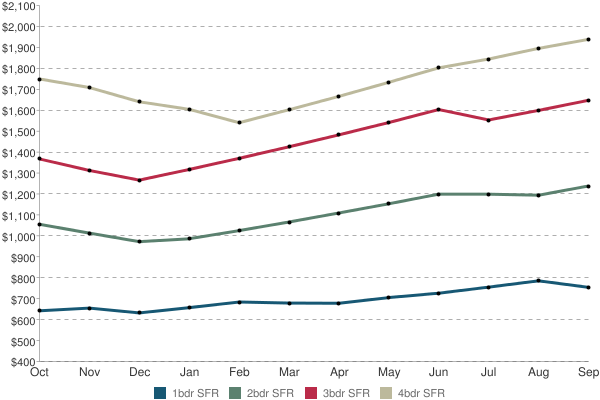 Obviously, some of these cities might have rent prices that are lower than others. For example, Fort Myers showed the greatest rental increase in the past year, but it's median rental price of $1,650 for a three-bedroom single family home is still much less than the $4,100 price tag for a similar property located in San Francisco.
However, the argument can be made that these increases are likely just as hard to bear in Fort Myers. It's highly unlikely that the residents working (or who are retired) in Fort Myers are bringing in the same amount of cash per month as their counterparts in San Francisco — the current technology hub. As a result, the squeeze is probably felt in each of these cities.
If you're planning to move into one of these areas or already live there, it might be wise to make sure that renting is still your best option. Though options might be limited, especially in metropolitan areas, it doesn't hurt to make sure you're choosing the best option. What's more, many of these areas also have home prices that are in decline, according to RentRange CEO Wally Charnoff. "The biggest increases were in the areas where the [housing] market was most depressed," he told Tech Times.
If you live in a rent-controlled apartment in one of these cities, keep it for as long as possible. And if you're looking to move into one of these areas, make sure you explore all your options thoroughly before signing a lease. It's the only way to know you've made the decision that's best for your wallet.
Follow Nikelle on Twitter @Nikelle_CS
More from Money & Career Cheat Sheet:
Want more great content like this? Sign up here to receive the best of Cheat Sheet delivered daily. No spam; just tailored content straight to your inbox.