4 Healthy and Hearty Recipes Using Broccoli Rabe
January's arrival usually means a stark change from the holiday cookie, candy, and prime rib diet. Some people try to cleanse their system with nothing but juices or broths, but that strategy will just leave you starving. Perhaps more importantly, an all-liquid meal plan won't provide you with enough protein, fiber, or other vital nutrients you need to feel your best.
Instead of suffering through a month of stringent dieting, introduce some nutrient-dense fruits and veggies to your diet. Filling up on produce leaves a lot less room for other junk, so it's really a win-win strategy. And since it's the new year, you might as well try a new green. Give broccoli rabe a try. It's loaded with fiber, vitamins, and minerals for only 28 calories per serving. We've teamed up with Andy Boy Broccoli Rabe to bring you four recipes starring the bitter green that make eating well both easy and tasty.
1. Broccoli Rabe Arancini with Marinara Sauce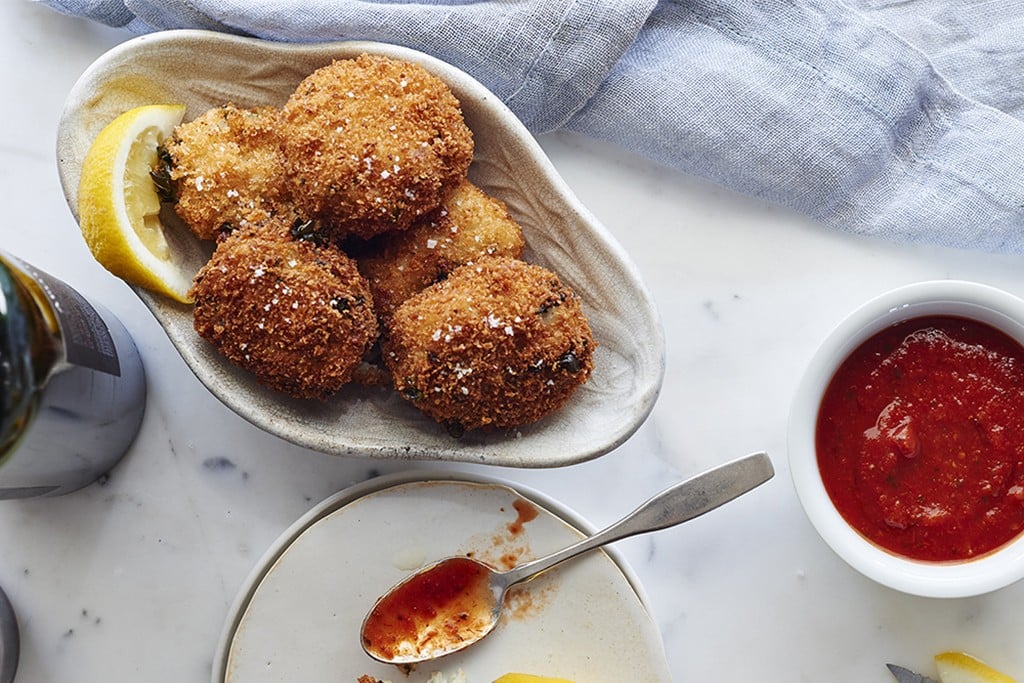 Before we get too far into things, it's worth noting our star ingredient goes by a number of different names. Whether your grocery store calls it broccoli rabe, broccoli raab, or rapini, it's still the same vegetable. Whatever you call it, add some to your cart to give a nutritious boost and a huge does of flavor to these cheesy risotto balls with marinara. They're crisp on the outside thanks to a layer of panko that gets nice and golden after a quick fry. This dish is traditionally made with leftover risotto since reheating the creamy rice usually turns it to mush. Though it takes a bit of time, you can get two meals out of it as long as you're willing to make fewer arancini.
Ingredients:
Arancini
3 cups vegetable broth
3 tablespoons olive oil
1 cup diced onion
1 cup Arborio rice
½ cup dry white wine
½ pound broccoli rabe
1 teaspoon salt
½ teaspoon pepper
½ cup grated Parmesan cheese
Vegetable or canola oil
2 ounces mozzarella cheese, cut into ½-inch pieces
¼ cup all-purpose flour
½ cup water
2 cups panko breadcrumbs
Marinara
1 tablespoon olive oil
7 garlic cloves, minced
1 (28-ounce) can crushed tomatoes
¼ cup chopped fresh basil
1 teaspoon salt
Directions: Heat the vegetable broth in a medium saucepan set over low heat. In a large dutch oven or other heavy, large pot, heat the olive oil over medium heat. Add the onion and cook until soft and translucent. Stir in the rice and cook, stirring, for 2 minutes. Add the wine and simmer until absorbed, stirring occasionally.
After wine is absorbed, begin adding the broth, a ladle at a time. Simmer, stirring occasionally, allowing each ladle to be absorbed before adding another. Continue until rice is tender and creamy. You may or may not use all of the broth. If you run out of broth, continue with water.
Meanwhile, bring a large pot of salted water to a boil. Add the broccoli rabe and cook for 3 minutes. Remove to a bowl of ice water, drain, and chop into small pieces.
Once risotto is finished, stir in the broccoli rabe and season with salt and pepper. Stir in the Parmesan. Let risotto cool to room temperature and proceed. Alternatively, store in the fridge overnight.
Pour enough oil into a medium pot to measure 4 inches up the sides and heat over medium until oil reaches 375 degrees Fahrenheit. Meanwhile, whisk flour and water in a small bowl.
Grind panko in a food processor, then transfer to a small plate. Working in ¼-cup batches, flatten risotto into a disk and place one piece of mozzarella in the center. Fold risotto up and around cheese to form a ball. Dip in slurry, making sure to fully coat, then cover with panko. Transfer to a baking sheet and repeat with remaining ingredients.
Working five at a time, fry risotto balls in the oil until golden and crisp on the outside, about 5 to 7 minutes. Remove to a paper towel-lined plate. Repeat with remaining risotto balls.
To make sauce, heat 1 tablespoon oil over low heat. Add garlic and cook until fragrant and sizzling, about 1 minute. Stir in the tomatoes, basil, and salt. Simmer for 15 minutes, or until thickened.
Serve arancini with marinara for dunking.
2. Broccoli Rabe Stuffed Pork Tenderloin
Stuffed pork tenderloin typically involves sweet ingredients like apples or dried fruit, so it's nice to give the meat a savory twist from time to time. Filling the protein with some blended broccoli rabe adds a deep taste that pairs really well with spicy ingredients, so feel free to add as much red chile as you want. You can also substitute crushed red pepper flakes if you can't find Fresno chiles.
Don't be intimidated by making your own broccoli rabe purée because it's quite simple. Just blanch the vegetables until tender, shock in an ice bath or rinse under cool water, drain, then chop in the food processor or blender. You can make it as smooth as you like, but we prefer leaving a little bit of texture.
Ingredients:
1 cup broccoli rabe purée
1 garlic clove, minced
2 shallots, minced
1 Fresno chile, seeded and minced
1 (2-pound) pork tenderloin
¾ cup shredded mozzarella cheese
¼ cup shredded Parmesan cheese
3 tablespoons extra-virgin olive oil
1¼ teaspoons salt
¾ teaspoon freshly ground black pepper
2 tablespoons chopped fresh thyme
Directions: Preheat oven to 375 degrees Fahrenheit. Mix broccoli rabe purée, garlic, shallots, and chili in a medium bowl to combine.
Using a sharp knife, make a slit lengthwise down the tenderloin, cutting about 1½ inches deep. Open pork up, then sprinkle evenly with both cheeses. Spread broccoli rabe mixture over top, then roll tenderloin back up to encase the filling. Tie tenderloin closed with twine or secure with toothpicks.
Grease a large, oven-safe skillet with 1 tablespoon oil. Add the pork and drizzle remaining oil on top. Season with salt, pepper, and thyme. Transfer to oven and roast until an instant-read thermometer inserted into the thickest part of the meat registers 140 degrees Fahrenheit, about 25 to 30 minutes. Let rest at least 10 minutes, slice, and serve.
3. Crockpot Italian Chicken and Broccoli Rabe Chili
Everyone gets bored with their standard chicken dinner, so introduce some new flavors to your favorite protein with this Italian take on chili. It's brimming with bold taste thanks to balsamic vinegar, roasted red peppers, and plenty of herbs. Best of all, this dish is designed to cook in the crockpot. Though you can use either chicken breasts or thighs, we like to use the dark meat for this dish because they stay especially juicy.
Ingredients:
3 pounds boneless, skinless chicken thighs or breasts
1 small sweet onion, diced
3 garlic cloves, minced
2 tablespoons chili powder
1 tablespoon dried oregano
2 teaspoons smoked paprika
2 teaspoons dried thyme
¼ teaspoon allspice
¼ to ½ teaspoon crushed red pepper flakes
1 dried bay leaf
1 teaspoon salt
Pepper
1 (6-ounce) can tomato paste
4 cups low-sodium chicken broth
½ cup balsamic vinegar
1 large bunch broccoli rabe, trimmed and roughly chopped
1 (12-ounce) jar roasted red peppers, sliced
1 (15-ounce) can cannellini beans, rinsed and drained
1 cup grated Parmesan cheese, plus more
½ cup chopped parsley, plus more
Crusty bread
Directions: In a 6- to 8-quart slow cooker, add chicken, onion, garlic, chili powder, oregano, paprika, thyme, allspice, crushed red pepper, bay leaf, and salt. Season with pepper. Add tomato paste, chicken broth, and balsamic vinegar. Stir to combine, cover, and cook on low for 6 to 8 hours or 4 to 6 hours on high, stirring once or twice, if possible.
When 30 minute remain, add broccoli rabe, roasted peppers, and cannellini beans. Turn heat to high and let finish cooking.
Remove chicken and shred with two forks. Stir back into chili along with cheese and parsley. Serve with bread and additional Parmesan.
4. Seafood Broccoli Rabe Stew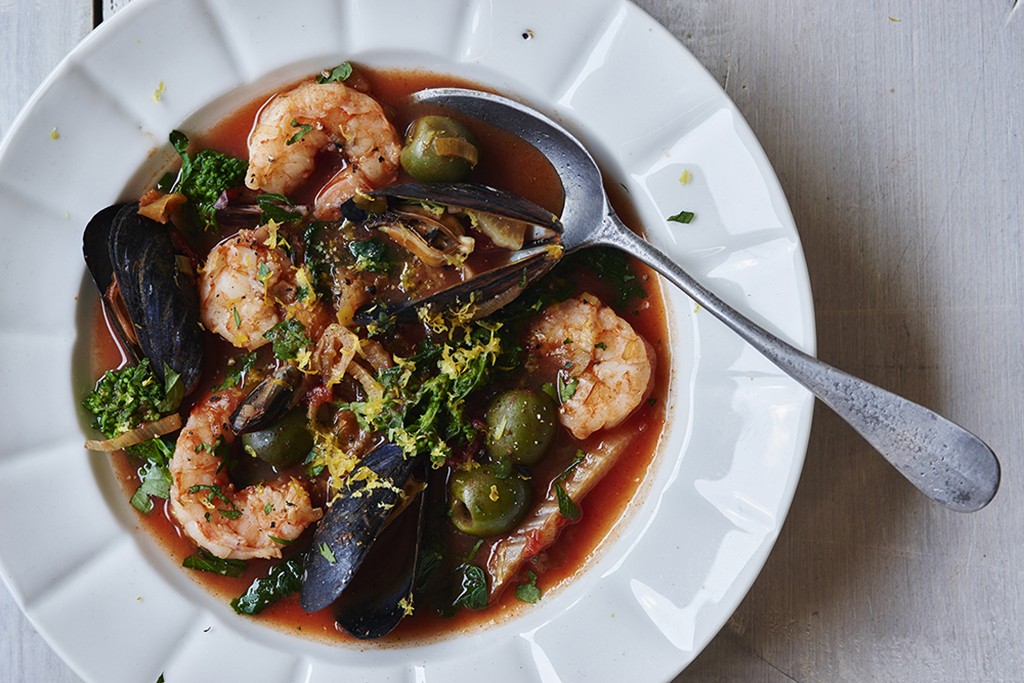 If you're looking for an impressive recipe for date night that isn't too complex, this seafood stew with mussels, shrimp, and broccoli rabe will be a perfect fit. Yes, it's healthy, but your sweetie will only care about how fantastic it tastes. Don't obsess too much about the exact seafood, either. You can use any of your favorite fish or shellfish. Cod is a particularly nice choice. Just cut the fish into bite-size pieces and simmer for a few minutes to let it cook through.
Ingredients:
1 tablespoon extra-virgin olive oil
2 leeks, thoroughly rinsed, halved, and thinly sliced
1 fennel bulb, quartered, cored, and thinly sliced
3 garlic cloves, minced
2 tablespoons tomato paste
½ cup dry white wine
4 cups seafood or vegetable broth
1 (14-ounce) can crushed tomatoes
1 cup pitted green olives
1½ pounds mussels, scrubbed and debearded
1 pound shrimp, peeled and deveined
1 bunch broccoli rabe, trimmed into bite-size pieces
1 teaspoon salt
¾ teaspoon freshly ground black pepper, plus more
4 tablespoons chopped fresh herbs, such as parsley cilantro, or mint
Zest of 1 lemon
6 slices grilled or toasted bread
Directions: Heat olive oil in a large soup pot over medium heat. Add leeks and fennel and cook until softened, 4 to 5 minutes. Add garlic and cook 1 minute longer. Stir in tomato paste and cook for 2 to 3 minutes, until tomato paste just begins to brown. Stir in wine, broth, and tomatoes. Bring to a simmer over medium-low heat and let cook for 25 to 30 minutes.
Stir in olives, shrimp, mussels, and broccoli rabe. Cover and simmer until shrimp is pink and opaque, mussels have opened, and broccoli rabe is just tender, about 4 to 5 minutes. Season with salt and pepper.
Ladle soup into bowls and garnish with additional pepper, herbs, and lemon zest. Serve with bread.
More from Culture Cheat Sheet:
Want more great content like this? Sign up here to receive the best of Cheat Sheet delivered daily. No spam; just tailored content straight to your inbox.