4 Healthy Meals You Should Know How to Make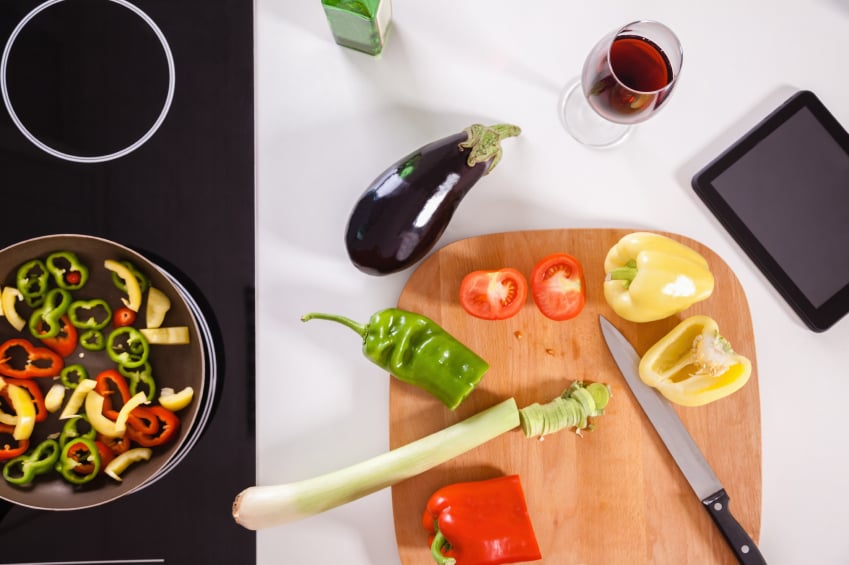 There will come a day when you'll realize it is no longer sufficient to fuel your body with Easy Mac, spaghetti, and frozen pizza. Your energy levels will suffer, your waistline will expand, and let's be honest, no one wants to date a dude whose recycle bin is filled with SpagettiOs cans. Eating out regularly isn't very cost effective or healthy, but if you learn to cook, you can create easy, restaurant-worthy meals at home where you can control the portion sizes and ingredients.
Rather than searching for a complicated recipe online and botching it, get used to your kitchen and the art of cooking by mastering a few simple, healthy recipes that are low in calories and high in protein. Once you've mastered the basics while cooking for yourself, you can wow family and friends at a dinner party or impress a date with a home cooked meal.
1. Pesto Salmon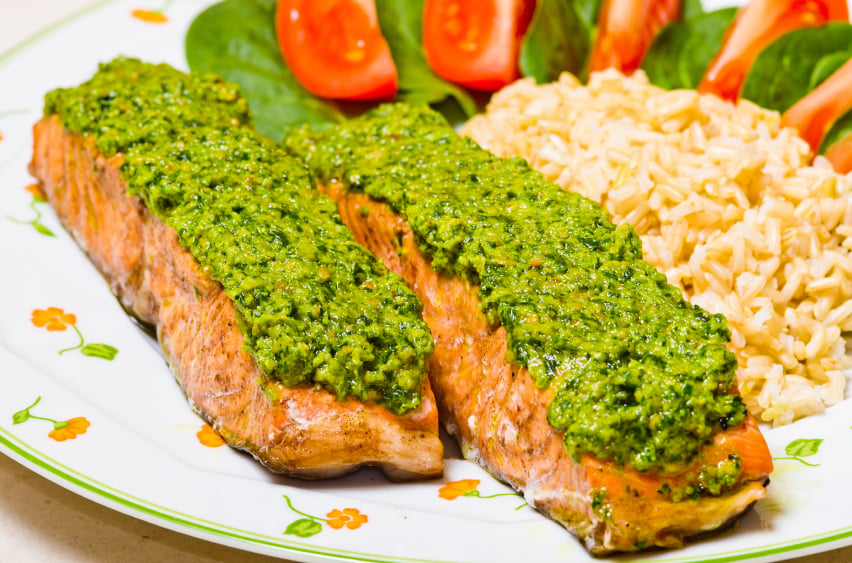 This recipe is perfect for a date night or just a solo home cooked meal. Salmon is high in omega-3s, leaner than red meat, and fast and easy to cook. The homemade, 5-ingredient pesto from DamnDelicious ads a unique touch and can be made in advance and stored in the fridge for up to one week. If you're in a time crunch or don't have a food processor, you can buy the pesto pre-made. This meal is full of healthy fats, vitamins, and hits at about 400 calories and 35 grams of protein a serving. Pair this dish with oven roasted potatoes or asparagus for a healthy, one-oven meal.
Ingredients:
1 cup fresh basil
3 cloves of garlic, peeled
3 tablespoons pine nuts
⅓ cup freshly grated Parmesan cheese
⅓ cup olive oil
Dash of salt and pepper
4 salmon fillets (around 6 ounces each)
Directions: Combine the basil, garlic, pine nuts, and Parmesan cheese in a food processor, and season with salt and pepper to taste. With the food processor running, add olive oil in a slow stream until it's mixed completely. You can make this ahead and store in the fridge for up to one week.
Spray a baking sheet with cooking spray, and place salmon fillets on the sheet. Spread a quarter of the pesto on each of the four salmon fillets, ensuring they are fully covered.
Bake at 400 degrees for 20 to 22 minutes or until fish flakes easily with a fork.
2. Whole Roasted Chicken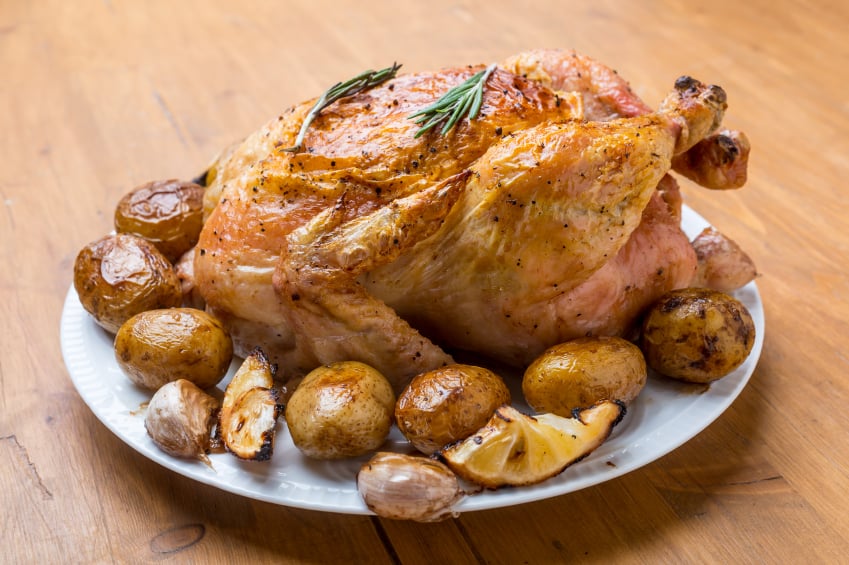 A whole roasted chicken is a great recipe to have up your sleeve, especially one as simple as this Chowhound recipe. One bird will provide you with a few nice dinners and great leftover sandwich fixings, or you can bust this meal out for a dinner party. A four-pound chicken will typically serve four to five people and can be thrown in the oven providing you with time to clean the house. If you're looking for an easy side dish, you can arrange carrots, potatoes, and onion around the chicken and bake at once. For a separate side dish, consider steamed broccoli, asparagus, or a green salad. This dish runs at less than 300 calories a serving with 35 grams of protein. Bonus points if you take the scrap meat and chicken carcass to make your own chicken broth from scratch.
Ingredients:
1 (4-5 pound) whole chicken (ensure you remove neck and giblets from the cavity)
1 tablespoon olive oil
Salt and pepper to taste
1 lemon, thinly sliced (optional)
Fresh parsley, rosemary and/or thyme (optional)
Directions: Remove the neck and giblets from the cavity, discard any extra fat hanging around the cavity, and pat the whole bird dry with a paper towel. Drizzle the olive oil all over the skin of the chicken, and season generously with salt and pepper. Put the lemon and fresh herbs inside the cavity. Place the chicken breast-side up in a large frying pan or cast-iron skillet.
Roast the chicken for 15 minutes at 425 degrees. Reduce temperature to 375, and roast for 50 minutes to 1 hour or until the juices run clear. If you have a meat thermometer, wait until the temperature registers 165 degrees. Remove the chicken from the oven, and let rest for 5 to 10 minutes before carving.
3. Grilled Fish Tacos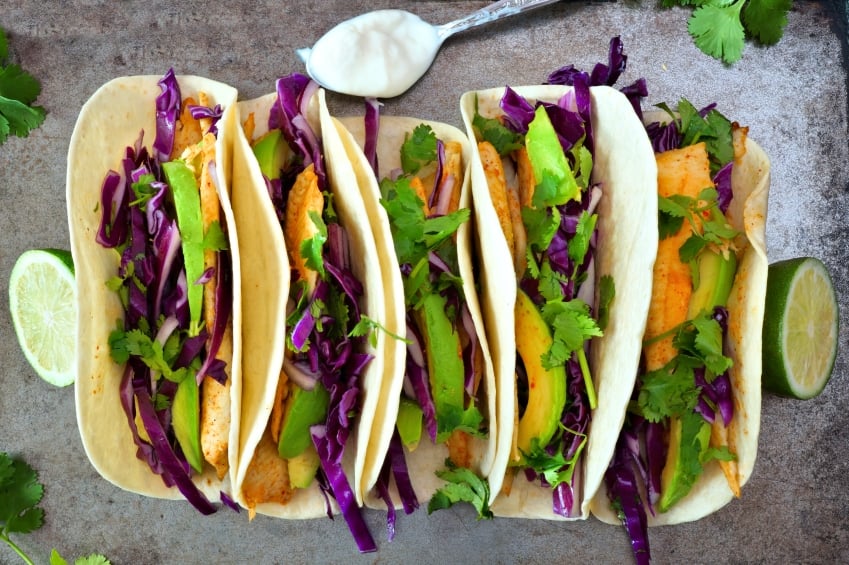 Everyone loves fish tacos, but the fried fish and heavy mayo-based sauce keep this dish out of the healthy category. With a few tweaks by Bobby Flay with the Food Network, the fish taco favorite can be as healthy as it is delicious. Plus, this easy meal can be adjusted for a solo dinner or a buffet-style party dish. If you don't have a grill, you can bake the fish in the oven for similar results. Two tacos pack less than 300 calories and over 32 grams of protein. This recipe serves 4 people with 2 tacos each.
Ingredients:
1 pound white flaky fish, such as mahi mahi, orata, or tilapia
¼ cup olive oil
1 lime, juiced
1 tablespoon ancho chili powder
1 jalapeno, coarsely chopped
½ cup chopped fresh cilantro leaves, divided
8 flour or corn tortillas
½ of a white or red cabbage, chopped into thin strips
½ red onion, minced
3 tomatoes, chopped
Fresh salsa or hot sauce (optional)
Avocado (optional)
Directions: Preheat the grill to medium-high heat. Whisk together olive oil, lime juice, ancho chili powder, jalapeno, and half of the chopped cilantro, and pour over the fish. Marinate for 15 to 20 minutes. In a bowl, mix together the cabbage, red onion, tomatoes, and the remainder of the cilantro.
Remove the fish from the marinade, and place onto the hot grill flesh side down. Grill for 4 minutes, and then flip for 30 seconds before removing it from the grill completely. Let rest for 5 minutes, and then flake the fish with a fork. Place the tortillas on the grill for 20 seconds. Divide the fish among the tortillas, and garnish with the cabbage mixture. You can add salsa, hot sauce, or avocado.
4. Black Bean Veggie Burgers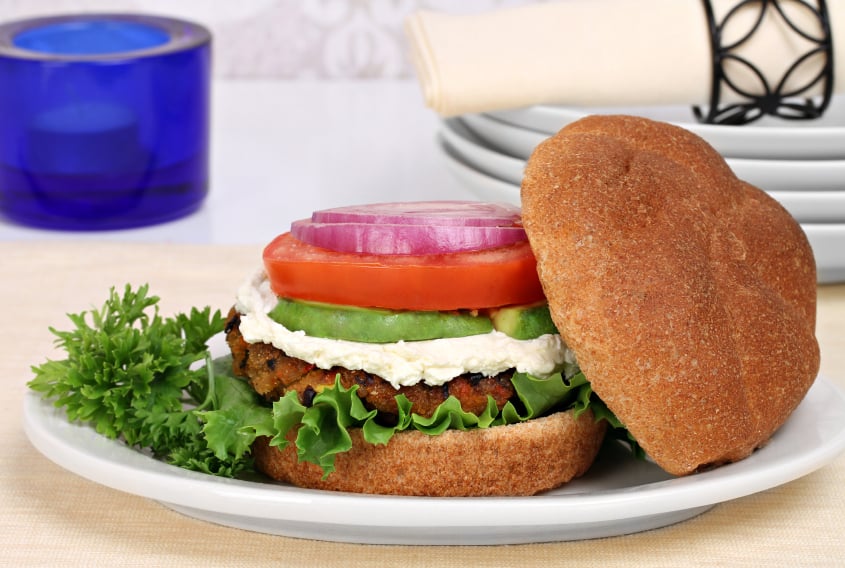 Cut back on the red meat (and don't miss it) with this amazing black bean veggie burger recipe from AllRecipes.com. Serve with baked sweet potato fries or a side salad. Don't have a grill? Follow the directions, but bake the burgers at 375 degrees on an oiled baking sheet for 10 minutes on each side. Each burger without the bun is just under 200 calories with 6.5 grams of protein.
Ingredients:
1 (16-ounce) can black beans, drained and rinsed
½ green bell pepper, cut into 2-inch pieces
½ onion, cut into wedges
3 cloves garlic, peeled
1 egg
1 tablespoon chili powder
1 tablespoon cumin
1 teaspoon hot sauce
½ cup breadcrumbs
4 whole-wheat hamburger buns
Directions: Preheat the grill to high heat, and lightly oil a sheet of aluminum foil. In a medium bowl, mash black beans until they're thick and pasty. Add chopped bell pepper, onion, and garlic. In a small bowl, stir together egg, chili powder, cumin, and hot sauce. Add the egg mixture into the bean mixture, and stir to combine. Mix in the breadcrumbs until the mixture is sticky and holds together. Divide into four patties.
Place patties on foil, and grill for 8 minutes on each side. Grill whole-wheat hamburger buns for 1 minute until browned. Top with avocado, tomato, onion, and any of your favorite burger toppings.
 More from Culture Cheat Sheet:
Want more great content like this? Sign up here to receive the best of Cheat Sheet delivered daily. No spam; just tailored content straight to your inbox.