5 Breathtaking Resorts That Hikers Will Love
Summer may be for long walks on the beach and… well, you know the drill. But brisker months offer an incredible opportunity to warm up by breaking a sweat on the trails. There's just something about hiking: active yet not overwhelming; a group effort, but a solo rush; planned out, but with just enough room for spontaneity. It truly offers something for everyone. So lace up your hiking shoes and pack your gear as we highlight some of the best U.S. resorts for an adventure. Don't forget the trail mix!
1. Montage Deer Valley, Park City, Utah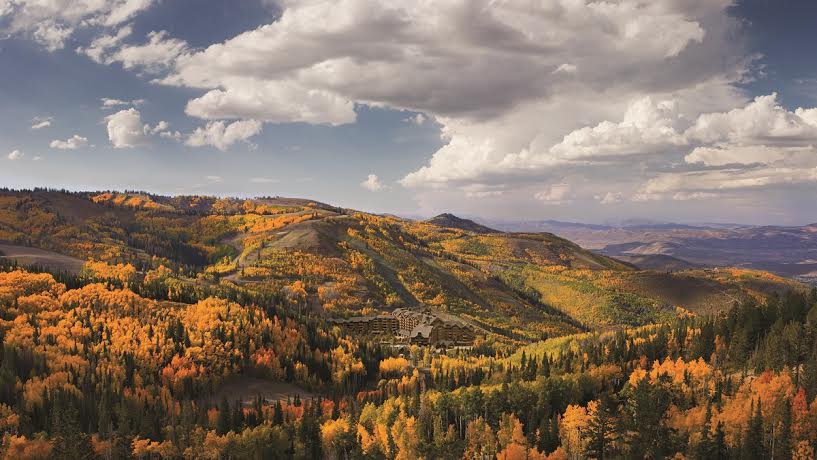 Montage Deer Valley, the refined mountain craftsman resort set in the heart of bustling Park City, Utah, recently unveiled a day-trip excursion to northern and southern Utah. You may have heard of this area thanks to the famed Sundance Film Festival, but outdoor junkies love the location for its fresh air and red rock views.
The Montage to Moab experience allows guests to explore the best of Park City's alpine splendor and Moab's red rock vistas — in the same day. Offered year-round, the excursion includes a guided tour, lunch, and private roundtrip airfare. Guests can choose between two options: Hike world-renowned Arches National Park and see the famous Delicate Arch, various natural formations, and over 2,000 unique sandstone arches, or do an exclusive bike tour in Moab, led by a Compass Sports team member and geared up with the latest BMC of Switzerland mountain bike technology.
Price per package is $6,000, not including accommodations. Room rates begin at $645 per night.
2. Madeline Hotel and Residences, Telluride, Colorado
Surrounded by the breathtaking peaks of the San Juan Mountains, the Madeline Hotel and Residences is a perfect home-base for hiking adventures. Telluride, Colorado hosts some of the most-desired hiking destinations in the country, with trails leading to waterfalls, ghost towns, and geological dig sights. Madeline Hotel and Residences is tucked away in Mountain Village. Hiking trails just steps from the property include the Boomerang Trail, where adventurers descend 700 feet through Uncompahgre Forest, ending at the serene valley floor below — your entire Instagram fan base will explode in jealousy.
Hikers looking for a guided experience may enjoy half- and full-day hiking adventures with guides who take them deep into the wilderness of the San Juan Mountains to explore hidden trails, mountain passes, and deep valleys. To end the hike, guests may enjoy a picnic in a field full of wildflowers next to a trickling stream. With views this good, you may just want to pack that sparkly ring you've had tucked away.
Room rates start at $329.
 3. Mirbeau Inn & Spa at The Pinehills, Plymouth, Massachusetts
File Mirbeau Inn & Spa under "whoa". Plymouth is the largest town in Massachusetts by area (over 100 square miles), and there are 450 ponds within the town with a total combined area of 5,002 acres. In addition to the many historic sights, fall foliage from the region's many maple trees make for breathtaking sights and unbeatable views when it comes to fall hiking. Visitors can check out the area's cranberry bogs, or even enjoy a crisp day on one of the nearby beaches, like White Horse Beach.
If you want to take your hiking up a notch, head to Myles Standish State Forest, which is home to 16 ponds and areas for picnicking, swimming, fishing, and canoeing. Tours are also available via America's Hometown Shuttle. Adventure-seekers can go whale watching or head to DropZone for zip-lining. Ready to unwind after a long day on your feet? Slink back to The Pinehills' fire pit. This 50-room retreat combines the amenities of a French manor house with its a world-class spa and renowned fine dining for a fancy home-base pre- and post-hike.
4. Omni Homestead Resort, Hot Springs, Virginia
Nestled in the breathtaking Allegheny Mountains, the historic Omni Homestead Resort is surrounded by a picturesque setting, perfect for outdoor fall activities. Guests are invited to join the Cascades Gorge Hike, led by an entertaining naturalist, to explore area of the 3,000-acre property. The hike will take guests by a series of beautiful waterfalls alongside the fall tones of the deep Allegheny Mountain gorge trail (Prepare for some serious snapshots). The two-mile journey is one of the most beautiful in the region, and is an excellent way to enjoy crisp fall air and matchless views.
5. Mirbeau Inn & Spa, Skaneateles, New York
Upstate New York is known for its spectacular fall foliage — a breath of fresh air in the finger lakes region of the Empire State. Look no further than Mirbeau Inn & Spa, an idyllic autumn destination with Monet-inspired gardens, elegant bedrooms with cozy fireplaces, and an award-winning spa (your post-hike feet will thank you). Some of the many hiking options include the Charlie Major Nature Trail, which runs along Skaneateles Creek. The trail used to house railroad tracks, but they were discontinued in 1981. Those who walk along the trail can still see remnants of the tracks today.
Guppy Falls is another attraction, which also connects a number of other trails throughout the area. Don't miss nearby Beak & Skiff Apple Orchards' fresh apple cider. And make sure to visit local favorite, Tim's Pumpkin Patch, just a 10-minute drive from Mirbeau. Need a break from the kid-friendly activities? Over 100 wineries are spread throughout the region, including Anyela's Vineyards (only five minutes away) as well as Montezuma Winery, Varick Winery & Vineyard, and Cayuga Ridge Estate Winery.
More from Culture Cheat Sheet:
Want more great content like this? Sign up here to receive the best of Cheat Sheet delivered daily. No spam; just tailored content straight to your inbox.