5 Countries to Visit for a Taste of the World's Greatest Beers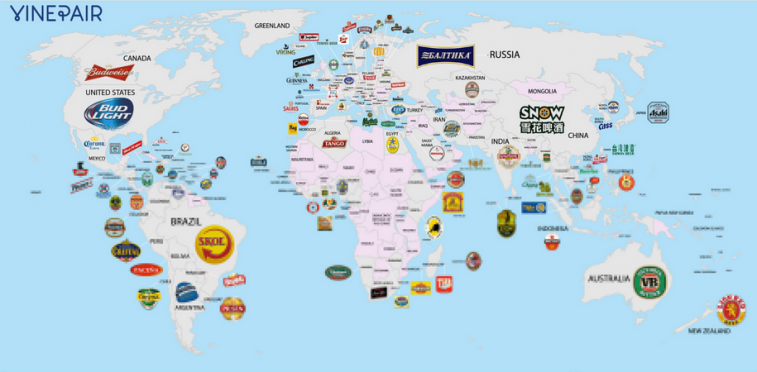 In his Oxford Companion to Beer, Garrett Oliver notes that beer is as old as civilization itself. And by extension, you could argue that beer culture is an important part of human history, reflecting traditions and showing what is important to a culture or a people. As with other fermented or distilled beverages, beer plays an important role in ritual.
But what the perfect beer looks like, how it should be drunk, what is in it, and all the tiny pieces of drinking etiquette vary greatly from culture to culture and even country to country.
Many countries have one brew they tend to favor; one beer, brewed at home, that the rest of the world easily recognizes. The industry website, Vinepair, is compiled from market research firm Euromonitor and corporate reports by beer companies around the world to determine each country's most popular beer, as measured by market share. The Americans (unfortunately) drink Bud Light, while Canadians drink Budweiser. In Mexico, people lean toward Corona; in India, people like best the pale lager Kingfisher. Costa Rica favors Imperial, Ireland likes Guinness; Algeria prefers a beer called Tango; and Russia mostly drinks locally-made Baltika. Israelis drink Gold Star, while Iranians favor Delster Classic and Turks chose Efes.
These statistics hide the most important details of a regions' beer drinking culture, but they aren't a bad place to start learning about the world's expansive beer cultures. However, if you're looking to really immerse yourself in beer culture, here are five spots you should take the time to visit, if you have the chance. We also chose spots that have either great history and natural beauty to supplement your beer tasting.
Ireland
Irish culture is seemingly intertwined with pub culture. As James Joyce noted in Ulysses, a "good puzzle would be [to] cross Dublin without passing a pub." And Guinness stands as the nation's unofficial intoxicant. The pouring of a perfect pint of Guinness is even an exact science. A pour has an exact length, 119.5 seconds, and exact angle, 45 degrees, followed by a rest. Hold up a forefinger in a bar, and the bartender knows you are asking for a Guinness — or so the legend goes.
But while the country does rank sixth in beer consumption globally, it's actually not all about Guinness, although on St. Patrick's day (and across the world) celebrants do tip bank a pint or four of the porter stout. But Guinness, perhaps, is not the best example of the great beer Ireland has to offer. The popularity of Guinness has a lot to do with the company's success at framing the brewing operation as a symbol of Irish culture and pride, beginning with its reopening of  the Guinness Storehouse, part of the original Dublin factory, in 2000.
Still, looking at the history of this brewer — founded by Arthur Guinness in 1759 — serves as guidepost in the  centuries-long conflict between unionist and Irish nationalists.
The beer culture of Ireland extends far beyond the ubiquitous pint of Guinness, however. Or at least now it does. When the century began, Ireland was home to less than five breweries that controlled the market. Now there are more than 70, with newcomers White Hag, Trouble Brewing, and Galway Bay Brewery serving as the foundations of a burgeoning craft beer scene. And this innovation has come despite the formidable competition posed by Guinness, as Rebuen Grey of Beoir — a consumer organization supporting Ireland's native craft breweries — told the Guardian. "Back in the 1990s the craft ale scene in Ireland didn't really exist," said Reuben. "But a change in beer duties meant independent brewers got 50% tax rebates, which changed everything. Even though people have less money, they can see the appeal of supporting boutique local breweries."
Pubs to Visit: Matt Molloy's, Westport, Mayo; Porterhouse, Dublin; Castle Cafe, Cork; Oslo Bar, Galway; and, John Benny's, Dingle, Kerry.
The United States (primarily Oregon and California)
Now the United States is more than just the land of Budweiser. American beer has undergone a metamorphosis since the 1970s. And while the country ranks 14th in beer consumption globally, its growing craft beer tradition has influenced many.
According to the Brewers Association, the "renaissance of American craft brewing" came in 1976, with the founding of The New Albion Brewery in Sonoma, California. While its doors were open for only six years, hundreds of homebrewers took inspiration and started breweries of their own in the early 1980s. Despite the difficult market conditions these small brewers faced entering an industry dominated by brands like Budweiser and Coors, the number of craft breweries in the United States has grown significantly. In 1980, there were only eight craft brewers, by 1994 there were 537, and by the end of 2014, there were 3,418 operating craft breweries nationwide.
Craft beer is so much more than that a series of guidelines. It is not simply a means to an end, but a gastronomical flight of fancy. You can find beers made of hops that release pungent notes of lemongrass and cannabis, beers that have been aged in bourbon barrels, and beers that come with an alcohol content on par with wine, as brewers create beverages with the same creativity, flair, and innovation as world-class chefs.
Both Oregon and California produce beers that still stand above the increasingly crowded field of innovative and delicious American beers.
Breweries to Visit: Deschutes, Bend, Oregon; Rogue Ales, Ashland, Oregon; Hair of the Dog Brewing Company, Portland, Oregon; The Lost Abbey, San Marcos, California; Firestone Walker, Paso Robles, California; Lagunitas, Petaluma, California; Russian River Brewing Co., Santa Rosa, California; and Stone Brewing Co., Escondido, California.
Belgium
Belgian beer has had a huge impact on brewing across the world. The country can also make a good claim to brewing the best beer in the world; beer is "ingrained in the culture", as Marc Stroobandt, an expert on Belgian beer, told the Economist. Its brewing tradition dates back to the 1100s, before Belgium was even an independent country, and many operating breweries have their origins in the monasteries of the Middle Ages. But Belgium has not been content to rest on laurels earned in centuries past; the country is also a hotbed of innovation, whether the brew is a lambic, saison, dubbel, or witbier. After all, innovation and creativity was what made Belgium beer great in the first place. Now brewers are creating new variations of the old standards, from blondes to browns to classic sours.
"We are at the beginning of a new era," Yvan De Baets, the founder of De La Senne brewery, told The New York Times in 2011. "Tradition and experimentation are equally important. Belgium is a wonderful place to appreciate that it's not about a brewery being old or new — it's about the brewer's values and ideas and respect for the beer. If you visit enough breweries, you'll see that we're all talking the exact same language."
And if you need a reason to visit, just note that many of Belgium's finest beers are not exported.
While Belgium ranks 18th in beer consumption globally, the size of its beer tourism is incomparable, and the appeal is easy to understand. Rather than being produced in huge commercial factories, its beers also come from tiny regional breweries and Trappist monasteries. The influence of its bigger, beer-loving neighbor Germany, which consumes the third most beer of any nation, may still be perceptible. However, the country eschewed the strict purity laws that once limited German brewers to water, yeast, hops, and malt. Belgian brewers utilized a wide variety of spices, local fruits, and wild indigenous yeasts.
Breweries to Visit: In de Vrede, Westvleteren; Moeder Lambic, Brussles; Cantillon, Brussels; 't Brugs Beertje, Bruges; and, De Dolle Brouwers, Esen.
Japan
Japan may seem to be an odd entry on this list, and it is true that this nation is not very competitive in terms of per capita beer consumption, ranking 38th in the world. However, if this list was kept only to the world's top beer consumers, it would provide a vary narrow view of the variations in beer cultures the world over.
There is more to Japanese beer culture than mass-produced lagers like Kirin, Sapporo, and Asahi. In fact, craft beer has a very strong foothold in Japan. As the Los Angeles Time points out, Japan has earned a reputation as a country devoted to craftsmanship, and focused on details. And that detail has guided the development of its craft beer industry. Japanese home-brews — known either as ji-biru,"local beer," or kurafuto bia, "craft beer" — have blossomed since the 1990s, when government restrictions on craft brewing were loosened. Previously, brewers making less than half a million gallons were refused licenses. Even now, only approximately 200 craft breweries exist in the country. In Osaka, known as the kitchen of Japan, roughly a dozen bars serve domestic craft beers.
"Japanese craft beers are carefully made," Mario Vasquez, beer buyer at Wally's Wines in L.A., told the Times. "They come from a craft sake tradition. The Hitachino ales show traditional Japanese brewing style, especially the white ale — it has a clean, refreshing herbal flavor." Like American craft brewers, their Japanese counterparts have left behind the bland beers of mass production in order to pursue more eclectic influences and tastes.
"They're hitting all the different styles. That's their conceit: taking things from other places, tweaking them and making them better," explained Mark Meli, a professor at Kansai University in Osaka and author of Craft Beer in Japan, to The New York Times. They produce ales, stouts, wheat beers, and one brewer, Niigata-based Echigo Beer Company, has even crafted a tomato-flavored beer, which is unfortunately not available in the United States. Echigo — the first craft brand to come to market in 1995 — also produces a beer made of Japan's most popular rice variety.
Tradition plays a role in brewing. Hitachino, associated with Kiuchi sake brewery, crafts ales with what it calls "a hint of our traditional sake brewing method," reports the Times. It ages another ale in traditional cedar barrels.
Beers to Try/Breweries to Visit: Yo-Ho Brewing, Nagano; Minoh Brewery, Osaka; and Abashiri Beer Brewery, Hokkaido.
New Zealand
This island nation has it all: world-renowned wines, spectacular scenery ranging from jungles to rolling hills to alpine glaciers to volcanoes, and of course, a thriving beer scene. In the early 2000s, the country had just 30 microbreweries; today, there are more than 100, according to the BBC.
New Zealanders' beer consumption places the country at 27 in global rankings, but the country boasts some of the world's finest hops and a discerning consumer base. These citrusy indigenous hops allow New Zealand to compete with the best hop-driven beers on the American market. But hoppy beer isn't the countries only claim to fame; its internationally acclaimed breweries make everything from stouts to saisons. Centered in the cities of Nelson and Wellington, the burgeoning industry is benefiting from both world-class ingredients and a hunger for experimentation.
Breweries to Visit: McCashins, Nelson; Founders, Nelson; Moa Brewing, Marlborough; Yeastie Boys, Wellington; and, Tuatara, Wellington.
More from Culture Cheat Sheet