Easy 5-Ingredient Beef Recipes You Can Make for Dinner
You want to make a nice, home-cooked meal, but every recipe you find seems to come with an ingredient list a mile long. When making something from scratch means a special trip to the grocery store and a cart full of expensive ingredients, it often seems simpler to just order take-out or pop a frozen pizza in the oven.
Fortunately, home-cooked meals don't have to be a drag to make. If you're in the mood for a hearty beef dinner but don't want to spend a lot of time in the kitchen, we've put together this list of five easy-to-make recipes using everyone's favorite red meat. Best of all, each recipe contains no more than five ingredients (not counting basics like salt and pepper), so you can be in and out of the store in a snap.
1. Spinach Steak Pinwheels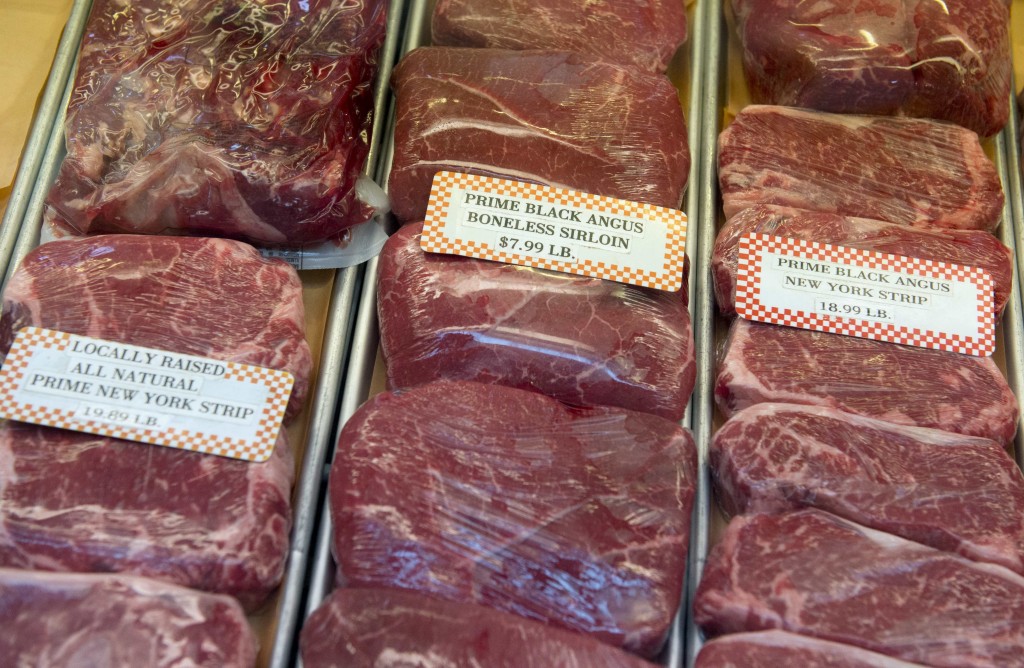 These spinach steak pinwheels look elegant on a plate but are simple to prepare – perfect if you're looking for a no-fuss meal to impress a date or want a change from traditional burgers for your next cookout. This recipe from Taste of Home takes just 20 minutes to prepare.
Ingredients:
1½ pounds beef top sirloin steak
8 bacon strips, cooked and drained
1 package (10 ounces) frozen and chopped spinach, thawed and squeezed dry
¼ cup grated Parmesan cheese
½ teaspoon salt
⅛ teaspoon cayenne pepper
Directions: Make diagonal cuts in steak at 1-inch intervals to within ½ inch of bottom of meat. Repeat cuts in opposite direction. Pound to ½-inch thickness. Place bacon down the center of the meat.
In a large bowl, combine the spinach, Parmesan cheese, salt, and cayenne; spoon over bacon. Roll up and secure with toothpicks. Cut into six slices.
Grill, uncovered, over medium heat for 6 minutes on each side or until meat reaches desired doneness (for medium-rare, a meat thermometer should read 145 degrees Fahrenheit; medium, 160 degrees Fahrenheit; well-done, 170 degrees Fahrenheit). Discard toothpicks and serve.
2. Sunday Roast Beef and Gravy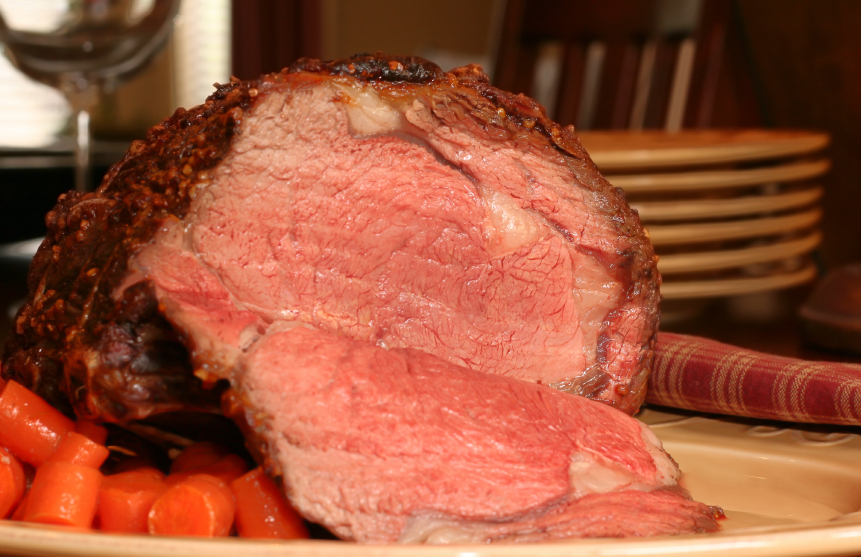 Roast beef isn't a complicated dish, but it has a long cooking time, making it the perfect choice for a Sunday-night supper. This recipe from the Food Network yields up to six servings, depending on how hearty your appetite is. If you're only cooking for one or two, the leftovers are delicious in sandwiches and other recipes.
Ingredients:
1 (3 to 4-pound) bone-in rib-eye roast
Kosher salt and freshly ground black pepper
¼ cup olive oil
For the gravy:
1 large shallot, finely chopped
½ bottle drinking red wine, such as Malbec
5 cups beef stock
Directions: Preheat oven to 400 degrees Fahrenheit.
Using a heavy hand, season rib-eye roast with salt and pepper on all sides. Heat olive oil in a large Dutch oven or a roasting pan. Place beef in hot pan and sear until deep golden brown on all sides. Transfer the pan to the oven and roast for about 15 minutes per pound for medium-rare, making an approximate hour of cooking time. Remove the pan from oven and transfer the beef to a cutting board. Allow meat to rest for at least 15 minutes, tented with foil, before carving.
To make the gravy: Pour off excess fat from the Dutch oven and place the pan on the stovetop over medium heat. Add shallots and cook until soft and brown, about 4 to 6 minutes. Deglaze the pot with ½ cup of the wine, scraping up browned bits from the bottom. Add remaining wine, bring to a boil, and reduce by half. Add stock and simmer until reduced again by about half. Pass the gravy through a fine mesh sieve and return to the pan. Bring back to a boil, then lower the heat and simmer until desired gravy consistency is reached. Taste for seasoning and adjust, if necessary. Carve beef against the grain, into thin slices, and serve with gravy.
3. Beef and Vegetable Stir Fry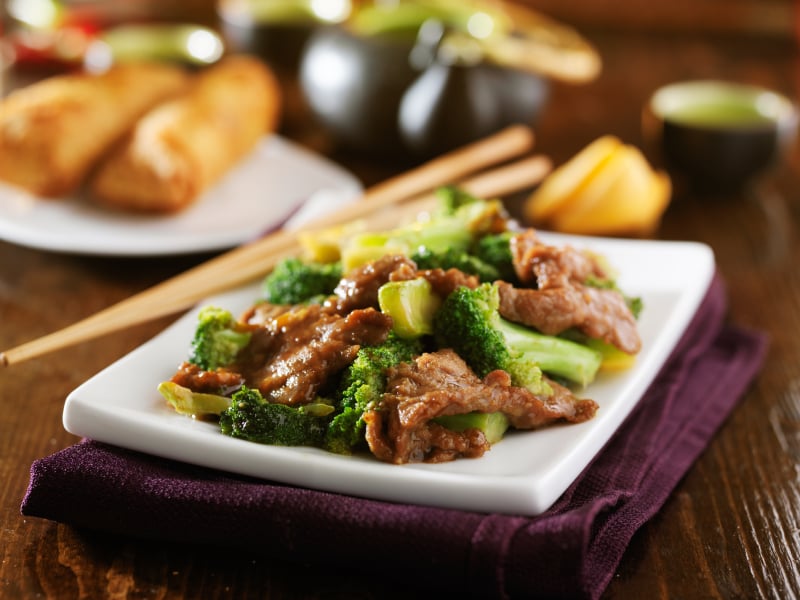 If you have leftover roast beef from the previous recipe, put it to use in this ultra-basic beef and vegetable stir fry. With pre-cooked meat and frozen mixed vegetables, you'll have dinner ready in a flash. Recipe from About Food.
Ingredients:
1 tablespoon olive oil
1 (16-ounce) package frozen mixed vegetables
1 tablespoon water
1 cup stir fry sauce
2 teaspoons cornstarch
2 cups cubed cooked roast beef
Directions: Heat the olive oil in a heavy skillet. When the oil is hot, add the frozen vegetables and 1 tablespoon of water, then stir. Cover the pan and cook vegetables over medium heat for 3 minutes.
Meanwhile, combine the stir fry sauce and cornstarch in a small bowl. Pour into the skillet with the vegetables and stir. Then add the cooked beef and stir again. Replace the cover and cook the beef and vegetables for 5 to 8 minutes over low heat, stirring occasionally, until the beef if hot and the vegetables tender yet still crisp.
4. 5-Ingredient Slow Cooker Stew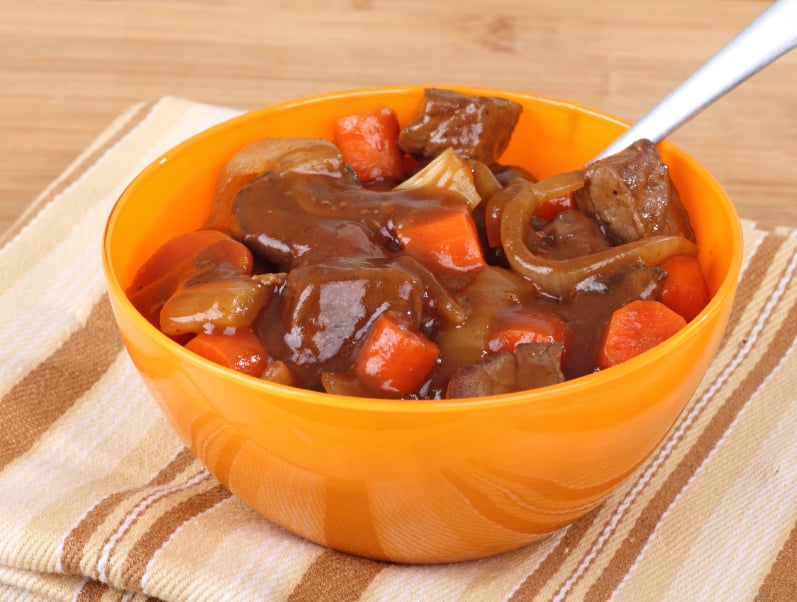 To make this comforting beef stew, all you have to do to is throw a handful of ingredients in the slow cooker before you leave for work, and a delicious dinner will be waiting for you when you get home. Freeze any leftovers to enjoy later. Recipe from Real Mom Kitchen.
Ingredients:
2 (16-ounce) packages frozen stew vegetables (e.g., carrots, potatoes, onions, and celery)
1½ pounds beef stew meat, cubed
1 (10¾-ounce) can cream of mushroom soup
1 (10¾-ounce) condensed tomato soup
1 envelope dry onion soup mix
Directions: Line the bottom of your slow cooker with the frozen vegetables. Top the veggies with the cubed stew meat.
In a medium-sized bowl, stir together the mushroom soup, tomato soup, and the onion soup mix. Pour the combined soups over the meat and vegetables.
Cover the crockpot and cook the stew on low for 6 to 8 hours. Serve.
5. 3-Ingredient Shredded Beef Tacos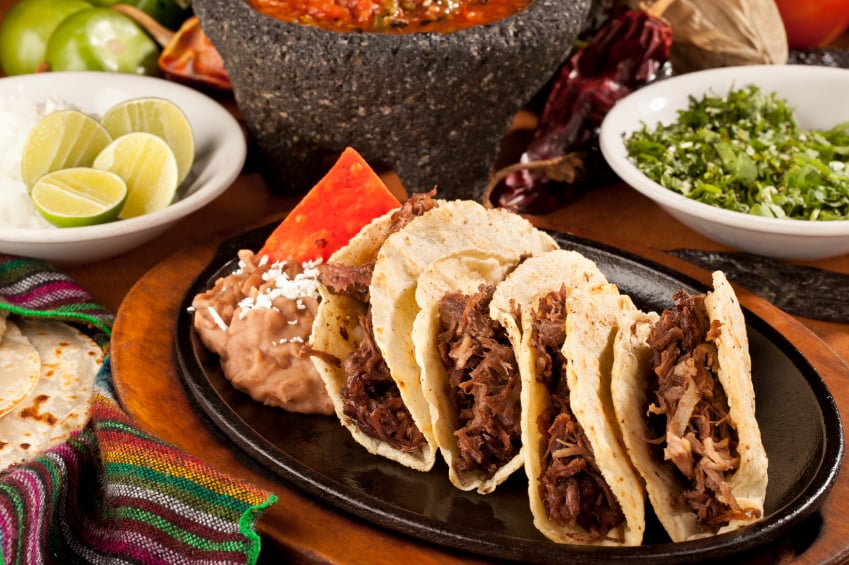 Another crockpot recipe that's easy to prep, these shredded beef tacos from Sweet Little Bluebird call for just three ingredients. While you'll need to pick up tortillas and whatever taco toppings you prefer, we still think this is a pretty easy meal. You can also use the shredded beef in burritos or enchiladas.
Ingredients:
3 pounds lean bottom round roast (you can also substitute chuck or rump roast)
10- to 12-ounce bottle Coca-Cola Classic
2 to 3 finely minced chipotle peppers in adobo sauce, plus 1 to 2 teaspoons of sauce (a single 7-ounce can of chipotle peppers will be more than enough)
Directions: Finely chop 2 to 3 chipotle peppers (use fewer peppers if you prefer your food less spicy). Pour the Coca-Cola Classic into a measuring cup or bowl, then stir in the chopped chipotle peppers, plus 1 to 2 teaspoons of adobo sauce.
Place the roast in your slow cooker, and then pour the soda and spice mixture over the meat. Cover and cook on low for 7 to 8 hours or on high for 4 to 5 hours.
When meat is fully cooked and tender, remove it from the slow cooker. Use two forks to shred the beef. Place the beef back in the slow cooker and stir until it is completely combined with the cooking liquid (you'll want most of the liquid to be absorbed into the meat). Taste the beef, then add salt and additional seasonings if you want.
Use the shredded beef as a filling for tacos, burritos, enchiladas, or quesadillas.
Follow Megan on Twitter @MeganE_CSsu