5 Hot Dog Recipes Using Flavors From Around the World
Whether it's at a backyard party, a ball park, or your kitchen, hot dogs always make tasty meals. The National Hot Dog and Sausage Council estimated that Americans consume about 20 billion of the cookout classic each year, so there's no denying the popularity. They're great with just a slick of mustard or ketchup, except if you live in Chicago. When you're looking for a way to give your dog more of a boost, check out these five recipes that look to global flavors for some truly unique creations.
1. Bombay Hot Dogs with Mango Relish and Curried Mayo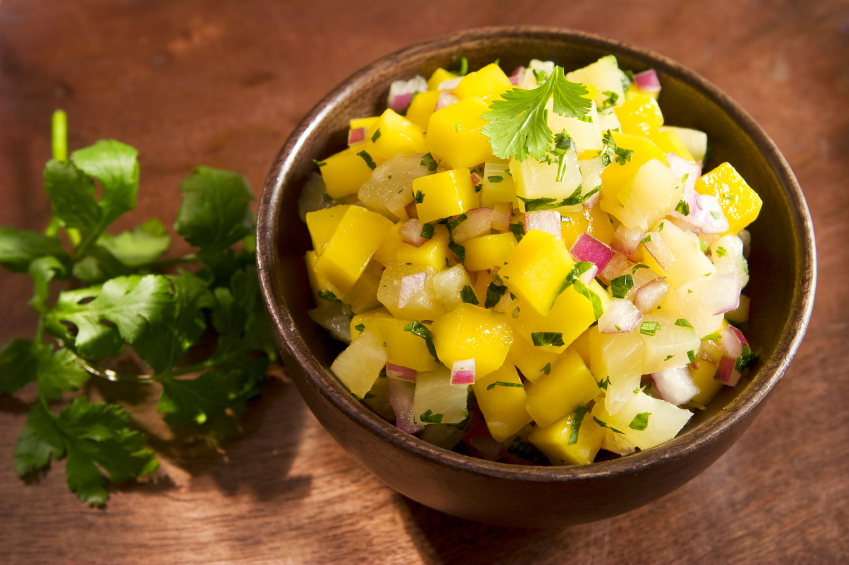 One of the greatest parts about dining at an Indian restaurant is getting to taste all of the different condiments that come with the food. Bring all of those exotic toppings to your dog with this recipe from Feed Me Phoebe. The fresh fruit and creamy mayo combine with the hot dogs for a meal that's sweet, salty, and spicy.
If you like mango chutney, then you'll love this brighter take with fresh fruit and ginger. It adds an unexpectedly bright flavor to the dish. While the curry mayo is great, mixing up a similar topping with yogurt is a fun way to give it even more flair.
Ingredients:
1 jalapeño, seeded
1 small shallot
1 garlic clove
1 (1-inch) piece peeled fresh ginger
¼ cup cilantro leaves
1 large mango, peeled, and diced
1 lime, juiced
2 teaspoons honey, divided
Salt
½ cup mayonnaise
½ teaspoon madras curry powder
4 beef hot dogs
4 hot dog buns
Directions: In a small food processor, pulse chile, garlic, shallot, ginger, and cilantro until finely chopped. Add herb mixture to a medium bowl with mango, lime juice, 1 teaspoon honey, and ½ teaspoon salt. Mix until well combined. Set aside.
In a small bowl, whisk mayo, curry powder, remaining honey, and ¼ teaspoon salt until well combined.
Heat grill or grill pan to high. Cook buns until golden, 1 to 2 minutes. Cook hot dogs util charred and heated through, about 5 minutes.
Place each hot dog in a bun, drizzle with mayo, and top with relish. Serve.
2. Harissa-Onion Dogs with Preserved Lemon Relish
North Africa is known for its flavorful stews and tagines, often spooned alongside some fluffy couscous. Transform the taste of the region into something a touch easier with these jazzed up hot dogs from Epicurious. They're unlike anything you've had before, but they just might become your next go-to dinner.
Don't be fooled by the exotic ingredients, because this recipe is a cinch to pull off. Just boil some lemons with juice until the fruit is tender, let it cool, then mix in some some herbs and garlic to complete the relish. The onions are a basic caramelized preparation that get a spicy kick from harissa, a flavorful chile paste. A smear of purchased hummus adds another layer of creamy flavor that ties the whole meal together.
Ingredients:
Relish
2 lemons, thinly sliced, and seeded
1 cup fresh lemon juice
2½ teaspoons coarse salt
¼ cup finely chopped fresh cilantro
¼ cup finely chopped fresh mint
¼ cup extra-virgin olive oil
4 garlic cloves, minced
Onions
1 tablespoon olive oil
1½ pounds onions, halved, thinly sliced
½ cup water
1 to 1½ tablespoons harissa
Hot Dogs
¾ cup hummus
6 grilled hot dog buns
6 grilled all-beef hot dogs
Directions: Bring first three relish ingredients to a boil in a large heavy skillet over medium heat. Cover, and simmer until lemons are tender, about 12 minutes. Uncover, and simmer until liquid is syrupy, about 8 minutes longer. Transfer syrup to a bowl, and let cool. Chop lemon slices; add to syrup. Mix in chipped herbs, oil, and garlic.
Heat oil in a heavy large skillet over medium heat. Add onions, and season with salt and pepper. Cover, and cook until onions are golden, stirring often, about 25 minutes. Add water and harissa to pan, and simmer until absorbed, about 4 to 5 minutes. Taste, and season with additional harissa as desired.
Spread hummus on buns, then top with a hot dog, onions, and relish. Serve at once.
3. Grilled Pineapple Teriyaki Hot Dogs
Grilled pineapple was once the "in" dessert that sent people on a grilled-fruit frenzy. There's no need to keep it in the dessert category when there are delicious recipes like this sweet and savory hot dog from Little Leopard Book to cook. The best part about this dish is that you can make every component right on the grill, including the teriyaki sauce. Keep a trivet nearby, so you can remove the sauce from the heat after it's been thickened with the slurry.
Ingredients:
 Teriyaki Sauce
½ cup soy sauce
½ cup mirin
¼ cup brown sugar
4 garlic cloves, crushed
1 teaspoon grated fresh ginger
1 tablespoon cornstarch
1 tablespoon water
Hot Dogs
½ fresh pineapple, peeled, and sliced into rings
4 large jalapeños
6 hot dogs
6 hot dog buns
Directions: Heat a saucepan on stove over medium heat, and add first five ingredients to pan. Whisk to blend, and bring to a boil. Reduce heat to a simmer, and cook 4 to 5 minutes. Meanwhile, whisk cornstarch and water in a small bowl. While whisking, add cornstarch mixture to sauce and continue to simmer 3 to 4 minutes, until thickened.
Heat grill to medium. Cook pineapple, chiles, and hot dogs. Cook everything 8 to 10 minutes, flipping as needed. Dice pineapple and set aside. Place chiles in a plastic bag, seal, and set aside 2 to 3 minutes to steam. Remove chiles, peel, seed, and dice. Top buns with hot dogs, pineapple, jalapeños, and drizzle with sauce. Serve.
4. Asian Slaw Dogs with Sriracha Mayo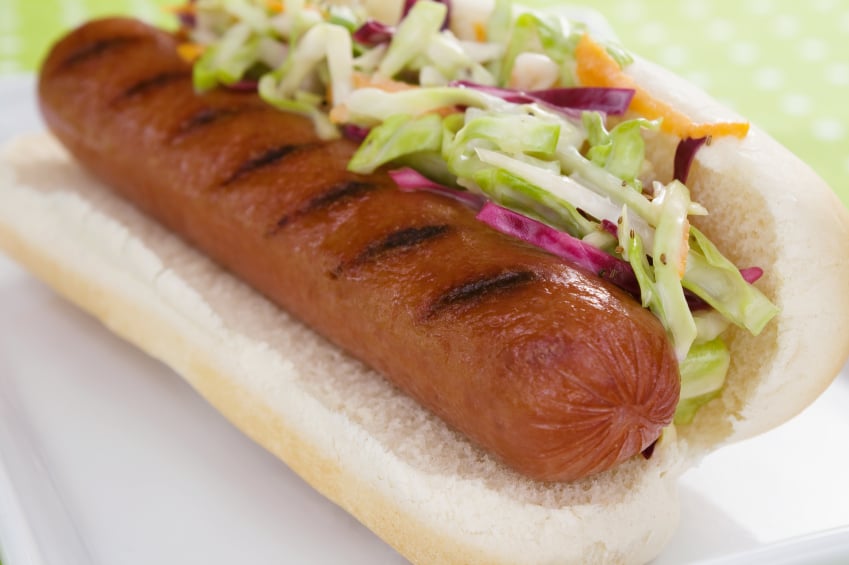 Tons of sandwiches get a topping of crunchy slaw, so why not hot dogs? This version from The Marvelous Misadventures of a Foodie gives the cabbage and carrot combo an Asian flavor profile with some sesame oil, soy sauce, and rice vinegar. A drizzle of spiced mayo gives it both a creaminess and a kick that ties all the flavors together.
Ingredients:
2 cups shredded green cabbage
1 cup shredded carrots
4 scallions, thinly sliced
2 tablespoons soy suce
2 tablespoons peanut oil
1 teaspoon sesame oil
1 teaspoon grated fresh ginger
2 tablespoons rice vinegar
2 tablespoons hoisin sauce
3 tablespoons fresh lime juice, divided
¼ cup mayonnaise
2 to 4 teaspoons spicy chile sauce
4 hot dogs
4 hot dog buns
Sesame seeds
Cilantro
Directions: In a medium bowl, toss cabbage with carrots and scallions. Set aside. In a small bowl, whisk soy sauce, peanut oil, sesame oil, ginger, vinegar, hoisin sauce, and 2 tablespoons lime juice. Pour over cabbage mixture, and toss to combine.
Whisk mayonnaise, chile sauce, and lime juice until completely blended. Taste, and add additional chile sauce as desired.
Cook hot dogs according to directions on package. Place 1 hot dog in each bun, then top with slaw, and a drizzle of mayonnaise. Garnish with sesame seeds and cilantro. Serve.
5. Mexican Hot Dogs with Chipotle Cream
Introduce zesty Mexican flavors to the salty snap of a hot dog with this easy recipe from Damn Delicious. A corn and avocado salsa comes together with just a squeeze of lime and a little bit of red onion. While the chipotle yogurt is tasty, you can swap in sour cream or Mexican crema for a richer flavor. We like to finish these off with a generous sprinkling of cilantro.
Ingredients:
2 cups corn kernels
¼ cup diced red onion
2 tablespoons chopped fresh cilantro leaves
2 tablespoons freshly squeezed lime juice
Pinch f salt
1 avocado, halved, pitted, and diced
6 hot dogs
6 hot dog buns
¼ cup Greek yogurt
1 teaspoon chipotle en adobo, minced, plus more
Directions: In a large bowl, combine corn, red onion, cilantro, lime juice, and salt to combine. Add avocado, and stir gently. Set aside.
In a small bowl, whisk yogurt and chipotle. Taste, and adjust spice to your preference.
Preheat grill to medium-high heat. Cook hot dogs until charred and heated through, 3 to 4 minutes. Add one hot dog to each bun, top with corn salsa, and drizzle with chipotle cream. Serve at once.
More from Culture Cheat Sheet:
Want more great content like this? Sign up here to receive the best of Cheat Sheet delivered daily. No spam; just tailored content straight to your inbox.