5-Ingredient Brownie Recipes to Make Today
When it comes to baking, there's a time and place for everything — sometimes, you need to go the prepackaged or box mix route. Other times, you can easily make your sweet treats from scratch without expelling a lot of time, money, or energy. Brownies are some of the easiest desserts you can make, and they're hard to mess up. Even better, most of their recipes call for only a small number of ingredients, and we're proving that today. We're highlighting a handful of 5-ingredient brownie recipes that anyone can perfect. Whether you're craving the classic brownie or want to mix it up, you'll find a food formula that fits into your dessert menu.
1. Easy Fudgy Brownies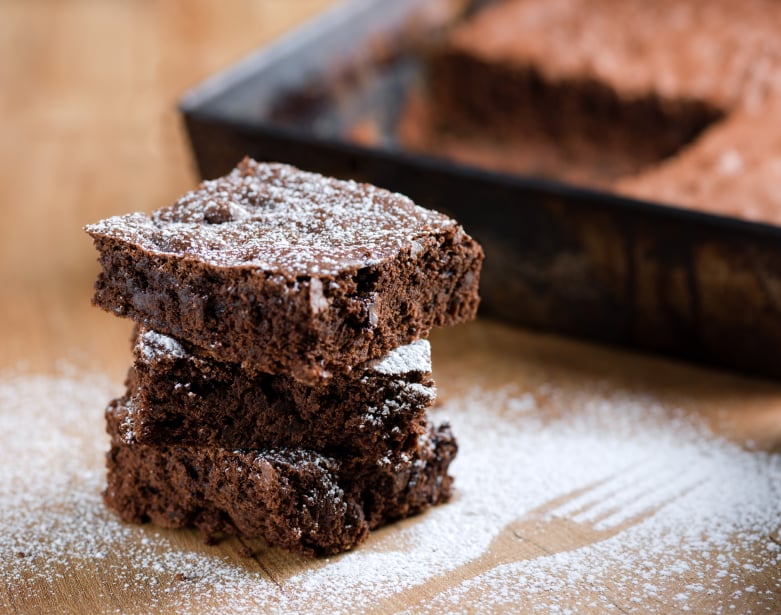 We're starting things off simply with a classic brownie recipe from Baker Bettie. All you need to perfect the fudgy brownies are sugar, oil, eggs, flour, and cocoa powder. They'll bake for fewer than 30 minutes and then are ready to be sliced and eaten. If you can combine a few ingredients in a bowl, you can make these brownies. Forego the box mix and make easy homemade brownies instead.
Ingredients:
1 cup sugar
½ cup oil or melted butter
2 eggs
½ cup flour
⅓ cup cocoa powder
Large pinch of salt
Directions: Preheat oven to 350 degrees Fahrenheit and lightly grease a 9-by-9-inch baking pan with cooking spray. Set aside.
Combine sugar, oil, and eggs in a large bowl and stir until completely combined. Stir in the flour, cocoa powder, and salt just until incorporated. Transfer to prepared pan, smoothing top with a rubber spatula. Bake for 20 to 25 minutes, until edges are set. Let cool, then slice.
2. 5-Ingredient Guinness Brownies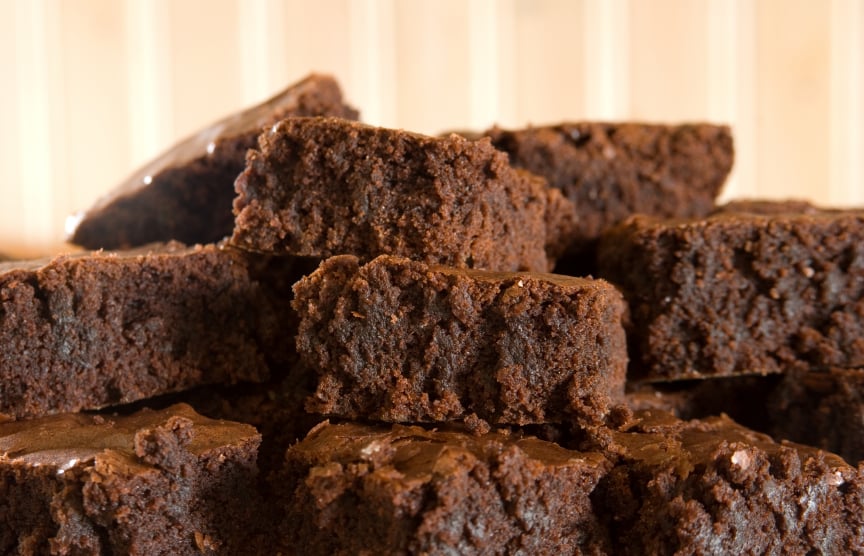 Another way to amp up the flavor of brownies is by adding booze. In this recipe from Sprinkle Bakes, Guinness is the beer of choice, and it keeps the 5-ingredient Guinness brownies smooth, rich, and moist. Egg yolks also keep the inside of the brownie fudgy while the outer layer gets a crackled top. These brownies will bake for fewer than 30 minutes and then they're good to go. Feel free to add chocolate chips, nuts, or any other topping of your liking.
Ingredients:
7 egg yolks, at room temperature
2 cups granulated sugar
¾ cup Guinness Extra Stout
1 cup self-rising flour
⅔ cup unsweetened cocoa powder
Directions: Preheat the oven to 350 degrees Fahrenheit. Spray an 8-by-8-inch baking pan with nonstick cooking spray. Alternatively, line with parchment paper, leaving an overhang.
In a large bowl, whisk together the egg yolks and sugar. Add the Guinness and whisk to combine. Add flour and cocoa and mix just until combined. Pour the mixture into the prepared baking pan and bake for 25 to 30 minutes, or until a toothpick inserted in the center comes out with a few moist crumbs attached. Let the brownies cool completely in the pan. Cut and serve.
3. 5-Ingredient Hot Cocoa Mix Brownie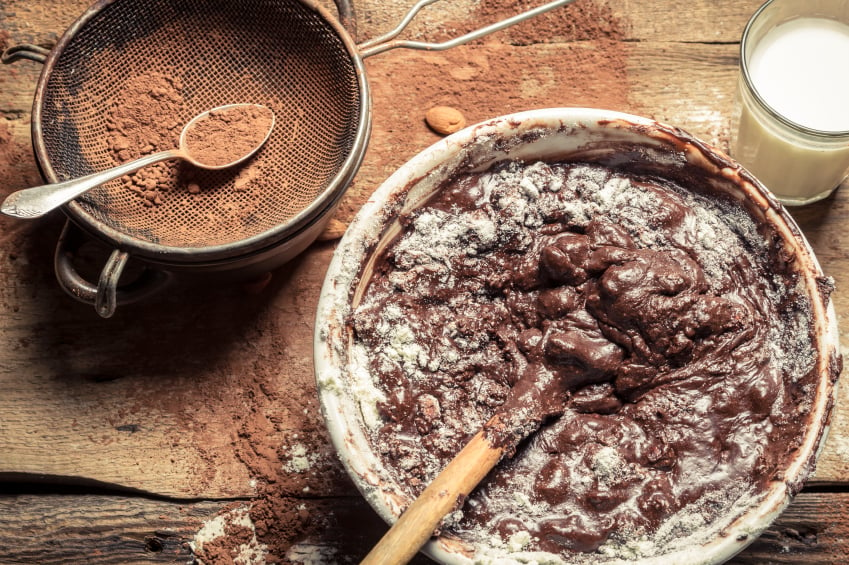 Next up is one more brownie recipe that is mastered in the microwave rather than the oven. It's also made with the help of hot cocoa mix. These hot cocoa mix brownies come from Honey and Figs Kitchen, and they will feed three eaters with a sweet tooth. Enlisting hot cocoa mix rather than cocoa powder is an easy shortcut you can use, and the cocoa will combine with butter, Greek yogurt, baking powder, and flour to yield rich brownies that save you time and money.
Ingredients:
2 tablespoons butter
7 tablespoons low-fat Greek yogurt
¼ teaspoon baking powder
½ cup flour
¾ cup hot cocoa mix
1 tablespoon water
Directions
: Melt the butter in a microwave-safe bowl, then let cool briefly. Add yogurt, flour, baking powder, cocoa mix, and water. Stir just until combined. Pour into a microwave-safe loaf pan or a similar container and microwave for 3 minutes, or until set. Let cool, then cut into squares.
4. 5-Ingredient Sweet Potato Brownies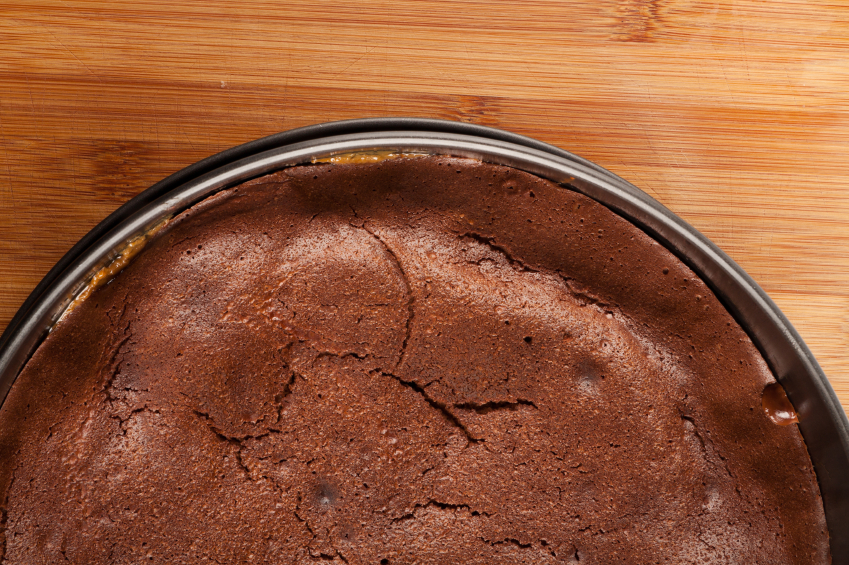 This last recipe from Simple Vegan Blog proves low-fat, vegan brownies can be good, too. These vegan brownies are made from sweet potatoes, almonds, oats, cocoa powder, and coconut sugar, and those ingredients are all combined in a blender before they're placed into a baking dish and baked for 25 to 30 minutes. The recipe serves 8 and is perfect for when you're craving a simple sweet treat but don't want to devastate your diet. It's hard to feel guilty about brownies when they're filled with superfoods.
Ingredients:
1 pound sweet potatoes, peeled, cubed and steamed until tender
½ cup raw almonds
½ cup oats
10 tablespoons cocoa powder
6 tablespoons coconut or cane sugar
Directions: Preheat the oven to 355 degrees Fahrenheit.
Place the almonds in a food processor and pulse until very finely ground. Add the oats and pulse to combine. Add the rest of the ingredients and pulse until you get a cohesive mixture. Transfer the batter into a baking dish and bake for 25 or 30 minutes. Let the brownies cool for at least 10 minutes, then cut.