5 Meals You Can Make In Your Hotel Room
Part of the fun of traveling is getting to try to eat out and explore the local food scene. But at some point during your trip, dining out may seem like more of a burden than a fun treat. Restaurant options may be limited, your budget may be tapped, or you're just not up to venturing out for yet another meal.
When you find yourself in that situation, you don't have to settle for a dinner made up of vending machine snacks. While suites with kitchenettes are the best bet if you plan to cook when you travel, you can prepare a passable meal in almost any hotel room, if you're willing to get creative. Having access to some basic appliances, like a coffee maker, microwave, and a mini-fridge, will help ease your transformation into a hotel room chef. Items like a knife, small cutting board, and a microwave-safe bowl or plate will also be helpful, depending on what you plan to cook. (Some hotels may be able to lend you certain tools and kitchenware; call the front desk and ask.)
If you're ready to give hotel room cooking a whirl, we've put together this list of five dishes to inspire you.
1. Grilled Cheese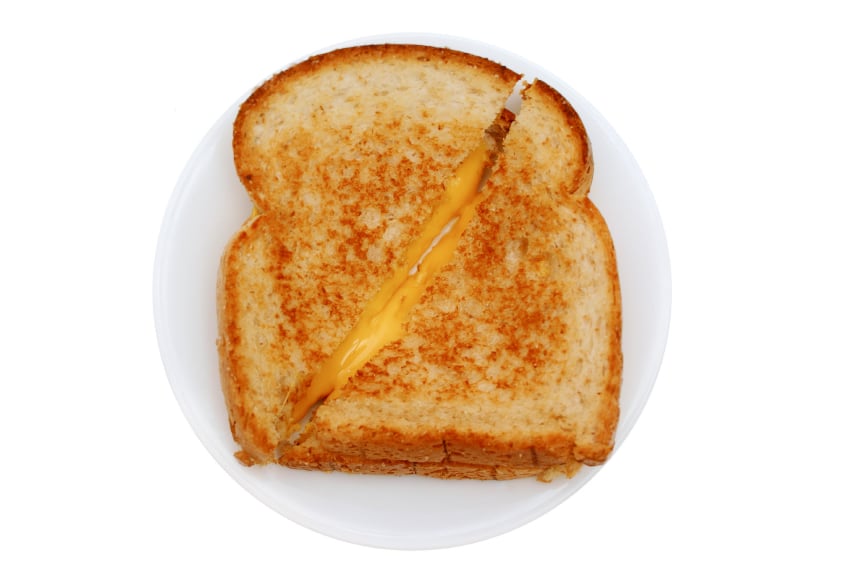 You may remember this grilled cheese hack from your dorm-room days, but it works just as well in a hotel room, provided you have a clothes iron. Just make sure that you have some tinfoil on hand to wrap the sandwich before pressing with the iron. Recipe adapted from the Tillamook website (originally provided by user Amalya).
We tested out this recipe to see just how well it works. You do get the melty, gooey cheese you typically expect with a grilled cheese, but the foil prevents the bread from getting a crispy crust on the outside. It'll do the trick in a pinch, but instead of going through the hassle of tracking down foil, bread, and cheese, you might want to scrounge up $5 for a takeout version instead.
Ingredients:
2 pieces of bread
Butter
Sliced cheese
Additional sandwich fillings of your choice
Directions: Turn iron to high (cotton or linen setting).
Butter each slice of bread on one side. Place cheese slices between the un-buttered sides. Add any additional sandwich fillings you like, such as sliced tomato or deli ham.
Wrap the sandwich in a large piece of tinfoil (you don't want any cheese to ooze out during cooking).
Place wrapped sandwich on the ironing board, then set the iron on top of the sandwich. Let sandwich cook for 8 minutes. Then, using a towel or tongs, turn the sandwich over, cover again with the iron, and let cook for another 8 minutes.
Remove iron, turn it off, and then carefully unwrap the sandwich and eat.
2. Homemade Miso Cup O' Noodles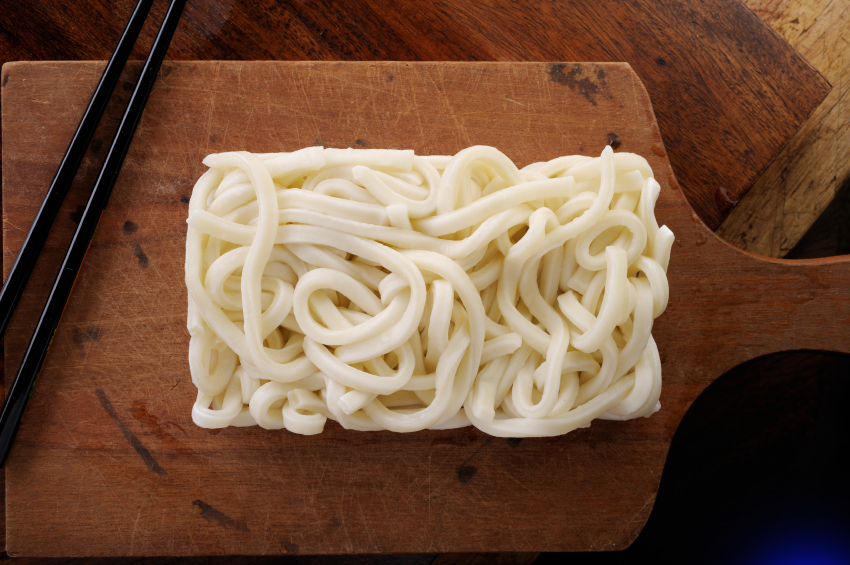 Cups of instant ramen are a lunch staple for lazy office workers, and they're also an easy meal if you're stuck in a hotel room. You could always dress up your no-cook soup with the addition of some baby spinach, scallions, or shredded carrots, but we think this recipe for homemade cup o' noodles from Naomi Imatome-Yun at WonderHowTo sounds so much tastier (not to mention healthier).
Ingredients:
½ tablespoon miso paste with soup base
Broccoli slaw
Noodles, cooked al dente (such as pre-cooked udon noodles)
Hard boiled egg, peeled and sliced (you can buy hard-boiled eggs at many grocery and convenience stores)
Scallions (optional)
Directions: Put ½ tablespoon of miso into the bottom of a glass jar (a large mason jar would work well). Add broccoli slaw until you have a layer that's about an inch think. Lightly press down on the slaw with a spoon. Then, add noodles, leaving about an inch at the top of the jar. Top with the sliced hard-boiled egg and scallions (if using). Seal jar and place in fridge.
Remove the jar from the fridge about an hour before you plan to eat. Heat water in the microwave or coffee maker until just boiling, then pour into your cup o' noodles and loosely cover the top. Let stand for 5 minutes. Stir with a chopstick to distribute the miso, then eat.
3. One-Bowl Microwave Macaroni and Cheese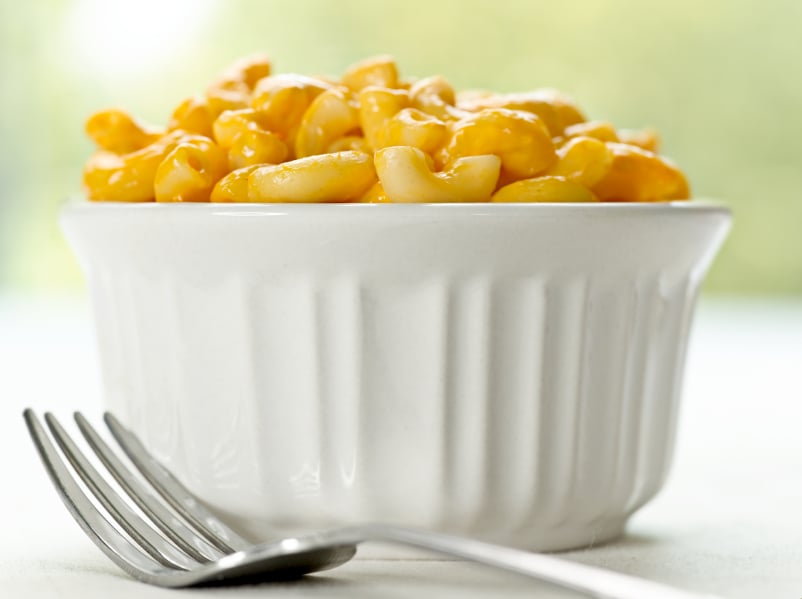 You'll need a microwave and a medium-sized bowl to make this dish, but the short ingredient list means that it's an easy and cheap dish to prepare in a hotel room. If noodles and cheese alone aren't enough to satisfy you, stir in whatever additional ingredients you prefer, such as vegetables or pre-cooked ham. Recipe from The Kitchn.
Ingredients:
½ cup macaroni or shell pasta
½ cup water
¼ teaspoon salt
¼ cup milk
¼ to ½ cup shredded cheese, like cheddar cheese, Monterey Jack, or provolone
Directions: In a microwave-safe bowl, combine the pasta, water, and salt. Microwave on high for 2 minutes. Stir. (Keep an eye on the noodles while they cook; if the water boils over, pause the microwave and stir.)
Continue to microwave in 2-minute bursts, stirring between each interval, until the pasta is fully cooked. Depending on the wattage of the microwave, this should take between 4 and 8 minutes (the lower the microwave wattage, the longer the cooking time). If you notice all the water has been absorbed before the pasta is done cooking, add another 2 tablespoons of water to the bowl.
Remove the bowl from the microwave. (The bowl will be hot; use a towel or wear gloves.) Stir in the milk, cheese, and any other ingredients you'd like to add.
Microwave noodles and cheese on high for 30 seconds, then stir. Continue to microwave in 30-second intervals (stir between each interval) until the melted cheese forms a creamy sauce. This should take 1 to 1½ minutes total. If you prefer a creamier dish, add another tablespoon or two of milk and cheese. Serve.
4. Broccoli Cheddar Baked Potato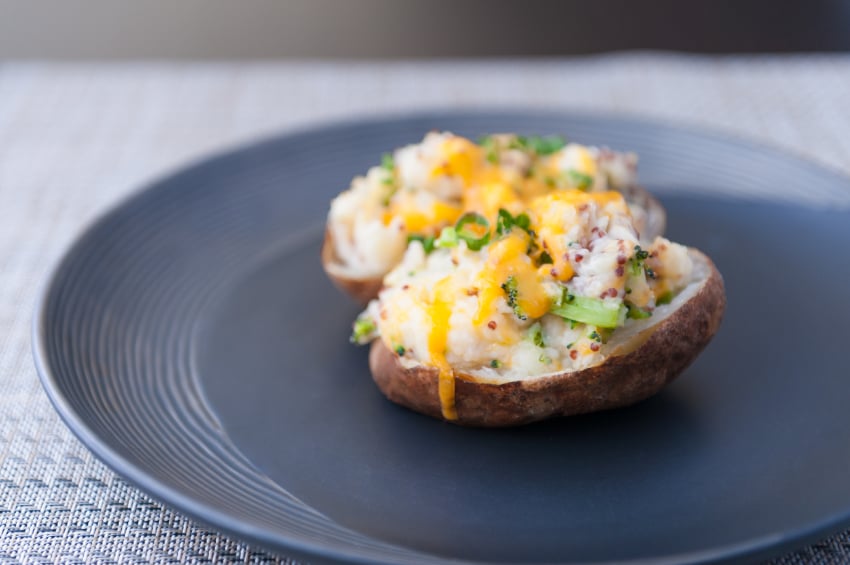 You can make baked potatoes in your hotel room's microwave in a matter of minutes. With the addition of toppings like broccoli and cheddar, the result is a healthy and filling meal or snack without having to settle for fast food or drop lots of cash on room service. Plus, this recipe is versatile — you might try adding bacon bits or artichoke hearts depending on what ingredients you have on hand. Recipe adapted from Potato Goodness.
Ingredients:
1 (5- to 6-ounce) russet potato, scrubbed
1 tablespoon nonfat plain yogurt
1 teaspoon buttery spread
⅛ teaspoon garlic or seasoned salt
Snipped fresh chives or green onion tops (optional)
¾ cup tiny broccoli flowerettes
1 tablespoon water
¼ ounce sharp Cheddar cheese
Directions: Cut a wedge out of each potato about ⅛-inch wide and 1-inch deep and place in a microwave-safe dish. Microwave on high, uncovered, for 10 to 12 minutes depending on strength of microwave.
Use a towel to remove dish from microwave. Carefully make a slit in the top of each potato and fluff with a fork. Stir yogurt, buttery spread, and salt into each potato; sprinkle with chives if desired. Place broccoli in a small bowl with water. Cover and microwave on high for 2 minutes. Drain and spoon onto seasoned potato.
Sprinkle potato with cheese and microwave on high until cheese is melted.
5. Hummus salad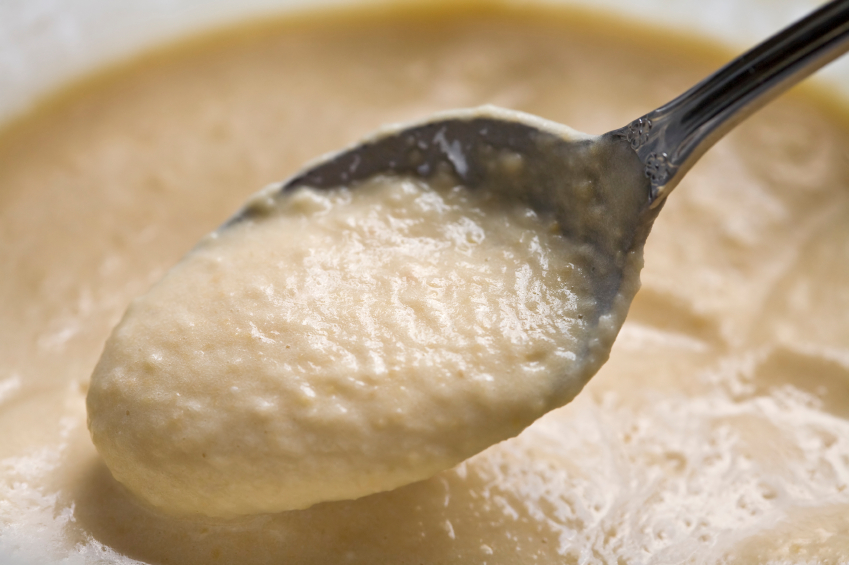 Simple salads are one of the best hotel room meals, as they don't require any cooking. They're also great if you're trying to eat healthy, something that can be hard to do when you're on the road. This salad serves two to three people and provides a generous dose of fresh veggies, plus healthy protein from the hummus. Recipe from Heather Nicholds.
Ingredients:
1 container mixed greens
1 red/yellow/orange pepper, chopped
1 avocado, chopped
1 small container hummus
2 teaspoon lemon-infused olive oil
Pinch of herbed salt (optional)
Directions: Divide the mixed greens between two or three plates, then top with the veggies and hummus. Drizzle with the oil and sprinkle with salt. Serve.
Follow Megan on Twitter @MeganE_CS
More from Culture Cheat Sheet: