5 New Ways to Prepare Broccoli Rabe
Broccoli's family member, broccoli rabe, might get less buzz than broccoli, but we think it's about time to elevate this nutritional powerhouse from side-order status to superstar. Rich in vitamins, this bitter green (you can diminish the bitterness by cooking), doles out fiber, folate, calcium, and more.
Stumped on how to cook it? California-based produce champ, Andy Boy, shares five tantalizing rapini (that's fancy for broccoli rabe) recipes with us.
Roasted Broccoli Rabe and Pesto Flatbread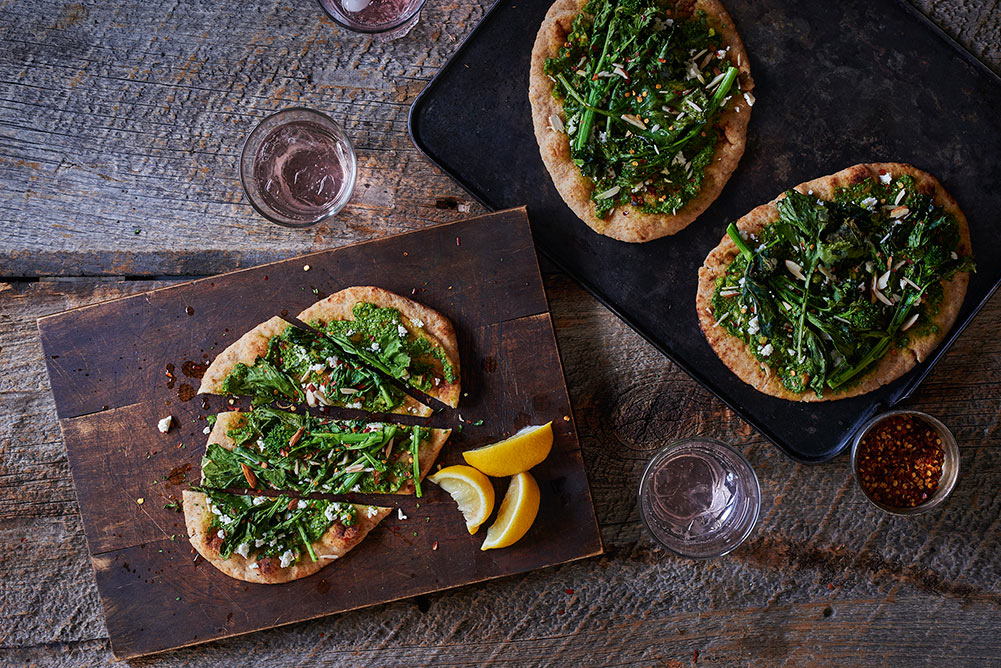 This recipe's wildly addictive pesto also works well slathered on toast or pasta and as a condiment for seafood. Don't worry, it only looks impressive — the pesto is easy to pull off. If spiciness is your thing, drizzle some hot sauce or sprinkle some red chili pepper flakes on top. Or squeeze a lemon wedge on it for a burst of citrus that pairs beautifully with the broccoli rabe.
Roasted Broccoli Rabe Bowl with Lemon Vinaigrette and Grilled Chicken
With 12 grams of protein, this bold dish prevents between-meal grazing by keeping you full. The quinoa will likely be devoured, but use any leftovers as a base for a healthy salad loaded with veggies and topped off with any extra pumpkin seeds. Meatless Monday? Cook the quinoa in vegetable stock and swap the chicken for some hearty portobello mushrooms.
Roasted Broccoli Rabe Avocado and Egg Tostada with Chimichurri
Consider this fact: Pretty much anything tastes good with an egg and some avocado on top. If you're angling for a slam-dunk victory, then prepare this savory tostada that combines both. Loaded with healthy fats from the avocado and eggs, we also love the dish's combination of creamy and crispy textures.
Broccoli Rabe Tropical Power Smoothie
Using just a blender, this tasty elixir is loaded with potent nutrition in every sip. Just one serving has 60% of your recommended daily value of vitamin C and boasts four grams of satisfying protein. To make it even more filling, add your favorite brand of plant-based protein powder. To make it a meal, serve with a fiber-filled bowl of oatmeal or a slice of whole grain toast smothered in almond butter and a sprinkle of cinnamon.
Broccoli Rabe Kimchi Fried Rice
Filled with probiotics, fermented kimchi complements broccoli rabe wonderfully in this tasty and simple dinner. Brown rice works well here, but you can also experiment with soba noodles or even quinoa. Try adding some cubed tofu into the mix for a heartier supper. And did we mention the sunny-side egg? Destination yum has arrived.
For a comprehensive guide on how to prepare and cook broccoli rabe, check out Andy Boy's website here.
More from Culture Cheat Sheet:
Want more great content like this? Sign up here to receive the best of Cheat Sheet delivered daily. No spam; just tailored content straight to your inbox.