Protein-Packed Cookie Recipes to Make This Week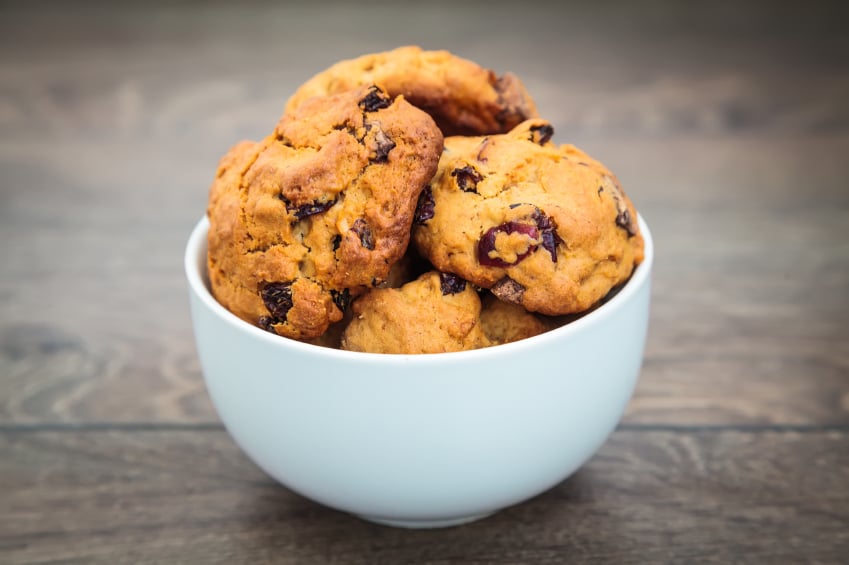 Cookies have a bad rap, but if we're honest with ourselves not every day is going to be filled with celery sticks and raw kale. Sometimes you just need a little sweet, gooey goodness to jump start your day or to get you through a grueling workout. Even the most serious dieters and athletes need to indulge from time to time and what better way than an oh-so-sweet, satisfying cookie. When the cookie craving takes over, skip the box of Oreos and opt for a cookie that does more than just taste good. With the right ingredients cookies can be filling and nutritious, as well as delicious. Not only will you need to eat fewer cookies to feel satisfied, but your body won't be subjected to the preservatives and sugar overload that comes when you delve into a box of Chips Ahoys.
When you just need a cookie or want a transportable protein packed snack for that mid-afternoon slump or a post-gym pick-me-up, give one of these cookie recipes a try. Since many of the recipes call for protein powder, make sure you have some on hand. If not, check out some of the Cheat Sheet's highest rated whey protein powders.
1. Fudgy Chocolate Black Bean Cookies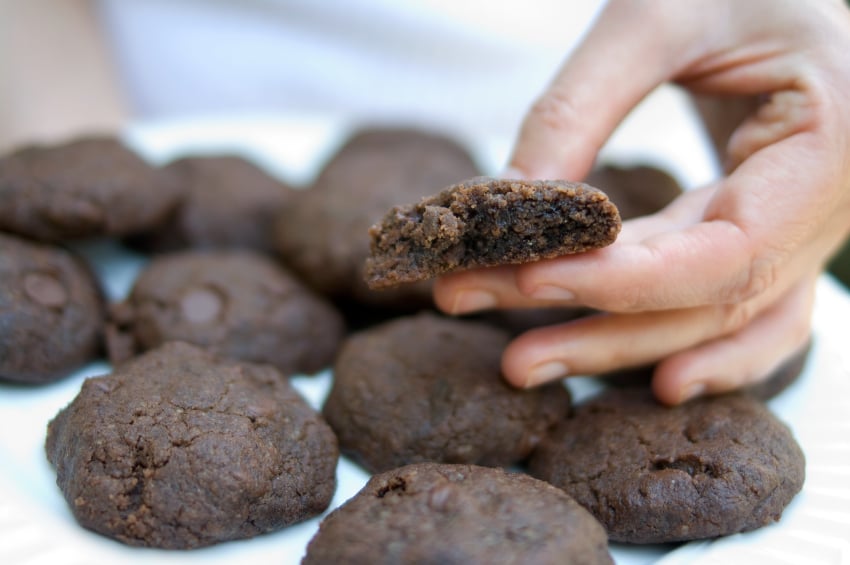 If you want more than just a protein-packed cookie, this double dark chocolate cookie is also vegan, gluten free, and nut free. It's perfect for heath nuts and those who are more interested in its 8.6 grams of protein per cookie. For some added texture throw in some chopped up nuts.
Ingredients:
1 (15-ounce) can black beans, rinsed and drained
2 tablespoons olive or melted coconut oil
2 tablespoons brown rice flour
½ teaspoon baking powder
½ teaspoon sea salt
6 tablespoons cocoa powder
4 tablespoons coconut sugar (or another natural granulated sweetener)
2 tablespoons maple syrup or honey
1 tablespoon milk or any nut milk
¼ teaspoon (scant) powdered stevia extract
2 teaspoons vanilla
¼ cup chopped dark chocolate
Directions: Preheat the oven to 350 degrees Fahrenheit.
Put all of the ingredients into a food processor in the order listed (except for the chopped chocolate). Process until smooth and well combined, scraping down the sides as needed.
Using a spoon, scoop the dough out onto a parchment paper-lined cookie sheet. Top each cookie with a sprinkle of the chopped dark chocolate.
Bake the cookies for 19 to 21 minutes and make sure to cool completely.
2. Cinnamon Roll Cookies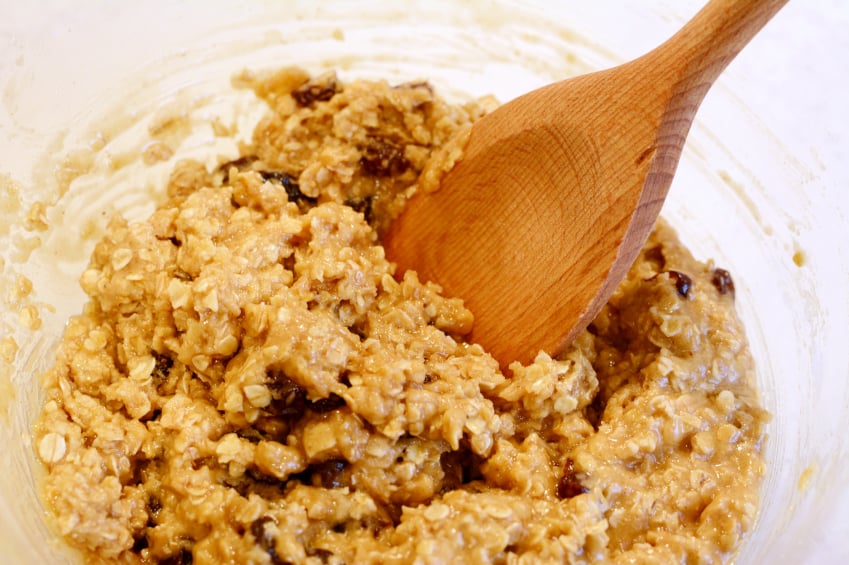 This cookie requires no baking, making it the perfect choice for those who despise spending hours waiting for sheet after sheet of cookies to bake. In fact, with this recipe you can make a batch of cookies in just five minutes. As if that wasn't impressive enough, each cookie has 7.6 grams of protein and the decadent cinnamon roll flavor making it perfect for breakfast as well as a mid-day snack. The drizzle topping can be skipped if you're trying to minimize your sugar intake.
Ingredients:
Cookies:
½ cup creamy peanut butter
2 teaspoon honey
½ teaspoon vanilla extract
Pinch of salt
3 to 4 tablespoons cinnamon bun protein powder
1/8 teaspoon. cinnamon
½ cup old-fashioned oats
¼ cup rice krispies cereal
Drizzle:
3 tablespoon white chocolate chips
1 teaspoon vegetable oil
1 teaspoon cinnamon bun protein powder
Pinch of cinnamon
Directions: For the cookies, in a small microwavable bowl, combine the peanut butter and honey. Microwave for about 30 seconds and then stir until completely combined.
Stir in the vanilla extract, salt, protein powder, and cinnamon. Mix well. Add in the old-fashioned oats and rice krispies cereal. Mix until completely combined. Separate "dough" into small balls and form cookies.
For the drizzle, in a small microwave-safe bowl, combine the white chocolate chips with 1 teaspoon vegetable oil. Microwave for 30 seconds, remove and stir and return to the microwave in 15 second increments until melted. Stir in the protein powder and cinnamon.
Pour white chocolate mixture in a small bag and cut off the very tip with scissors. Pipe the white chocolate in a circle or however you would like over the cookies.
3. Raw Almond Butter Cookies
If you like to keep things simple, this five ingredient, no-bake cookie recipe will do the trick. They're hearty and healthy and use no refined sugar. Sound too good to be true? Give these cookies a try and put them to the taste test.
Ingredients:
⅔ cup buckwheat groats
¾ cup raw almond butter
1 cup pitted medjool dates
1 vanilla bean, scraped
2 tablespoons coconut butter
Large flake sea salt for garnishing
Directions: Add the buckwheat groats to a food processor and process for 3 to 4 minutes or until a fine flour forms. It's okay if the flour isn't perfectly fine — larger pieces will add more texture to your cookies.
Add in the raw almond butter, dates, caviar from the vanilla bean, and coconut butter. Pulse several times and then process for 1 to 2 minutes. Roll the mixture into 14 balls and drop onto a cookie sheet lined with parchment paper. Using a fork, press the balls into cookies while making a crisscross pattern. Sprinkle the cookies with large grain sea salt.
Pop the cookie sheet in the freezer for 20 to 30 minutes to set the cookies. Remove from freezer and enjoy! You can store the cookies in either the freezer or refrigerator. The freezer will add a snap when biting in and the refrigerator will keep the cookies firm but tender.
4. Banana Oat Cookies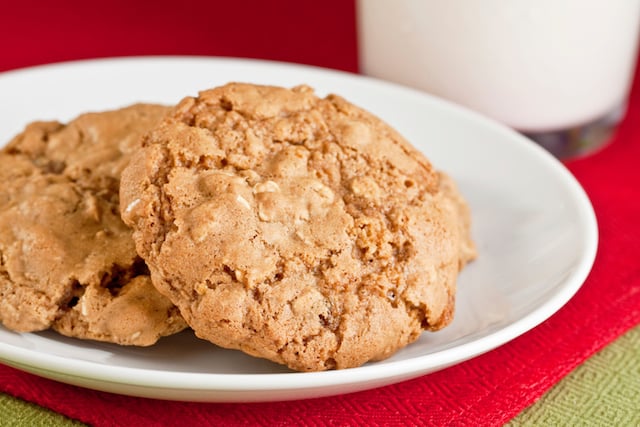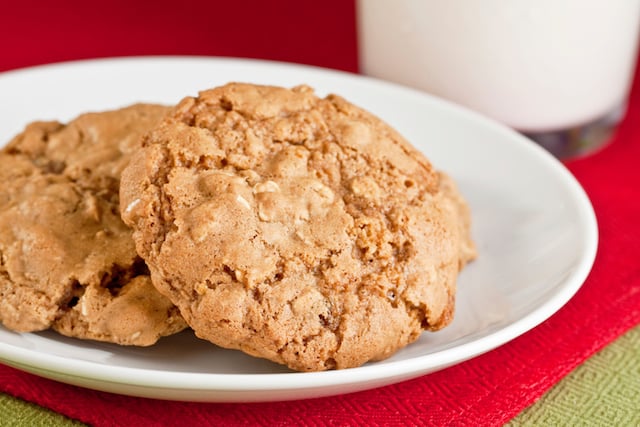 Sick of your morning bowl of oatmeal? Swap it out for these to-die-for treats. The bananas give the cookies the sweetness you crave so no added sugars are needed. Depending on what you're craving, you can either follow the recipe for the raisin chocolate chip add ins or the hazelnut sour cherry flavors.
Ingredients:
2 large or 4 small bananas
1 scoop vanilla protein powder
1 cup (80g) oats
Pinch of pink Himalayan or sea salt
Raisin Chocolate Chip variation:
2 tablespoons raisins
2 tablespoons shredded coconut
1 tablespoon carob nibs
1 tablespoon cacao nibs
Hazelnut Sour Cherry variation:
2 tablespoons sour cherries
3 tablespoons hazelnuts
2 tablespoons shredded coconut
Chocolate Drizzle:
2 tablespoons melted coconut oil
3 to 4 tablespoons raw cacao powder
Pinch of ground cinnamon
Pinch of sea salt
1 tablespoon mesquite powder (optional)
Directions: Preheat the oven to 350 degrees and line a baking tray with baking paper. Peel the bananas, add them to a bowl, and mash them with a fork. It doesn't have to be completely smooth, but it shouldn't be too lumpy either.
Mix in the vanilla protein until it's fully combined and not clumpy. Stir in the oats, and separate the batter into two separate bowls, if making two separate flavors. Add in each respective additions to each separate bowl, and mix together.
Spoon roughly one tablespoon of each mixture onto the lined baking sheet. That makes one cookie, so repeat until there is no more batter left. Use the back of a spoon to shape them into nice little circles, if desired, and then bake for 10 to 12 minutes.
Remove from the oven and let cool while you make the chocolate drizzle. Just mix the ingredients together and place in the fridge or freezer for a few minutes so it's not too runny. Drizzle the chocolate over the cookies with a spoon.
5. Avocado Chocolate Cookies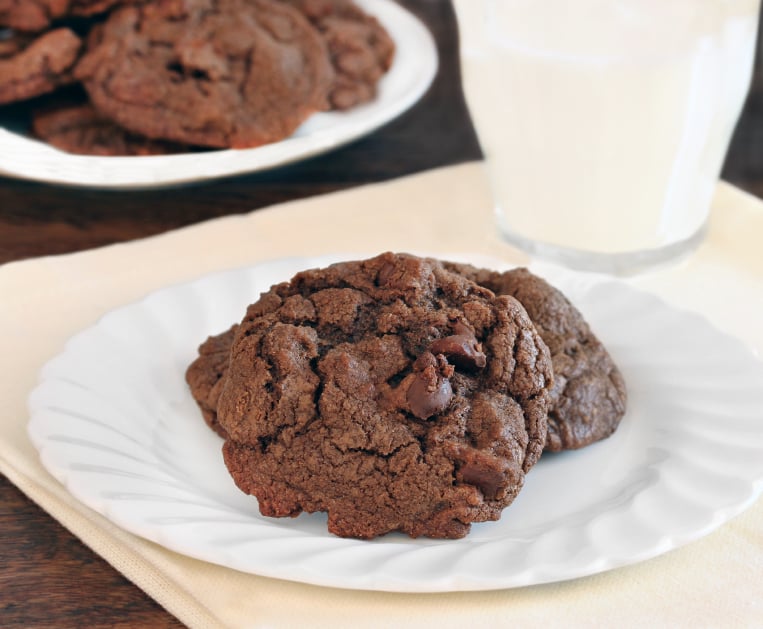 If you're a texture person, the fudge-like consistency of these cookies won't disappoint. They require only 15 minutes of baking time, so you can have a snack full of protein and healthy fats in just 20 minutes. They're perfect for a pre-workout treat when you need a boost of energy to get you to the gym with enough energy to get through a killer workout.
Ingredients:
¼ cup quinoa flour
¼ cup cacao powder
¼ teaspoon baking powder
½ cup mashed avocado
½ teaspoonvanilla extract
½ tablespoon honey or agave
5 tablespoons protein powder
¼ cup milk of choice
1 egg white (optional 1 chia egg)
½ to 1 tablespoon stevia
½ teaspoon salt
2 tablespoons goji berries
2 tablespoons vegan chocolate chips
Directions: Preheat the oven to 350 degrees. Spray baking sheet with non-stick cooking spray and in a bowl, combine all ingredients. Mix well before spooning cookies onto baking sheet. Bake for about 15 minutes or until outside is solid.
More from Culture Cheat Sheet: