5 Recipes for Cocktails That You Can Light on Fire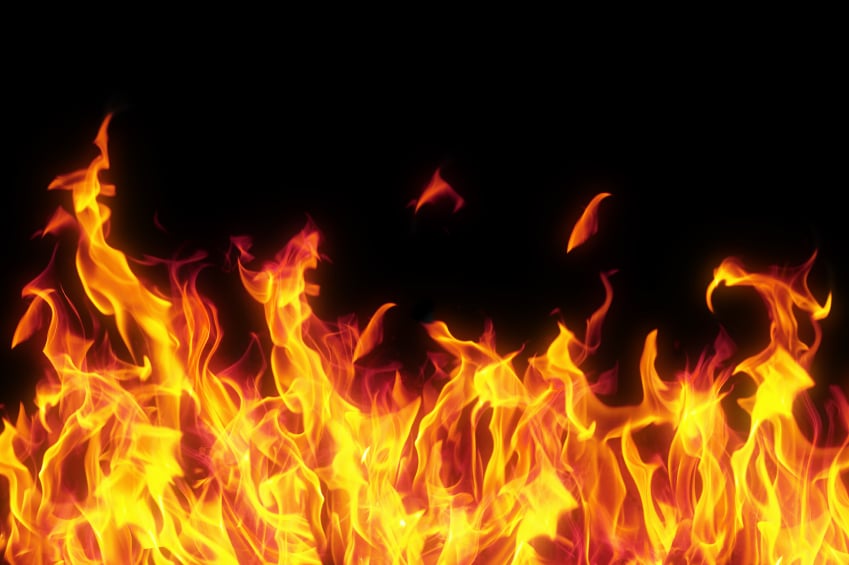 As far as bar tricks go, lighting cocktails on fire is a pretty good one. What better way to impress your drinking buddies than serving them a round of flaming beverages? Provided you can light your booze on fire without singeing your eyebrows – or worse – the combination of alcohol and a flame will certainly add drama and a slight aura of danger to your evening. And while the fire is usually just for show, in a few cases it changes the flavor of drink.
"An absinthe rinse to a cocktail glass that has been set on fire before the cocktail enters the glass can completely change the aroma and subtle flavours to a great mixed drink," Justin Taylor, a bartender at YEW Seafood + Bar in Vancouver, Canada, told Four Seasons' Taste blog. "A layer of high-proof alcohol on top of a cocktail that is sprinkled with herbs and spices can add a fire show for an audience, but can take a drink to new taste levels previously unexplored."
Before you grab a lighter and a bottle of Jack, though, there are a few things to keep in mind. One: Higher-proof alcohol will ignite more readily than standard spirits, which is why many recipes for flaming cocktails will call for an ingredient like Bacardi 151, explains Gizmodo in its guide to setting drinks on fire. In addition to having the proper alcohol on hand, you'll want a long lighter as well as a tempered glass mug or other flameproof container to make the drink.
Be extra careful when mixing the drink and clean up any spills or drips that could accidentally ignite. Cap all bottles of alcohol and move them away from the prep area. Keep a fire extinguisher nearby in case something goes wrong and always wait until the flame is fully extinguished before drinking. Finally – and we hope this goes without saying – restrict your stunt bartending to early in the evening. If you've already knocked back a few, now is not the time to start playing with fire.
All that said, here are five recipes for dramatic flaming cocktails.
1. Blue Blazer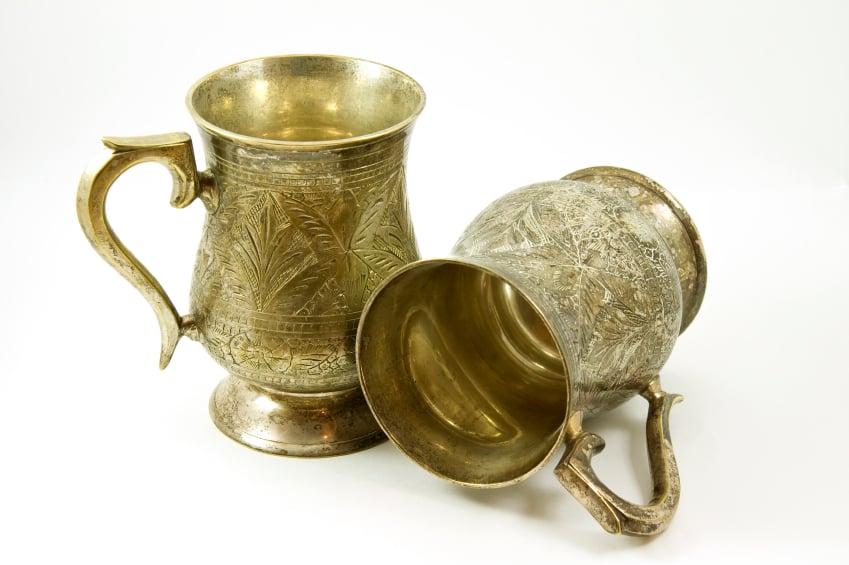 None other than President Ulysses S. Grant was said to be a fan of this dramatic libation, one of the earliest flaming cocktails. Rather than simply putting a match to some booze and watching it burn, this drink involves setting a drink on fire and then tossing it back and forth between two mugs.
To make this drink, which serves four, you'll need two metal pint mugs with handles and flared rims, plus four espresso mugs for serving. Recipe from Esquire.
Ingredients:
5 ounces cask-strength single-malt Scotch, such as Laphroaig, the Glenlivet Nadurra, or the Macallan
4 tsp Demerara sugar or Sugar in the Raw
4 (1-inch) strips of thinly cut lemon peel
Directions: Clear a large space on the counter or bar for mixing, making sure all flammable materials are removed. Dampen some cloth napkins and lay them on the work surface.
Boil a pot of water. While you wait for the water to boil, put a teaspoon of sugar and a strip of lemon peel in each espresso mug.
Once the water is hot, pour ½ cup into one of the metal mugs, then quickly add 5 ounces of whiskey.
Using a grill lighter or long match, set the water and whiskey on fire. Pick up both mugs and carefully pour ¾ of the flaming mixture into the other mug. Then, pour ¾ of the liquid back into the first mug while holding the mugs slightly farther away from each other.
Repeat the above process four or five times, increasing the distance between the mugs as you go. Pour all the liquid back into one mug, then pour the drink (which should still be flaming) into the espresso cups. Snuff out the flame in each cup, stir to dissolve the sugar, then serve.
2. Big Red Cocktail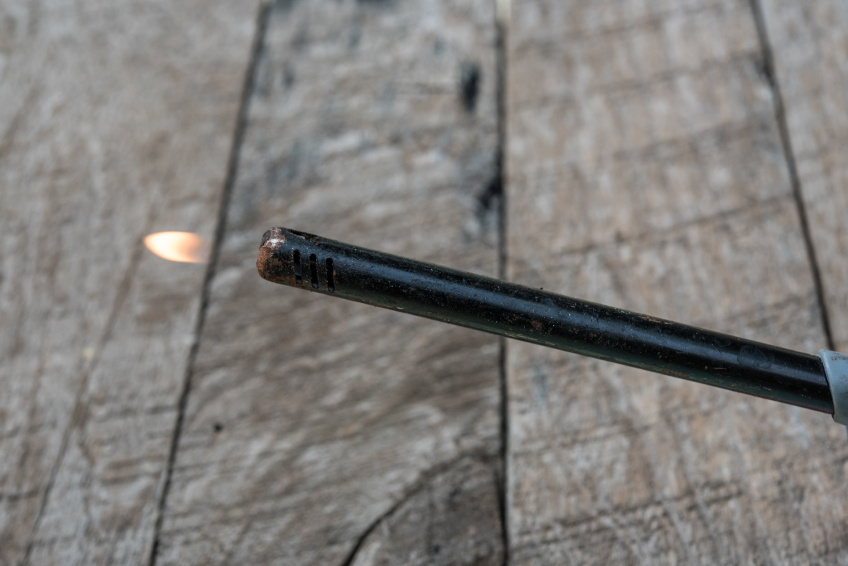 Higher-proof navy-strength gin, which is 57% alcohol rather than 40% to 45% alcohol like a standard bottle of gin, is the essential ingredient in this tiki-esque drink. Grapefruit juice, lime, and a touch of cinnamon, along with orgeat syrup and Cherry Heering, a cherry liqueur from Denmark, give the drink a pleasant, fruity flavor. Recipe from Saveur.
Ingredients:
2 ounces navy-strength gin, preferably Perry's Tot
⅔ ounces fresh grapefruit juice
½ ounce fresh lime juice, plus ½ of a lime
½ ounce Cherry Heering
½ ounce cinnamon syrup
1 teaspoon orgeat syrup
Directions: Combine 1½ ounces gin, juices, Cherry Heering, cinnamon syrup, and orgeat in a shaker filled with ice; shake and strain into a coupe glass. Hollow out the lime half; turn inside out. Float on top of the cocktail, and fill with remaining gin. Ignite gin. Let flame die down, then serve.
3. Flaming S'mores Cocktail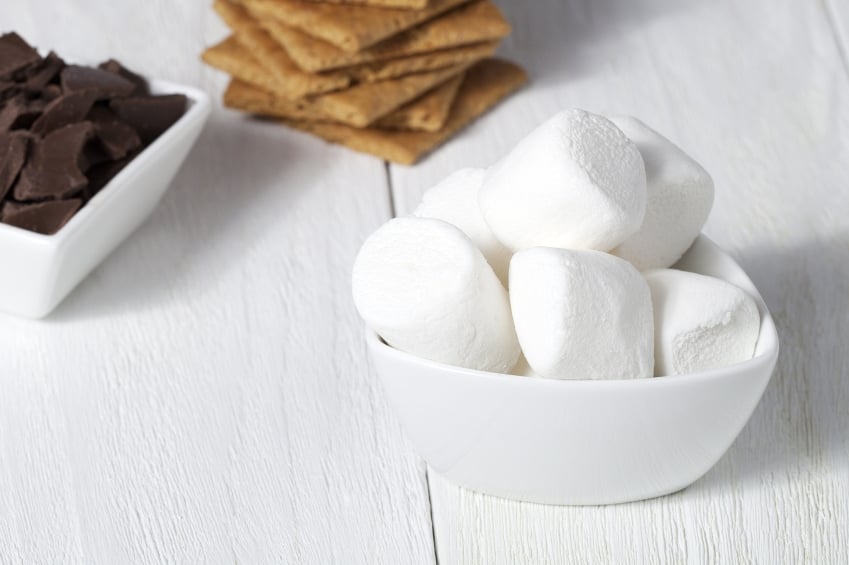 A sweet dessert cocktail, this drink is the perfect treat on a cold winter night and would make for a dramatic finish to a romantic dinner. You can even toast your marshmallows on the flame. Recipe from Tablespoon.
Ingredients:
2 tablespoons marshmallow crème or fluff
4 graham crackers
1 packet hot chocolate mix
3 mini marshmallows
2 ounces marshmallow, vanilla, or whipped cream vodka
2 ounces chocolate liqueur
1 ounce heavy cream
1 ounce high-proof alcohol (such as Bacardi 151)
Directions: Crush graham crackers until you have very fine crumbs, then combine with the hot chocolate mix. Dip a martini glass in marshmallow crème, then dip in the graham cracker and chocolate mixture until rim is well-coated.
Slide three mini marshmallows onto a toothpick and rest on the rim of the glass.
Combine the vodka, chocolate liqueur, and cream in a shaker with ice. Shake vigorously and strain into glass.
Gently float the Bacardi or other high proof alcohol on the top of the drink (you might try pouring it over the back of a spoon). Using a grill lighter or long match, light the drink on fire. Let the flame burn off, then serve.
4. Volcano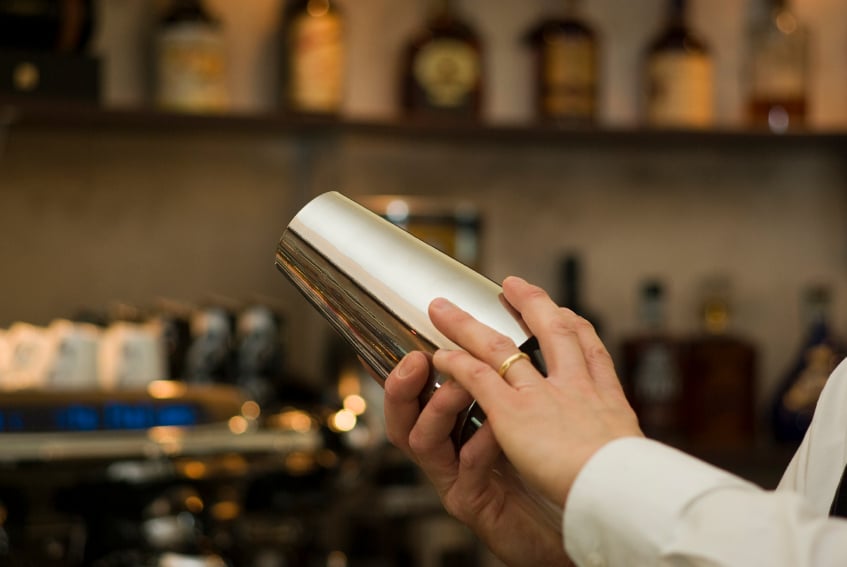 Volcano cocktails are a common site at tiki bars and Polynesian-themed restaurants, but you can make them at home, provided you have the right equipment. A volcano bowl (like this one from Amazon) is perfect for communal serving, and the depression in the center is specifically designed so that you can light the drink on fire. This recipe from Kitchen Riffs is enough for four people.
Ingredients:
3 ounces Demerara rum or dark Jamaican rum
2 ounces gold Jamaican rum
1 ounce gold Puerto Rican rum
6 ounces white grapefruit juice
2 ounces fresh lime juice
¾ ounce pure maple syrup
½ ounce simple syrup
Small amount of 151-proof rum or pure grain alcohol
Directions: Add all ingredients except the 151-proof rum to a large cocktail shaker half-filled with ice. Shake vigorously for 20 to 30 seconds, until chilled.
Place the volcano bowl on the table where the drinks will be served and fill the outer ring with ice cubes. Strain the contents of the shaker into the bowl.
Fill the crater of the volcano with 151-proof rum. Using a grill lighter or long kitchen matches, carefully light the high-proof rum on fire. Serve with long straws.
5. Goblet of Fire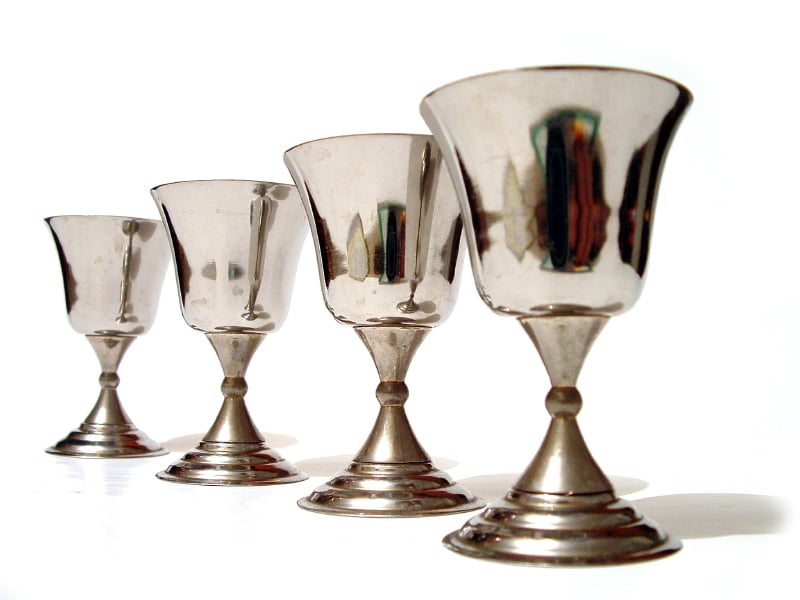 J.K. Rowling fans will definitely want to try this flaming drink, which was inspired by Harry Potter and the Goblet of Fire. Lemonade, blue curacao, and vodka all come together for a magical citrusy drink. Recipe from Little Pink Blog.
Ingredients:
1 ounce vodka
1 ounce blue curacao
3 ounces lemonade
Splash of 151 rum
Pinch of cinnamon
Directions: Combine the vodka, blue curacao, and lemonade in a goblet and stir. Float the 151 rum on top, then set alight using a long match or lighter. Sprinkle cinnamon over the flames to generate sparks. Blow out the flames or let them die down, then drink.
Follow Megan on Twitter @MeganE_CS
More from Culture Cheat Sheet:
Want more great content like this? Sign up here to receive the best of Cheat Sheet delivered daily. No spam; just tailored content straight to your inbox.