5 Spicy Batch Cocktails to Make for the Super Bowl
Heat seekers usually look to food to satisfy their craving for something spicy. Since the Super Bowl is coming up, maybe it's time to do something a little more special by downing some drinks with a kick. Because hosting a party is stressful enough without having to play bartender all night, batch cocktails are the way to go. With both taste and convenience in mind, we're sharing five cocktails created by Cassandra Rosen for Soltado Tequila, a spirit infused with serrano chiles and a bit of cinnamon, which each serve at least 20.
If you can't get your hands on a bottle of the booze in time for the game, you can always make your own. Food Republic shared an easy and fast recipe for infusing tequila right in your own kitchen. Follow the method with añejo tequila and add a cinnamon stick along with the serrano. Whichever route you take, use your spicy spirit to whip up these delicious drinks for the big game.
1. Hail Mary Pass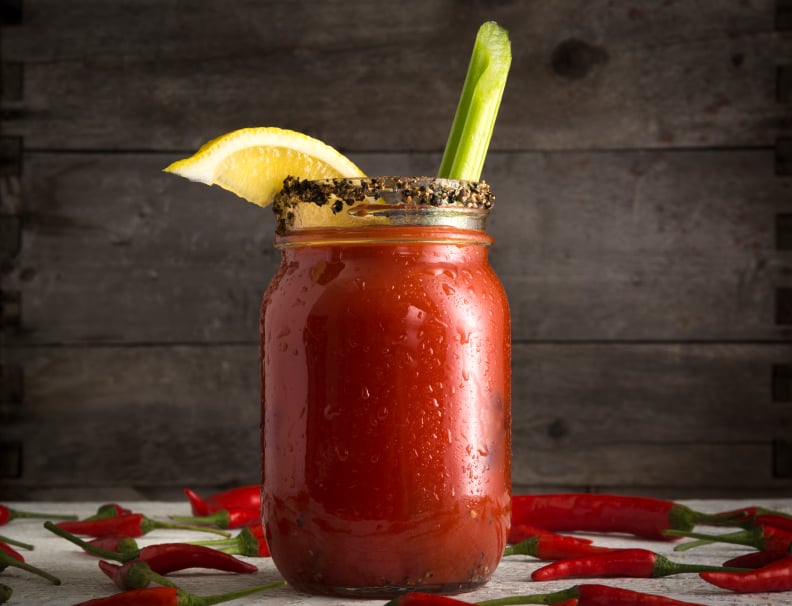 The secret ingredient to this twist on a bloody Mary is a hefty dose of grilled lemons. Charring the citrus gives them a slightly smoky flavor that pairs perfectly with the spicy flavors. For even more even more of that outside flavor, choose a hot sauce made with chipotle chiles.
Never grilled lemons before? It's really as easy as halving and grilling the fruit, cut-side down, until they get nicely charred. If you don't have a grill, you can do the same thing with a ungreased cast-iron skillet or other heavy skillet with a layer of heavy-duty foil over the top.
Ingredients:
1 (750-milliliter) bottle spicy añejo tequila
64 ounces unsalted tomato juice, chilled
6 grilled lemons, cut into wedges
½ cup Worcestershire sauce
1 tablespoon freshly ground black pepper
10 dashes cayenne pepper sauce
4 teaspoons freshly grated horseradish
For rim and garnish
Kosher salt and black pepper
Half bunch of celery
Olives
Cooked bacon
Cut lemons
Cut Limes
Cherry tomatoes
Mozzarella balls
Cooked shrimp
Directions: Combine Worcestershire, 1 tablespoon black pepper, hot sauce, and horseradish in a large bowl or pitcher. Fill with tequila, tomato juice, and juice from grilled lemons. Mix well to combine Adjust seasoning with more salt or hot sauce, if needed.
Combine salt and pepper for riming glasses in a shallow dish. Rub rim of Collins glasses with lemon wedges, then dip into the salt and pepper. Arrange toppings around a bar and let guests fill fill glasses with cocktail and desired toppings.
2. Onside Mule Kick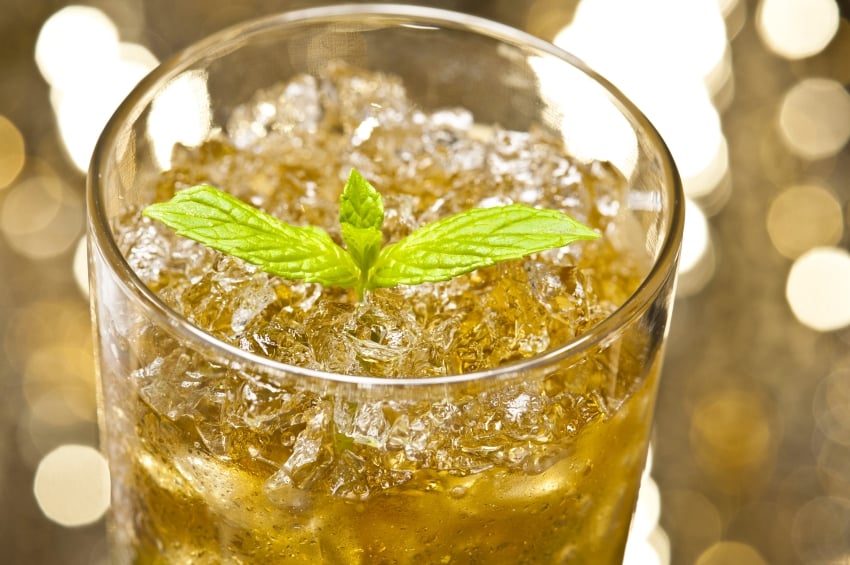 The Moscow Mule is a versatile drink that can easily be adapted with different flavors. This recipe gives the beverage extra kick with both spicy tequila and ginger liqueur. If you're making this drink ahead of time, hold off on adding the ginger beer and ice until right before you guests arrive. No one wants flat, diluted cocktail.
Ingredients:
1 (750-milliliter) bottle spicy añejo tequila
½ (750-milliliter) bottle ginger liqueur
2½ cups fresh lemon juice
2 tablespoons aromatic bitters
10 to 12 bottles ginger beer
Garnishes
Mint sprigs
Orange slices
Lime slices
Directions: Combine tequila, liqueur, juice, and bitters in a punch bowl filled with ice. Stir in ginger beer. Float mint sprigs, orange slices, and lime slices. Serve at once.
3. Sunday Funday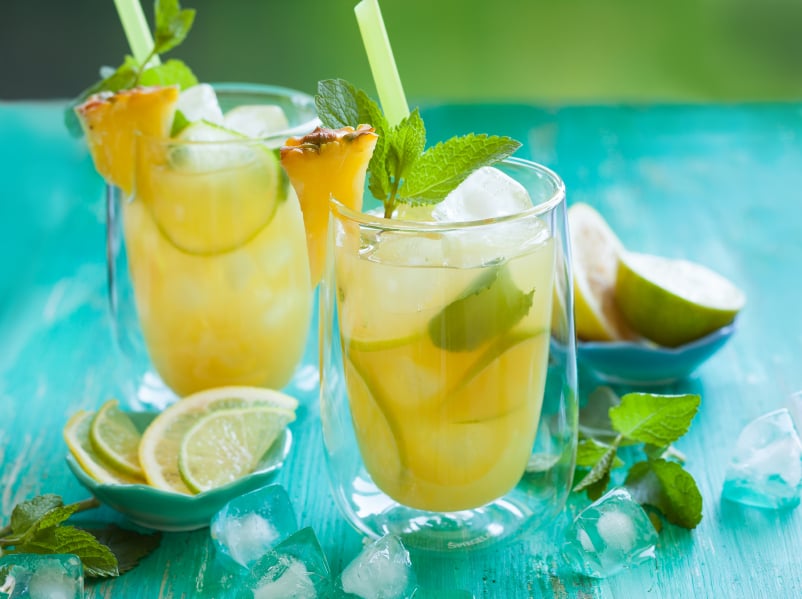 For most of the country, the weather is pretty chilly on Super Bowl Sunday. Create more of an island feel with a sweet and spicy pineapple cocktail. We particularly like the use of amaretto here because the almond flavor adds some unexpected depth. Though packaged pineapple juice works perfectly for this drink, you really want to squeeze your own lime juice for the best taste.
Ingredients:
½ (750-milliliter) bottle spicy añejo tequila
64 ounces pineapple juice, chilled
8 ounces amaretto liqueur
5 ounces fresh lime juice, chilled
8 to 10 dashes grapefruit bitters
Garnishes
Lime slices
Pineapple cubes
Directions: In a large punch bowl filled with ice, mix tequila, amaretto, juice, and bitters to combine. Garnish with lime and pineapple and serve immediately.
4. Sack the Quarterback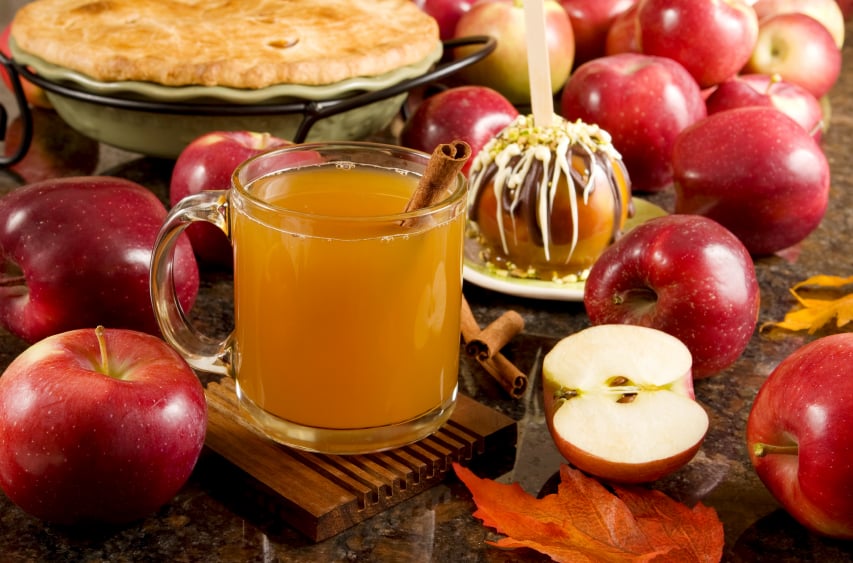 With apple, orange, and some warming spices, this punch is perfect for winter. While you can use any type of hard cider you like, make sure you choose something dry or your drink will come out too sweet. We also like this cocktail because it can easily become a non-alcoholic version for any kids that might be coming to your Super Bowl bash. Just omit the hard cider, tequila, and bitters, and add some apple juice.
Ingredients:
1 (750-milliliter) bottle spicy añejo tequila
64 ounces apple cider, chilled
1 (750-milliliter) bottle ginger beer, chilled
3 (12-ounce) bottles dry hard cider, chilled
½ cup fresh lemon juice
5 dashes orange bitters
Garnish
1 medium orange, thinly sliced
1 apple, thinly sliced and seeds discarded
Cinnamon sticks
Whole star anise pods
Directions: Combine all punch ingredients in a large punch bowl and stir to combine. Top with orange slices, apple slices, cinnamon sticks, and star anise pods. Ladle into glasses and serve.
5. Third and Goal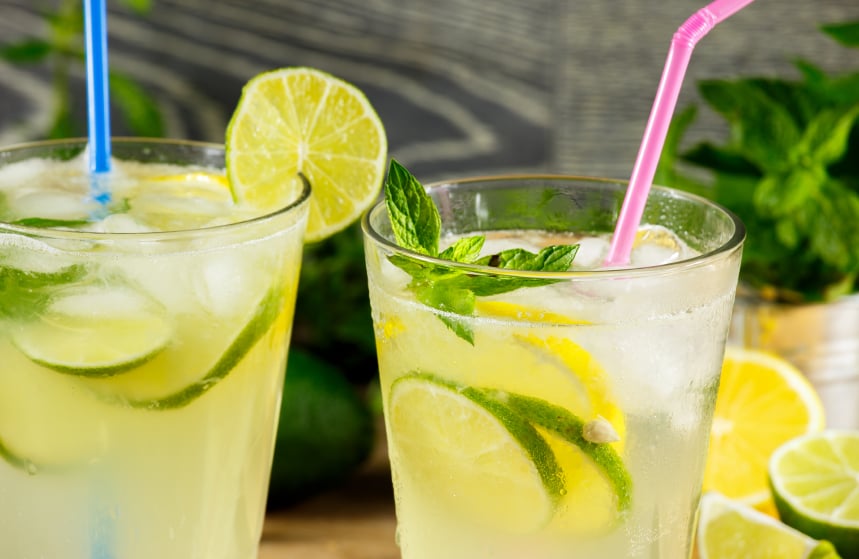 This cocktail tastes like a more sophisticated version of your favorite lemon-lime soda from childhood. The success of this cocktail all comes down to picking the right wines and soda. All three components should be on the dry side so you don't end up with something that tastes like candy. Never heard of dry lemon soda? It really does exist. Though it's a bit harder to find than the mass-produced stuff, you'll be glad you sought it out.
Ingredients:
½ (1750-milliliter) bottle spicy añejo tequila
1 (750-milliliter) bottle dry white wine, chilled
1 (750-milliliter) bottle dry sparkling white wine, chilled
½ cup agave nectar
16 ounces dry lemon soda, chilled
3 oranges, thinly sliced
4 lemons, thinly sliced
4 limes, thinly sliced
½ bunch mint sprigs
Directions: Combine half each of the oranges, limes, and lemons in a large pitcher with all of the mint. Add the tequila and agave and mix gently to combine. Add the wine, cover, and chill for at least 2 hours.
Pour chilled tequila mixture into a large bowl. Stir in champagne, remaining fruit, and lemon soda. Serve at once.
More from Culture Cheat Sheet: