Easy Dessert Recipes Made With Healthier Dark Chocolate
Most people have heard that chocolate (in moderation) is good for you, but many are still skeptical. How can something so full of sugar positively affect your health? Authority Nutrition explains that dark chocolate is packed with nutrients that can help lower your risk of heart disease; however, the kicker is that your chocolate has to be dark, ideally with a cocoa content of at least 70% to 85%. Authority Nutrition adds that dark chocolate is also a powerful source of antioxidants and can help improve blood flow and lower blood pressure.
Thus, it's safe to say, these encouraging statistics can help change the way we feel about desserts. Enlist dark chocolate in your desserts to eat proactively for your heart health. Here are six sweet recipes that feature dark chocolate and are healthier than other diet-destroying treats.
1. Dark Fudge Brownies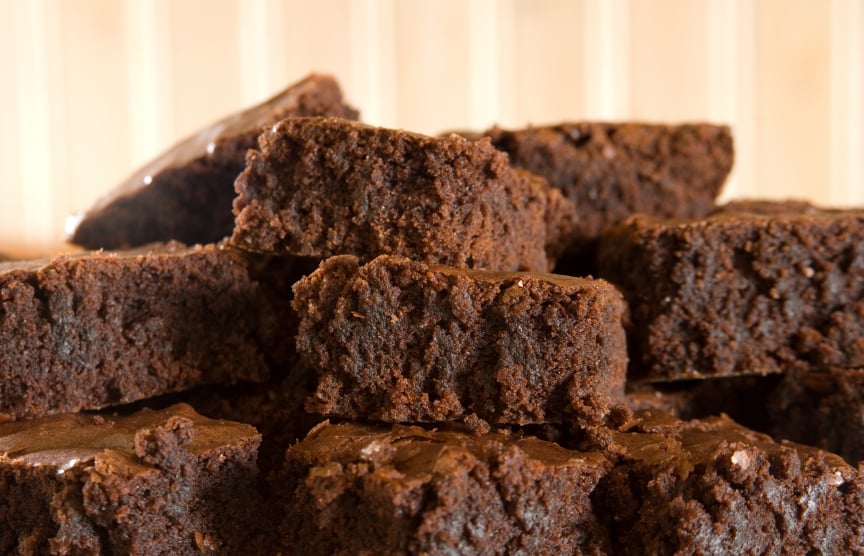 These Dark Fudge Brownies from Eating Well call for semisweet or bittersweet chocolate, and if you want to reap the benefits of your treat, remember to go for extra dark chocolate with a high cacao percentage. Simple baking staples make up the rest of this recipe, and the fudge brownie formula yields 20 sweet treats. Cut this brownie cake into squares and enjoy a rich and full chocolaty flavor that will curb your cravings without killing your diet.
Ingredients:
¾ cup all-purpose flour
⅔ cup confectioners' sugar
3 tablespoons unsweetened cocoa powder, American-style or Dutch-process
3 ounces semisweet or bittersweet chocolate (50% to 72% cacao), coarsely chopped, plus 2½ ounces chopped into mini chip-size pieces, divided
1½ tablespoons canola oil
¼ cup granulated sugar
1½ tablespoons light corn syrup, blended with 3 tablespoons lukewarm water
2 teaspoons vanilla extract
⅛ teaspoon salt
1 large egg
⅓ cup chopped toasted walnuts
See recipe directions at Eating Well.
2. Salted Dark Chocolate Mousse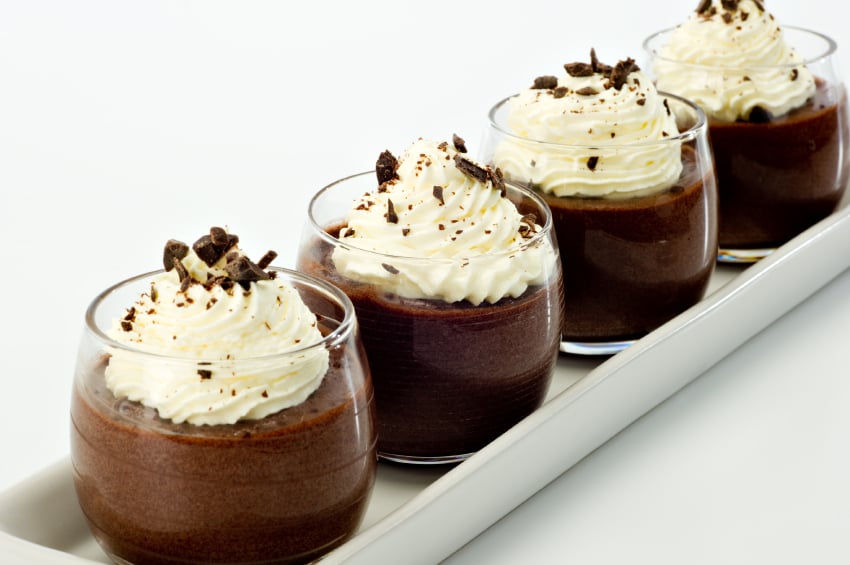 This next dessert recipe from Fit Foodie Finds looks and tastes indulgent, but is paleo, vegan, and relatively healthy. It not only emphasizes dark cocoa powder, but avocados as well, and that means you get a dose of healthy fats with your mousse, along with a serving of antioxidants — prepared in 30 minutes or less. The Salted Dark Chocolate Mousse also enlists coconut cream and coconut milk; the latter to make a vegan whipped cream.
Ingredients:
Mousse
2 ripe avocados, large
3 tablespoons coconut cream
2 tablespoons maple syrup
3 tablespoons cocoa powder
Dairy-free chocolate shavings or dairy-free chocolate chips
Himalayan sea salt
Vegan Whipped Cream
1 can chilled full-fat coconut milk
1 tablespoon maple syrup
See recipe directions at Fit Foodie Finds.
3. Dark Chocolate Truffles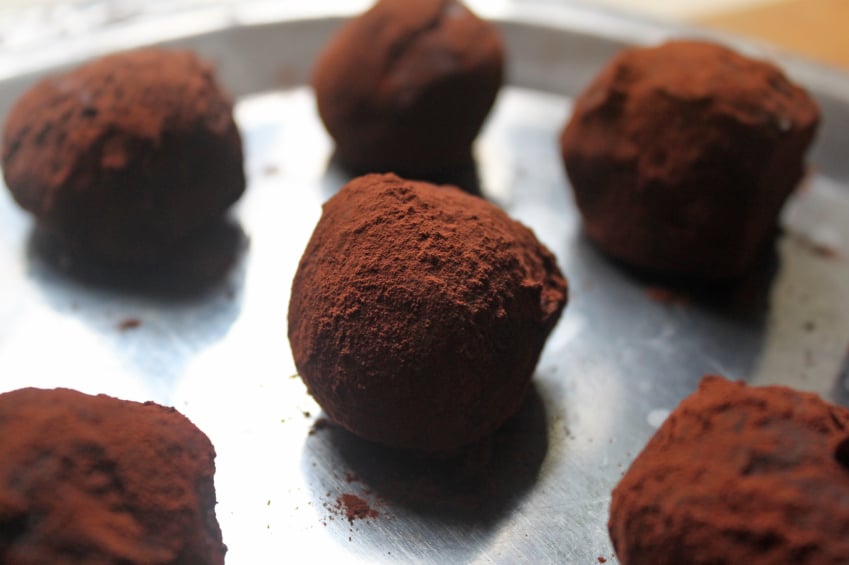 Martha Stewart's Dark Chocolate Truffles are another (vegan) healthy recipe to swear by. They require only six ingredients and couldn't be easier to make. As long as you have dark chocolate, cocoa powder, coconut oil, and vanilla extract, you're good to go. This recipe makes 28 Dark Chocolate Truffles and will satisfy anyone's sweet tooth.
Ingredients:
8 ounces dark chocolate (at least 70% cocoa), chopped
¼ cup organic unrefined coconut oil
3 tablespoons water
1 teaspoon pure vanilla extract
Pinch of sea salt
¼ cup unsweetened cocoa powder, for rolling
Assorted toppings: cocoa powder, finely chopped nuts (pistachios, almonds, or hazelnuts), and toasted unsweetened shredded coconut
See recipe directions at Martha Stewart.
4. Healthy Dark Chocolate Walnut Cookies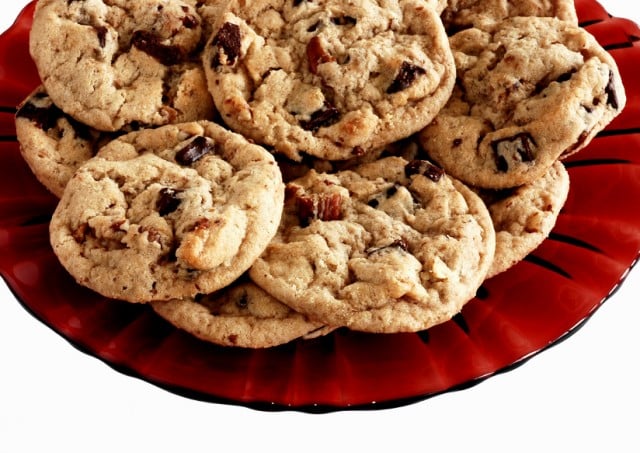 Cookies, anyone? These sweet treats served up by Apple of My Eye are studded with walnuts and chunks of dark chocolate, meaning they pack a punch of antioxidants and healthy fats. They're also healthier than other cookies because the recipe reduces sugar and uses whole wheat flour — we promise you won't even taste the difference. Enjoy these guilt-free treats in moderation and have your cookie while eating healthy too. There's always room for chocolate, and when it's dark, you really have no excuse.
Ingredients:
6 tablespoons butter
¼ cup packed brown sugar
¼ cup white sugar
1 egg
1 teaspoon vanilla extract
¾ cup whole wheat flour
½ teaspoon baking soda
½ teaspoon cinnamon
¼ teaspoon salt
1½ cups dry oats
⅓ cup walnuts, roughly chopped
⅓ cup dark chocolate, roughly chopped
See recipe directions at Apple of My Eye.
5. Dark Chocolate Almonds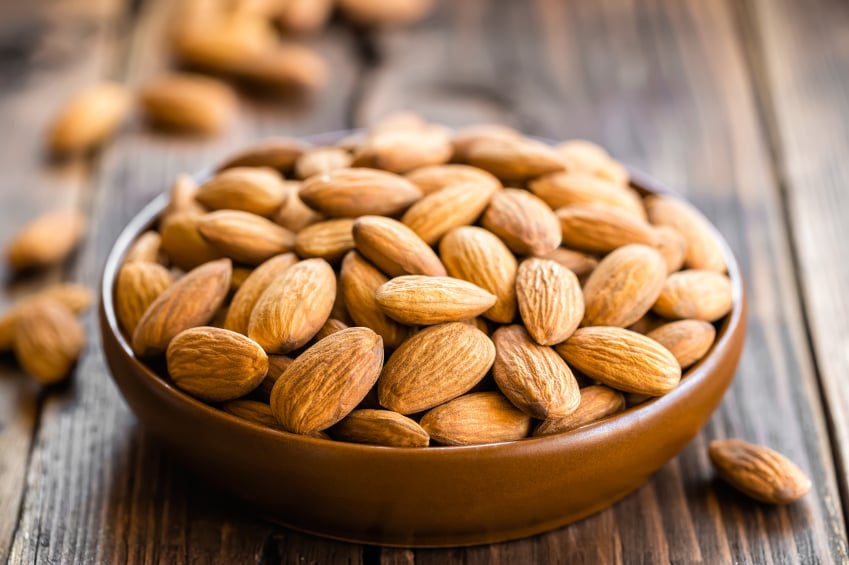 Here's a simpler sweet treat that can serve as a snack or dessert. Instead of dropping cash on store-bought chocolate almonds, make your own at home via this recipe for Dark Chocolate Almonds from The Healthy Apple. Simply pick up your dark chocolate bar of choice, melt it, and then pour it over roasted almonds. Then, all you need to do is sprinkle your nuts with Stevia before storing them in your freezer until you're ready to eat or serve.
Ingredients:
2 dark chocolate bars
2 cups roasted almonds
1 tablespoon powdered or liquid stevia
See recipe directions at The Healthy Apple.
6. Dark Chocolate, Coconut, and Macadamia Nut Tart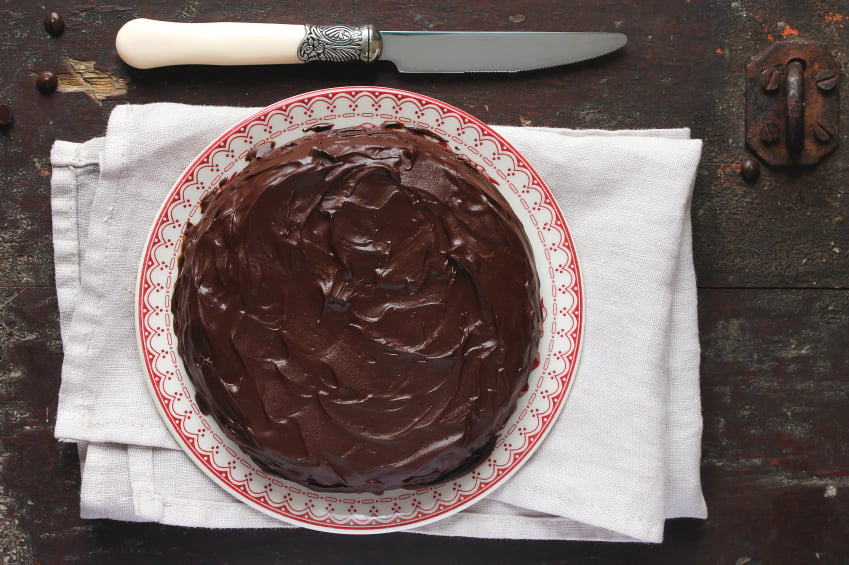 Last but not least: a tart that looks and tastes devastatingly decadent, but is actually (relatively) healthy. Even the pickiest of eaters can enjoy this Dark Chocolate, Coconut, and Macadamia Nut Tart from Bakerita, as it is gluten-free, refined sugar-free, vegan, and paleo. The ganache is made up of coconut milk and bittersweet chocolate; the crust enlists almond flour, shredded coconut, and coconut oil; and the topping is a simple mix of coconut flakes and macadamia nuts. It's safe to say you'll enjoy your healthy fats with this cake! It may be more time-intensive than the other desserts on our list, but it's worth it.
Ingredients:
Crust
½ cup unsweetened shredded coconut
1½ cups almond flour
2 tablespoons coconut oil, melted
2 tablespoons maple syrup
¼ teaspoon salt
Ganache
1 cup canned coconut milk
12 ounces bittersweet chocolate, finely chopped
1 teaspoon vanilla extract
Topping
½ cup unsweetened coconut flakes
½ cup roasted unsalted macadamia nuts, coarsely chopped
A pinch of sea salt
See recipe directions at Bakerita.
More from Culture Cheat Sheet: