Easy Recipes Using Store-Bought Biscuits
Store-bought biscuits get a bad rap, but they can save you time and energy when you want to cook a comforting dish without dedicating hours in the kitchen. There's a time and a place for everything, and sometimes homemade yeast rolls have to wait until later. Check out these 6 easy meals that are perfect for employing store-bought biscuits. They're delicious and delightfully easy, making your hearty homemade dinner that much more satisfying.
1. Biscuit Chicken Pot Pie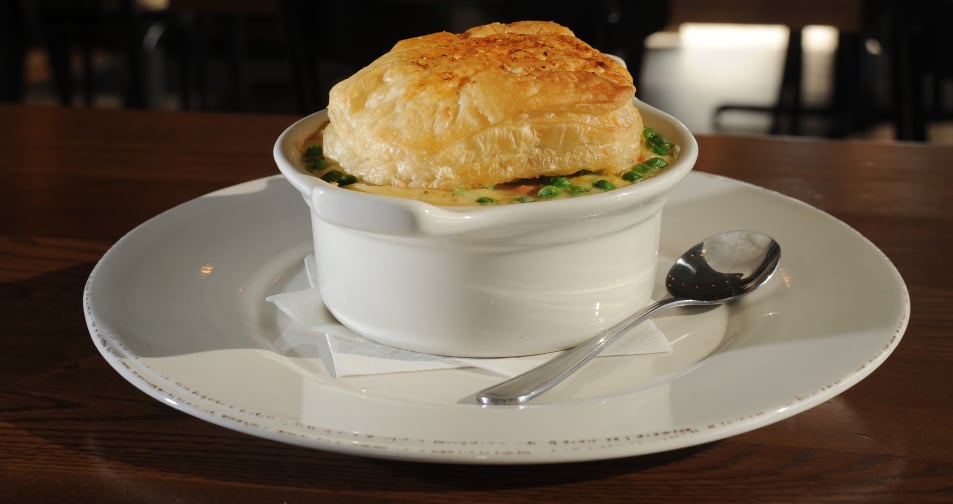 We're kicking things off with a delicious dish: biscuit chicken pot pie. This recipe from Six Sisters' Stuff is an old-fashioned dinner that will never go out of style. Pot pies can be a lot of work, but when you go the refrigerated-biscuit route, they couldn't be easier. This formula serves 8 and can be made in 15 minutes. It makes eating your vegetables easy.
Ingredients:
2 tablespoons vegetable oil

1 onion, chopped fine

½ cup of chopped carrots

½ cup of chopped broccoli

½ cup of chopped cauliflower

Kosher salt and freshly ground black pepper

4 tablespoons unsalted butter

½ cup of all-purpose flour

1½ cups milk

2 cups of low-sodium chicken broth, plus more

1 regular size can cream of chicken soup

½ teaspoon dried thyme

2 cups (about 1 pound) of cooked, shredded chicken

¾ cup frozen peas, thawed

1 (8-count) refrigerated package of biscuits
Directions: Preheat the oven to 400 degrees Fahrenheit. Heat your oil over medium-high heat in a large pan. Cook onions, carrots, broccoli, cauliflower, and peas until tender, about 5 to 7 minutes. Season with salt and pepper. In a bowl, combine the vegetables with shredded chicken, and set aside. 
Reduce heat to medium and melt butter. Whisking constantly, add the milk, broth, soup, and thyme. Bring to a simmer and let cook for 1 minute to thicken. Season with salt and pepper.
Remove from heat, add chicken and vegetables, and stir until the filling is combined. Stir in some extra chicken broth or milk if the filling is too thick.
Pour the filling into a 13-by-9-inch baking dish; bake for 18 minutes. Remove the dish from the oven, top the filling with biscuits, return to the oven, and bake for an additional 10 to 12 minutes, until the biscuits are golden brown and the filling is bubbly. Cool for 5 minutes. Serve.
2. Easy Chicken and Dumplings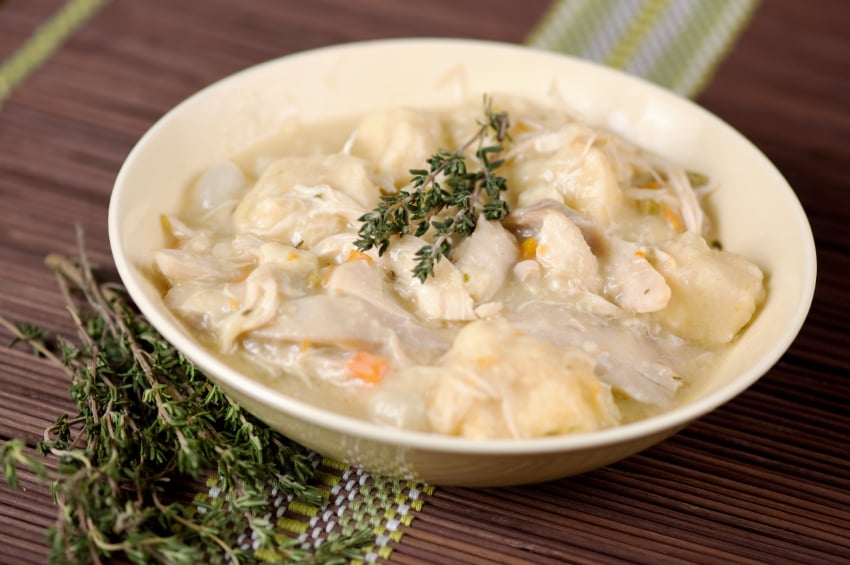 If you need a deviation from your typical weekday dinner fare, try this take on chicken and dumplings. You don't need to visit the South to get your fix — simply make it at home with two simple shortcuts: precooked chicken and refrigerated biscuit dough. This easy recipe from Southern Living requires only a handful of ingredients and 40 minutes of total cooking time.
Ingredients:
1 container low-sodium chicken broth
3 cups shredded cooked chicken
1 can reduced-fat cream of chicken soup
¼ teaspoon poultry seasoning
1 (10.2-ounce) can refrigerated jumbo buttermilk biscuits
2 carrots, diced
3 celery ribs, diced
Directions: In a Dutch oven or heavy pot, bring broth, chicken, soup, and poultry seasoning to boil. Cover, reduce heat to low, and simmer, stirring occasionally, for about 5 minutes.
Increase heat to medium-high. Place biscuits on a lightly floured surface. Roll or pat each biscuit to ⅛-inch thickness, then cut into ½-inch-wide strips.
Drop strips, working 1 at a time, into boiling soup. Add carrots and celery. Cover, reduce heat to low, and simmer 15 to 20 minutes, stirring occasionally to prevent dumplings from sticking. Serve.
3. Mini Biscuit Calzones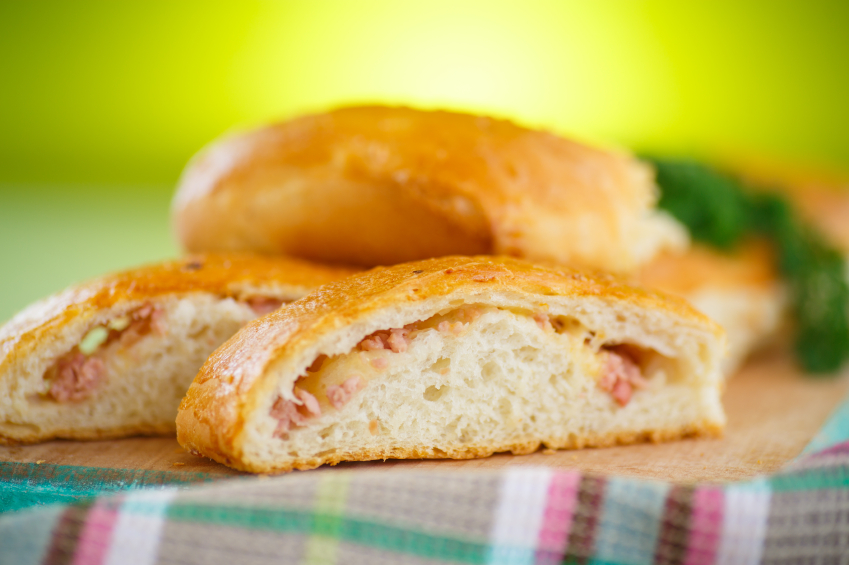 Most people order calzones from their favorite pizza place, but you can also make your own at home for half the cost and half the calories. This recipe for mini biscuit calzones featured on Just a Pinch shows you the easy way to make the Italian appetizer or main dish using pizza sauce, a can of biscuit dough, and your favorite toppings. The calzones are completely customizable and can be packed with meat or left vegetarian. This recipe serves 4 and yields a meal that's fast and fun.
Ingredients:
1 can 

refrigerated biscuits

½ cup 

pizza sauce 

1 cup turkey

 pepperoni or sausage

1 cup shredded

 mozzarella cheese

1 tablespoon Parmesan 

 cheese

1 teaspoon 

garlic salt

Your choice of toppings
1 

egg, mixed with 1 tablespoon water 
Directions: Preheat oven to 375 degrees Fahrenheit. Brown sausage, if using. On a lightly floured surface, roll out the biscuits using a rolling pin until they are doubled in size. Put about ½ teaspoon sauce on half of each, and add 2 tablespoons of cheese and some pepperoni or sausage. Avoid putting ingredients too close to the edges.
Brush edge with egg wash, fold biscuit over, and lightly press the tines of a fork into the edges to seal. Place on a parchment paper-lined baking sheet. Brush egg wash on the top and sprinkle with Parmesan cheese and garlic salt.
Bake for 12 to 15 minutes, until golden brown. Let sit for a few minutes. Serve with additional sauce.
4. Mini Garlic Monkey Bread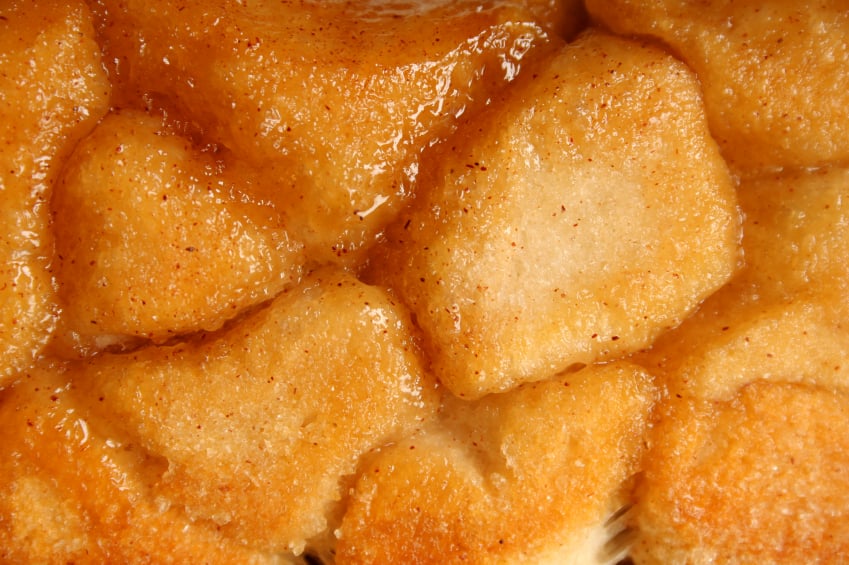 Resist the temptation to order delivery cheese bread, and pick up store-bought biscuits, cheese, herbs, and butter at the grocery store. You won't regret your decision when you sink your teeth into this mini garlic monkey bread from Damn Delicious. It's a savory take on monkey bread that may make you forget all about the sugary kind. Serve this bread to friends and family, and you'll be everyone's new favorite chef.
Ingredients:
1 (16-ounce) tube refrigerated buttermilk biscuits
¼ cup unsalted butter, melted
2 tablespoons freshly grated Parmesan
4 cloves garlic, minced
½ teaspoon dried oregano
½ teaspoon dried basil
½ teaspoon dried parsley flakes
Pinch of salt
Directions: Preheat oven to 400 degrees Fahrenheit. Lightly grease a 12-cup muffin tin with nonstick spray. Cut the biscuit dough into 8 pieces. You should end up with 64 pieces total.
Whisk butter, Parmesan, garlic, oregano, basil, parsley, and salt in a large bowl. Reserve 2 tablespoons and set aside. Stir in biscuit pieces and gently toss to combine. Drop 5 to 6 pieces into each muffin cup. Gently press the last piece in the center. Place into oven and bake until golden brown, about 8 to 10 minutes. Serve immediately, brushed with remaining butter mixture.
5. Philly Cheesesteak Bites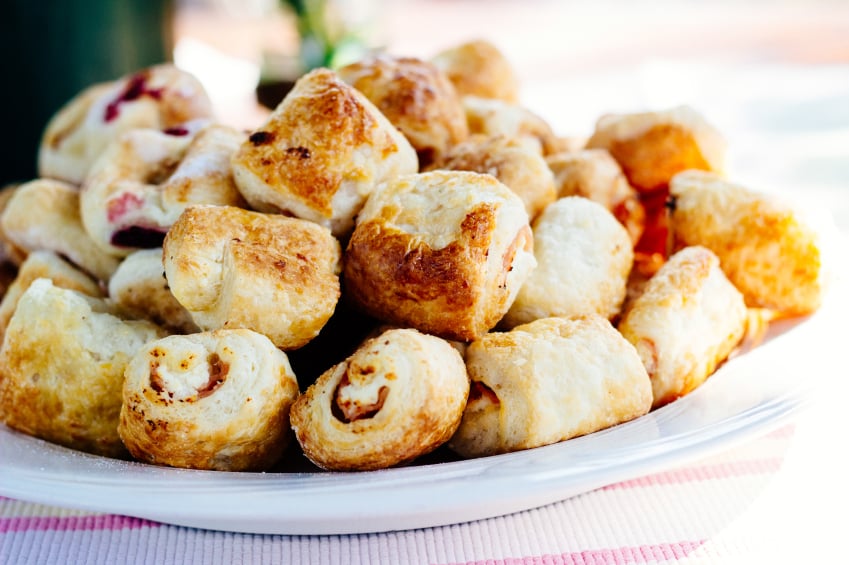 This especially creative recipe from The Gunny Sack highlights yet another use for store-bought biscuits. Say hello to homemade Philly cheesesteak bites. Cheese, roast beef, peppers, and onions are packed into buttermilk biscuits before the dough is sealed and the bites are baked 20 minutes. The bites should be eaten fresh. Somehow, we don't think that'll be a problem.
Ingredients:
1 green pepper, diced
½ onion, diced
2 tablespoons butter, divided
5 ounces thinly sliced roast beef
6 slices provolone cheese
6 slices American cheese
1 (10-count) package Pillsbury buttermilk biscuits
¼ cup olive oil
Directions: Preheat oven to 400 degrees Fahrenheit. Melt butter over medium heat, and add green peppers and onions, cooking until softened and beginning to brown. Roughly chop sliced roast beef. Fry with 1 tablespoon butter until edges are slightly crispy.
Flatten biscuits. Cut slices of provolone into 4 pieces and put 2 pieces on each biscuit. Top with 1 tablespoon of the onions and peppers. Add 1 tablespoon roast beef. Cut slices of American cheese into 4 pieces and put 2 pieces on the roast beef. Gather edges of the biscuits around the toppings and pinch to seal. Place on a greased, round baking dish, seam-side down. Brush the tops with olive oil and bake for 20 minutes.
6. Biscuit Artichoke and Spinach Dip Rolls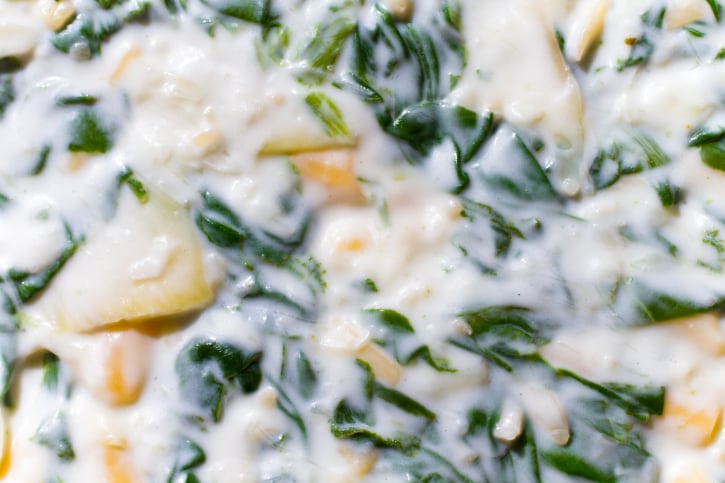 These biscuit artichoke and spinach dip rolls from Food Wine Thyme are perfectly portioned to serve as an appetizer or side dish, but they may steal the show. It's hard to resist flaky biscuits when they're stuffed with cream cheese, Parmesan, sour cream, garlic, and artichokes, and when they're this easy to make, there's no reason you have to. Make this your go-to recipe, and everyone will be inviting you to their parties.
Ingredients:
1 can biscuits
1½ cups baby spinach, cut into ½-inch strips
¼ cup artichokes marinated in water, drained and chopped
1 garlic clove, finely chopped
4 ounces less-fat whipped cream cheese
⅓ container light sour cream
¼ cup Parmesan cheese, divided
¼ teaspoon paprika
¼ teaspoon celery salt
Olive oil spray
Directions: Preheat oven to 350 degrees Fahrenheit. Lightly grease muffin pan. Cut each biscuit in half and press into the muffin pan to form little cups. Heat olive oil in a sauté pan, and add garlic and spinach. Cook for about 1 minute. Spinach should be wilted.
Stir cream cheese and sour cream to combine in a bowl. Add cooked spinach, artichokes, ⅛ cup Parmesan cheese, celery seed, and paprika. Stir and fill cups with 1 tablespoon mixture. Top with the remaining Parmesan cheese and bake for about 13 minutes. Let cool briefly, then serve.