6 Fried Foods to Make for Your March Madness Party
March Madness is here and that means we have another reason to master game day grub. Football might be over, but you need snacks for basketball, too, and that's where tried-and-true fried food comes into play. The days and nights are longer, giving you more than enough time to master the art of the deep fry. Take your oil out of hibernation and celebrate your team's victory with finger-licking good food. Check out these 6 recipes and see for yourself.
1. Crispy Fried Chicken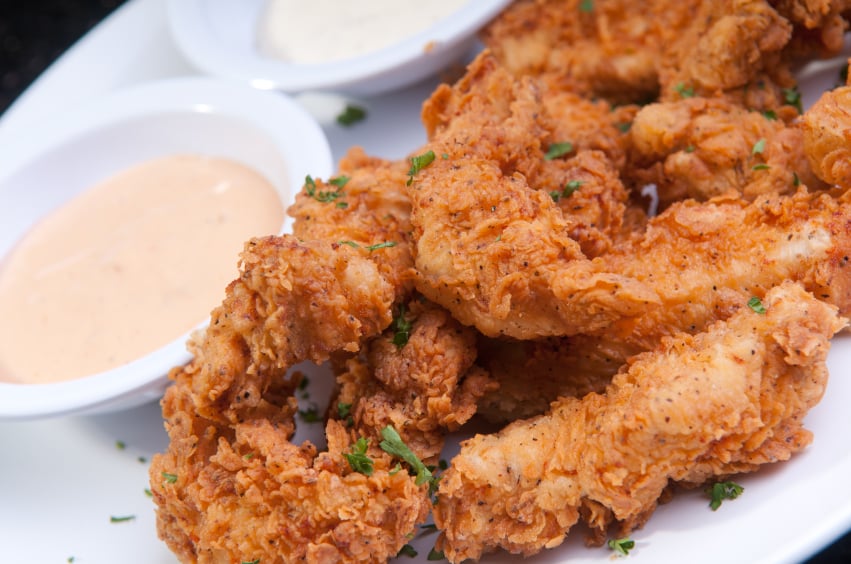 Fried chicken is the first food to be called into the game, and for good reason. It doesn't get more classic (or indulgent) than this, and fried chicken is a game day mainstay that never gets old. Follow Taste of Home's recipe for the good stuff and you'll quickly become the most popular neighbor on the block. No one can resist homemade fried chicken, regardless if his or her team is winning.
Ingredients:
4 cups all-purpose flour, divided

2 tablespoons garlic salt

1 tablespoon paprika

3 teaspoons pepper, divided

2½ teaspoons poultry seasoning

2 large eggs

1½ cups water

1 teaspoon salt

2 broiler/fryer chickens (3½ to 4 pounds each), cut up

Oil for deep-fat frying
Directions: In a large resealable plastic bag, combine 2-2/3 cups flour, garlic salt, paprika, 2½ teaspoons pepper and poultry seasoning. In a shallow bowl, beat eggs and water; add salt and the remaining flour and pepper. Dip chicken in egg mixture, then place in the bag, a few pieces at a time. Seal bag and shake to coat.
In a deep-fat fryer, heat oil to 375 degrees Fahrenheit. Fry chicken, several pieces at a time, for 5 to 6 minutes on each side or until golden brown and juices run clear. Drain on paper towels.
2. Fried Mozzarella Sticks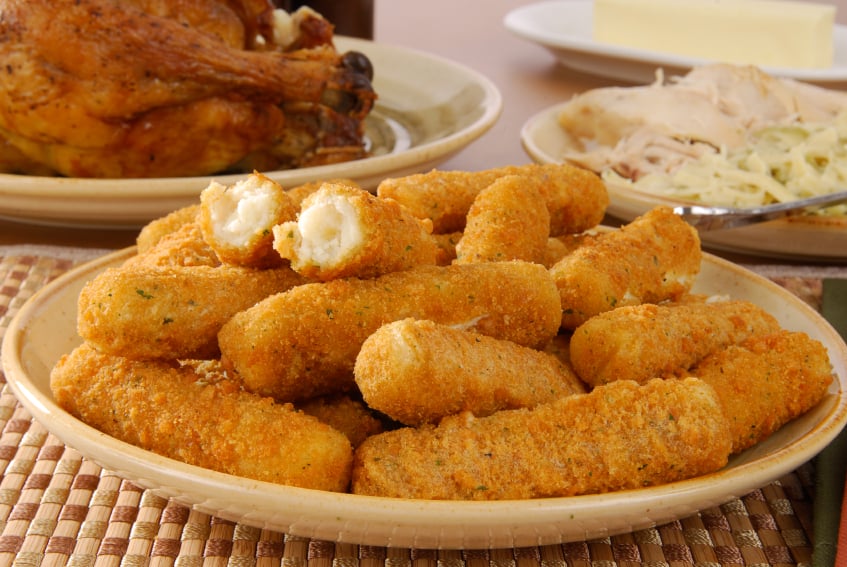 Cheese, please. Mozzarella sticks are next, and it'll be hard to keep hands off these deep-fried breaded pieces of cheese. Mozzarella is hard to resist on its own, and when you double bread the good stuff, deep fry the cheese, and serve it with homemade marinara, all bets are off. Instead of overpaying for mozzarella sticks at your favorite neighborhood pub, master the snack at home with this formula from Saveur.
Ingredients:
1 pound block mozzarella cheese, cut into 3-inch by 1⁄2-inch sticks
¾ cup flour
4 eggs, lightly beaten
2 cups Italian bread crumbs
2 tablespoons olive oil
1 tablespoon unsalted butter
2 garlic cloves, finely chopped
1 medium yellow onion, finely chopped
1 tablespoon tomato paste
1 (28-ounce) can whole peeled tomatoes, crushed by hand
1 tablespoon sugar
1 teaspoon chile flakes
Kosher salt and freshly ground black pepper
Canola oil, for frying
Directions: Place the flour, eggs, and bread crumbs in separate shallow dishes. Working with 1 piece of mozzarella at a time, dredge in flour, dip in eggs, and coat in breadcrumbs; repeat this process one more time. Lay on a parchment paper-lined baking sheet and refrigerate until ready to use.
Heat olive oil and butter in a 4-quart saucepan over medium-high; add garlic and onion and cook until soft, about 6 minutes. Add tomato paste and cook 2 minutes more, then add tomatoes, sugar, chile flakes, salt, and pepper; cook until thick, 15-18 minutes. Keep marinara sauce warm.
Heat 2 canola oil in a 6-quart saucepan until a deep-fry thermometer reads 350 degrees; working in batches, fry mozzarella until golden and crisp, about 1½ minutes. Transfer mozzarella sticks to paper towels to drain; serve hot and with marinara sauce.
3. Fried Onion Rings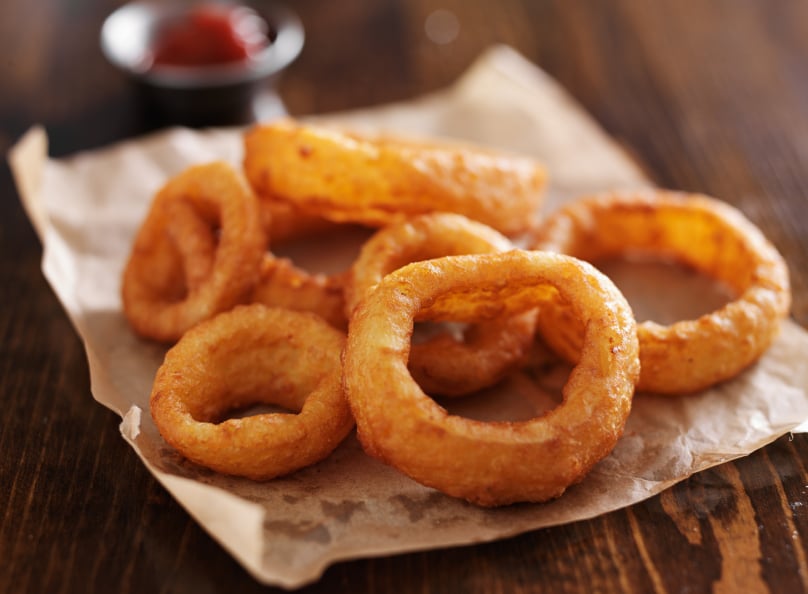 Onion rings, anyone? If you have an hour on your hands, you can make onion rings at home via this recipe from Epicurious. There's no reason not to, especially when the food formula requires only a handful of ingredients including Spanish onions, buttermilk, flour, and shortening. You can use oil or shortening to fry the rings, but the recipe developer suggests the latter. Try homemade onion rings for yourself and see if you ever go back to restaurant rings again.
Ingredients:
2 large Spanish onions (2 lb total)
2 cups well-shaken buttermilk
4 teaspoons salt
2 teaspoons black pepper
2 cups all-purpose flour
4 to 6 cups vegetable shortening or vegetable oil (32 to 48 fl oz)
Special equipment: A deep-fat thermometer
Directions: Preheat oven to 200 degrees Fahrenheit. Cut onions crosswise into ½-inch-thick slices and separate slices into rings, reserving small inner rings for another use if desired.
Stir together buttermilk, 2 teaspoons salt, and 1 teaspoon pepper in a large bowl, then gently stir in onion rings. Let stand, turning occasionally, 10 minutes. Drain in a colander.
Whisk together flour, remaining 2 teaspoons salt, and remaining teaspoon pepper in a wide shallow bowl. Dredge onion rings a few at a time in flour, shaking off excess, and arrange in 1 layer on wax-paper-lined trays. Let onions stand 15 minutes.
Melt enough shortening in a deep 10- to 12-inch heavy skillet to measure about 1 inch and heat over moderately high heat until it registers 360°F on thermometer. Fry onion rings in batches of 4 to 6, without crowding, turning over once or twice, until golden, about 3 minutes per batch. Transfer as cooked to paper towels to drain, then transfer to 1 or 2 large baking sheets and keep warm in oven while frying remaining batches. Return oil to 360 degrees between batches. Serve immediately.
4. Beer-Battered Fried Pickles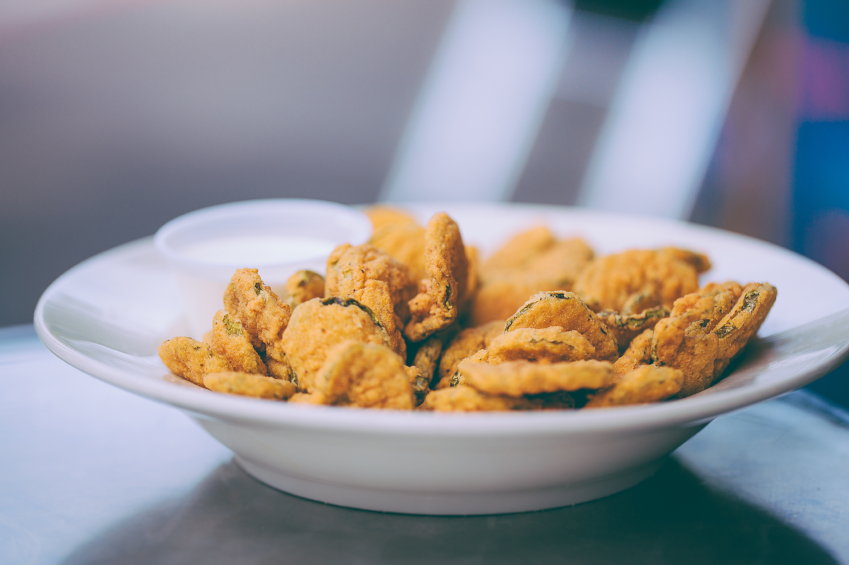 Fried pickles are next, and if you've never had this genius snack, you're in for a treat. Southern Living has a formula for beer-battered fried pickles, and they can be made in just 15 minutes. You're going to soak your pickles in a batter made from beer, flour, and an egg, and then you'll fry the pickles in batches. Serve them with a sauce of your choice and enjoy the indulgent savory snack.
Ingredients:
2 (16-ounces) jars dill pickle sandwich slices, drained
1 large egg
1 (12-ounce) can beer
1 tablespoon baking powder
1 teaspoon seasoned salt
1½ cups all-purpose flour
Vegetable oil
Dipping sauce of choice
Directions: Pat pickles dry with paper towels.
Whisk together egg and next 3 ingredients in a large bowl; add 1½ cups flour, and whisk until smooth.
Pour oil to a depth of 1½ inches into a large heavy skillet or Dutch oven; heat over medium-high heat to 375 degrees. Dip pickle slices into batter, allowing excess batter to drip off. Fry pickles, in batches, 3 to 4 minutes or until golden. Drain and pat dry on paper towels; serve immediately with dipping sauce.
5. Fried Crab Bites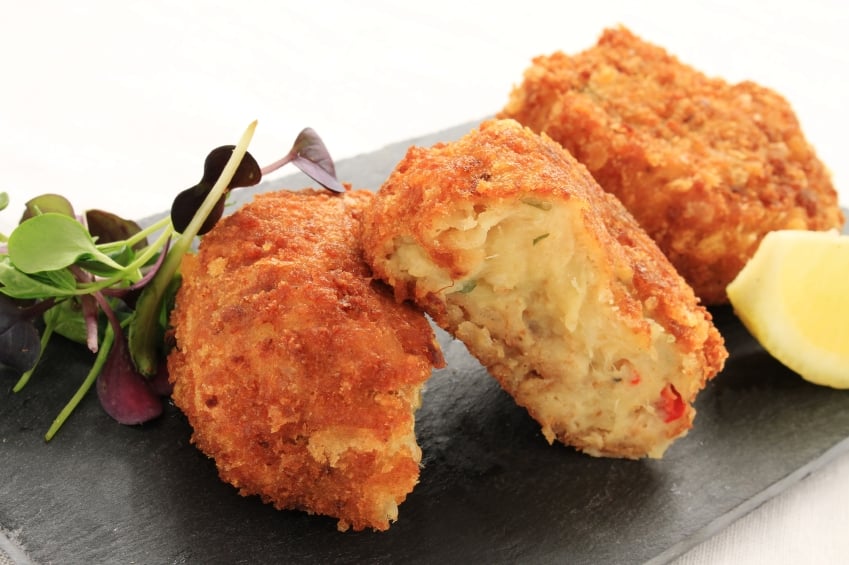 For a slightly more sophisticated appetizer, you can try your hand at these Fried Crab Bites from A Beautiful Bite. The mixture of cheese and crab embedded in a fried shell of dough is enough to make any seafood abstainer swim over to the other side. This recipe serves 10 to 12 and it only will take 20 minutes of your time, making it the perfect party fare.
Ingredients:
2 cups breadcrumbs (plus another cup for coating finished balls)
16 ounces crabmeat
8 ounces Monterey jack cheese, shredded
8 ounces cream cheese, at room temperature
3 large eggs
½ cup mayonnaise
1 medium onion, finely diced
1 red bell pepper, finely diced
¼ cup parsley, chopped
2 jalapeno peppers, finely diced
1 tablespoon Old Bay seasoning, or another seasoning of your choice
1½ teaspoon salt
A few cranks of fresh ground black pepper
Vegetable oil for frying
Directions: In a large mixing bowl, combine all ingredients — except 1 cup of reserved breadcrumbs. Scoop and form into bite sized balls. Roll balls in breadcrumbs. Place on a large platter and chill for a half of an hour.
Heat 1 inch of oil in a large frying pan until a deep fry thermometer registers at 350 degrees. Fry the crab bites until golden brown. Drain on paper towels and place on a cookie sheet in a 200-degree oven to keep them warm while you fry the rest of them up.
Serve with cocktail sauce, tartar sauce and lemon wedges.
6. Slow-Fried French Fries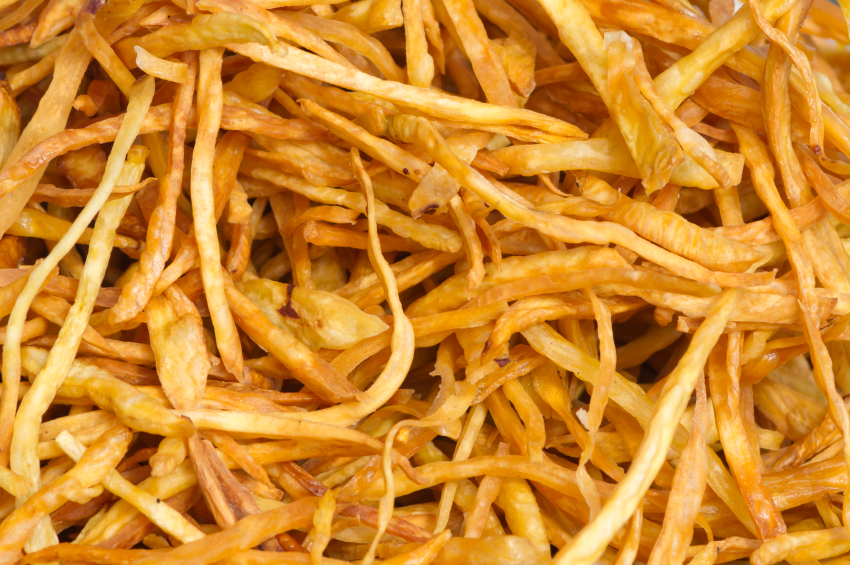 And we can't forget about good old-fashioned french fries. While you can always bake your fries, March Madness is as good a time as any for the classic fried potatoes. No need to preheat your oven — just pull out the oil. This recipe from Bon Appetit will show you how it's done. Baked fries can't hold a candle to their fried counterpart, and for good reason. These crispy fries are fried to perfection and then seasoned with sea salt.
Ingredients:
2 pounds large russet potatoes, cut into french-fry sticks
Saffron or vegetable oil for frying
Sea salt
Serving sauce of your choice
Directions: Peel 2 pounds large russet potatoes; cut into long french-fry sticks, about 3/8 x 3/8 inches thick. Rinse; shake off water. Transfer potatoes to a large deep heavy pot, spreading potatoes so they're no more than 2 layers deep.
Pour in safflower or vegetable oil to cover potatoes by 1″. Place pot over medium heat. Cook for 15 minutes. Continue cooking, occasionally loosening potatoes from the bottom of the pot with a heatproof spatula, until potatoes are very tender, 25 to 30 minutes more. Increase heat to medium-high and cook until golden and crisp, about 15 minutes longer.
Using a slotted spoon, transfer fries to paper towels to drain. Season with coarse sea salt.
More from Culture Cheat Sheet: