Frozen Desserts You Can Make Without an Ice Cream Machine
Between an already large heap of kitchen appliances and limited counter space, an ice cream machine isn't a practical tool for most people. It's too bad, though, because homemade frozen desserts always taste better than what you can buy at the store. Lucky for you, we've dug up six phenomenal and frosty treats you can make without purchasing any additional kitchen equipment. With these six recipes, you're about to have one cool summer.
1. No-Churn Vegan Chocolate Ice Cream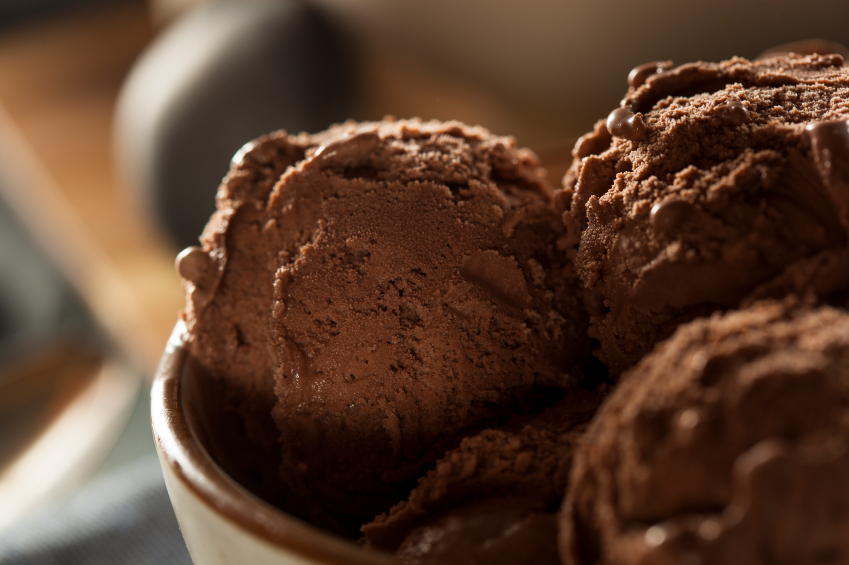 With no need for cooking, this chilly chocolate treat from Minimalist Baker is one of the easiest ice creams you'll ever make. It's also perfect for those who avoid animal products because it's made mostly with coconut milk, dates, and cocoa powder. But you don't have to be vegan to enjoy this creamy treat. If fact, we doubt any of your friends will be able to tell this dessert doesn't contain any eggs or dairy.
Ingredients:
2 (14-ounce) cans coconut cream or full-fat coconut milk, chilled overnight in the refrigerator
⅔ cup unsweetened cocoa powder
14 to 16 pitted dates, hydrated in warm water for 10 minutes if dry
1 teaspoon vanilla extract
½ cup unsweetened almond milk
Optional ingredients:
1 ounce espresso, cooled
½ teaspoon cinnamon
Cacao nibs
Directions: Chill a large mixing bowl in the freezer for 10 minutes. Add dates to a food processor and pulse until finely chopped. Add hot water, a splash or two at a time, and process until you have a smooth paste.
Scoop coconut cream from cans leaving liquid behind. Reserve liquid for another use. Add coconut cream to chilled bowl. Whip with a handheld mixer until thick, creamy, and smooth. Add cocoa powder, vanilla, almond milk, and half of date mixture. Whip to combine. Taste and adjust cocoa and date levels as needed. If desired, add mix-ins.
Transfer to a parchment paper-lined container, cover with plastic wrap, then foil. Transfer to freezer and let chill until firm. For best results, let sit out for 20 minutes prior to serving.
2. Vanilla-Honey Soft Serve Ice Cream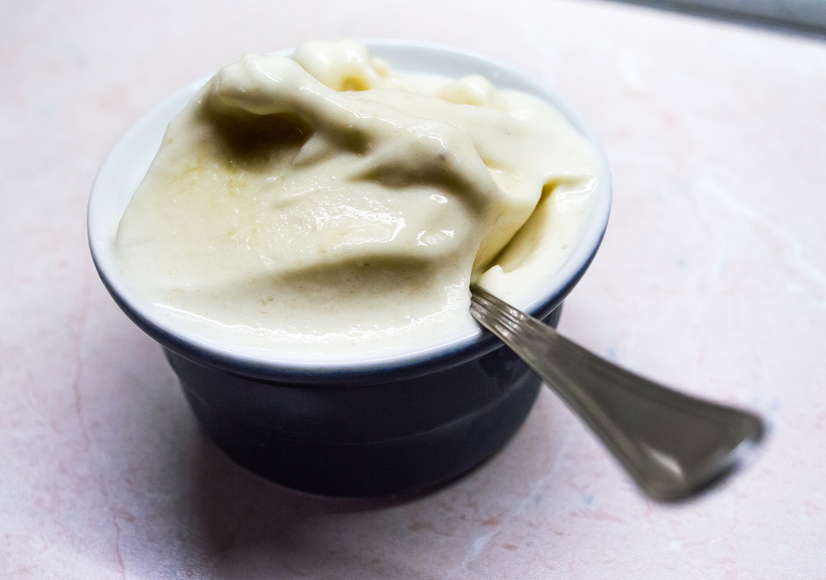 If you don't mind heating up your kitchen a bit, this dreamy frozen dessert from The New York Times is well worth the effort. You'll cook the custard as per usual, but instead of letting it sit undisturbed as it chills, you whip the mixture in an immersion blender before freezing it in ice cube trays. This lightens the texture, so all you have to do is give the cubes a quick whiz in the food processor. How's that for smart?
Ingredients:
6 large egg yolks
½ cup sugar
⅓ cup honey
2 teaspoon vanilla extract
¼ teaspoon fine sea salt
3 cups heavy cream
3 ounces cream cheese, at room temperature, cubed
⅓ cup whole milk
Directions: In a large bowl, whisk yolks, sugar, honey, vanilla, and salt to combine. Bring cream to a simmer in a medium saucepan.
Whisking constantly, slowly stream half the cream into egg mixture. Once combined, add hot yolk mixture back to saucepan. Cook over medium-low heat, stirring constantly, until mixture thickens enough to coat the back of a spoon. It will register 180 degrees Fahrenheit on an instant-read thermometer. Strain into a heatproof bowl, then add cream cheese. Stir until smooth.
Set bowl over a larger bowl filled with ice water. Use a hand mixer or immersion blender to whip mixture until cold and thick, about 5 minutes. Transfer mixture to three or four ice cube trays. Freeze for at least 3 hours.
Using an offset spatula or butter knife, remove cubes from trays. Transfer to a food processor or blender. Pulse, adding a bit of milk, until smooth and creamy. Serve at once or store in an airtight container in the freezer.
3. Peach Old Fashioned Ice Pops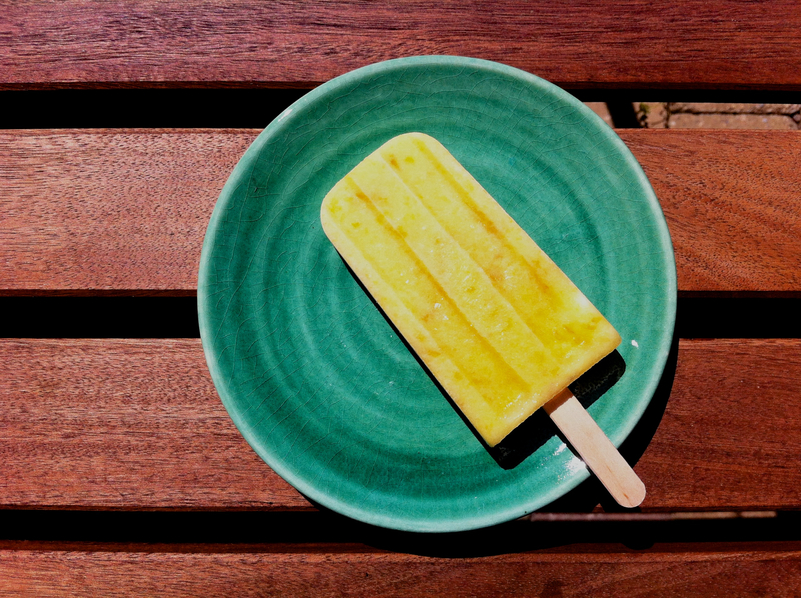 Have your cocktail and dessert at the same time with these frozen peach and bourbon treats from Real Simple. We especially like the addition of bitters, which gives a nod to the classic cocktail while also keeping the pops from tasting too sweet. Serve these at your next cookout, then prepare for heaps of praise.
Though you might be tempted to add a splash or two more bourbon, resist the urge. Adding too much alcohol will actually yield a slushy rather than ice pops. Why? Because alcohol freezes at a lower temperature than water. According to About Food, your freezer would need to reach a frosty -17 degrees Fahrenheit to get the job done.
Ingredients:
2 cups peach juice
⅓ cup bourbon
¼ teaspoon Angostura bitters
2 small yellow peaches, finely chopped
Directions: Combine juice, bourbon, and bitters in a liquid measuring cup with a spout. Add peaches to 10 (3-ounce) or 8 (4-ounce) ice pop molds, dividing evenly. Pour juice mixture over top. Insert sticks and freeze until firm, at least 8 hours.
4. 5-Minute Mango Sorbet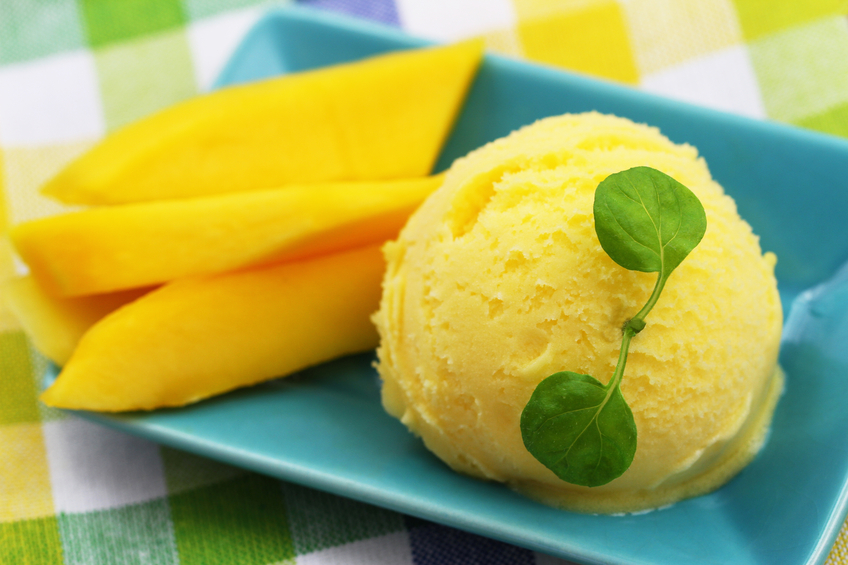 Most people build a pantry that allows them to pull off a great dinner in no time, and the same strategy can work for dessert. You just need the right ingredients. Things like sugar, honey, and cream are common, but be sure to add frozen mango to the list. With the frosty fruit on hand, you can make this refreshing mango sorbet from Perry's Plate in minutes.
Ingredients:
3 heaping cups of frozen mango
½ cup unsweetened pineapple juice
¼ cup almond milk or coconut milk
Directions: Combine mango, juice, and almond milk in a blender and purée until smooth. Serve immediately or transfer to an airtight container and store in the freezer. Let sit at room temperature to soften slightly before serving.
5. Espresso and Toasted Almond Semifreddo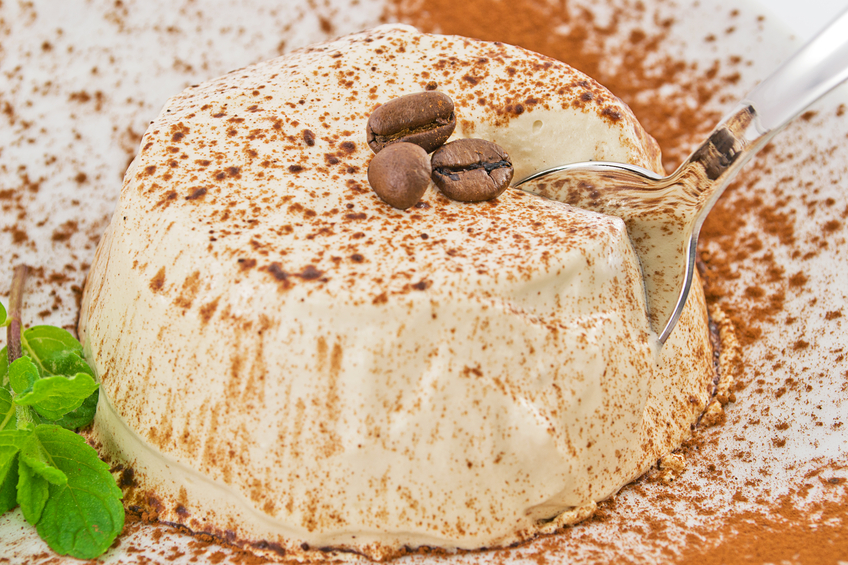 Somewhere between a soufflé and ice cream, semifreddo is easier than both. We especially like this espresso and almond version from One Sweet Mess, adapted from Hungry Girl Por Vida. With just six ingredients, it manages to pack a serious flavor punch. Heads up, you'll need to make this well in advance to let the mixture fully freeze.
Ingredients:
1 cup heavy whipping cream
1 tablespoon plus 1 teaspoon instant espresso powder, divided
3 tablespoons honey
3 tablespoons sugar
3 egg yolks
½ cup chopped toasted almonds
Directions: Add 1 tablespoon espresso powder to cream in a medium bowl and whisk to combine. Using an electric mixer, beat until soft peaks form. Transfer to refrigerator.
In a large heatproof bowl set over a saucepan of barely simmering water, combine yolks, remaining espresso powder, honey, and sugar. Whisk constantly until mixture becomes thick and pale, about 10 minutes.
Remove from heat and set in a larger bowl filled with ice water. Whisk until mixture cools, about 3 minutes. Remove whipped cream from refrigerator and fold into yolk mixture, working in three additions.
Transfer to a shallow dish and top with almonds. Cover with plastic wrap and freeze for at least 4 hours.
6. Strawberry Cheesecake Pops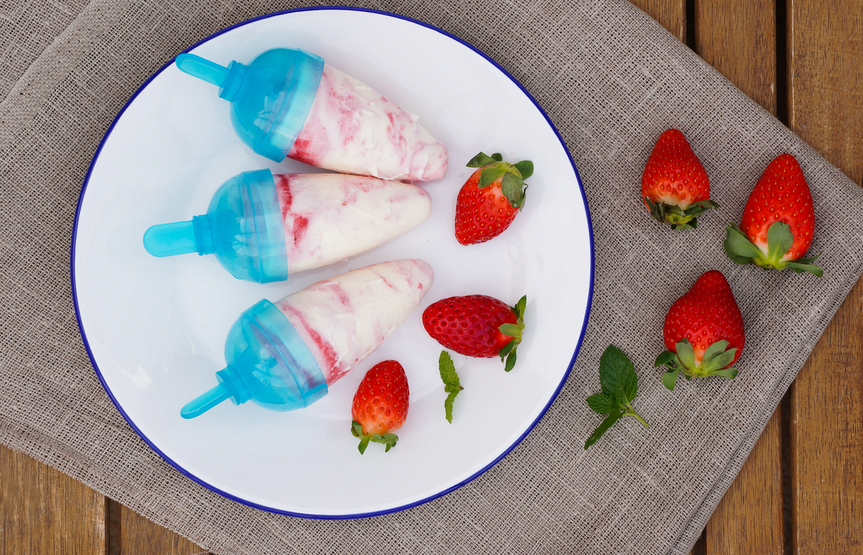 Making a cheesecake takes the better part of a day, so few of us ever make it at home. Though it might sound impossible, you can turn out a frozen dessert with all the same flavor in a fraction of the time with these cheesecake pops from Cooking Light. Best of all, you can enjoy this indulgent treat for just 154 calories per serving.
Ingredients:
1 (5-ounce) can low-fat evaporated milk
¼ cup sugar
3 ounces ⅓-less-fat cream cheese, softened
¼ cup plain fat-free Greek yogurt
1 teaspoon vanilla extract
3 tablespoon light corn syrup
1 teaspoon lemon juice
10 ounces strawberries, hulled
¼ cup graham cracker crumbs
Directions: Combine milk and sugar in a saucepan set over medium heat. Cook for 3 minutes. Place cream cheese in a medium bowl, then gradually add heated milk, whisking until smooth. Stir in yogurt and vanilla. Let cool completely.
Combine corn syrup, lemon juice, and berries in a blender. Blend until smooth. Divide half of cream cheese mixture among 6 (4-ounce) ice-pop molds. Top evenly with strawberry mixture. Add remaining cream cheese mixture. Using a wooden skewer, stir pops to create a marble effect. Freeze for 4 hours or until firm.
Remove ice pops, dip in graham cracker crumbs, and serve.
Follow Christine on Twitter @christineskopec
More from Culture Cheat Sheet: