Sick? Comfort Food Recipes to Feel Better, Fast
When you're sick, the idea of forcing down kale and green smoothies isn't an appetizing one. More often, consumers reach for cheap and easy comfort food that makes them feel good in the short term, but doesn't help cure them for the long term. That's where healthy homemade comfort food comes in. You can have your carbs but consume wholesome ingredients and nutrients, too.
It is possible for comfort food to taste delicious and be nutritious, and these highlighted soups, stews, and suppers prove it. Instead of turning to store-bought and frozen meals, make one of these six recipes at home or enlist someone to make one for you. We can guarantee this homemade comfort food will cure you of your cold under-the-weather blues.
1. Broccoli and Chicken Noodle Soup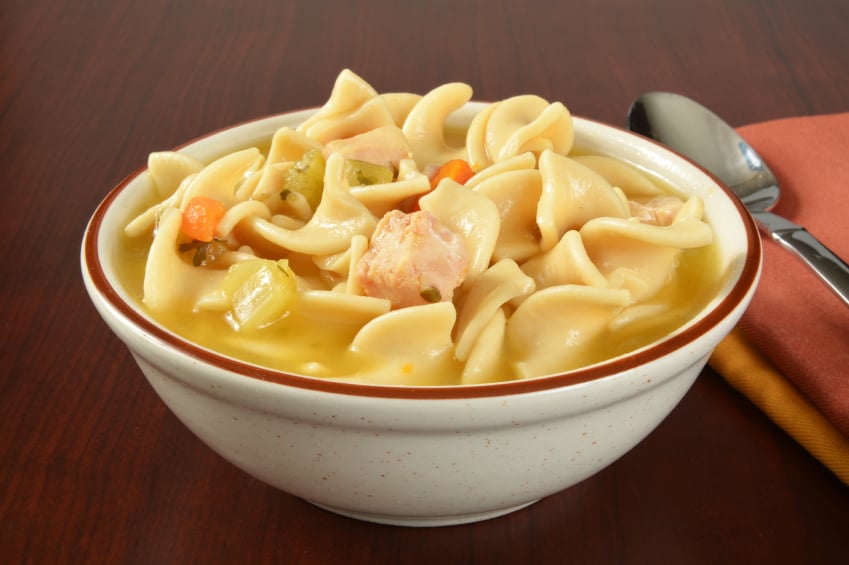 Chicken Noodle Soup is a classic sick dish that consumers reach for, and when you add some veggies to the mix, you easily have a healthier rendition on your hands. This Broccoli and Chicken Noodle Soup from Cooking Light is hot, comforting, and can be ready in 40 minutes. One serving yields just over 300 calories, plus the soup boasts impressive protein, fiber, and iron content. Slurp this up when you're sick and eat your way to a healthier tomorrow.
Ingredients:
Cooking spray
2 cups chopped onion
1 cup presliced mushrooms
1 garlic clove, minced
3 tablespoons butter
1.1 ounces all-purpose flour
4 cups 1% low-fat milk
1 can fat-free, less-sodium chicken broth
4 ounces uncooked vermicelli, broken into 2-inch pieces
2 cups shredded light processed cheese
4 cups cubed cooked chicken breast
3 cups small broccoli florets
1 cup half-and-half
1 teaspoon freshly ground black pepper
¾ teaspoon salt
See recipe directions at Cooking Light. 
2. Tomato Soup with Grilled Cheese Croutons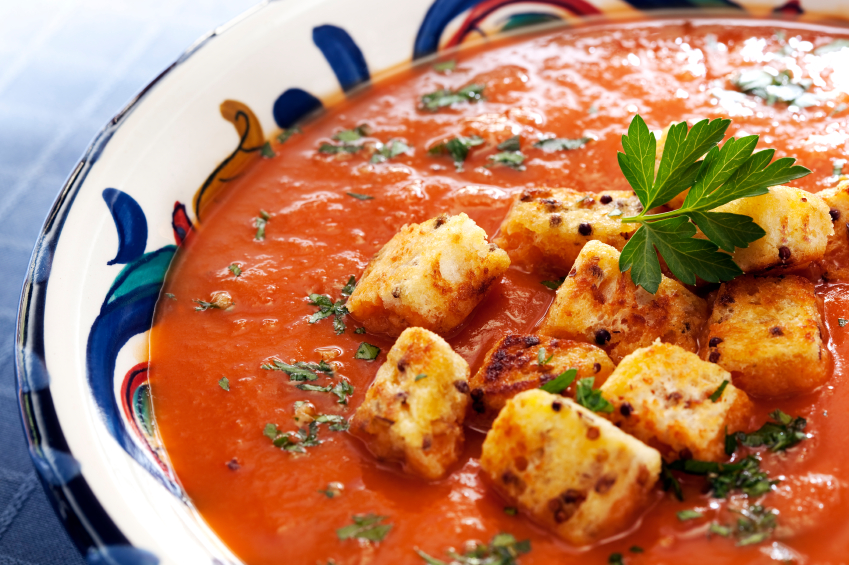 Sick or healthy, many consumers are fond of the classic combination that is tomato soup and grilled cheese, and this recipe from Damn Delicious combines the comfort food together in one bowl. Enter: Tomato Soup with Grilled Cheese Croutons. The homemade crouton game just got taken up a notch. This soup yields four servings and takes 35 minutes to make. It's made up of whole tomatoes, vegetable broth, garlic, a touch of heavy cream, and brown sugar. It tastes more decadent than its calorie count would predict and it's the perfect light meal to consume when you're sick.
Ingredients:
Soup:
1 tablespoon olive oil
1 onion, diced
3 garlic cloves, minced
¼ teaspoon crushed red pepper flakes
1 bay leaf
2 cans whole tomatoes
½ cup heavy cream
1 tablespoon brown sugar
¾ cup low-sodium vegetable broth
1 tablespoon chopped fresh parsley leaves, for garnish
Grilled Cheese Croutons:
1 tablespoon olive oil
4 slices wheat bread
2 tablespoons unsalted butter, softened
4 ounces shredded sharp cheddar cheese
See recipe directions at Damn Delicious. 
3. Skinny Baked Broccoli Mac and Cheese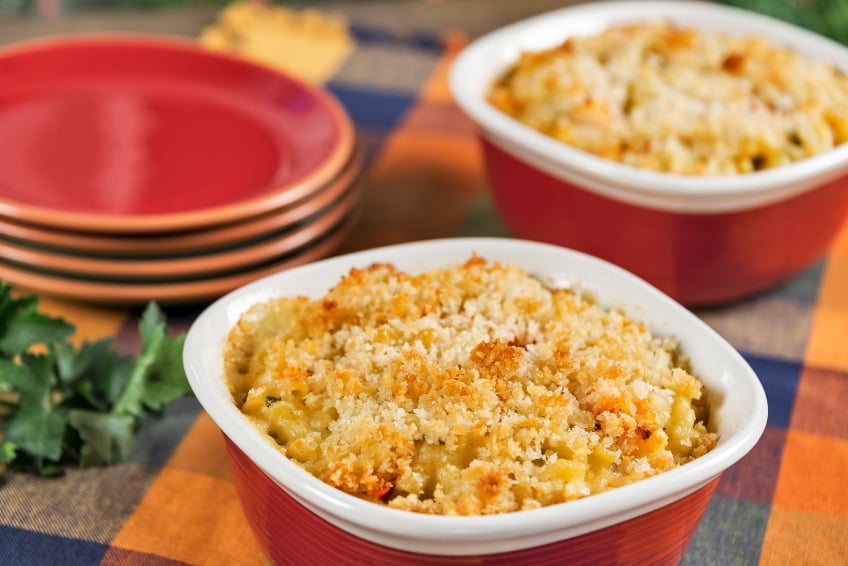 Mac and Cheese is quintessential comfort food, but the calorie bomb also doesn't do your body any favors. Unless, it's healthified of course. Enjoy this spin on decadent mac and cheese that is Skinny Baked Broccoli Mac and Cheese from Skinny Taste. With this dish, you get your greens, cheese, carbs, and nutrients. One serving yields just over 300 calories and boasts 17 grams of protein and 6 grams of fiber — not bad for someone who will likely be horizontal on the couch all day. Make this mac and cheese yourself or request that it is made for you and get ready to enjoy some cheesy green goodness.
Ingredients:
12 ounces high fiber elbow pasta
1 ½ tablespoons butter
¼ cup minced onion
¼ cup flour
2 cups skim milk
1 cup fat free chicken broth
8 oz reduced-fat sharp cheddar
Salt and fresh pepper to taste
12 ounces fresh broccoli florets
2 tablespoons grated parmesan
¼ cup seasoned bread crumbs
Cooking spray
See recipe directions at Skinny Taste. 
4. Vegetarian Thai Green Curry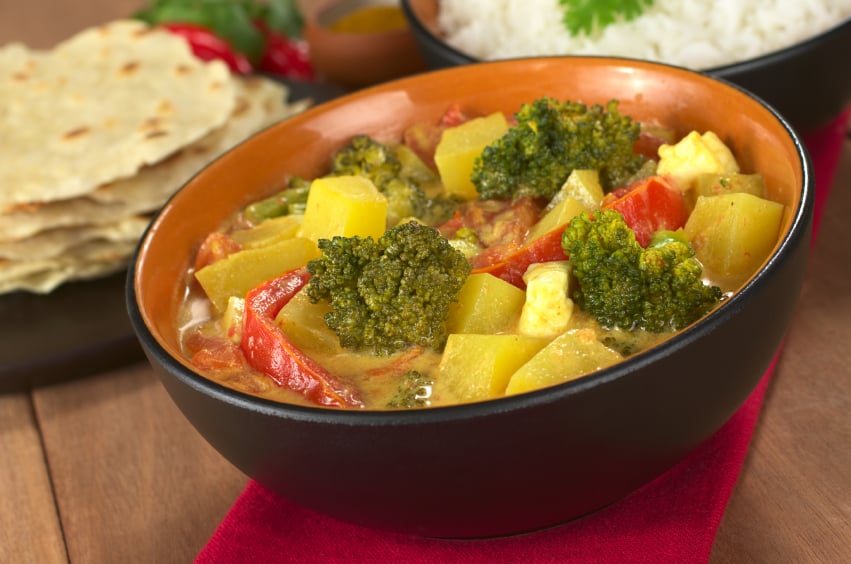 If Thai is your comfort food of choice, try this Thai Green Curry from Cookie and Kate. It's a vegetarian dish that is loaded with seasonal veggies and served with brown basmati rice. Green Curry is a great dish to enjoy when you're sick because the ginger enlisted in curries contains antioxidants and anti-inflammatory properties, and it'll also help clear your sinuses. Whether you have this Thai Green Curry with or without tofu, it'll fill your belly with good-for-you ingredients and keep things just spicy enough, too.
Ingredients:
1¼ cup brown basmati rice
2½ cups water
1 tablespoon olive oil or quality vegetable oil
1 small white onion, diced
1 inch nub of ginger, finely chopped
2 cloves garlic, finely chopped
Pinch of salt
2 tablespoons Thai green curry paste
3 Thai chiles, chopped
1 can light coconut milk
½ cup water
1 to 2 teaspoons turbinado (raw) sugar or brown sugar
1 package of extra-firm tofu (optional)
1 to 2 teaspoons brown rice wine vinegar
1 to 2 teaspoons soy sauce
Handful of cilantro, chopped
2 cups seasonal vegetables, chopped (like broccoli, asparagus, carrots or bell peppers)
See recipe directions at Cookie and Kate. 
5. Miso Soup with Greens and Tofu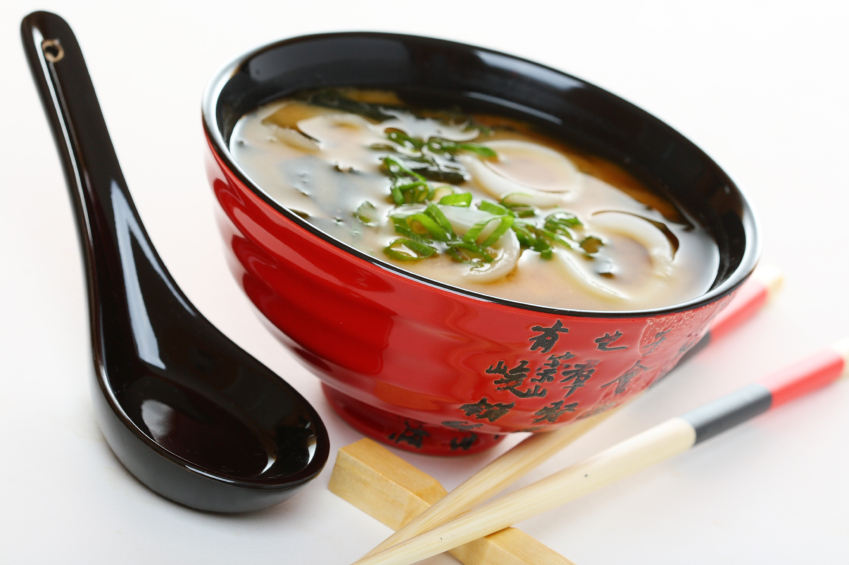 Miso Soup is another healthy comfort food you should turn to when you're sick. Slurp up this Miso Soup from Minimalist Baker that takes only 15 minutes to make. One large bowl of the soup yields only 88 calories, and you still get your protein and fiber from the green chard, green onion, and tofu. Instead of paying too much at restaurants for Miso Soup that you can easily make at home, put down the takeout menu and pull out your saucepan.
Ingredients:
4 cups water
½ cup chopped green chard or other sturdy green
½ cup chopped green onion
¼ cup firm tofu, cubed
3-4 tablespoons white miso paste with or without bonito
1 sheet (¼ cup) nori (dried seaweed), cut into large rectangles, optional
See recipe directions at Minimalist Baker. 
6. Tomato and Bean Stoup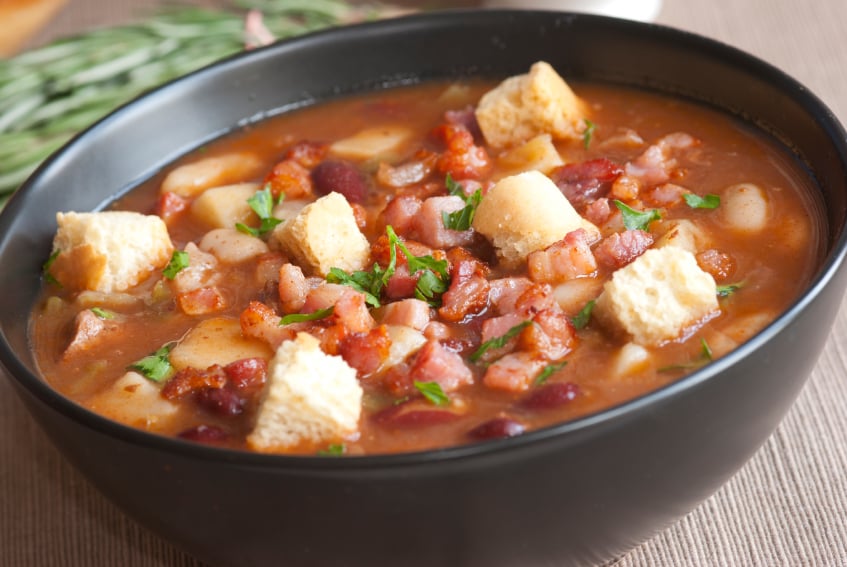 What do you call a dish that is thicker than a soup but thinner than stew? Rachael Ray calls it a "stoup" and she has a recipe for the 15-minute Tomato & Bean Stoup she makes when she's sick. Beans, carrots, tomatoes, cheese, and fresh basil make up this stoup that is healthy, warm, and comforting, and it's vegetarian, meaning you can serve it to anyone. Next time it's you who is feeling under the weather, treat yourself to this Tomato and Bean Stoup that you can make in 15 minutes flat before returning to the couch.
Ingredients:
2 tablespoons extra-virgin olive oil, 2 turns of the pan
3 cloves garlic, chopped
½ teaspoon crushed red pepper flakes
1 medium onion, chopped
2 carrots, peeled and thinly sliced
2 ribs celery, chopped
1 small zucchini, sliced
2 cups vegetable or chicken stock
1 can diced tomato
1 can tomato sauce
1 can small white beans or cannellini beans
1 box, cut frozen green beans
Salt and pepper
1 cup fresh basil, torn or shredded
Grated Parmigiano or Romano, to pass at table
Crusty bread
See recipe directions at Rachael Ray. 
More from Culture Cheat Sheet: