Easy Crockpot Recipes Requiring 6 Ingredients or Less
A crockpot is a home chef's best friend. Pop your ingredients into the pot before you go to work and come home to a house that smells like heaven. If you don't want to cook after a long day of work and you don't want to heat up your kitchen using the oven, try one of these five low-fuss crockpot meals that only require six ingredients or less. The suppers are full of flavor and nutrients, and they couldn't be easier to make.
1. 5-Ingredient Crockpot Chili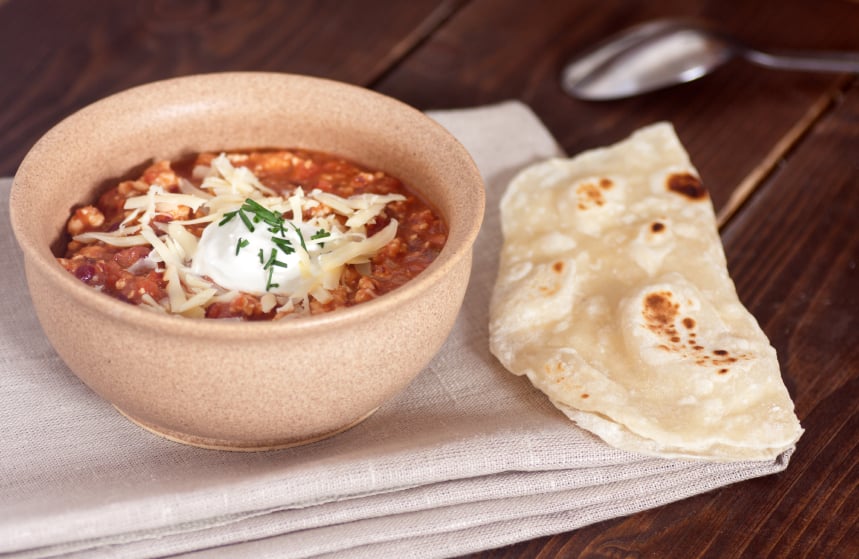 Perhaps the most popular dish to perfect in the crockpot is chili, and this recipe featured on Food.com simply calls for beef, red kidney beans, chili powder, onions, and tomatoes. It's easy and delicious and will cook in your crockpot for seven to nine hours, making you salivate as soon as you walk home after work. Load your ingredients into the pot in the morning and let the appliance do the work for you. You've earned this easy 5-ingredient crockpot chili after a full day of work.
Ingredients:
1 pound ground beef
2 onions, chopped
1 cup water
3 cans diced tomatoes and green chilies, undrained
1 tablespoon chili powder
2 cans red kidney beans, rinsed and drained
Directions: Brown ground beef in large skillet and drain. Add to 3 or 4-quart crock pot along with remaining ingredients. Cover crock pot and cook on low for 7-9 hours until vegetables are tender.
2. Maple Mustard Chicken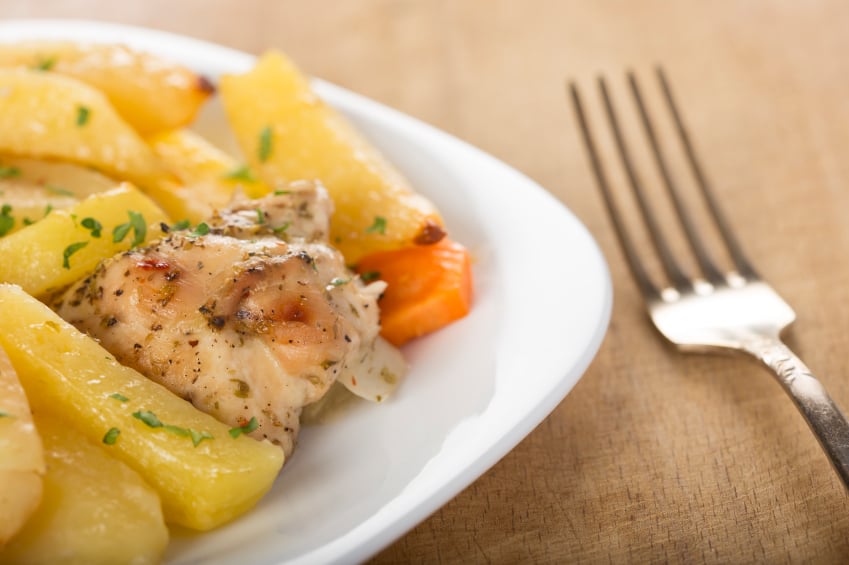 If you'd rather have chicken for dinner, check out this recipe from Taste of Home for maple mustard chicken. This poultry also gets cooked in the crockpot and the recipe still only requires 5 ingredients including chicken, maple syrup, mustard, tapioca, and brown rice. Mustard and syrup blend together surprisingly well and the chicken marinates in that flavor for 3 to 4 hours while cooking.
Ingredients:
6 boneless skinless chicken breast halves
½ cup maple syrup
⅓ cup stone-ground mustard
2 tablespoons quick-cooking tapioca
Hot cooked brown rice
Directions: Place chicken in a 3-quart slow cooker. In a small bowl, combine the syrup, mustard and tapioca; pour over chicken. Cover and cook on low for 3-4 hours or until tender. Serve with rice.
3. 5-Ingredient Slow Cooker Pulled Pork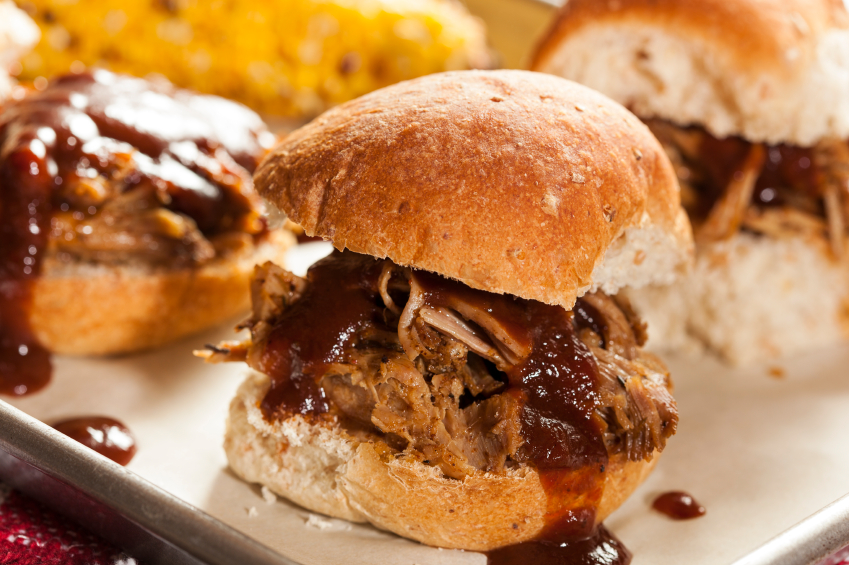 Pulled pork is another dish that is traditionally mastered in the crockpot, and it's also one you can depend on to fill up the house with a delicious aroma. Southern Living has a tried-and-true pork recipe that calls for 5 ingredients and 8 to 10 hours of cooking time. Pulled pork is so delicious that you'd never guess the dish only requires pork shoulder roast, onions, chicken broth, and seasonings, but it's true.
Ingredients:
2 large sweet onions, cut into ½-inch slices
1 (5- to 6-pound) boneless pork shoulder roast
2 tablespoons garlic-oregano-red pepper seasoning blend
1 teaspoon kosher salt
1 can condensed chicken broth
Directions: Place onions in a lightly greased 6-quart slow cooker. Rub roast with seasoning blend and salt; place roast on onions. Pour broth over roast. Cover and cook on low 8 to 10 hours or until meat shreds easily with a fork.
Transfer roast to a cutting board or serving platter; shred with 2 forks, removing any large pieces of fat. Remove onions with a slotted spoon, and serve with pork.
4. Crockpot BBQ Chicken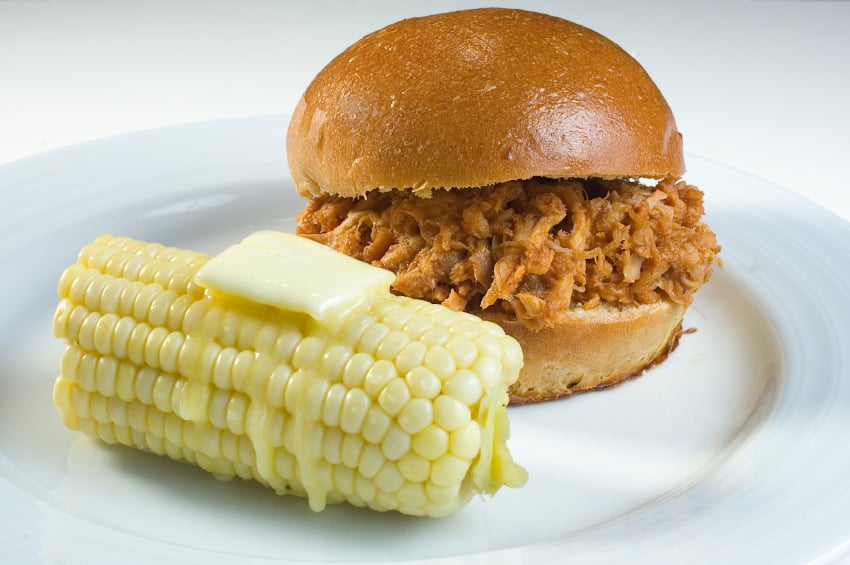 Speaking of parties, here's another crockpot recipe that is great to have in your cooking arsenal, as it appeals to all and can keep you out of the kitchen. The 5 ingredients that go into this crockpot BBQ chicken from Family Fresh Meals include chicken breasts, BBQ sauce, Italian dressing, brown sugar, and Worcestershire sauce. The chicken cooks for 3-4 hours, and then it's up to you how you want to serve it. Whether you enjoy it on a sandwich, on a salad, or on its own, this BBQ chicken is a dish you'll make again and again, regardless if you're feeding a crowd or just yourself.
Ingredients:
2 pounds boneless, skinless chicken breasts
1 cup barbecue sauce
¼ cup Zesty Italian dressing
¼ cup brown sugar
1 tablespoon Worcestershire sauce
salt to taste
Directions: Season chicken all over with salt and transfer to crockpot. In a small box, mix barbecue sauce, Italian dressing, brown sugar, and Worcestershire sauce to combine. Pour over chicken, cover, and cook on high for 3 to 4 hours.
If desired, remove chicken from sauce and let cool briefly. Use two forks to shred into small pieces. Return to crockpot, stir to coat, and allow to heat through. You can also serve the chicken breasts whole.
5. Slow Cooker Overnight Oats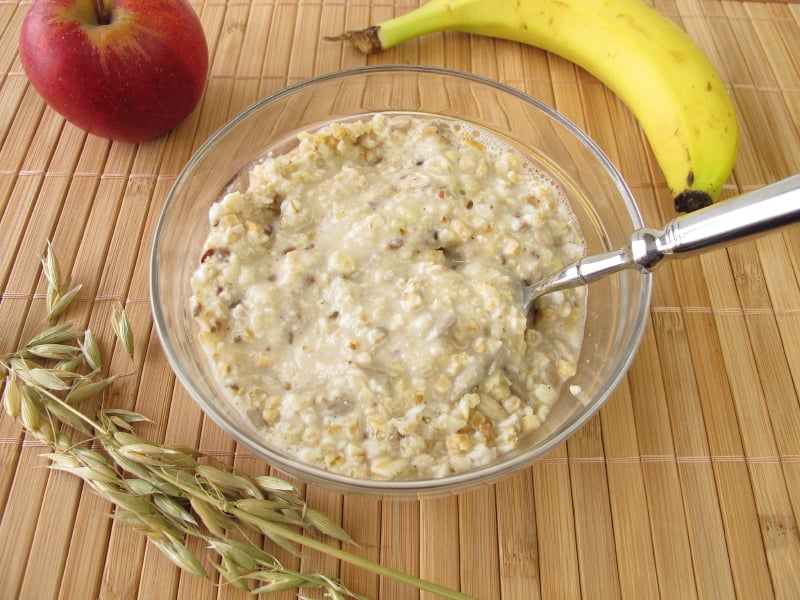 We're concluding with a breakfast recipe that proves you can also serve your morning meal from the crockpot. Did you know you can prepare your morning oats the night before in the slow cooker? It's true and A Spicy Perspective has a recipe to prove it. Put your oats, liquids, vanilla extract, and spices into the crockpot the night before and cook on low for 9 to 11 hours. Your house will smell tantalizing when your alarm clock goes off in the morning, and this breakfast is one for which you'll definitely want to get out of bed.
Ingredients:
3 cups steel-cut oats
6 cups milk of choice
8 cups water
1 tablespoon vanilla extract
2 teaspoons apple pie spice or pumpkin pie spice
2 teaspoons sea salt
Optional toppings
Berries
Bananas
Toasted nuts
Toasted coconut flakes
Dried fruit
Honey
Brown sugar
Directions: Grease a crockpot insert with nonstick cooking spray. Add all ingredients and stir to combine. Cover with lid and cook on low for 9 to 11 hours. Stir once more just before serving. Portion into bowls and add any of your favorite toppings.