6 Legendary Hotel Bars Every Stylish Man Must Visit
We love traveling, but we really love traveling in style. Hotels can feel like a second home for seasoned business travelers, or they can be a place of high-class for sophisticated globe-trotters, but for most, a hotel bar scene is considered in high regard when booking a vacation, or a place to lay your head during that next business trip with the entire office. Here are six legendary bars in the U.S. we think every stylish man must visit.
1. Big 4 Restaurant at 
The Scarlet Huntington in San Francisco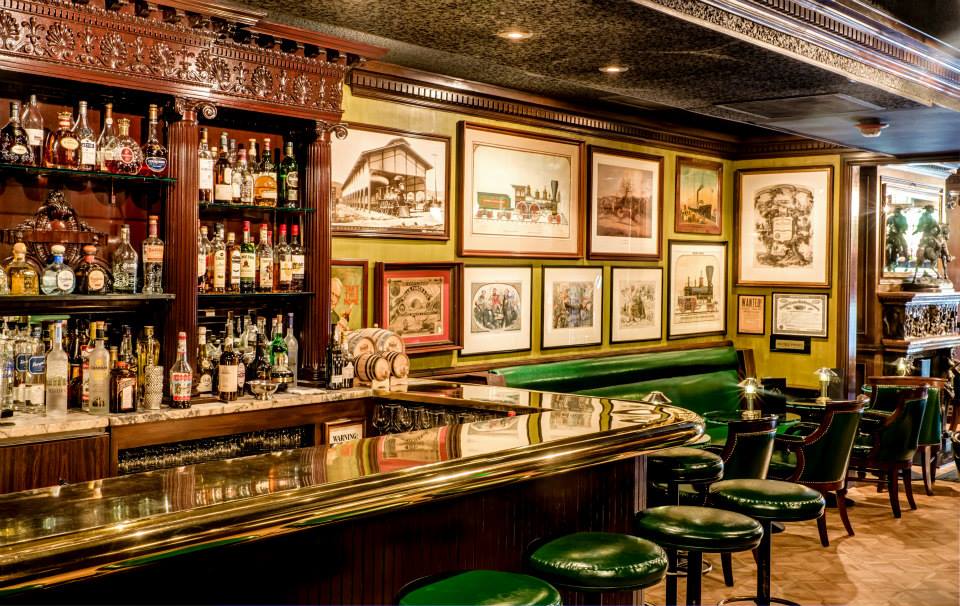 Big 4 celebrates a 1920s style and ambiance, featuring live piano music nightly and décor that channels the city's Golden Era with a setting that takes you back to the time of dapper speakeasies and railroad tycoons. Big 4 is inspired by and pays homage to the four famous Pacific railroad tycoons — Charles Crocker, Collis Huntington, Leland Stanford, and Mark Hopkins, who also built their mansions atop Nob Hill. Throughout the years, the iconic restaurant has remained a local favorite that feels like home. Staff remember patrons' names, their favorite dishes and cocktails. The restaurant still serves its popular classic Chicken Pot Pie with the original recipe from 1976, as well as a range of other traditional and beloved dishes with a modern twist.
2. The Monkey Bar at the Hotel Elysée in New York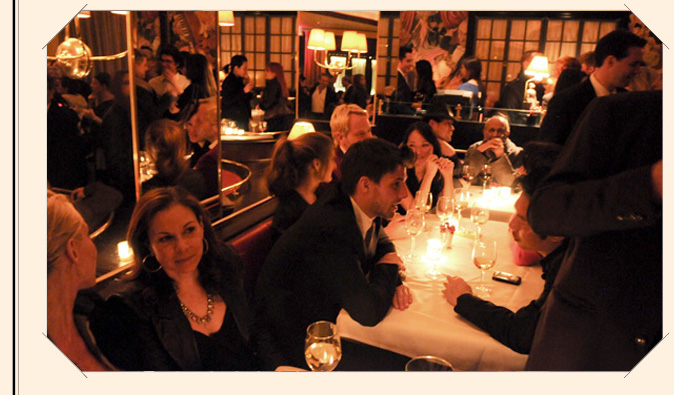 The Monkey Bar at the Hotel Elysée has that special "Vanity Flair." Graydon Carter of Vanity Fair and his partners Jeff Klein and Jeremy King have kept the Monkey Bar operating with the special style and ease you might have expected to see when the doors originally opened in 1936. In keeping with the theme of that era, many guests will enjoy the pianist on Friday and Saturday evenings along with new and old cocktails the talented mixologists are conjuring up. Bustling with today's generation of chic and trendy business men sipping on their "Bourbon Smashes," you can see why this place is so special, not only for the drinks and atmosphere but also for the celebrity sightings!
3. The Sazerac Bar at The Roosevelt in New Orleans
Established in 1938, The Sazerac Bar in The Roosevelt New Orleans, A Waldorf Astoria Hotel, has a long-standing relationship with locals and visitors alike. Named after what many consider to be the world's first mixed drink, the Sazerac Bar boasts talented bartenders who perfect each cocktail they mix. Famous for mixing the impeccable Sazerac and Ramos Gin Fizz, one Sazerac bartender was actually flown to the New Yorker Hotel in New York City by Louisiana Governor, Huey P. Long, to teach its staff how to make the perfect Ramos Gin Fizz. Decorated with world-renowned Paul Ninas Murals and adorned with a grandiose African Walnut Bar, the Sazerac Bar takes its guests back to the grandeur of Old New Orleans.
4. IO at the Godfrey Hotel Chicago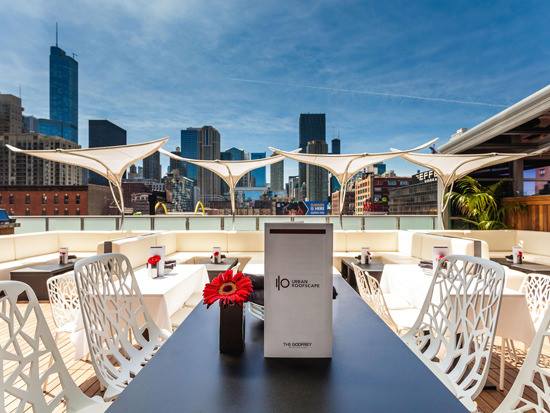 IO at the Godfrey Hotel is definitely a sleek and stylish bar every man must visit in Chicago. IO, located on the fourth floor of The Godfrey Hotel Chicago, presents the largest indoor-outdoor lounge and bar space in Chicago. IO offers year-round, dramatic south-facing skyline views, which are unobstructed due to the unique design of the hotel's retractable roof. The space transitions from a premier destination for corporate daytime meetings and after-work happy hours to late-night lounging with a menu of refreshingly simple Midwest favorites and chef-inspired cocktails from Chef Riley Huddleston.
5. Bourbon Steak at the Four Seasons Hotel in D.C.
Bourbon Steak in Washington, D.C. is a destination in and of itself for travelers coming to the area. The bar and lounge area underwent a recent revamp that elevated its stylish profile with modern accents and sleek, masculine appointments. With a standout beverage program and a cocktail menu that won the Restaurant Association of Metropolitan Washington's "Best Cocktail Program 2015″ Award, the bar is a must for anyone seeking craft cocktails with a hip, yet refined vibe.
Harnessing the fresh ingredients and herbs grown on-site in Bourbon Steak's 500-square-foot garden, the new mixologist, Torrence Swain, can be found shaking up creative concoctions for patrons. In the heart of the District, Bourbon Steak has the second best address on Pennsylvania Avenue, and is just 12 minutes from Reagan Airport. From exemplary service to critically acclaimed fare, hand-made cocktails and a stunning contemporary interior, the bar at Bourbon Steak is a MUST visit for any stylish man.
6. The Lobby Bar at The Brown Hotel in Louisville, Ky.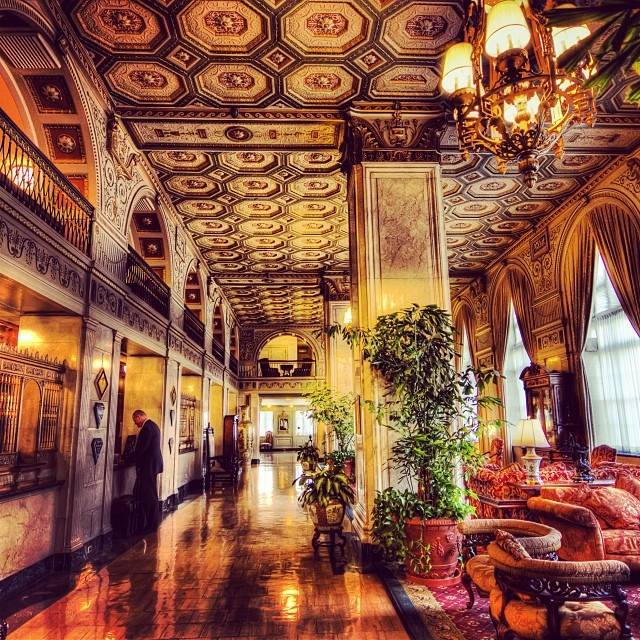 Offering rich history, exquisite décor and sophisticated service, the Brown Hotel is a quintessential Kentucky landmark located in the heart of downtown Louisville. Designed in the English Renaissance style, the hotel's second-floor main lobby features ornate 1920s-style architecture with a two-story, hand-painted coffered ceiling and marble flooring. The beautiful Lobby Bar boasts more than 70 bottles of bourbon and serves classic cocktails, such as the mint julep and Old Fashioned – there's no place more appropriate to try these two Bluegrass State favorites.
More from Culture Cheat Sheet:
Want more great content like this? Sign up here to receive the best of Cheat Sheet delivered daily. No spam; just tailored content straight to your inbox