6 Low-Sodium Sandwich Recipes to Make for Lunch
If you regularly brown bag it to work, there's a good chance you're eating sandwiches on a somewhat regular basis. As good as that decision may be for your budget, it could be harming your health. A study published in the Journal of the Academy of Nutrition and Dietetics found that sandwiches are packed with sodium and, on average, are responsible for about one-fifth of the average American's salt intake.
Too much sodium may raise your blood pressure and increases your risk of stroke, heart failure, osteoporosis, stomach cancer, and kidney disease, according to Live Science. This doesn't mean you need to swear off sandwiches, though. By preparing low-sodium versions, you can cut back on your daily salt intake while enjoying a satisfying lunch. Here are six recipes that will help you consume less salt.
1. Strawberry and Cream Cheese Sandwich
Sweeten your midday meal by preparing Eating Well's strawberry and cream cheese sandwich. One serving contains 128 calories, 4 grams of fat, 191 milligrams of sodium, 4 grams of protein, and 3 grams of fiber.
Ingredients:
1 tablespoon reduced-fat cream cheese
¼ teaspoon honey
⅛ teaspoon freshly grated orange zest
2 slices very thin whole-wheat sandwich bread
2 medium strawberries, sliced
Directions: Combine cream cheese, honey, and orange zest in a bowl. Spread bread with the cheese mixture. Place sliced strawberries on 1 piece of bread and top with the other.
2. Chicken Waldorf Salad Sandwiches
The Dietary Guidelines for Americans recommends limiting your daily sodium intake to less than 2,300 milligrams and further reducing your intake to 1,500 milligrams if you are 51 and older, African-American, or have high blood pressure, diabetes, or chronic kidney disease.
Thanks to Bumble Bee's low-sodium sandwich, you'll find that it's a breeze to stay within those daily recommendations. The recipe for chicken waldorf salad sandwiches yields 2 servings, with each containing 398 calories, 16 grams of fat, 399 milligrams of sodium, and 25 grams of protein.
Ingredients:
1 can white chicken, drained
1 tablespoon lemon juice
⅓ cup low-fat Greek yogurt
2 tablespoons light mayonnaise
¼ teaspoon red chili flakes
½ cup red seedless grapes, halved
½ cup chopped celery
½ green apple, chopped
¼ cup chopped walnuts
2 tablespoons raisins
4 slices whole wheat bread
½ cup raw baby spinach leaves
Directions: In a small bowl, stir together lemon juice, yogurt, mayo, and chili flakes until combined. Gently fold in chicken, grapes, celery, apple, raisins, and walnuts. Divide ½ the salad onto each of 2 slices of bread, topping with half the spinach and remaining slices to make sandwiches.
3. Veggie Sandwich with Edamame Hummus
Filled with wholesome, healthy, and filling ingredients, Prevention's veggie sandwich with edamame hummus is a great source of protein, fiber, and iron. In addition, there's no need to stress about salt with this dish; one serving only contains 380 milligrams of sodium.
Ingredients:
¾ cup frozen shelled edamame
⅓ cup 0% plain Greek yogurt
1 tablespoon fresh lemon juice
3 tablespoons chopped fresh parsley
2 tablespoons chopped fresh chives
1 teaspoon honey mustard
Generous pinch of salt
4 slices thin-sliced whole wheat bread, toasted
¾ cup baby spinach
1 tomato, sliced
1 Kirby cucumber, sliced
Directions: Bring a small saucepan of water to a boil. Add the edamame and cook for 5 minutes, or until tender. Drain well. Place in a mini-processor and blend until finely chopped. Add the yogurt, lemon juice, parsley, chives, mustard, and salt. Process until smooth. Spread 2 tablespoons of the edamame hummus on each slice of bread. Top with the spinach. Spoon on ½ tablespoon of the hummus on top. Top with the sliced tomato and cucumber and a final dollop of hummus.
4. Pear, Turkey, and Cheese Sandwich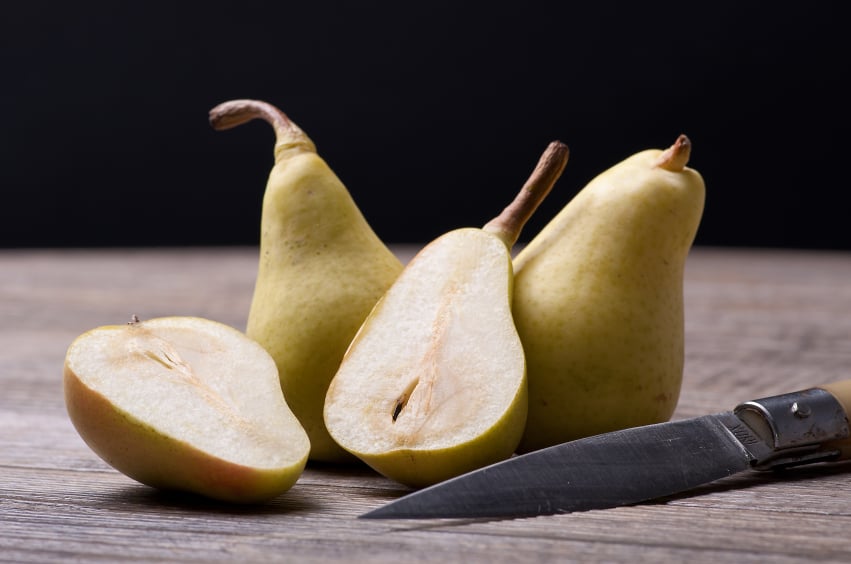 Using low- or reduced-sodium deli meat is a great way to make sure your sandwich isn't packed with salt. USA Pears' pear, turkey, and cheese sandwich, via The Oregon Dairy Council, has 190 calories, 4 grams of fat, 480 milligrams of sodium, 13 grams of protein, and 7 grams of fiber. Consider pairing your sandwich with FatFree Vegan Kitchen's microwave potato chips. There are only 2 milligrams of sodium per serving.
Ingredients:
2 slices multi-grain or rye sandwich bread
2 teaspoons Dijon-style mustard
2 (1-ounce) slices reduced-sodium cooked or smoked turkey
1 pear, cored and thinly sliced
¼ cup shredded low-fat mozzarella cheese
Coarsely ground pepper
Directions: Spread each slice of bread with 1 teaspoon mustard. Place one slice turkey on each slice of bread. Arrange pear slices on turkey and sprinkle each with 2 tablespoons cheese. Sprinkle with pepper. Broil, 4 to 6 inches from heat for 2 to 3 minutes, or until turkey and pears are warm and cheese melts. Cut each sandwich in half and serve open face.
5. Chicken Salad Sandwiches
Better Homes and Gardens' rich and creamy Chicken Salad Sandwich is low in fat and sodium. One serving has 237 calories, 7 grams of fat, 416 milligrams of sodium, 19 grams of protein, and 4 grams of fiber.
Ingredients:
1 cup chopped cooked chicken breast
⅓ cup chopped cored apple, chopped seeded cucumber, or finely chopped celery
1 hard-cooked egg, peeled and chopped
2 tablespoons plain low-fat yogurt
2 tablespoons light mayonnaise or salad dressing
Salt and black pepper
8 slices whole-wheat bread
4 lettuce leaves
Directions: In a medium bowl, stir together chicken, apple, and egg. Add yogurt and mayonnaise; stir to combine. Season to taste with salt and pepper. Serve immediately or cover and chill up to 4 hours. Spread chicken mixture on half of the bread slices. Top with lettuce leaves and remaining bread slices. Cut away crusts if desired. Cut each sandwich into four triangles or squares.
6. Low-Sodium Egg Salad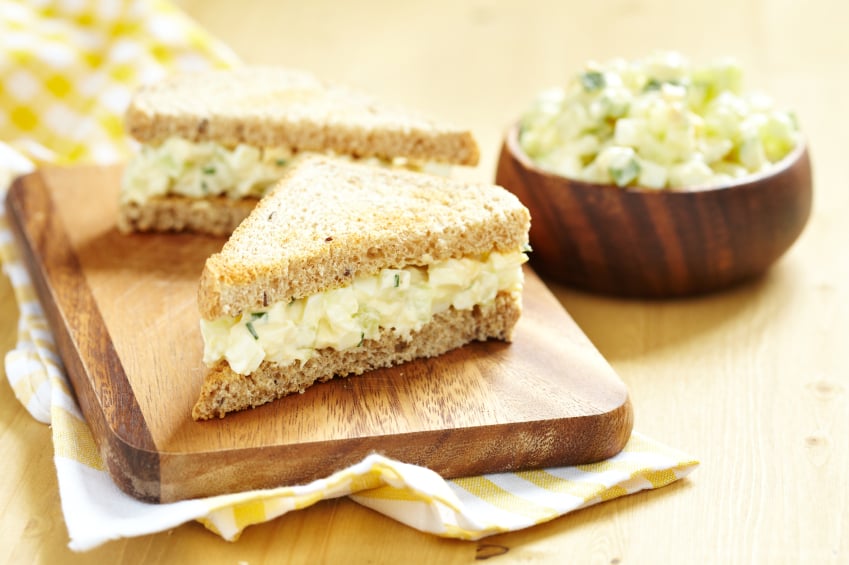 Low Sodium Gourmet creates a healthy reduced-salt sandwich by using sour cream to replace most of the mayonnaise. One serving of this low-sodium egg salad has 155 calories, 11.9 grams of fat, 122.8 milligrams of sodium, and 9 grams of protein. For a satisfying low-sodium sandwich, serve it on wheat bread with lettuce.
Ingredients:
8 hard-boiled eggs, chopped
2 bunches green onion, choppped
⅓ cup light sour cream
2 tablespoon mayonnaise
½ teaspoon ground mustard
1 teaspoon red wine vinegar
½ teaspoon onion powder
⅛ teaspoon black pepper
⅛ teaspoon paprika
Directions: Combine sour cream, mayonnaise, ground mustard, red wine vinegar, onion powder, black pepper, and paprika in a large bowl. Stir until well combined. Add hard-boiled eggs and green onion, stirring until well blended. Sprinkle additional paprika on top for color, if desired.
More from Culture Cheat Sheet: