6 Recipes Celebrating 2015's Best Restaurant Trends
Every year sees new food trends that sweep through restaurants across the country. While not all of these suddenly popular ingredients or techniques are all that great, some are seriously tasty. Just because the movement started in professional kitchens doesn't mean they have to end there, though. We're sharing six recipes highlighting our favorite food trends from 2015, so you can turn your kitchen into the hottest table in town.
1. Low-Brow Ingredients: Ludo Lefebvre's Omelet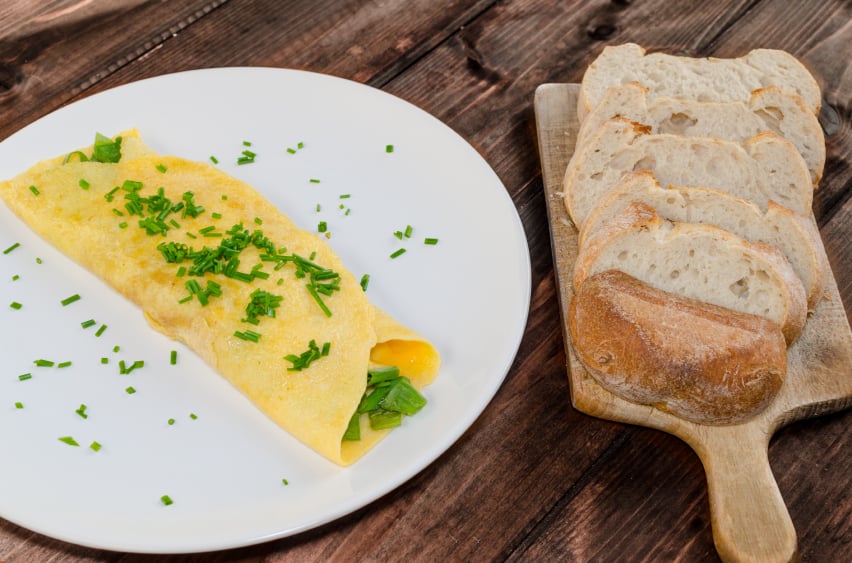 Chefs upended the notion you need pricey eats to make great food this year by using ho-hum ingredients like button mushrooms, seafood seasoning, and Boursin cheese, to craft some stunning plates. Since these items are pretty inexpensive, taking the trend home is actually a pretty great way to save a few bucks. One of our favorite dishes celebrating these supermarket staples is chef Ludo Lefebvre's Omelet, featured in Bon Appétit. It's filled with a black pepper-infused Boursin cheese for a creamy texture and just enough bite. It's definitely not classic French cooking, but it sure tastes great.
Ingredients:
2 large eggs
2 tablespoons unsalted European-style butter, at room temperature, divided, plus more
Coarse sea salt
Freshly ground white pepper
1 ounce Boursin Pepper Cheese
1 tablespoon finely chopped chives.
Directions: Whisk eggs in a medium bowl until thoroughly combined without incorporating too much air. Strain through a fine-mesh sieve to ensure smoothest texture. Heat 1 tablespoon butter in an 8-inch nonstick skillet over medium heat. Once it begins to foam, add eggs and season with salt and pepper. Use a rubber spatula to stir eggs quickly and constantly in a figure-eight pattern while simultaneously moving the skillet in a circle. Scrape down sides as you go.
As soon as eggs begin to coagulate, about 2 minutes, shake skillet to settle uncooked eggs. Keep stirring and moving until eggs are almost cooked on bottom, but still runny on top, about 1 minute. When underside of omelet holds together, remove from heat and let sit 1 minute. Spoon cheese across center, working perpendicular to the handle.
Starting at the edge closest to the handle, immediately roll omelet in 1½-inch intervals, using the spatula, until halfway through. Add another 1 tablespoon butter, then continue to roll and turn onto a plate, seam-side down. Rub butter over top, garnish with sea salt and chives, and serve at once.
2. Cooking with Seaweed: Seaweed Compound Butter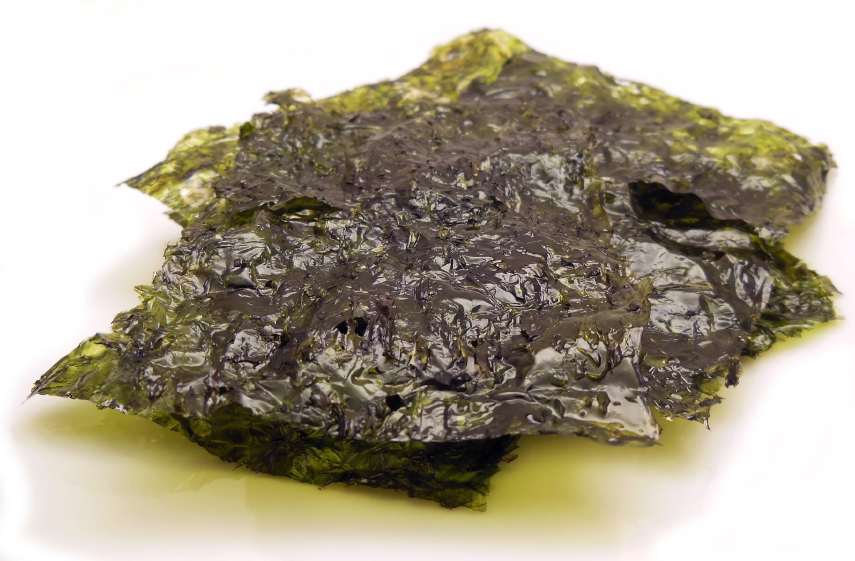 American cooks have finally discovered what Japanese chefs have known all along: seaweed adds tons of depth to different dishes. While the green plant is often used in sushi or broths, its flavor-boosting power works in some applications you might not expect. Take Saveur's four-ingredient compound butter, for example. It contains both miso and seaweed for a huge dose of umami.
Though this recipe was designed to accompany grilled seafood, applications are endless. Add a dollop to some seared salmon, use it to finish an easy pan sauce for steak, or toss it with cooked pasta. You can also make a huge batch and store it in the freezer.
Ingredients:
¼ cup white miso
16 tablespoons unsalted butter, softened
2 tablespoons ground nori
1 tablespoon Chinese hot mustard
Directions: Stir all ingredients in a bowl until well combined. Use immediately, or store in the refrigerator or freezer.
3. Vegetables as the Star: The Broccoli Roast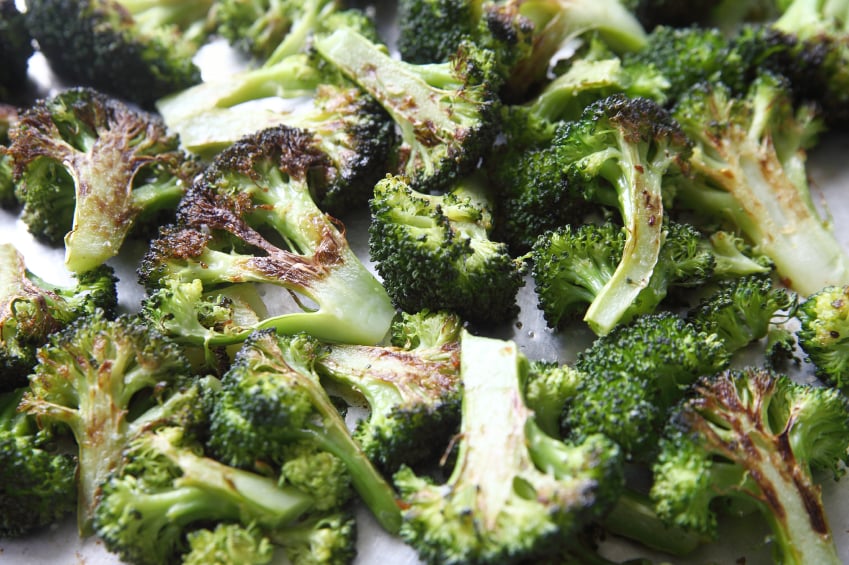 Whether it's a strategy to help diners eat better or they just love the flavor, chefs are crafting more and more dishes with vegetables in the forefront. We've seen avocado toast, entire roasted heads of cauliflower, and Brussels sprouts done a thousand different ways. Perhaps the most fun preparation to date is broccoli treated like barbecue at Burnside Biscuits, a restaurant in the Astoria neighborhood of Queens. Smitten Kitchen was enamored enough with this dry-rubbed, seared broccoli dish to craft a version of the recipe for home cooks. We're so glad.
Ingredients:
Broccoli
Olive oil
1 pound broccoli
Grated aged cheddar
Rub
2 teaspoons packed dark brown sugar
1 teaspoon smoked or regular paprika
1 tablespoon chili powder
1 teaspoon onion powder
Chipotle powder
1 teaspoon coarse or kosher salt, plus more
Cider vinegar dip
1 tablespoon cider vinegar
¼ teaspoon Dijon mustard
Pinch salt
Pinch red pepper flakes
Smoked paprika or chipotle powder
Directions: Preheat oven to 450 degrees Fahrenheit. Meanwhile, coat a large, rimmed roasting pan with a few tablespoons of olive oil. Mix all rub ingredients, adjusting chipotle to your desired level, until combined.
Peel broccoli stems and cut off tough ends. Cut small heads lengthwise through stem to create steaks. Quarter the larger ones. Place broccoli steaks cut-side down in prepared roasting pan. Drizzle with a bit more oil, then season with rub. Roast broccoli for 20 minutes, or until well browned. Flip, and roast for 10 to 15 minutes longer, or until edges are charred.
Meanwhile, combine all cider dip ingredients in a small bowl. Set aside until ready to use.
Sprinkle broccoli with grated cheddar and serve with vinegar dip.
4. All-Day Breakfast: Rosemary Steaks with Cheesy Eggs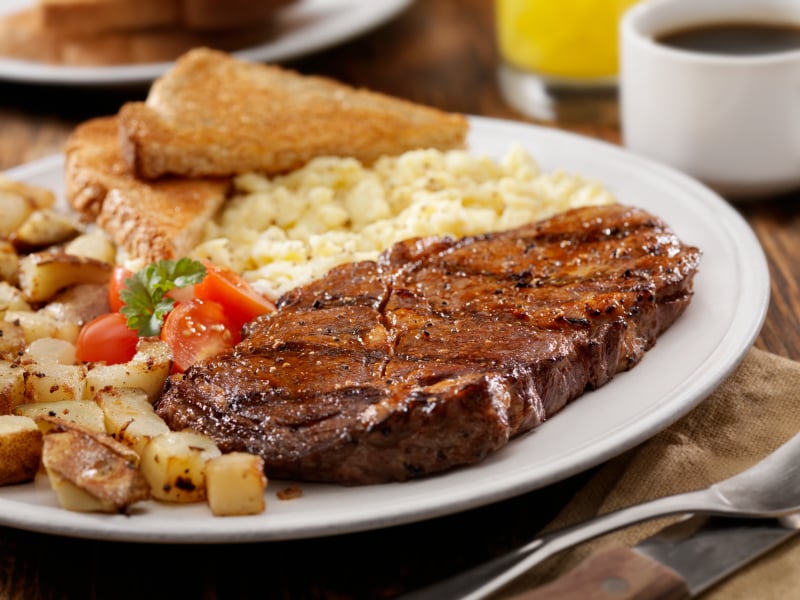 We'll admit, a lot of this has to do with McDonald's rolling out their all-day breakfast menu. Still, even higher end restaurants have embraced breakfast for dinner, partially because it's a crowd-pleasing way to cut costs. St. Louis' Farmhaus featured an entrée consisting of pork belly, house-made breakfast sausage, corn blinis, maple butter, and a butter-poached egg they simply dubbed "breakfast".
Though just about any morning food tastes great later in the day, steak and eggs is the best for nights when you're in need of something hearty. Try Sunny Anderson's T-bones with rosemary butter and cheddar eggs, which she shared with Food Network. Just add a simple salad to complete the meal.
Ingredients:
Steak
2 (3-pound, 1½-inch-thick) T-bone steaks
Kosher salt and freshly ground pepper
1 tablespoon liquid smoke
2 tablespoons vegetable oil
2 rosemary sprigs, halved
Rosemary butter
6 tablespoons unsalted butter
Kosher salt
2 garlic cloves, smashed
3 rosemary sprigs
Eggs
8 large eggs
2 tablespoons unsalted butter
1 cup shredded cheddar cheese
Kosher salt and freshly ground pepper
Directions: Arrange steaks in a shallow dish and season generously on both sides with salt and pepper. Sprinkle liquid smoke over top and drizzle with vegetable oil. Nestle two halved rosemary sprigs in with the meat and let sit at room temperature for 2 hours, turning halfway through.
In a medium saucepan over medium-low heat, combine 6 tablespoons butter with 1 teaspoon salt and cook until butter is melted, stirring to dissolve salt. Add garlic and rosemary. Cook over low heat until garlic is fragrant, 10 to 12 minutes. Remove from heat and discard garlic and rosemary. Set aside until ready to use.
Preheat grill or grill pan to high heat. Remove steaks from dish and grill, about 5 minutes per side for medium rare. Remove from grill, tent with foil, and let rest 10 minutes.
Meanwhile, whisk eggs with a splash of water. Melt 2 tablespoons butter in a large nonstick skillet over low heat, being careful not to let butter brown. Add eggs and cook, whisking, until nearly done, but still a bit wet, 5 to 6 minutes. Remove from heat, add half of cheese, and season with salt and pepper. Continue to whisk until done. Sprinkle remaining cheese over top.
Cut steaks off the bone, cut against the grain, and drizzle with rosemary butter. Serve with eggs.
5. Smashed Cucumber: Chinese Smashed Cucumbers with Sesame Oil and Garlic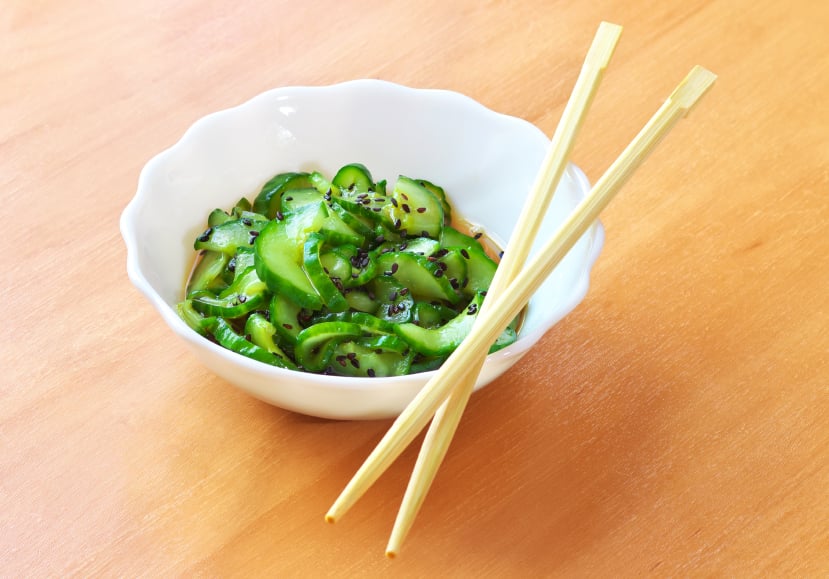 Forget about plates of raw greens, this year was all about the smashed cucumber salad. Chef Jamie Bissonnette told Vogue it was one of his favorite food trends of the year. It seems The New York Times' food section agreed as they shared a smattering of recipes using the technique. Our favorite variation consists of cukes dressed with sesame oil, soy sauce, and garlic. It's a refreshing addition to any stir-fry or noodle dish.
Ingredients:
2 pounds thin-skinned cucumbers
1 teaspoon kosher salt, plus more
2 teaspoons granulated sugar, plus more
1½ tablespoons rice vinegar
2 teaspoons sesame oil
2 teaspoons soy sauce
1 tablespoon grapeseed or extra-virgin olive oil
2 large garlic cloves, minced
Red pepper flakes
Small handful cilantro leaves
2 teaspoons toasted white sesame seeds
Directions: Rinse cucumbers and pat dry. Cut crosswise into 4-inch-long pieces. Cut each piece in half. Place a few cucumber pieces cut-side down on a work surface. Use the side of a knife to gently smash pieces. Repeat with all cucumbers and break them into bite-size pieces, discarding seeds.
Place cucumber pieces in a colander and toss with a large pinch each of salt and sugar. Place an zip-top bag filled with ice over the top and let drain for 15 to 30 minutes at room temperature or 4 hours in the fridge.
Combine salt, sugar, and rice vinegar in a small bowl, stirring to dissolve salt and sugar. Stir in sesame oil and soy sauce.
When ready to serve: Shake excess liquid from cucumbers. Drizzle with oil and toss to coat. Add half the dressing, half the garlic, and a pinch of red pepper flakes. Toss and add dressing until well coated. Adjust seasoning and serve garnished with cilantro and sesame seeds.
6: Sustainability: Stuffed Fried Sardines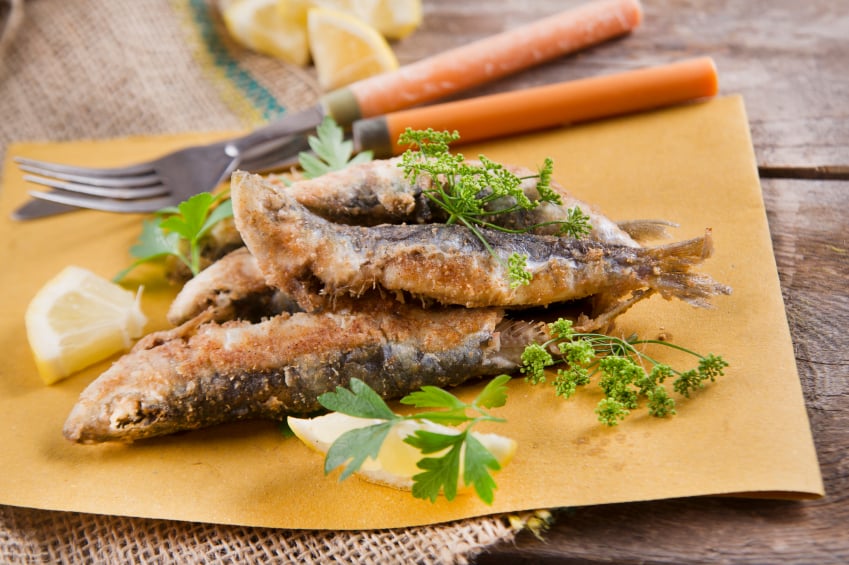 According to the National Restaurant Association, environmental sustainability is one of the biggest trends sweeping the restaurant world. While it applies to virtually every ingredient, seafood is one of the most notable examples since so many species are over-fished. The best types of fish to eat varies with location, but sardines are never going to be a bad bet.
If you're new to sardines, a fried preparation is a great way to go. Chef Janet Mendel's sardines, featured on Food & Wine, contain a ham and raisin stuffing to give the dish loads of flavor. After the fish are stuffed, just batter them, then fry for a few minutes. They're sweet, salty, and crispy. Not a bad way to eat for the environment.
Ingredients:
2 tablespoons chopped raisins
1½ tablespoons fresh lemon juice
1 large scallion, minced
1 tablespoon chopped parsley
1 tablespoon dry breadcrumbs
¼ cup finely chopped serrano ham
½ teaspoon ground fennel or fennel pollen
Salt and freshly ground pepper
16 sardines, butterflied, spines removed, head and tails removed
All-purpose flour
2 large eggs
1 tablespoon water
Extra-virgin olive oil
Directions: In a small bowl, combine raisins, lemon juice, scallion, parsley, breadcrumbs, ham, and fennel. Season with salt and pepper. Open sardines and fill each with a rounded teaspoon of filling over one side. Close, firmly pressing halves together.
Spread flour in a shallow bowl and place eggs in another one. Beat water into eggs. Dredge sardines in flour, dip in egg, letting excess drip off, then dredge once more in flour.
In a large skillet heat ¼ inch of olive oil until shimmering. Add half of the sardines and fry over medium-high heat until golden and crisp, about 3 minutes per side. transfer to a paper towel-lined tray and repeat with remaining sardines. Serve.
More from Culture Cheat Sheet:
Want more great content like this? Sign up here to receive the best of Cheat Sheet delivered daily. No spam; just tailored content straight to your inbox.