6 Recipes That Are Perfect for Grilling in the Fall
Many consider summer to be the only season for grilling, but you can also employ the outdoor oven in the fall before the temperatures drop too low. There are a number of recipes enlisting fall produce that call for the grill, and while these autumnal dishes can be made in the oven, they taste best hot off the grill. One bite of these six fresh fall dinners and you'll see why we implore you to get out in the crisp air and turn up the heat.
1. Grilled Pizza with Steak, Pear, and Arugula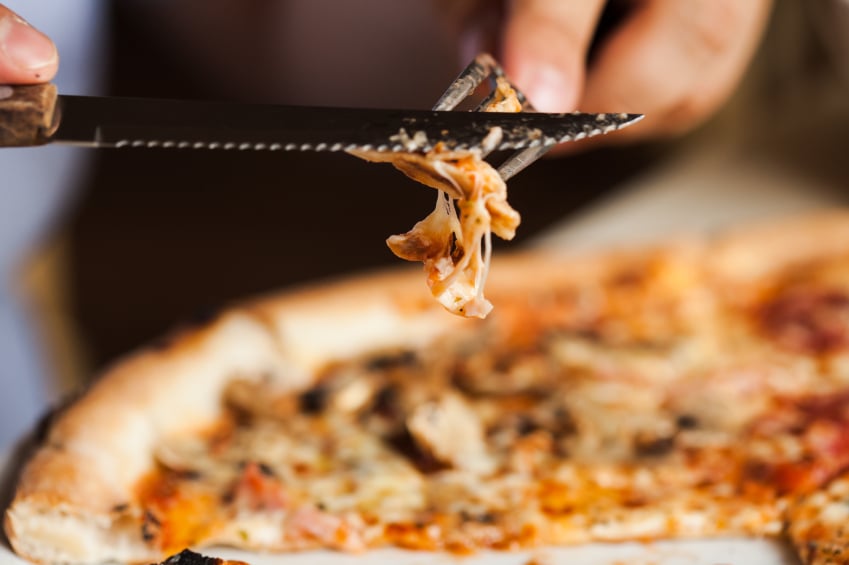 If any dinner idea can motivate you to get outside and turn on your grill, it's pizza. Grilled pizza is in a class of its own, and many fall fruits and vegetables taste best hot off the coals. Prepare to find yourself making more and more excuses to turn on the grill. This grilled pizza with steak, pear, and arugula is one such example. Steak is always in season, but pears are not, so 'tis the time to take advantage of the fresh produce and enjoy it grilled. You can thank Southern Living for this recipe, and soon you'll see how well steak and pears perform on the grill — especially together.
Ingredients:
Vegetable cooking spray
½-pound flank steak
Salt and pepper
1 tablespoon olive oil
1½ teaspoons white balsamic vinegar
1 prebaked pizza crust
1 red Bartlett pear, peeled and sliced
1½ cups fresh arugula, divided
¼ cup crumbled Gorgonzola cheese
Freshly cracked pepper
Directions: Coat cold cooking grate of grill with cooking spray, and place on grill. Preheat grill to 350 degrees Fahrenheit. Season flank steak with salt and pepper.
Grill steak, covered with grill lid, 8 to 10 minutes on each side or to desired degree of doneness. Cover and let stand 10 minutes. Meanwhile, whisk together oil and vinegar in a small bowl. Cut steak diagonally across grain into thin strips. Cut strips into bite-size pieces.
Place pizza crust directly on hot cooking grate. Brush top of crust with oil mixture; layer with pear slices, 1 cup arugula, cheese, and beef strips.
Grill, covered with grill lid, 4 minutes. Rotate pizza one-quarter turn; grill, covered with grill lid, 5 to 6 more minutes or until thoroughly heated. Remove pizza from grill, and sprinkle with remaining ½ cup arugula and freshly cracked pepper.
2. Grilled Scallops, Butternut Squash, and Basil Skewers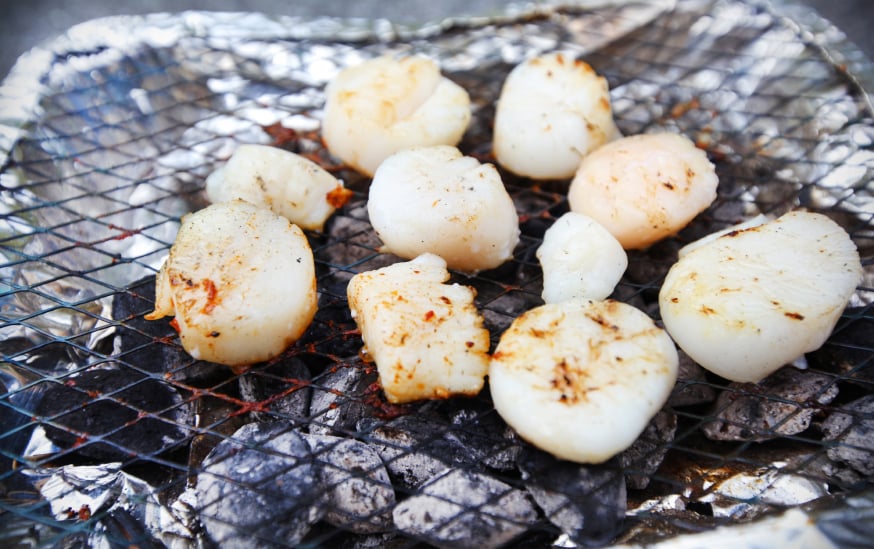 If you want to impress dinner guests, fire up the grill and treat them to grilled scallops and butternut squash skewers. Cook the Story has a recipe for the elegant autumn dish that is full of fresh fall flavors, introducing the sophisticated combination of salty scallops and sweet butternut squash. The flavors pair together on the skewers perfectly, and when garnished with basil and served with a garlic dip, the scallops-and-squash combo will be a hit with everyone.
Ingredients:
6 6-inch wooden skewers
½ of a 3-pound butternut squash, peeled
salt
1 teaspoon sugar
1 tablespoon grape seed or vegetable oil
1 tablespoon butter, melted
6 1-inch-thick sea scallops
12 medium-sized basil leaves
½ cup Greek yogurt
1 small clove garlic, minced
1 teaspoon lemon zest
1 tablespoon chopped fresh basil
1/8 teaspoon black pepper
Directions: Put skewers in water to soak.
Cut the squash into 12 cubes. Put in a medium saucepan with ½ teaspoon salt and the sugar and add water just to cover. Bring to a boil over high heat. Reduce to a simmer and cook until a skewer goes through the middle easily, 4 to 7 minutes. Drain. Toss gently with the oil.
Preheat the grill for direct grilling over medium heat. Toss the butter with the scallops. Onto a soaked skewer, thread a cube of squash, a basil leave, a scallop, and then another basil leave and another cube of squash. Repeat with remaining skewers. Grill until scallops are just cooked through, about 2 to 3 minutes per side.
Meanwhile, in a small bowl combine the yogurt, garlic, lemon zest, chopped basil, black pepper, and 1/8 teaspoon of salt. Serve the skewers with the dip.
3. Grill-Roasted Spaghetti Squash with Molasses and Butter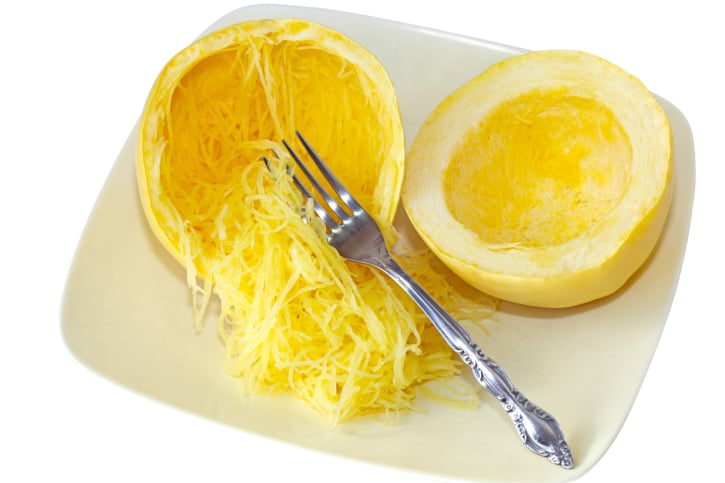 Here's another squash recipe from Fine Cooking that you can make on the grill. You'll have no problem stepping outside for spaghetti squash with molasses and butter. The fall side dish is full of fiber, filling you up the right way, and it's easy on the tastebuds thanks to two ingredients on its short ingredients list. Combining the best of both worlds, you'll see how good healthy food can taste — especially with a little sugar and butter —  and you'll convince even the pickiest eaters to try spaghetti squash hot off the grill.
Ingredients:
1 large spaghetti squash
2 tablespoons unsalted butter
Kosher salt
1½ tablespoons molasses or maple syrup
Directions: Preheat the oven to 325 degrees Fahrenheit.
Cut the squash in half lengthwise and scoop out the seeds. Place the squash, cut side down, on a rimmed baking sheet with just enough water to cover the bottom. Transfer the squash carefully to the oven and bake for 25 minutes. Remove it from the oven carefully; the water should have evaporated; be careful not to splash yourself if a little bit remains. Remove the squash from the sheet and allow it to cool at room temperature, cut sides up, until ready to use.
Just before serving, set the squash, cut side down, on the grill directly over the coals of a small wood-infused fire. Grill for 3 to 4 minutes, then flip, moving the squash to the coolest part of the grill. Add 1 tablespoon butter to each half, season to taste with salt, and drizzle on the molasses. Cover the grill and cook until the butter is melted, about another 2 minutes.
Take the squash off the grill and, using tongs, squeeze the squash halves to release the flesh. Use a fork to gently shred it and mix it with the butter. Serve immediately in the shells.
4. Grilled Pork Chops with Apple-Bourbon Glaze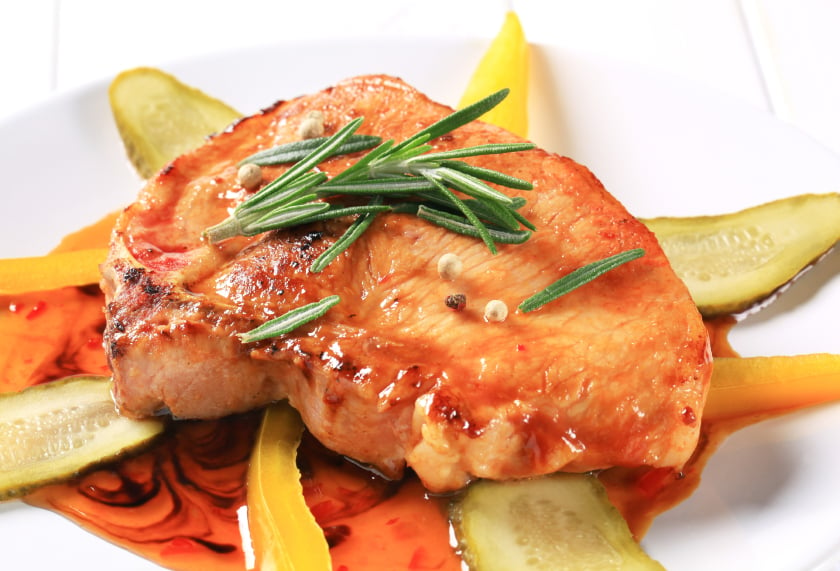 Here's a meaty autumn-inspired meal for all the carnivores in your life. Southern Living has a recipe for grilled pork chops with an apple-bourbon glaze. Get your apples while they're still in season and combine them with bourbon, brown sugar, mustard, and apple juice to make a glaze that is finger-licking good. It will dress your chops, which will go on the grill for 10 minutes or less, resulting in a creative dinner that is a fun fall spin on a traditional pork supper.
Ingredients:
2 tablespoons dark brown sugar
1½ teaspoons kosher salt
1 teaspoon freshly ground black pepper
1 teaspoon garlic powder
½ teaspoon paprika
4 bone-in pork rib chops
2 tablespoons olive oil
Apple-Bourbon Glaze:
1 can frozen apple juice concentrate, thawed
1 cup bourbon
3 tablespoons dark brown sugar
1 tablespoon Dijon mustard
½ teaspoon kosher salt
½ teaspoon dried crushed red pepper
Directions
: Stir together first 5 ingredients. Brush pork with olive oil, and rub both sides with sugar mixture. Place pork in a 9-by-13-inch baking dish; cover and chill 12 to 24 hours. Remove pork from refrigerator, and let stand at room temperature 30 minutes. Meanwhile, prepare glaze.
For glaze: Stir together first 5 ingredients in a medium saucepan. Bring to a boil over medium-high heat. Reduce heat to medium, and simmer, stirring occasionally, 13 to 15 minutes or until mixture has thickened and is reduced to about 1 cup. Stir in red pepper.
Preheat grill between 350 to 400 degrees Fahrenheit. Grill chops, covered with grill lid, 6 to 8 minutes on each side or until almost done. Brush chops with glaze; turn and brush other side with glaze. Grill, covered with grill lid, 2 minutes.
Repeat process, without grill lid, and turning chops every 10 seconds, until glaze thickens and chops are cooked through.
5. Sausage-Stuffed Apples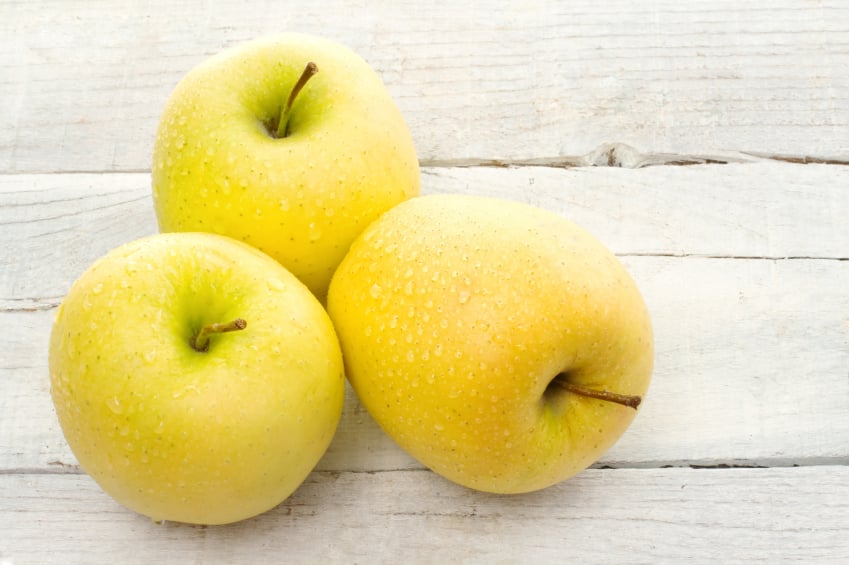 Speaking of creative, this is an especially ingenious dish. The idea of stuffing apples isn't new, but stuffing them with meat certainly is. Check out this recipe for sausage-stuffed apples from Serious Eats. The food formula has you filling your hollowed-out fruit with a stuffing made of sausage, onion, celery, and sage, and then the apples get a drizzle of maple syrup and butter before they're grilled for about an hour. This recipe proves that even the strangest combinations of sweet and savory flavors often work, and now you can say you got your fruit fix while eating meat too.
Ingredients:
3 tablespoons butter
1 small onion, finely chopped
1 rib celery, finely chopped
12 ounces of pork or chicken sausage
4 fresh sage leaves, minced
Kosher salt and freshly ground black pepper
3 to 4 tablespoons maple syrup
6 large apples
1 chunk of applewood or other light smoking wood
Directions: Melt 1 tablespoon of butter in a skillet over medium heat. Add the onion and celery and cook until golden brown, about 4 minutes. Add the sausage and sage. Increase the heat to high and cook, breaking up the meat with a wooden spoon. Cook until brown. Season with salt and pepper to taste. Transfer the stuffing to a strainer set over a bowl to drain off the excess fat, reserving the fat for basting. Let the stuffing cool to room temperature.
Using a melon baller, apple corer, or paring knife, remove the core from each apple to create a large cavity, being careful not to cut all of the way through the apple. Spoon the stuffing into the apples. Pour a little maple syrup over the stuffing. Top each apple with a small piece of the remaining butter. Brush the outside of the apples with the reserved fat.
6. Grilled Mushroom Salad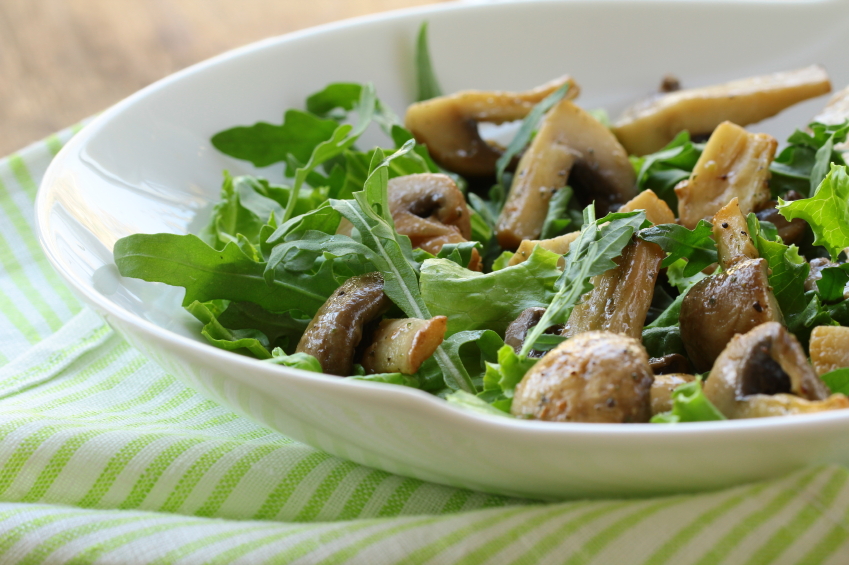 Mushrooms are available year-round, but many are at their peak in the fall and winter. Take advantage by making a mushroom-based salad for a delicious meat-free dish. Epicurious has a recipe for a grilled mushroom salad with frisee and hazelnuts that doesn't take too long to make. The recipe developer explains that grilling your mushrooms intensifies their flavor, and the smoky shrooms taste delicious paired with the elegant combo of frisee, hazelnuts, and a homemade vinaigrette. Serve your salad as a side dish and enjoy fall grilling flavors in a healthy way.
Ingredients:
¼ cup hazelnuts
1 garlic clove, halved
1 pound fresh exotic mushrooms such as chanterelle, cremini, and shiitake, trimmed
1½ tablespoons Champagne vinegar or white-wine vinegar
¾ teaspoon fine sea salt
⅓ cup extra-virgin olive oil
1 head frisée, trimmed and torn into bite-size pieces
1 teaspoon hazelnut oil or white truffle oil
Special equipment: 6 to 8 wooden skewers
Directions: Preheat oven to 350 degrees Fahrenheit. Roast nuts in a shallow baking pan in middle of oven until toasted, 10 to 12 minutes. Wrap in a kitchen towel and rub to remove skins from nuts. Cool nuts and coarsely chop. Rub a large salad bowl with cut sides of garlic, then discard garlic and add nuts to bowl.
Prepare grill for cooking or preheat broiler.
Thread mushrooms horizontally through caps onto skewers and arrange on a baking sheet. Whisk together vinegar and salt in a small bowl, then gradually whisk in olive oil until emulsified. Add pepper to taste. Brush a few tablespoons vinaigrette onto mushrooms and grill 4 to 6 inches over glowing coals, turning once, until mushrooms are golden and tender, 3 to 5 minutes.
Working quickly, remove mushrooms from skewers and slice ¼-inch thick. Add to salad bowl with frisee, remaining vinaigrette, hazelnut oil, and salt and pepper to taste and toss well.
More from Culture Cheat Sheet:
Want more great content like this? Sign up here to receive the best of Cheat Sheet delivered daily. No spam; just tailored content straight to your inbox.