6 Restaurant-Style Recipes That Use Alternative Fats
Though many cultures have always cooked with a variety of fats, many Americans still fear the calorie-laden stuff. Ingredients like avocado and olive oil have had the green light for years, but now, even the butter and animal fats that were shunned for years are finding their place in a healthy diet. The Huffington Post reported findings from a British study that found saturated fat doesn't have any ill affects on heart health. That's great news, because many of these ingredients deliver a serious amount of flavor to food.
You might remember when duck-fat French fries were a huge hit at restaurants a number of years ago. That was just the start, because eateries are embracing things like schmaltz and cultured butter to deliver palate-pleasing dishes to their diners. And while you could attempt constructing ravioli out of paper thin slices of lardo, there are much easier ways to use fat to give your food a boost. These six recipes show that cooking with something other than your standard oil isn't just trendy, it's also delicious.
1. Deviled Eggs with Schmaltz and Gribenes
Made from rendered chicken fat and onions, schmaltz is usually something only found in Jewish comfort foods like matzo ball soup. But adding the flavor of crispy chicken skin to some of your favorite foods makes them even better. Inspired by a deviled egg recipe using bacon on Bon Appétit, MyJewishLearning.com swapped the pork for poultry to great effect. It's also a smart recipe since it uses gribenes, the leftover bits of onion and skin from making schmaltz, as a crispy topping.
Don't be intimidated by making your own rendered chicken fat, because the method is pretty simple. Start cooking the chicken skin and fat over medium heat. Avoid trying to rush this step, because you won't render as much fat and you also run the risk of burning the skin. Once the bits start to turn golden, add your onions, and continue to cook until everything is golden. Strain, and it's ready to use.
Ingredients:
12 large eggs
⅓ cup mayonnaise
1 tablespoon schmaltz
1 tablespoon salt
Black pepper
1 batch gribenes
1 tablespoon chopped fresh parsley
Directions: Place eggs in saucepan large enough to hold them in a single layer. Cover with cold water, and bring to a boil. Remove from heat, cover, and let stand 10 minutes. Transfer eggs to cold water, and let cool completely.
Peel shells from eggs, and cut eggs in half lengthwise.
In a small bowl, mash yolks, chicken fat, and mayonnaise. Season with salt and pepper, to taste. Transfer mixture to a piping bag, or zip-top bag with corner snipped off. Pipe into egg white shells. Garnish with gribenes and parsley. Serve.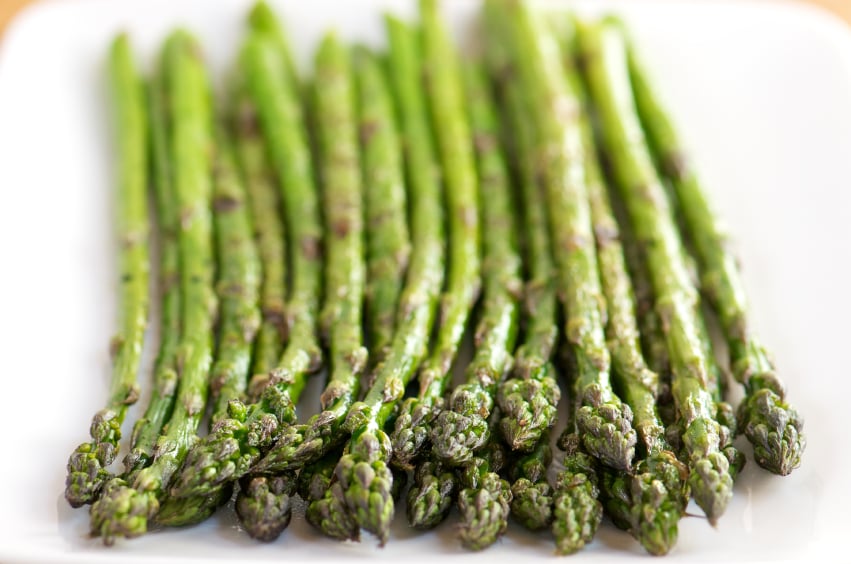 2. Duck Fat Toasts with Quail Eggs and Asparagus Pesto
Nearly every cocktail party on the planet seems to feature an assortment of lackluster crostini. This impressive dish from Katie at the Kitchen Door gives the tiny toasts a completely new look with flavorful duck fat, a creamy pesto, and some fried quail eggs. You can keep this dish vegetarian, or add a little bit of prosciutto to take it over the top.
While this recipe might seem too light, we like to transform it into a more substantial sandwich. Toast a few slices of your favorite bread in the duck fat and slather each with some pesto. Tuck in some prosciutto and a regular fried egg. Lunch at its finest.
Ingredients:
1 garlic clove, chopped
¼ cup pine nuts, lightly toasted
½ cup Parmesan cheese, cut into small cubes
¼ cup olive oil, plus more
10 thin asparagus stalks, ends trimmed
¾ cup packed basil leaves
3 to 5 tablespoons duck fat, divided
1 baguette, sliced on the diagonal, at least 12 slices
Sea salt
12 quail eggs
12 small slices prosciutto
Black pepper
Directions: Pulse garlic, pine nuts, Parmesan, and olive oil in food processor until finely chopped. Add asparagus and basil, and pulse until fully combined. Add additional olive oil, as needed. Set aside.
Heat 2 tablespoons duck fat in a large pan set over medium heat. Working in batches, add baguette slices, and cook until golden on both sides, about 2 to 3 minutes per side. Repeat with remaining toasts, adding fat, as needed. Season toasts with salt, to taste, as soon as they come out of the pan. Set aside.
Lower heat to medium-low, and wait a few minutes for pan to cool. Crack quail eggs into pan, being careful not to break yolks. Cook until whites are set, about 1½ to 2 minutes.
Spread pesto over toast, top with slice of prosciutto, then a fried egg. Season with black pepper. Serve.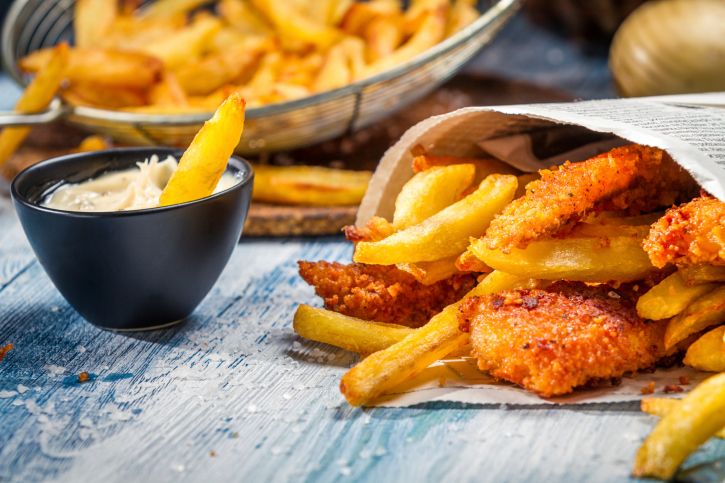 3. Fish and Chips
If you've ever made fish and chips at home, you likely used some sort of light cooking oil. That's pretty typical in this country, but across the pond they're making it with beef fat. It might not be the most pescatarian-friendly option, but omnivores will love the rich taste. BBC's recipe shows you how to do it with a simple method that can be on your table in less than 30 minutes. Though you can use just about any type of flaky white fish for this method, be sure to get something relatively thick. Thin fillets will overcook before the batter has a chance to get crispy.
Ingredients:
Beef fat
4 (6-ounce), thick pieces cold or haddock fillets
8 ounces self-rising flour, plus more
Salt and freshly ground black pepper
10 ounces cold lager, plus more
6 to 8 large starchy potatoes
Directions: Preheat oven to 300 degrees Fahrenheit, and preheat beef drippings to 250 degrees Fahrenheit.
Peel potatoes, and cut into fries. Wash in cold water, drain, and dry on a kitchen towel. Fry potatoes 8 to 10 minutes, until soft, but still pale. Remove from oil, and let cool.
Increase fryer temperature to 350 degrees Fahrenheit. Season fish, and dust with a bit of flour. Sift 8 ounces flour and a pinch of salt into a large bowl. Whisk in the beer, adding more to thin, if necessary. Batter should be thick enough to lightly coat back of a wooden spoon. Season with salt. Coat two fish fillets with batter, and set into preheated fat. Cook 8 to 10 minutes, or until golden and crisp. Remove from pan, let drain, then transfer to oven to keep warm. Repeat with remaining fish.
Return chips to fryer, and cook 2 to 3 minutes, or until golden. Season with salt, and serve with fish.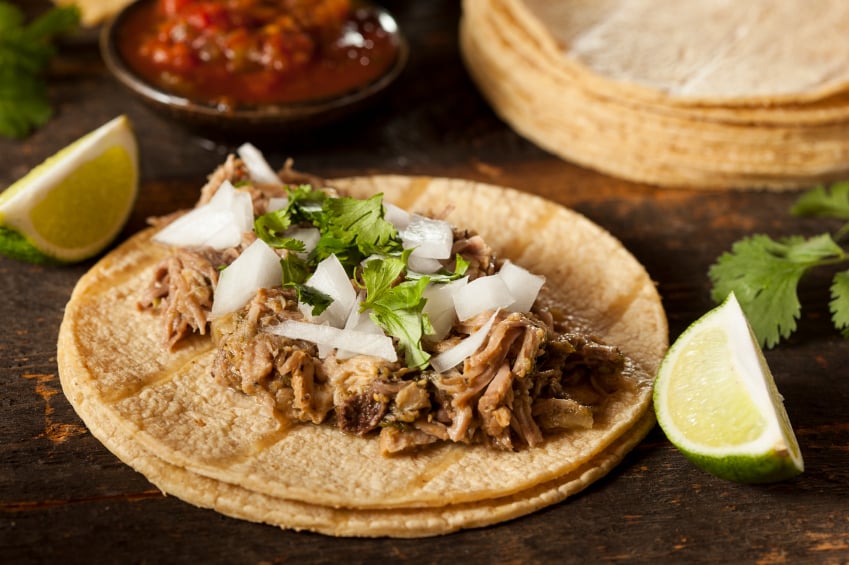 4. Authentic Mexican Carnitas
While most Americans were trying to make everything out of margarine, Mexican cooks kept on using lard for everything from refried beans to tortillas. And the pork fat delivers a flavor that oil just can't match. Taste the difference for yourself with Confessions of a Foodie's carnitas. Consider it the Mexican version of pulled pork. Once cooked, all you needs are a few toppings to make some fantastic tacos.
Ingredients:
Carnitas
2 pounds pork butt
2 pounds pork lard
1 cup water
2 medium oranges, halved
4 garlic cloves, peeled
½ medium onion, peeled
1 large, Mexican cinnamon stick, or 2 small cinnamon sticks
4 bay leaves
2 tablespoons kosher salt
1 tablespoon dried Mexican oregano, lightly crushed
1 teaspoon dried thyme
1 cup evaporated milk
½ cup light-bodied beer
To Serve
Lime wedges
Chopped onions
Cilantro
Salsa
Queso fresco
Tortillas
Directions: Trim excess fat from pork, and cut into three pieces. Set aside. Add lard and water to a cold stock pot, and turn heat to medium-high. Once melted, add meat. Squeeze oranges into pot, then add halves. Simmer over medium heat, uncovered, 1 hour. Stir meat every 15 minutes to prevent sticking.
Add garlic, onion, cinnamon, bay leaves, salt, oregano, thyme, milk, and beer. Stir to combine. Continue cooking over medium heat, 1 hour. Stir every 20 minutes to ensure even cooking. Remove meat, and let cool. Roughly chop, and serve with tortillas and toppings.
5. Cultured Butter Cookies
Though cultured butter is a staple in many European kitchens, it's sort of a newcomer at American grocery stores. Since it's made with live cultures, it has a richer, funkier taste than your standard stick. Simple recipes do the best job of highlighting this ingredient, so The New York Times' basic butter cookies are a great choice. They're perfect as a simple snack, but also go great with some ice cream. You can even make an impromptu strawberry shortcake. Macerate some of the red fruit in a little bit of lemon juice and sugar, spoon over a few cookies, and top with a dollop of sweetened whipped cream.
Ingredients:
2 cups all-purpose flour
½ teaspoon baking powder
¼ teaspoon fine sea salt
16 tablespoons salted, cultured butter, at room temperature
⅔ cup sugar
1 large egg yolk
¼ cup demerara sugar
Directions: In a large bowl, sift together flour, baking powder, and salt. In a stand mixer fitted with the paddle attachment, cream butter and sugar until light and fluffy. Beat in yolk to combine. With mixer set on low speed, add four, and mix to incorporate.
Divide dough into two balls. Roll each into a 1½-inch log. Sprinkle demerara sugar over a sheet of parchment,and roll each log, until outside is fully covered. Wrap logs in plastic wrap, and refrigerate at least 1 hour, or overnight.
Preheat oven to 325 degrees Fahrenheit. Line two baking sheets with parchment. Using a sharp knife, cut each log into ¼-inch-thick rounds. Place cookies on sheets, spacing 1 inch apart. Bake until edges and bottoms are golden, about 18 minutes. Cool 5 minutes on baking sheets, then transfer to wire rack to cool completely. Store at room temperature in an airtight container.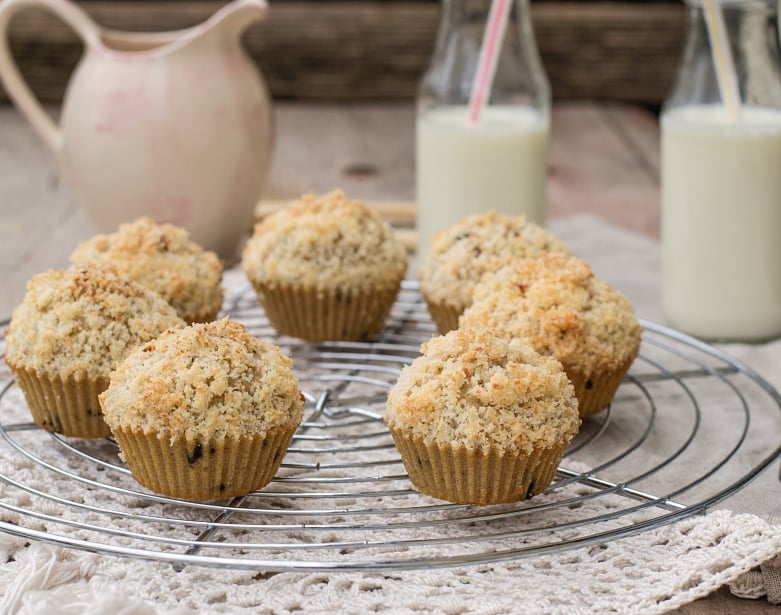 6. Double Coconut Muffins
Coconut oil has been making its way into plenty of foods recently. While it's perfectly fine to use it to sauté some vegetables, the flavor might be best suited for baked goods with a tropical flair. Smitten Kitchen's coconut muffins get a bit of the oil plus some shredded coconut for a double dose of flavor.
Though these morning treats are great the way they are, there are tons of ways to add some different flavors. You could mix in macadamia nuts, cashews, chocolate chips, or some dried fruit. For more of an island feel, try topping them with a glaze made with powdered sugar, lime juice, and a tiny bit of lime zest.
Ingredients:
½ cup virgin coconut oil
¾ cup all-purpose flour
½ cup whole-what flour
1½ teaspoons baking powder
¼ teaspoon salt
1 cup full-fat Greek yogurt, at room temperature
⅓ cup sugar
1 large egg, at room temperature
1 teaspoon vanilla extract
¾ cup sweetened shredded coconut, divided
Directions: Preheat oven to 375 degrees Fahrenheit. Grease 10 muffin cups.
In a small saucepan, melt coconut oil over very low heat. In a medium bowl, whisk flours, baking powder, and salt to combine. Stir in ½ cup coconut. In a separate bowl, whisk egg, sugar, coconut oil, yogurt, and vanilla to combine. Stir into dry ingredients just to combine. Divide batter among muffin cups, and sprinkle with remaining coconut.
Bake until a tester inserted into center comes out with a few moist crumbs attached, about 20 minutes. Transfer to a rack. Let cool.
More from Life Cheat Sheet:
Want more great content like this? Sign up here to receive the best of Cheat Sheet delivered daily. No spam; just tailored content straight to your inbox.