6 Savory Cocktails That Taste Better Than Sweet Drinks
You're either born with a sweet tooth or you're not. For the most part, lacking a craving for sugar is a great thing. You'll probably manage to stick to a healthier diet and won't end up spending a fortune on overpriced pastries. The downside comes when you head to the bar. Even great drink lists usually only feature beverages made with fruit and other sweet ingredients. If you ask for something without all the sugar, you're choices are pretty much limited to martinis.
The best way to enjoy a drink that suits your palate is to make it yourself. It's also pretty easy. All you need to craft your own drinks at home is a selection of glasses, a muddler, a shaker, and a strainer. The next time you're craving a cocktail that won't make your teeth ache, try one of these six recipes.
1.  The Botanist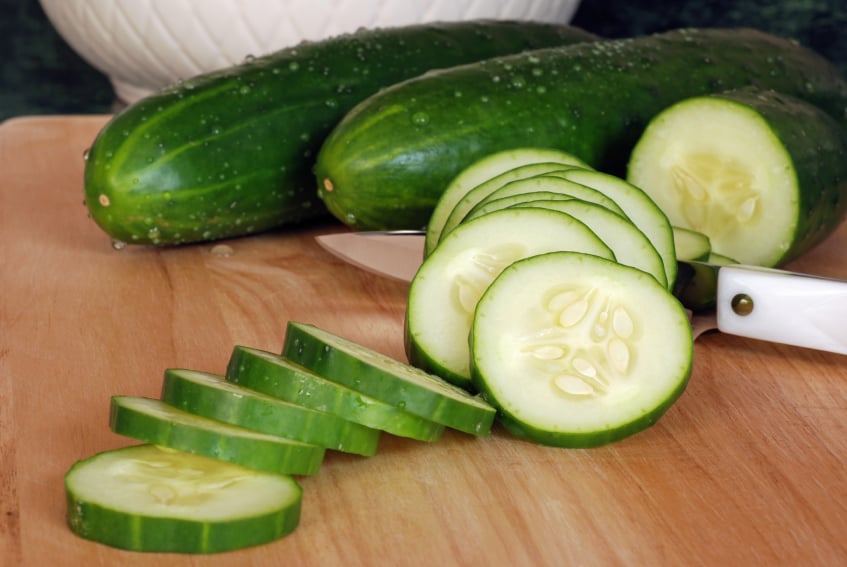 When you're in the mood for something really refreshing, this spicy cucumber and bell pepper cocktail from Tasting Table is hard to beat. A touch of cilantro adds an herbaceous note that makes this drink distinctly savory. Though serving in a bell pepper is fun, it's completely optional. Don't skip the agave, though, because it's more for balance than sweetness.
Ingredients:
1 red bell pepper, refrigerated
3 cucumber slices, roughly chopped
½ small jalapeño, diced
¼ ounce agave
3 to 4 cilantro sprigs, plus more
¾ ounce lime juice
2 ounces reposado tequila
Ice
1 part cumin to 2 parts kosher salt mixed on a shallow plate
Directions: Slice top quarter off bell pepper, and scoop seeds and membrane from the inside. Remove the stem from the top piece, and roughly chop the rest of the top.
In a cocktail shaker, muddle the chopped pepper, cucumber, jalapeño, agave, and cilantro until well combined. Add the lime juice, tequila, and ice. Cover top, and shake vigorously until chilled. Dip bell pepper bottom into the cumin and salt mixture to form a rim. Strain cocktail into pepper, and serve.
2. St. Dill Martini
If you like a dirty martini, you'll go crazy for this salty, vinegary drink from Saveur. With a whole pickle, a bit of the brine, dill, and mustard seeds, it tastes like the bests parts of a charcuterie board. Make it even more deluxe by skewering a few olives along with the dill pickle.
Ingredients:
2 ounces vodka
½ to 1 ounce kosher pickle brine
Splash of dry vermouth
10 to 12 mustard seeds
1 whole baby kosher dill pickle
Sprig of fresh dill
Directions: Place vodka, brine, vermouth, and mustard seeds into a cocktail shaker filled with ice. Shake well. Skewer pickle, and add to a chilled cocktail glass. Strain martini into a glass, garnish with dill, and serve.
3. Hops Cocktail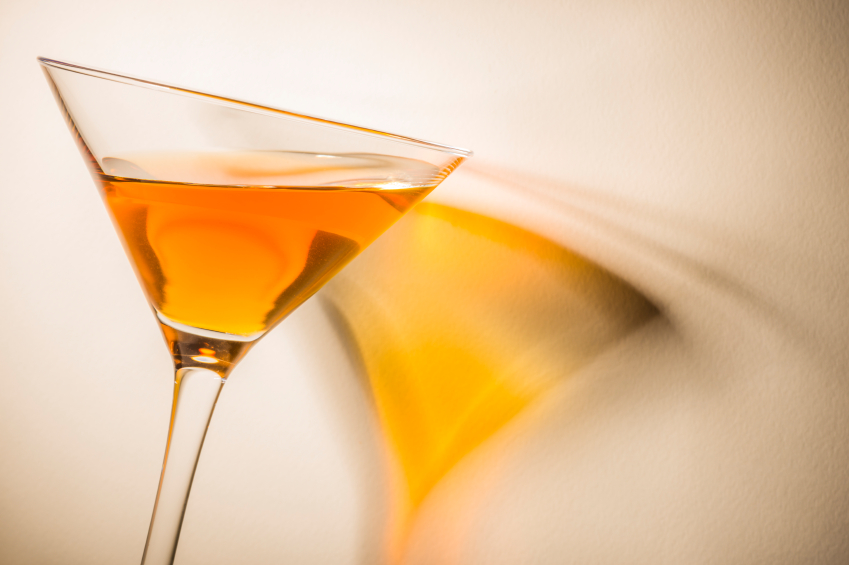 Every beer drinker knows hops are the secret ingredient giving IPAs their bitter bite. Once you develop a taste for the flower, it's easy to get stuck in a beer rut. Give your favorite flavor a new twist with this carrot and hop-infused vodka cocktail from bartender Matthew Biancaniello, featured on Wine Enthusiast. It's sort of like the cocktail crowd's way of juicing.
Though this drink calls for agave, you can also substitute simple syrup. Just bring equal parts water and sugar to a boil, let it simmer until the sugar dissolves, then remove it from the heat. Keep the syrup stashed in your fridge to whip up cocktails whenever you please.
Ingredients:
2 ounces hops-infused vodka
2 ounces fresh carrot juice
¾ ounce fresh lime juice
¾ ounce agave
Pinch of sea salt
Directions: In a cocktail shaker, combine all ingredients except salt with ice. Shake vigorously, and strain into a chilled coupe glass. Garnish with salt, and serve.
4. Rum Caesar with Basil and Roasted Garlic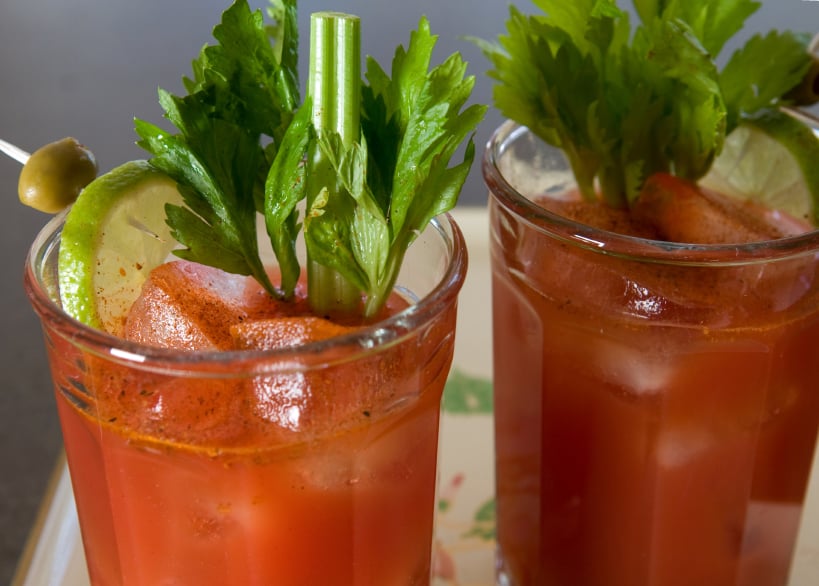 Caesar doesn't just refer to salad. Up in Canada, they've been mixing a drink by the same name since 1969. It's pretty similar to a Bloody Mary, but there's a distinct difference thanks to the inclusion of clamato juice. Though using a beverage filled with the flavors of shellfish sounds odd, it makes a lot more sense when you consider the drink's creator was inspired by the classic Italian pasta of clams and red sauce.
For an interesting twist on the beverage, Cooks with Cocktails' recipe replaces the vodka with rum. A little bit of steak seasoning, some basil, and a touch or roasted garlic make this drink pretty hard to resist. Say hello to your new weekend cocktail.
Ingredients:
1 lime wedge
Rimming salt
2 ounces light rum
1 roasted garlic clove
3 basil leaves
½ teaspoon steak seasoning
1 ounce lime juice
1 ounce pickle juice
2 to 4 ounces clamato juice
Directions: Rub lime wedge around the rim of the glass, then dip it in salt to fully coat the rim.
In a tall glass, combine the rum, garlic, and basil. Muddle until well combined. Top with ice, then add the lime juice, pickle juice, clamato juice, and steak seasoning. Stir to combine, and serve.
5. Savory Avocado Cocktail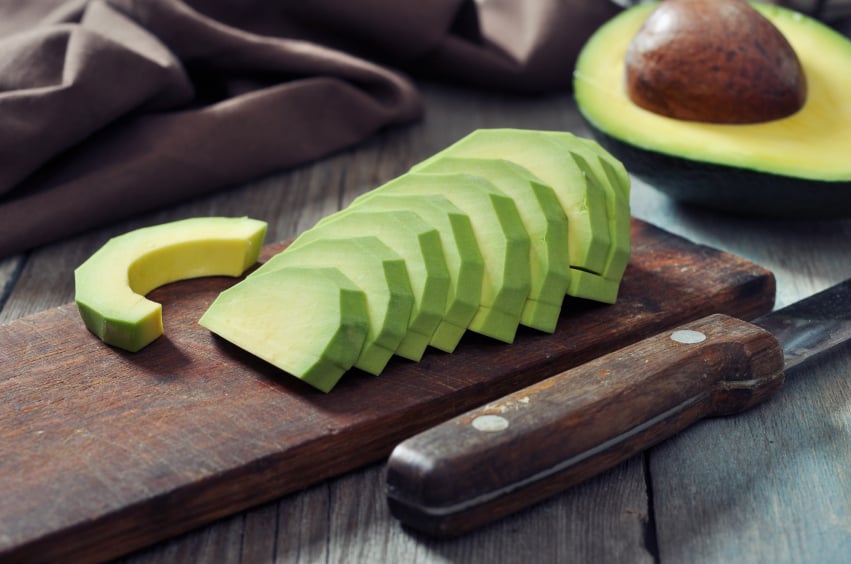 It's pretty standard to pair guacamole with a margarita, so this avocado drink from mixologist Bridget Albert is a little less strange than you might think. It has the all the typical suspects of a traditional margarita, but the avocado gives it a creamy feel, and tarragon adds just a bit of licorice-like flavor. Make a few batches for your next taco night.
Ingredients:
Cocktail
1 avocado
5 fresh tarragon leaves, plus a sprig
1½ ounces sour mix made from 2 cups fresh lemon juice and 1 cup simple syrup
Juice of ½ lime
1½ ounces anejo tequila
½ ounce triple sec
Rim
4 barspoons superfine sugar
1½ barspoons sea salt
Lime wedge
Directions: On a small plate, mix sugar and salt. Rim outside of glass with the lime, then roll rim in salt and sugar to fully coat. Set aside.
Peel avocado and cut into 1-inch cubes. Add one cube of avocado to a mixing glass with the tarragon, sour mix, and lime juice. Muddle until avocado is smooth. Add tequila, triple sec, and ice. Shake ingredients until combined. Strain into a glass by using shaker to strain while pouring through another strainer. Garnish with a tarragon sprig, and serve.
6. Salty Bastard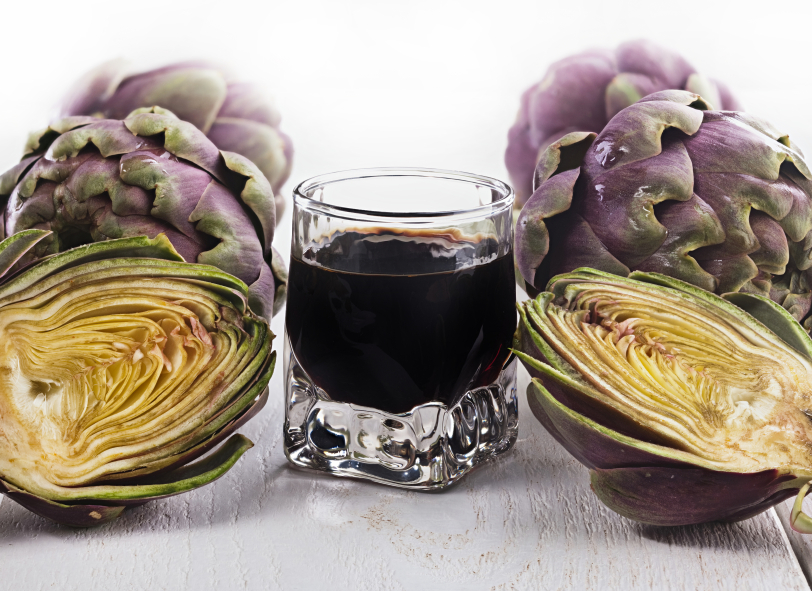 Some savory cocktails look to long ingredient lists to achieve complex flavor, but it's not always necessary. Bartender Erick Castro's inventive cocktail, which he shared with Imbibe, gets all the depth it needs from smoky mezcal and a spirit called Cynar. This unusual liqueur is made with a variety of herbs and plants, most notably artichoke. A little bit of honey smooths out the flavor of the spirit while a touch of salt brings the drink into the savory realm. The method is also incredibly simple. Just stir, strain, and sip.
Ingredients:
2 ounces mezcal
¾ ounce Cynar
¼ ounce honey
Pinch of sea salt
Orange twist
Directions: Combine mezcal, Cynar, honey, and salt in a mixing glass with ice. Stir, and strain into a glass with fresh ice. Garnish with orange twist, and serve.
More from Culture Cheat Sheet:
Want more great content like this? Sign up here to receive the best of Cheat Sheet delivered daily. No spam; just tailored content straight to your inbox.