Simple Recipes Using Refrigerated Pie Dough
As great as it would be to cook entirely from the odds and ends in the refrigerator, most of us lack something to tie the disparate ingredients together. Whether it's dinner or dessert you're after, keeping refrigerated pie dough on hand will enable to you to churn out culinary creations no matter how depleted your pantry. Don't believe it? We've dug up six recipes to show you how. As long as you have a few things on hand, making your next meal will be a complete breeze.
1. Homemade Lemon Toaster Pastries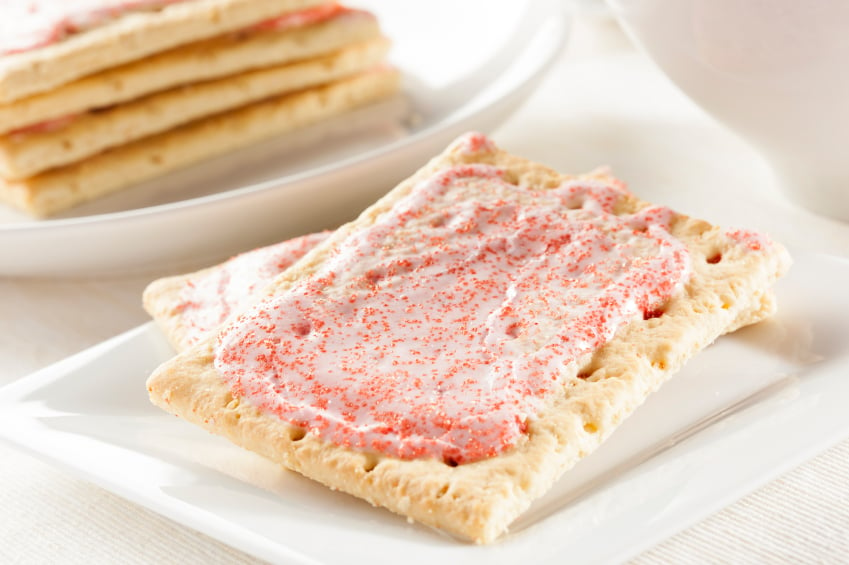 So these are only kind of homemade, but you'll be wowed by how much better toaster pastries taste when you build your own out of refrigerated pie crust and some basic ingredients. Give it a try with these glazed lemon breakfast treats from Tatertots & Jello. Unlike most store-bought versions, this recipe doesn't taste too sweet thanks to the pucker power of lemon curd.
If you prefer a more traditional filling, you can also substitute any type of fruit jam or spread. If you're feeling especially indulgent, you can even fill these toaster pastries with chocolate-hazelnut spread. If you opt for this rich version, use milk for the glaze instead of lemon juice.
Ingredients:
1 (15-ounce) package refrigerated pie crust
1 jar store-bought lemon curd
1 egg
1 tablespoon water
½ cup powdered sugar
1 tablespoon fresh lemon juice
Rainbow sprinkles
Directions: Preheat oven to 425 degrees Fahrenheit. Gently whisk egg and water to combine in a small bowl. Trim each dough round into a square, then cut each into 4 rectangles.
Brush edges of four crust triangles with egg wash, then spread 1 tablespoon lemon curd evenly over the center. Top with a second crust rectangle, and press edges with the tines of a fork to seal. Transfer pastries to a baking sheet and bake for about 12 minutes, or until pastry is golden.
Meanwhile, combine powdered sugar and lemon juice in a small bowl, stirring to remove any lumps.
Remove pastries from oven and let cool. Drizzle glaze over each pastry, then dust with sprinkles. Allow glaze to set, then serve.
2. Broccoli-Cheddar Quiche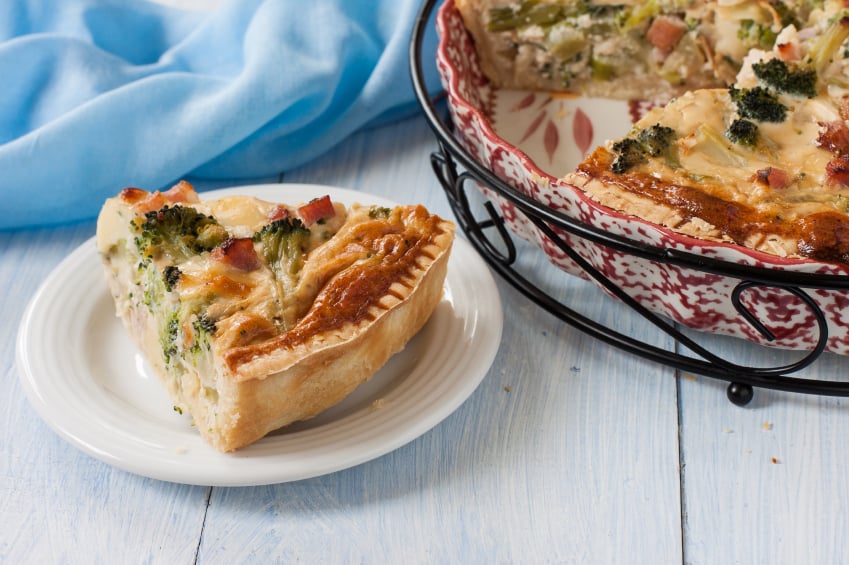 Though quiche might typically appear on breakfast menus, it works just as well for a filling lunch or dinner. The creamy egg pie is also as delicious cold as it is hot, making it perfect to pack for lunch during the week. One of our favorite versions is this broccoli and cheese recipe from Martha Stewart. With so much flavor and texture, you might not even notice it's a meat-free meal.
Ingredients:
All-purpose flour
1 single-crust pie dough
1 tablespoon unsalted butter
2 cups medium diced yellow onion
Coarse salt and pepper
6 large eggs
¾ cup heavy cream
¾ pound broccoli florets, steamed until crisp-tender
1 cup grated sharp cheddar cheese
Directions: Preheat oven to 375 degrees Fahrenheit. Lightly flour a work surface and rolling pin, then roll dough into a 12-inch round. Transfer to a 9-inch pie plate, fold overhang, then crimp edges. Place a sheet of parchment paper over dough and fill with pie weights or dried beans. Bake until edge is dry and lightly golden, about 20 minutes. Remove parchment and weights from crust.
Meanwhile, melt butter in a large skillet over medium-high heat. Add onion, season with salt and pepper, and cook until lightly golden, about 8 to 10 minutes. In a medium bowl, whisk eggs and cream to combine. Add onion, broccoli, and cheese. Season with ½ teaspoon salt and ¼ teaspoon pepper. Whisk to combine, pour into crust, and bake until center is just set, about 40 to 45 minutes. Serve warm or at room temperature.
3. Baked Chorizo Chili Quesadilla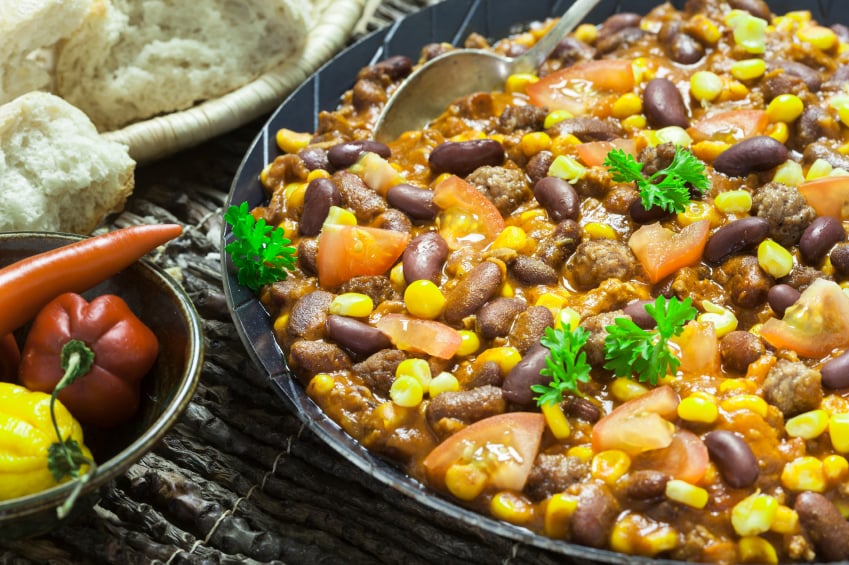 Cooking quesadillas for more than one person doesn't work all that well. Most skillets only accommodate one tortilla stack at a time, so the first quesadilla is cold long before the last one even hits the pan. By making Pillsbury's baked quesadilla, you'll be guaranteed that everyone's supper is hot at the same time. Just cook a simple chorizo and corn filling, then sandwich it between two pie crusts with a sprinkle of cheese. After 30 to 40 minutes in the oven, dinner will be ready.
Ingredients:
1 (10-ounce) box frozen corn in butter sauce
10 ounces ground pork chorizo
½ cup chopped onion
¼ cup tomato paste
1 (15-ounce) can black beans, rinsed and drained
1 (15-ounce) box refrigerated pie crusts
2 cups shredded pepper jack cheese
Directions: Preheat oven to 375 degrees Fahrenheit. Heat a 12-inch skillet over medium-high heat, then add chorizo, onion, and tomato paste. Cook, stirring frequently, for 6 to 8 minutes, or until thoroughly cooked. Add corn and beans and cook 2 to 3 minutes longer, stirring occasionally, until heated through.
Unroll one pie crust on a large ungreased or parchment-lined baking sheet. Sprinkle ⅔ cup cheese over crust, leaving a 1-inch border. Top with chorizo mixture, then another ⅔ cup of cheese.
Moisten edge of crust with water, top with second crust, and press edges to seal. Cut three slits in top crust, transfer to oven, and bake for 30 to 40 minutes, or until golden brown. Remove from oven, sprinkle with remaining cheese, and bake 3 to 4 minutes longer, or until cheese melts. Let stand for 10 minutes. Serve.
4. Sausage and Pepperoni Pizza "Pie"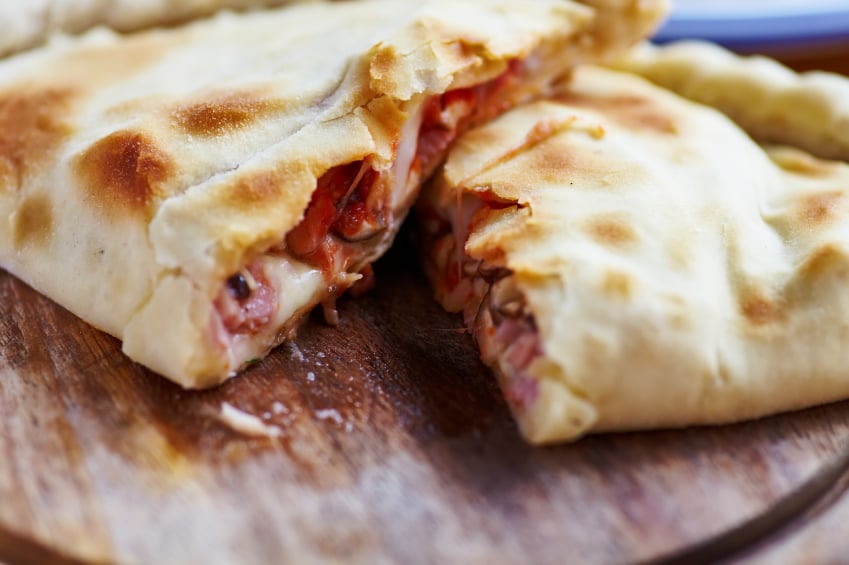 Anyone who likes deep dish pizza will go nuts for this meaty pie from Epicurious. The recipe calls for sausage, pepperoni, and olives, but you can add any of your other favorite toppings. Those who go for supreme will want to add some bell pepper and mushrooms to the mix.
This pie is super speedy to put together thanks to jarred pasta sauce, but some of them can be a little high in sugar. If you're trying to cut back on the sweet stuff, making your own is surprisingly easy. We like this simple version from Rachael Ray Every Day.
Ingredients:
1 pound Italian sausage
1 (15-ounce) package refrigerated pie crusts
1 teaspoon all-purpose flour
1 (8-ounce) package sliced mozzarella
2 cups purchased tomato pasta sauce
1 cup shredded Monterey Jack cheese
3 ounces thinly sliced pepperoni
½ cup pimento-stuffed olives
Directions: Preheat oven to 425 degrees Fahrenheit. In a heavy medium skillet set over medium heat, brown sausage until fully cooked, turning occasionally. Drain excess fat, then dice sausage.
Dust one side of one crust with 1 teaspoon of flour. Transfer to a 9-inch pie pan, flour-side down. Press into pan. Arrange half of mozzarella over crust, followed by ½ cup sauce, and half of Jack cheese. Drizzle another ½ cup sauce over cheese. Top with half of pepperoni and half of sausage. Repeat layer with mozzarella, sauce, Jack, pepperoni, and sausage. Sprinkle with olives and drizzle with remaining sauce. Top with another pie crust and pinch edges to seal. Crimp border.
Transfer to oven and bake until golden, about 40 minutes. Let stand at least 30 minutes. Serve.
5. Chicken Pot Pie Soup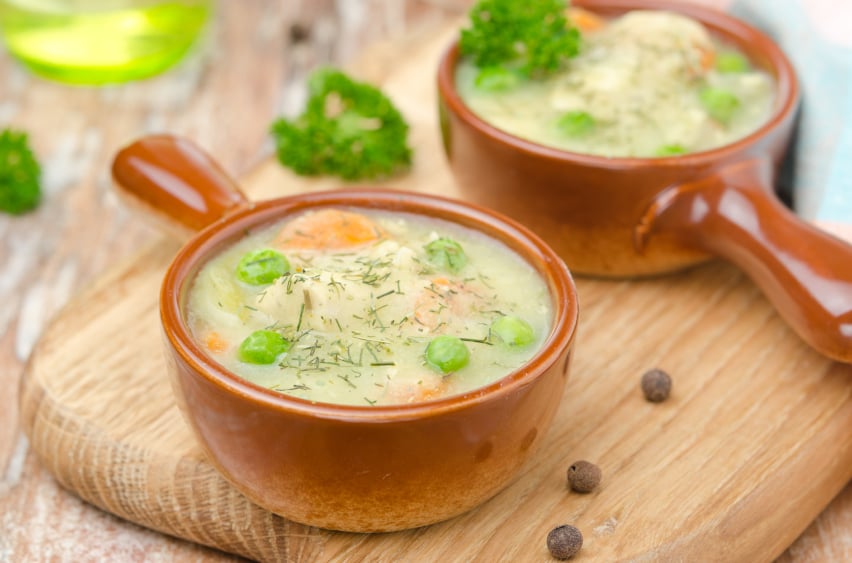 The thought of making chicken pot pie in less than an hour is laughable, unless you cook the filling and pastry separately. Try the method with Food Network's creamy chicken soup. You bake the pie crust as the soup simmers, which drastically cuts down on the total cooking time. The leftover potential is also great because you won't have to worry about the crust getting soggy. Just store the leftover crust in a zip-lock bag at room temperature.
Ingredients:
1 disk refrigerated pie dough
Freshly ground pepper
½ teaspoon plus a pinch of poultry seasoning, divided
2 tablespoons unsalted butter
1 pound boneless, skinless chicken breasts, cut into ½-inch pieces
Kosher salt
2 celery stalks, chopped
1 medium onion, chopped
¼ cup all-purpose flour
3 cups low-sodium chicken broth
1 cup half-and-half
3 medium Yukon gold potatoes, chopped
1 (10-ounce) package frozen mixed peas and carrots
Directions: Preheat oven to 425 degrees Fahrenheit. Unroll pie dough onto a baking sheet and sprinkle with pepper and a pinch of poultry seasoning. Cut into quarters, transfer to oven, and bake until puffed and golden, about 10 minutes.
Meanwhile melt butter in a large pot over medium-high heat. Add chicken and ½ teaspoon salt. Cook without stirring for 2 minutes, then continue to cook, stirring, 1 minute longer. Transfer chicken to a bowl.
Add celery, onion, flour, ½ teaspoon salt, and ½ teaspoon poultry seasoning. Cook, stirring, for 1 minute. Stir in 2 cups water, the broth, half-and-half, and potatoes. Cover and bring to a simmer. Reduce heat to medium and simmer, partially covered, for 10 minutes. Add peas and carrots and simmer until vegetables are tender, about 6 minutes. Return chicken to pot and simmer until cooked through, about 1 minute. Divide among bowls and top with crust. Serve.
6. Mini S'mores Hand Pies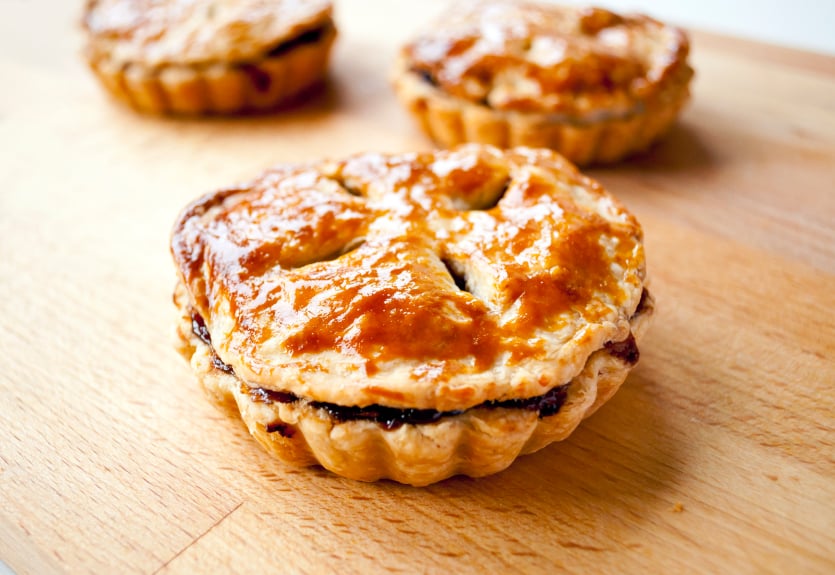 Betty Crocker's campfire-inspired hand pies give you the taste of s'mores without having to build a bonfire. The assembly takes a bit of patience, but the gooey, chocolaty results are worth the extra effort. You can even make these ahead of time and keep them stored in the freezer for when your sweet tooth strikes.
Ingredients:
Crust
1 (15-ounce) package refrigerated pie crusts
½ cup graham cracker crumbs
¼ cup sugar
3 tablespoons unsalted butter, melted
Filling
½ cup marshmallow creme
2 tablespoons cream cheese, softened
2 tablespoons sugar
½ cup chocolate chips
Directions: Preheat oven to 425 degrees Fahrenheit. Line a cookie sheet with parchment paper.
Unroll crusts and cut 10 rounds from each crust using a 3-inch round cutter. In a small bowl, mix cracker crumbs and ¼ cup sugar. Brush both sides of pie crust rounds with butter and dip in crumb mixture to coat.
Place 10 coated pie rounds on prepared cookie sheet. Stir together all filling ingredients. Spoon 1 heaping tablespoon of filling into the center of each round. Top with remaining crust rounds and pinch edges to seal.
Bake hand pies for 9 to 12 minutes, or until golden brown. Serve warm or at room temperature.