Super Easy Recipes for Meals You Can Make in a Rice Cooker
The rice cooker is an underrated kitchen appliance that can be used for more than what its name suggests. Because while the appliance does indeed masterfully boil or steam rice, it also is capable of cooking a number of other foods and dishes – even complete meals. For this reason, the rice cooker is the perfect kitchen appliance to have on hand if you like eating warm homemade dishes, but don't necessarily have the time or energy to prepare them. Before ordering yet another bag of takeout, check out these six dishes that the rice cooker can help you prepare, and let the genius appliance do all the culinary work for you.
1. Red Beans and Rice
Red beans and rice is the perfect dish to have on hand, and this recipe found on Food.com yields 3 to 4 servings, meaning you can have meals prepped for up to four days. Eating on the cheap can be simple, delicious, and nutritious when you make the rice cooker do the work for you. Simply load your ingredients into the cooker and then wait 25 minutes for your meal to come to life. Not only does the rice cooker take care of the cooking for you, this one-pot meal makes dish washing a breeze.
Ingredients:
1 cup white rice
1¼ cups water
1½ teaspoons ground cumin
2 teaspoons kosher salt
3 teaspoons chili powder
1½ teaspoons garlic powder
¾ teaspoon smoked paprika
1 green bell pepper, finely diced
1 yellow onion, finely diced
½ pound ham, finely diced
1  can red kidney beans, drained and rinsed
Directions: In a rice cooker, combine rice, water, spices, bell pepper, and onion. Start cooker. After 10 minutes, stir in ham. Allow cooker to finish its cycle.
Stir in kidney beans and close lid. Leave on warm 5 to 10 minutes until beans are heated through before serving.
2. Mac and Cheese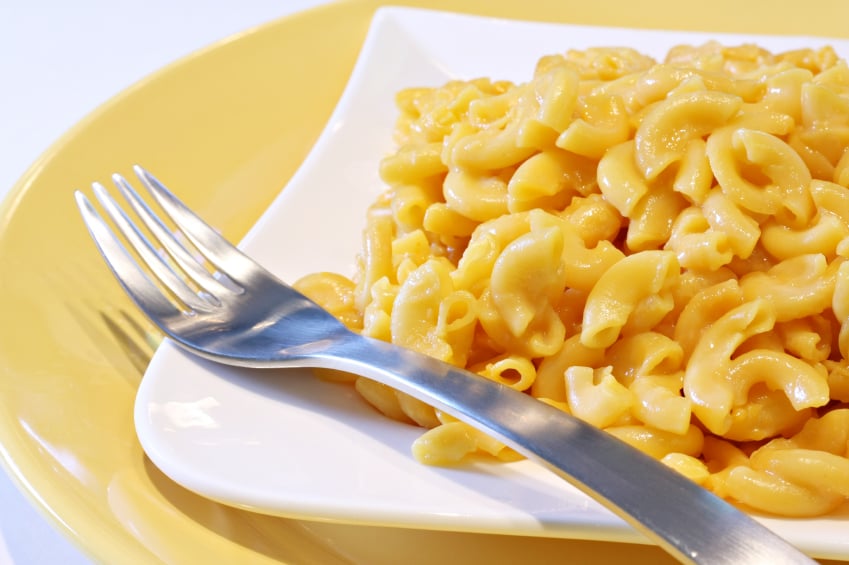 If you're looking to take the more indulgent route, try this rice cooker mac and cheese featured on Food Network. Instead of enjoying your favorite food out of a box, take things up a notch by enlisting your rice cooker to do the grunt work for you. Whether you're enjoying the decadent dish alone or making it for a crowd, you'll never guess just how simple this mac and cheese is to make. Gather your ingredients and set your cooker cycle.
Ingredients:
2 cups elbow macaroni
1 teaspoon kosher salt
1 (12-ounce) can evaporated milk
¾ cup shredded cheddar
¾ cup cubed processed cheese product
½ teaspoon mustard powder
½ teaspoon freshly ground black pepper
Directions: Combine the macaroni, salt, and 2 cups water in a rice cooker. Set the rice cooker on the standard white rice cycle and cook for 30 minutes, or until the cooking cycle is almost complete and most of the water is absorbed.
Stir in the milk, cheddar, processed cheese product, mustard, and black pepper. Close the lid, turn the cooker to the warm setting, and let cook, stirring occasionally so the bottom doesn't burn, until the cheese is melted and the milk is well incorporated, about 10 minutes.
3. Rice Cooker Chicken Chili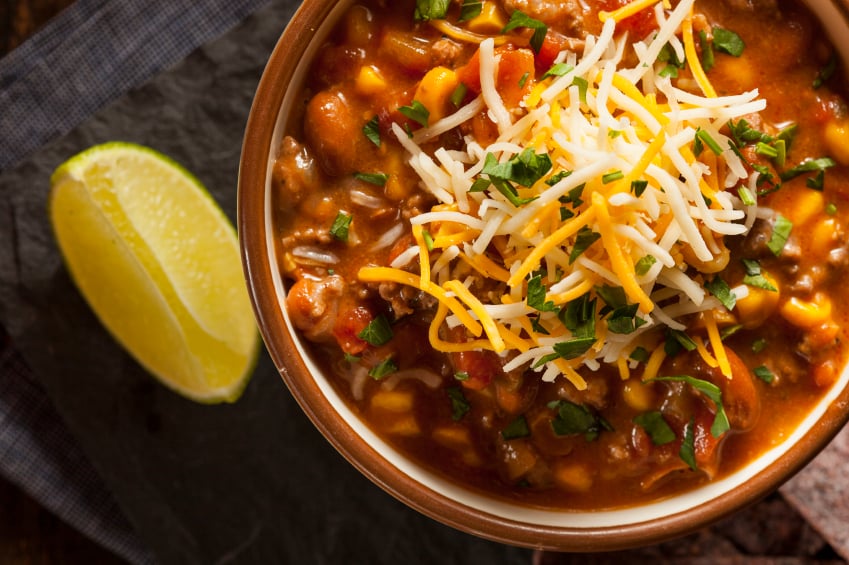 Next we're highlighting this rice cooker chicken chili from Kitchen Ability. No need to pull out the crockpot when you have your trusty rice cooker on hand. This recipe requires nine ingredients and one kitchen pot. In just two cooker cycles, you'll have an abundance of chicken chili that you can share with guests or keep on hand for meaty and easy weekday meals.
Ingredients:
1 pound ground chicken
1 can black beans
1 can kidney beans
1 tablespoon chili powder
1 tablespoon tomato paste
1 cup tomato sauce
½ packet of your choice of chili seasoning
2 teaspoon dried oregano
Salt and pepper to taste
Directions: Place raw ground chicken in rice cooker, turn it on, and let it run until fully cooked. Once browned and fully cooked through, drain excess fat. Add beans, tomato sauce, tomato paste, and stir. Then, add in all seasonings and let simmer for another full cycle on the rice cooker.
4. Mushroom Risotto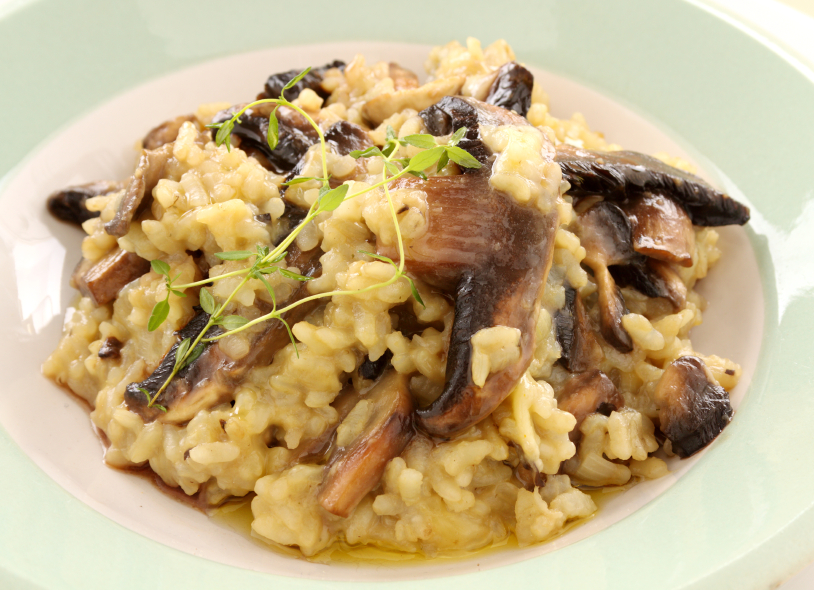 This next recipe for mushroom risotto found on Make Real Food is bound to impress any dinner guest. Once again, the ever faithful kitchen appliance proves that it can master gourmet meals right before our very eyes – all it takes is the correct prep time and ingredients. This creamy and dreamy dish is vegan and gluten-free, meaning even the most picky eaters can indulge in the decadent comfort food that is risotto.
Ingredients:
½ cup minced white onion
3 cloves minced garlic
1 tablespoon olive oil
4 ounces mushrooms, chopped or broken into small pieces
1 teaspoon salt
1 teaspoon thyme
½ cup dry white wine, room temperature
3 cups vegetable broth, room temperature
1 cup Arborio rice
¼ cup lemon juice
2 cups fresh spinach
1 tablespoon vegan butter substitute
1½ tablespoons nutritional yeast
Black pepper, to taste
Directions: Turn your rice cooker on, but leave the lid open Add the oil to the rice cooker and let it heat while you prep the ingredients Add the onions and garlic, and stir to soften. Stir in the mushrooms, salt, and thyme. Add the wine and vegetable broth, stir well. Add the rice, stir well again. Close the rice cooker lid and restart the cooking timer. Let the rice cook for the prescribed cycle, when complete, stir well.
Transfer into a serving bowl and stir in: lemon juice, spinach, vegan butter substitute, nutritional yeast, and black pepper. Stir until the vegan butter substitute completely melts and all ingredients are stirred together well. Serve warm, topped with chopped spinach, if desired.
5. Rice Cooker Frittata
You can also make breakfast in the rice cooker, or enjoy breakfast for dinner. Frittatas are healthy, simple, and satisfying. Packed with omega-3's, they're easy to make, easy to eat, and easy on the waistline. And when you make them in the rice cooker, they require even less effort. Follow this recipe found on Food.com and see what we mean. The frittata food formula only calls for a handful of ingredients, and the dish takes 12 to 14 minutes to make.
Ingredients:
½ cup frozen spinach, thawed, drained and squeezed dry
½ cup fresh button mushrooms, cleaned and sliced
2 green onions, chopped
4 large eggs, beaten
½ teaspoon ground oregano
½ teaspoon ground thyme
1 pinch salt and freshly ground black pepper
¼ cup asiago cheese, grated
Directions: Coat the inner pot with nonstick cooking spray. In a medium bowl, mix together the spinach, mushrooms, and onions. Add the eggs, oregano, thyme, salt, pepper, and cheese. Mix well until all ingredients are combined. Spoon the frittata into the inner pot. Close the lid and press the white rice button and cook for 12 to 14 minutes.
When done, the eggs should be firm on the bottom and almost set on the top. Use a plastic spatula to slice the frittata into wedges and serve.
6. Sausage and Grits Breakfast Casserole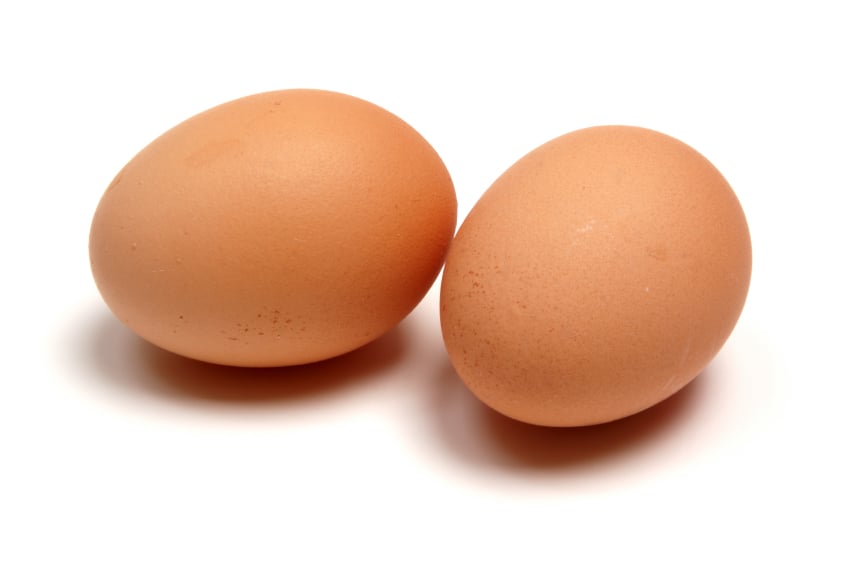 We're finishing off our list with one more breakfast recipe found on Seeded At The Table. The star ingredients of this breakfast casserole are sausage and grits, and the whole dish can be mastered in the rice cooker. Make this casserole the night before and enjoy a relaxing morning 10 hours later. There's nothing like a hot breakfast that requires zero morning prep work, so plan ahead and get ready to praise your rice cooker.
Ingredients:
2 cups water
½ cup quick grits
½ teaspoon salt
1 tablespoon unsalted butter
½ pound breakfast sausage, cooked and crumbled
1 cup shredded cheddar cheese
2 eggs
¼ cup milk
Directions: Mix together the water, grits, and salt in the bowl of the rice cooker. Close the cover and click white rice setting. The grits are done when the rice cooker switches to the warm setting, about 30 minutes.
Turn off the rice cooker, open the lid, and stir the grits while scraping the bottom. Stir in the butter until completely melted, then add in the cooked sausage and cheese.
In a separate bowl, beat together the eggs and milk. Stir into the grits in the rice cooker. Cover again and press the quick cook setting. In about 15 minutes, the setting will automatically switch to warm. Turn the rice cooker off, open the lid, and stir. Close the lid and cook on the quick cook setting for one more cycle. When the rice cooker automatically switches to warm again, turn the rice cooker off, open the lid, and serve immediately.
More from Culture Cheat Sheet: