6 Ways to Use Fresh Spring Fruit in Lunch and Dinner Dishes
The moment we have been waiting for is here: the berries are back. The time for spring fruit has finally come, and it's up to us to celebrate with the farmers' market bounty. Fruits like apricots, honeydew, jackfruit, mango, and oranges should be readily available, and we're highlighting the 6 best recipes in which to use them. Everyone is craving light and fresh spring and summer dishes, and these food formulas aim to please. The dishes are savory and perfect for lunch or dinner, and not only are they delicious, they're also conveniently nutritious. Pack away your winter vegetables for the summer and instead turn your attention to warm weather fruit.
1. Cucumber Honeydew Salad with Feta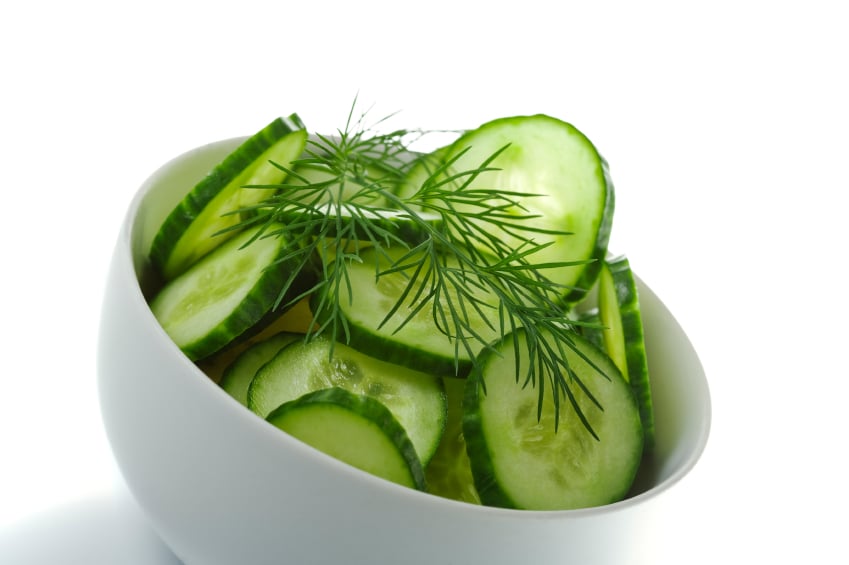 Speaking of light and fresh spring dishes, this cucumber honeydew salad from Two Peas and Their Pod is just that. It doesn't get much better than crunchy cucumbers paired with sweet honeydew and salty feta. The low-calorie salad will help you get your summer clean eating in gear, and remind you that eating healthy with the seasons is easy when good produce is involved. This cucumber honeydew salad is lettuce-free, but there's no room for the greenery when these flavorful vegetables and melons are involved.
Ingredients:
2 tablespoons lemon juice
¼ cup extra-virgin olive oil
1 teaspoon honey
¼ teaspoon salt
1/8 teaspoon ground black pepper
1 medium honeydew melon, seeded and cut in bite-size cubes
1 cucumber, chopped
1/3 cup finely chopped red onion
3 tablespoons chopped fresh dill weed
1 cup crumbled feta cheese
Directions: In a medium bowl or jar, add lemon juice, olive oil, honey, salt, and pepper. Whisk or shake until dressing is combined.
In a large bowl, add honeydew melon, cucumber, onion, and dill weed. Toss to combine. Drizzle dressing over the salad and stir. Top with feta and serve.
2. Roast Pork with Apricot and Shallot Stuffing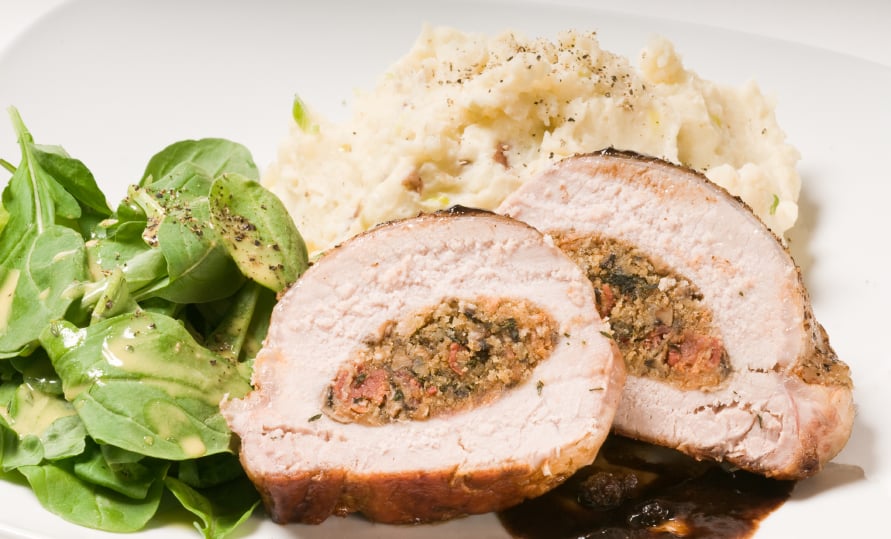 Everyone will be asking you to pass the pork if you happen to stuff it with fresh apricots and shallots as this recipe from Epicurious suggests. The roast pork with apricot and shallot stuffing takes 30 minutes to prep and 1½ hours to cook. It feeds 8 meat-eaters who may want seconds. Making pork with your market goods may not be the first thing that comes to mind when you pull out your apricots, but this recipe will prove that a savory sweet dinner is definitely what you should make with the produce tonight.
Ingredients:
4 slices firm white sandwich bread
½ cup chopped shallots (3 large)
2 tablespoons unsalted butter
½ pound firm-ripe apricots (3 large), cut into 1/3-inch pieces
2 tablespoons chopped fresh flat-leaf parsley
½ teaspoon salt
¼ teaspoon black pepper
1 (3- to 3½-pound) center-cut boneless pork loin roast (3½ inches in diameter), not tied
2 tablespoons vegetable oil
½ cup water
Directions: Preheat oven to 375 degrees Fahrenheit.
Make stuffing: Cut just enough bread into 1/3-inch pieces to measure 1 cup and spread evenly in a shallow baking pan. Toast bread in middle of oven, stirring occasionally, until golden, about 10 minutes, then transfer to a bowl. Leave oven on.
Cook shallots in butter in a large nonstick skillet over moderately low heat, stirring occasionally, until softened, about 10 minutes. Add apricots and cook, stirring, until slightly softened, about 3 minutes. Remove from heat and stir in bread, parsley, salt, and pepper.
Stuff and roast pork: Make a hole for stuffing that runs lengthwise through pork loin: Beginning in middle of 1 end of roast, insert a sharp long thin knife lengthwise toward center of loin, then repeat at opposite end of loin to complete incision running through middle.
Open up incision with your fingers, working from both ends, to create a 1½-inch-wide opening, then pack with all of stuffing, pushing from both ends toward center.
Pat pork dry and season well with salt and pepper.
Heat oil in a 12-inch heavy skillet over high heat until very hot and just smoking, then brown pork on all sides, about 2 minutes. Transfer to a roasting pan and roast in middle of oven until a meat thermometer inserted diagonally 2 inches into meat (avoid stuffing) registers 160 degrees Fahrenheit, 45 to 50 minutes. Transfer to a cutting board and let stand 20 minutes. While loin is standing, straddle roasting pan across 2 burners. Add ½ cup water and deglaze pan by boiling over moderate heat, scraping up brown bits.
Slice meat and serve with sauce.
3. BBQ Jackfruit Sandwiches with Avocado Slaw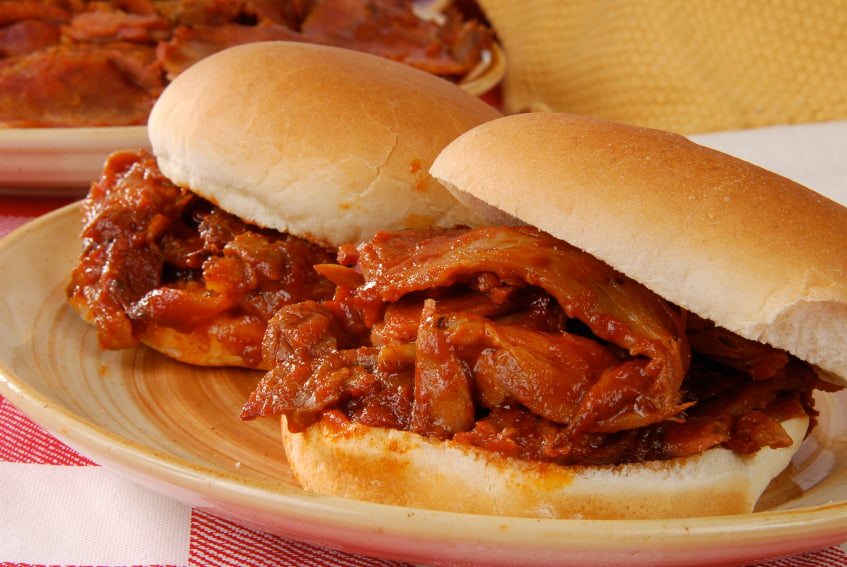 If you make this next recipe from Minimalist Baker, it's safe to say your guests will be blown away. Two words: BBQ Jackfruit. These BBQ jackfruit sandwiches are completely vegan and are the ticket to helping curb your pulled pork craving. Serve it with homemade avocado slaw and you have yourself a summer meal that vegans only dream about eating. To make your BBQ jackfruit, all you need are 2 cans of jackfruit, BBQ seasoning, and (vegan) BBQ sauce. Stuff your buns with the good stuff along with avocado slaw, and you have a meat-free tangy BBQ sandwich that anyone and everyone can enjoy.
Ingredients:
BBQ Jackfruit:
2 (20-ounce) cans young green jackfruit in water
¼ cup BBQ seasoning
¾ cup BBQ sauce + more for topping
Avocado Slaw:
2 cups shredded cabbage + carrots
½ ripe avocado
1 tablespoon maple syrup (or sweetener of choice)
1 lemon or lime, juiced
Salt and pepper, to taste
Water (to thin)
To serve:
4 to 6 whole grain vegan buns
½ cup roasted salted cashews
Directions: Rinse, drain, and thoroughly dry jackfruit. Chop off the center portion of the fruit and discard. Place in a mixing bowl and set aside. Mix together BBQ seasoning and add to jackfruit. Toss to coat. Heat a large skillet over medium heat. Once hot, add 1-2 tablespoons oil of choice and seasoned jackfruit. Toss to coat and cook for 2 to 3 minutes to achieve some color. Add BBQ sauce and thin with enough water to make a sauce. Stir and reduce heat to low-medium and cook for about 20 minutes. Remove lid and stir occasionally.
In the meantime, make slaw by adding all ingredients except vegetables  to a small mixing bowl and whisk to combine. Thin with water until a thick sauce is made, then add veggies and toss to coat. Set in the refrigerator until serving. Once the jackfruit has been properly simmered, turn up heat to medium-high and cook for 2-3 more minutes. Then remove from heat. Place generous portions of slaw on the bottom buns, top with generous serving of BBQ jackfruit, and cashews. Serve with extra BBQ sauce.

4. 30-Minute Sesame Mango Chicken Teriyaki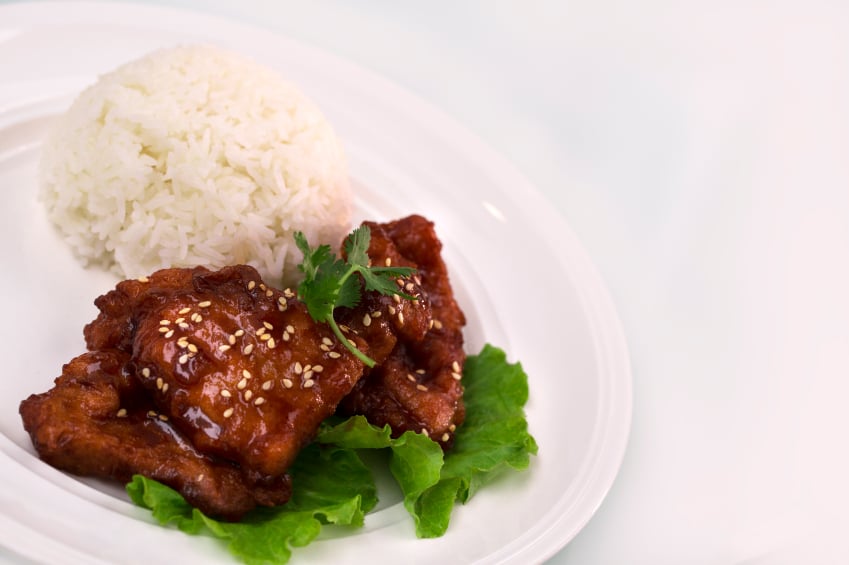 Back to the meat game, we come to this 30-minute sesame mango chicken teriyaki recipe from Pinch of Yum. Some home cooks prefer to leave chicken teriyaki to restaurant chefs, but the dinner is surprisingly easy to make homemade, and as its name suggests, it takes only 30 minutes to create. Cook your rice, perfect your sauce in a food processor, and then get to work on the chicken. You'll end up cooking everything together in a large pan, and then you'll serve the chicken over rice with sesame seeds, green onions, lime juice, and any other flavors that sound good to you.
Ingredients:
Teriyaki Sauce:
15 medjool dates, pitted and soaked in ½ cup hot water
¾ cup soy sauce, reduced sodium
¼ cup rice vinegar
3 cloves garlic
1 tablespoon fresh ginger, minced, smashed, or in paste form
½ cup chicken broth
Other:
1 yellow onion
1 to 2 pounds boneless skinless chicken breasts
¼ cup flour
A generous pinch of salt and pepper
A generous pinch of chili powder
1 tablespoon oil
2 to 3 cups frozen or fresh mango chunks
Sesame seeds, green onions, sesame oil, fish sauce, or limes for
Topping
Cooked rice for serving
Directions: Cook your rice. In a food processor or blender, puree the soaked dates and their water, soy sauce, rice vinegar, garlic, and ginger. Continue to blend or process until smooth. Set aside. Thinly slice the onion. Cut the chicken breasts into bite-sized pieces. Combine the flour, salt, pepper, and chili powder in a shallow dish and dredge each piece of chicken in the flour mixture.
Heat the oil over medium high heat in a large pan. Add the onions and stir fry for a few minutes. Add the chicken and stir fry for a few minutes until browned. Add the sauce and the broth, adding more broth if needed to thin out the sauce. Cover and simmer for 10 minutes. Add the mango chunks, stir, and cover and simmer for another 5 to 10 minutes. Serve over rice topped with sesame seeds, green onions, sesame oil, fish sauce, lime juice, or anything else.
5. Spinach Salad with Orange Vinaigrette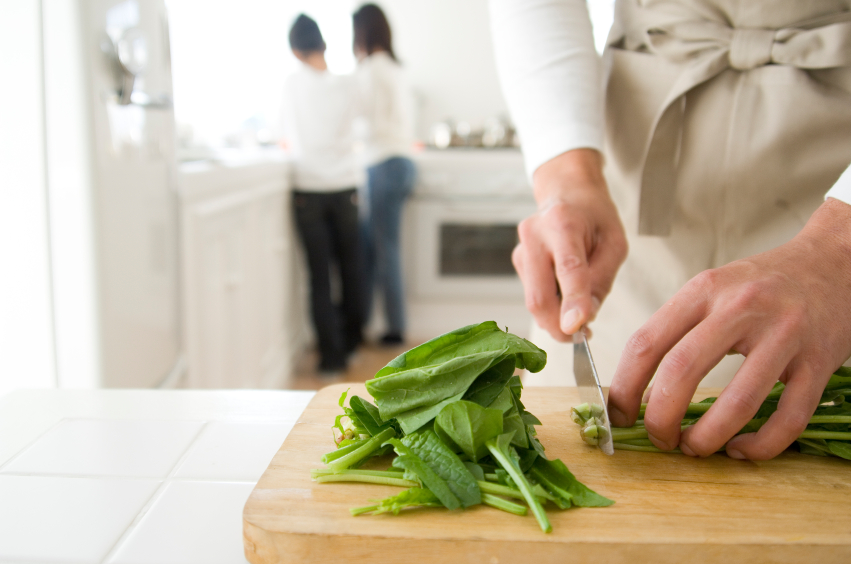 Up next is a purist salad dish that is all about the prosciutto, greens, and homemade vinaigrette. This spinach salad featured on Food Network is the perfect complement to any other main meal you put on the dinner table, as it's light enough to leave room for the fish or meat, but still satisfying thanks to the salty prosciutto and tangy vinaigrette. Instead of employing your spring fresh oranges in juice or smoothies, go the savory route and transform them into an appetizing salad dressing.
Ingredients:
6 slices prosciutto
2 oranges, zested
2 small oranges, juiced or 1 large orange, juiced
2 tablespoons balsamic vinegar
2 tablespoons honey
1 clove garlic, peeled
¾ teaspoon salt
¾ teaspoon freshly ground black pepper
¾ cup extra-virgin olive oil
10 to 12 ounces pre-washed spinach
Directions: Preheat the oven to 350 degrees Fahrenheit. Place the prosciutto slices on a baking sheet and bake until just crisp, about 10 minutes. Let cool. Crumble the prosciutto slices into a container and store in the refrigerator.
In a blender, combine the orange zest, orange juice, balsamic vinegar, honey, garlic, salt, and pepper. Blend until smooth. With the blender running, add the olive oil in a steady stream until combined. Transfer to a container and store in the refrigerator. To serve, put the spinach in a large bowl. Toss with enough of the vinaigrette to coat the spinach. Sprinkle with the crisp prosciutto crumbles, toss again, and serve.
6. Fried Rice with Spring Fruit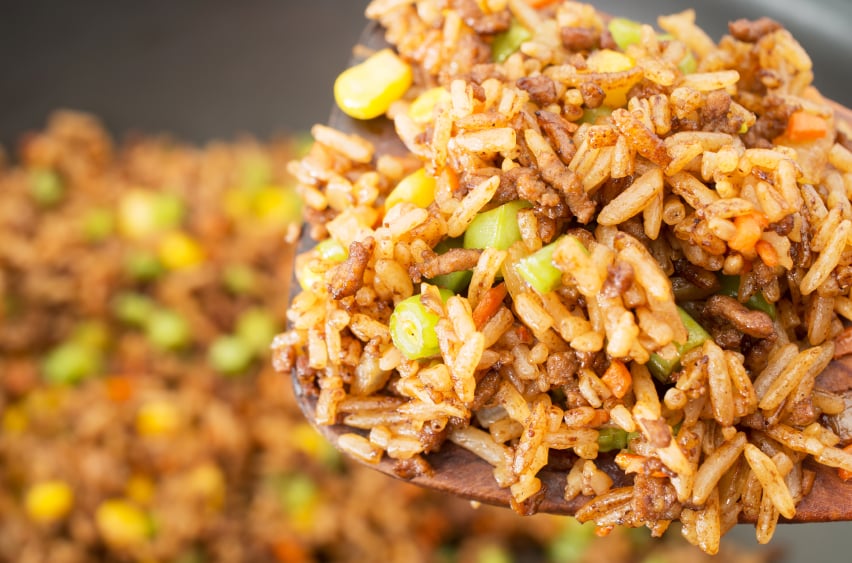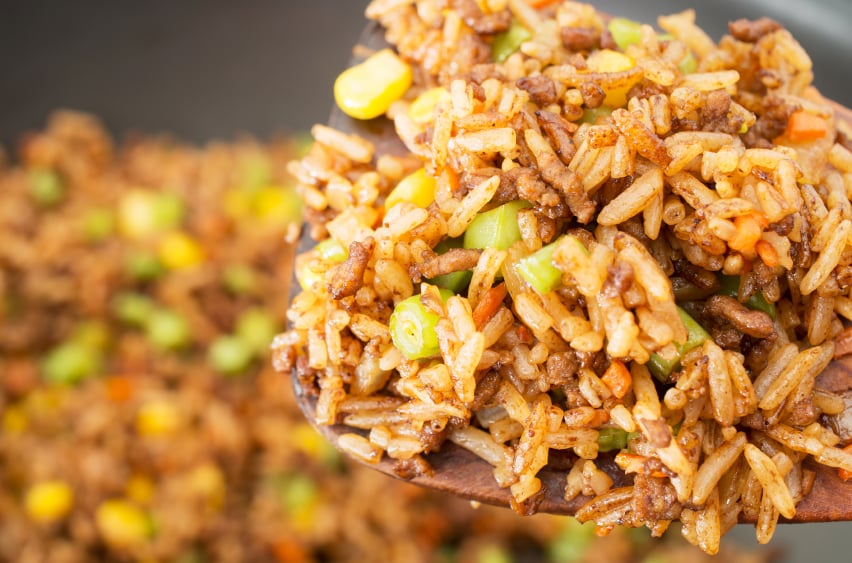 This pineapple fried rice from Natasha's Kitchen will make a believer out of even the biggest leftovers naysayer. Instead of throwing out your leftover rice, learn how to make it shine in a vegetarian dish that enlists another spring fruit: pineapple. This Pineapple Fried Rice can be done in under 10 minutes and it'll satiate you and your family the healthy way. Serving 4 and costing you only $5 to $6 and 10 minutes of your time, there's no reason you shouldn't make this dish tonight. We promise you'll look at leftovers in a whole new light.
Ingredients:
1½ cups fresh pineapple, cut into ½-inch pieces
½ sweet red bell pepper, diced
½ small onion, finely diced
1 tablespoon ginger, grated
1 garlic clove, pressed or finely diced
1½ to 2 tablespoons soy sauce, or to taste
2 cups cooked white rice, cold
1 teaspoon sesame oil, optional (but highly recommended)
Garnish:
2 tablespoons green onions, thinly sliced
1 tablespoon sesame seeds, optional
Directions: Rinse rice thoroughly and cook according to package instructions. Prep your vegetables before firing up the stove. Heat a heavy-­bottomed skillet or wok over medium heat, then swirl in 2 tablespoons oil. Add diced onion and cook about 1 minute or until softened. Next toss in pressed garlic and grated ginger and saute another minute, stirring constantly.
Increase heat to medium/high and add diced bell pepper with pineapple and continue to saute everything for 3­5 minutes or until golden, stirring frequently.
Add 2 cups cooked rice and 2 tablespoons of soy sauce, or to taste. Continue to stir over the heat another minute or until soy sauce is well blended in. Turn off the heat and stir in 1 teaspoon sesame oil, or to taste. Plate the rice and sprinkle each bowl with some chopped green onions and sesame seeds if desired and serve warm.
More from Culture Cheat Sheet: