Quick and Easy Lunch Recipes That You Don't Have to Cook
When temperatures soar into the triple digits, turning on the oven or stove is out of the question. But a heat wave doesn't mean you have to give up delicious from-scratch meals entirely. You just need to rethink your approach to cooking. With gardens and farmers' markets overflowing with fresh produce, now is the time to focus on simple, no-cook recipes that let natural flavors shine. Best of all, this approach to meal planning can be easy on your wallet as well. Here are seven recipes for no-cook lunches that will keep your taste buds happy all summer long.
1. Zucchini and Bean Salad with Bulgur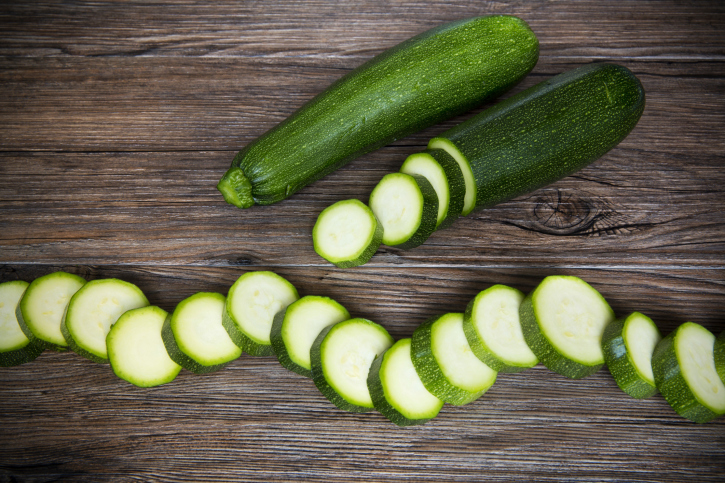 Summer is the season for zucchini, as anyone who's ended up with a bountiful crop from their home garden knows. Even if you don't have a backyard plot, you can take advantage of rock bottom prices at the supermarket to whip up this healthy veggie salad from Real Simple.
Ingredients:
¼ cup olive oil
2 tablespoons red wine vinegar
Kosher salt and black pepper
2 medium zucchini (about 1 pound), halved and thinly sliced
1 (15.5-ounce) can kidney beans, rinsed
1 small shallot, thinly sliced
¼ cup chopped salted roasted almonds
¼ cup chopped fresh dill
1 cup bulgur
1 cup goat cheese, crumbled (4 ounces)
Directions: Whisk together the oil, vinegar, ¾ teaspoon salt, and ¼ teaspoon pepper in a large bowl. Add the zucchini, beans, shallot, almonds, and dill and toss to combine. Let stand, tossing occasionally, until the zucchini softens slightly, 10 to 15 minutes.
Meanwhile, place the bulgur in a separate large heatproof bowl. Add 2 cups boiling water, cover, and let stand until tender, 12 to 15 minutes; drain.
Serve the bulgur topped with the zucchini salad and sprinkled with the goat cheese.
2. Gazpacho Andaluz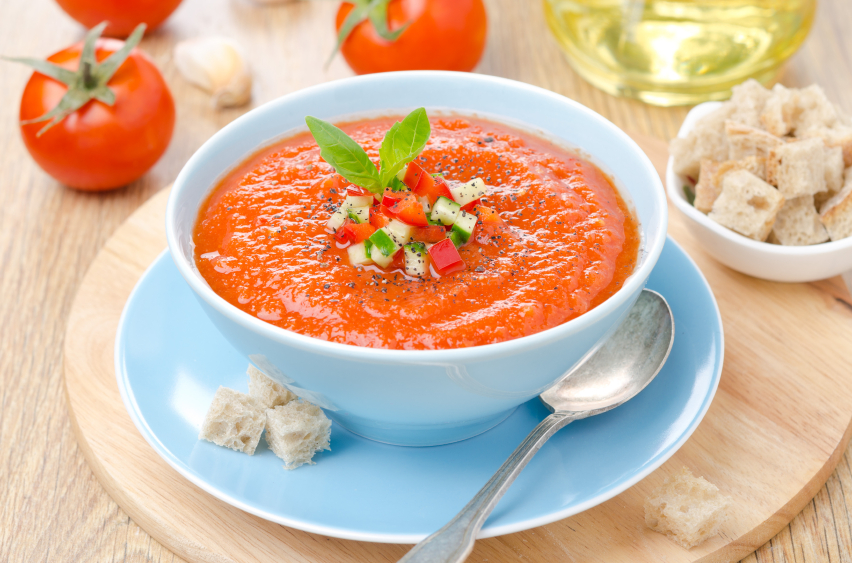 Gazpacho is another no-cook dish that is best made in summer, when this recipe's central ingredient, tomatoes, are in season. You'll need to prepare this cold soup ahead of time so that it has time to chill in the refrigerator before serving. Recipe from Saveur.
Ingredients:
1 slice country-style bread, about 1-inch thick, crusts removed
2 small cucumbers, peeled, seeded, and chopped
2 pounds very ripe tomatoes, seeded and coarsely chopped
1 clove garlic, peeled and chopped
2 tablespoons sherry vinegar
½ cup extra-virgin olive oil
Salt
Optional Garnishes
½ green pepper, seeded and finely diced
½ cucumber, peeled, seeded, and finely diced
1 cup (½-inch) croutons
½ small white onion, peeled and finely diced
1 small tomato, seeded and finely diced
Directions: Soak bread for ½ hour in a small bowl in water to cover. Squeeze out moisture with your hands.
Purée bread, cucumbers, tomatoes, garlic, vinegar, olive oil, and 1 cup water in a food processor until very smooth.
Push purée through a coarse sieve with the back of a wooden spoon. Gazpacho should be fairly thin. Season to taste with salt.
Chill gazpacho in refrigerator for at least 2 hours. Adjust seasoning. Serve in individual glasses, or in soup bowls with garnishes on the side.
3. Curried Tofu Salad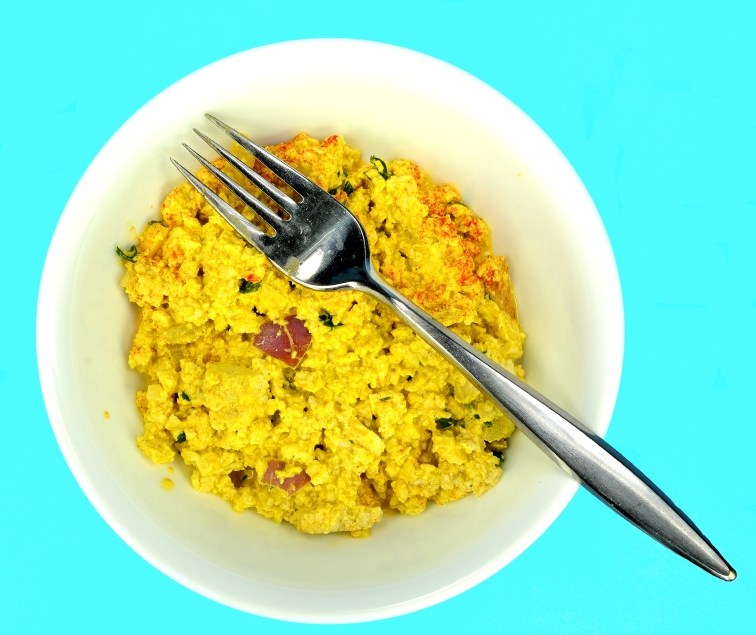 Tofu is an excellent source of cheap protein, since it usually costs about a dollar less per pound than boneless chicken breasts or ground beef. The hot curry powder in this recipe from Eating Well makes up for tofu's otherwise lackluster flavor. Once assembled, the salad will keep for two days in the fridge.
Ingredients:
3 tablespoons low-fat plain yogurt
2 tablespoons reduced-fat mayonnaise
2 tablespoons prepared mango chutney
2 teaspoons hot curry powder, preferably Madras
¼ teaspoon salt
Freshly ground pepper, to taste
1 (14-ounce) package extra-firm water-packed tofu, drained, rinsed, and finely crumbled
2 stalks celery, diced
1 cup red grapes, sliced in half
½ cup sliced scallions
¼ cup chopped walnuts
Directions: Whisk yogurt, mayonnaise, chutney, curry powder, salt, and pepper in a large bowl. Stir in tofu, celery, grapes, scallions, and walnuts.
4. BBQ Chicken Sandwiches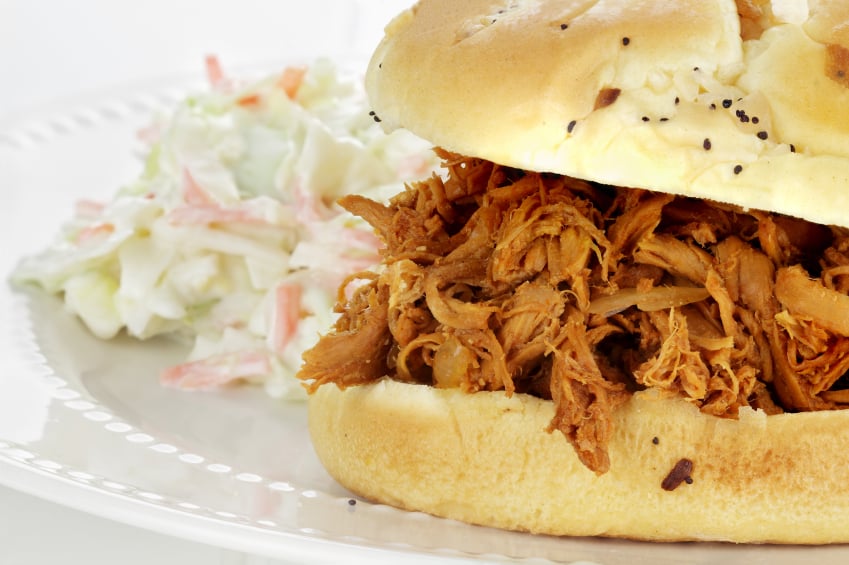 Turn a store-bought rotisserie chicken into a delicious and easy-to-make lunch. This four-ingredient recipe from Real Simple takes just 10 minutes to prepare and is perfect for picnics or lazy days outdoors. Just pack a container with the filling in a cooler and assemble the sandwiches when you're ready to eat.
Ingredients:
1 (3½- to 4-pound) rotisserie chicken, meat shredded (about 5 cups)
1 to 1½ cups barbecue sauce
¼ cup pickled jalapeños, roughly chopped (optional)
4 hamburger buns
Directions: In a bowl, combine the chicken, barbecue sauce, and jalapeños (if using). Divide the mixture evenly among the bottoms of the buns and sandwich with the tops. Serve with potato chips.
5. Sweet Corn and Black Bean Salad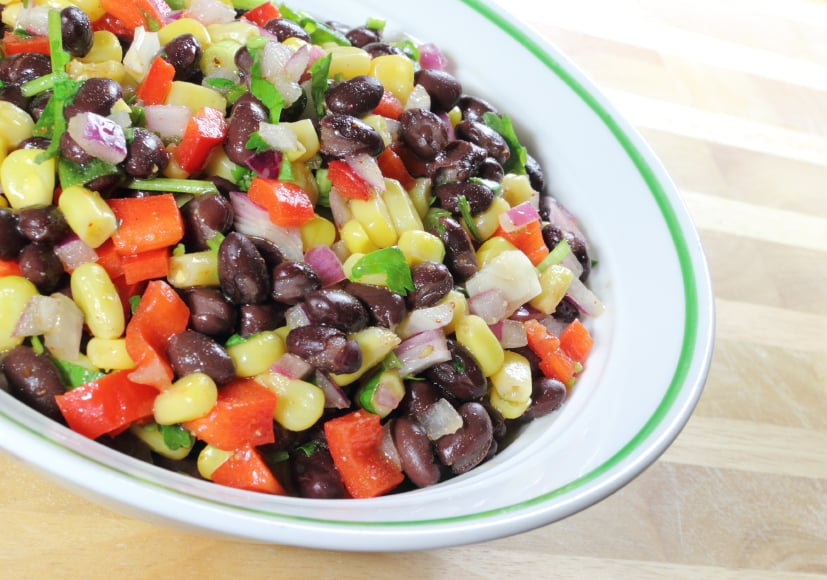 Black bean are an affordable, healthy source of protein in this salad, as canned black beans cost next to nothing. You can enjoy it on its own or serve with chips as a hearty salsa. Fresh corn can be substituted for the frozen corn, though you'll need to boil it first. Recipe from Whole Foods.
Ingredients:
2 cups frozen and thawed corn kernels
½ cup finely chopped red onion
2 tablespoons seasoned rice vinegar
1 tablespoon extra-virgin olive oil
1 tablespoon lime juice
¼ teaspoon sea salt
½ teaspoon ground black pepper
4 cups no-salt-added cooked black beans, rinsed and drained
1 red bell pepper, cored, seeded and chopped
⅓ cup cilantro leaves, finely chopped
Directions: Rinse onions in cold water to remove some of their sharp, acidic flavor; drain well and set aside.
In a large bowl, whisk together vinegar, olive oil, lime juice, salt, and pepper to make a dressing. Add beans, corn, onion, and bell pepper and toss until just incorporated. Cover and chill for about 2 hours. Add cilantro and toss again before serving.
6. Mediterranean Tuna Antipasto Salad for Two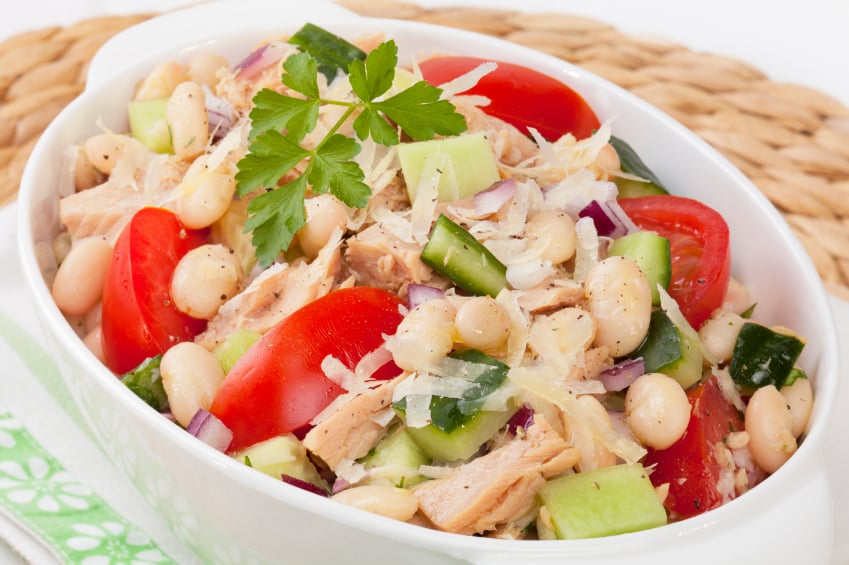 A combination of tuna and your choice of beans makes for a filling, budget-friendly salad. This recipe from Eating Well contains 22 grams of protein, 160% of the recommended daily value for vitamin C, and a generous dose of potassium and iron.
Ingredients:
1 (7-ounce) can beans, such as chickpeas, black-eyed peas or kidney beans, rinsed
1 (5- to 6-ounce) can water-packed chunk light tuna, drained and flaked
½ large red bell pepper, finely diced
¼ cup finely chopped red onion
¼ cup chopped fresh parsley, divided
2 teaspoons capers, rinsed
¾ teaspoon finely chopped fresh rosemary
4 tablespoons lemon juice, divided
2 tablespoons extra-virgin olive oil, divided
Freshly ground pepper, to taste
⅛ teaspoon salt
4 cups mixed salad greens
Directions: Combine beans, tuna, bell pepper, onion, parsley, capers, rosemary, 2 tablespoons lemon juice, and 1 tablespoon oil in a medium bowl. Season with pepper. Combine the remaining 2 tablespoons lemon juice, 1 tablespoon oil, and salt in a large bowl. Add salad greens; toss to coat. Divide the greens between 2 plates. Top each with the tuna salad.
7. Picnic in a Glass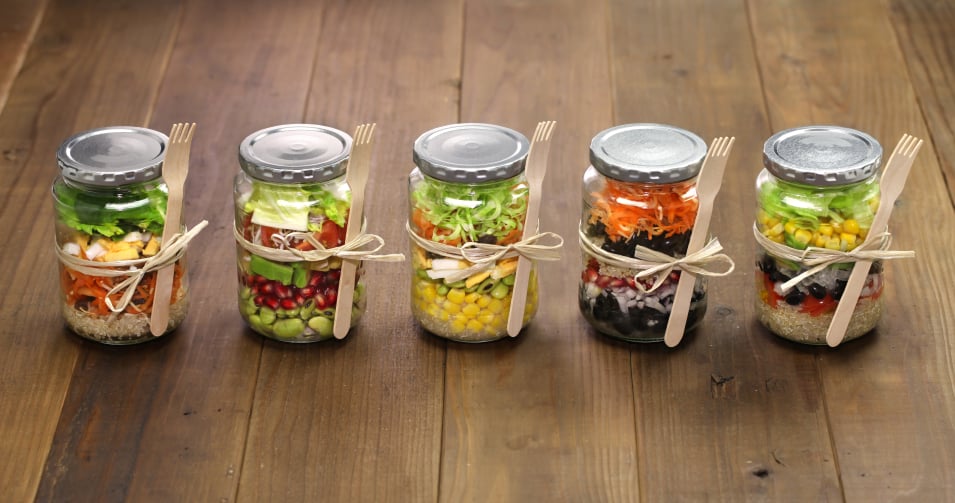 This take on a traditional Middle Eastern salad involves layering the ingredients in a large jar or bowl and letting the flavors meld before serving. Not only will it feed a crowd, but it's a great way to use up leftover roast chicken. If you grow your own herbs, you can keep your grocery list short and save even more. Recipe from Southern Living.
Ingredients:
For salad:
1 (19-ounce) can chickpeas, drained and rinsed
2 tablespoons chopped fresh flat-leaf parsley
2 tablespoons chopped fresh mint
2 tablespoons fresh lemon juice
5 tablespoons olive oil, divided
1 (2 ½- to 3-lb.) deli-roasted chicken, skinned, boned, and shredded
¾ cup chopped radishes
¼ cup finely chopped red onion
1 pint grape tomatoes, halved
1½ cups chopped English cucumbers
Yogurt dressing (recipe below)
3 cups coarsely crushed pita chips
Lemon wedges
For yogurt dressing:
1 cup Greek yogurt
4 ounces feta cheese, finely crumbled
2 tablespoons chopped fresh dill
5 tablespoons buttermilk
2 teaspoons lemon zest
2 tablespoons fresh lemon juice
1 garlic clove, minced
Table salt and black pepper to taste
Directions: To prepare dressing: Stir together yogurt, feta cheese, dill, buttermilk, lemon zest, lemon juice, and garlic. Add table salt and black pepper to taste. Let stand 15 minutes.
To prepare salad: Stir together first 4 ingredients and 2 tablespoons olive oil; stir in shredded chicken. Add table salt and black pepper to taste; let stand 15 minutes.
Meanwhile, stir together radishes, onion, and 1 tablespoon olive oil. Stir together tomatoes and 1 tablespoon olive oil. Stir together cucumbers and remaining 1 tablespoon olive oil. Season each mixture with salt and pepper to taste.
Layer chickpea mixture, radish mixture, ¾ cup yogurt dressing, tomato mixture, pita chips, and cucumber mixture in a 4-quart bowl; top with remaining yogurt dressing. Cover and chill 2 to 4 hours. Serve with lemon wedges and additional pita chips.
Follow Megan on Twitter @MeganE_CS
More from Culture Cheat Sheet: