7 Delicious Side Dishes Helping You Become a Grill Master
Summer is the season of sun, fun, and firing up the grill. In honor of our favorite way to cook when it's hot outside, we're bringing you our Grill Master series where we'll highlight a different food each week. Follow along to learn everything you've ever wanted to know about cooking over open flames.
Most cookouts feature one or two main dishes cooked on the grill while the rest of the meal is composed of lackluster salads. Instead of settling for another bland, mayo-slathered side, use the hot grates to cook up something other than the main attraction. These seven sides are way more exciting than the usual cast of characters thanks to a little bit of time on the grill. Make just one or all of them for a barbecue that will go down in history.
1. Grilled Ratatouille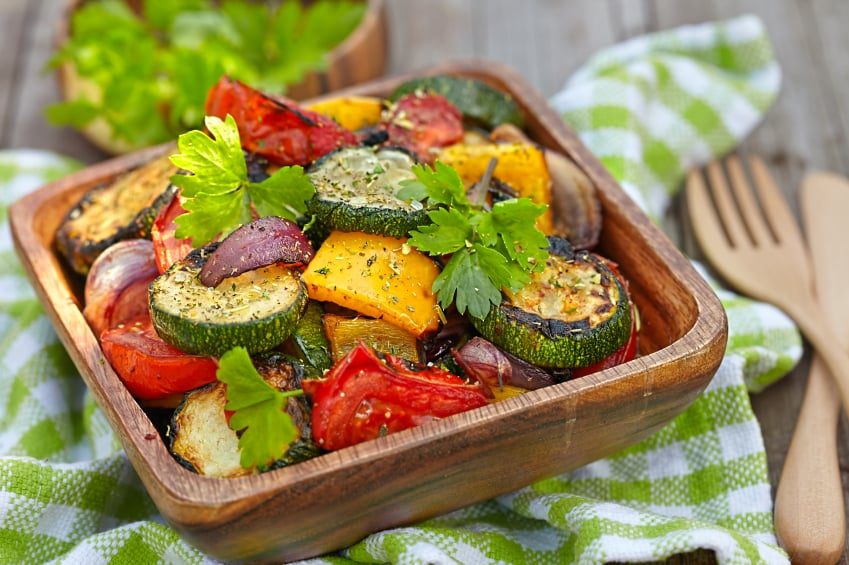 Usually a slowly baked dish, ratatouille might taste even better when it comes from the grill. Bobby Flay's version, featured on Food Network, gets the same deep flavor of the classic in a fraction of the time. Since it tastes just as good at room temperature, this dish is a perfect choice for a lazy weekend barbecue.
This recipe uses Japanese eggplant, a variety that's slim and mildly sweet. If you can't find them, you can substitute globe eggplant with a few minor tweaks. You'll want to peel it first, since the skin can be a bit tough. Then, slice the vegetable into 1½-inch-thick planks before grilling. The rest of the recipe will be exactly the same.
Ingredients:
2 zucchini, quartered lengthwise
2 yellow squash, quartered lengthwise
2 red bell peppers, stemmed, seeded, and, quartered
2 yellow bell peppers, stemmed, seeded, and quartered
2 red onions, quartered
1 pint cherry tomatoes
½ cup, plus 2 tablespoons olive oil
Salt and freshly ground pepper
4 garlic cloves, minced
2 tablespoons finely chopped fresh oregano
¼ cup finely chopped flat-leaf parsley
Directions: Preheat grill to medium-high. Place all cut vegetables and tomatoes in a shallow baking dish, add ½ cup olive oil, and season with salt and pepper. Toss. Place vegetables on grill, and cook 5 to 6 minutes, turning halfway through. Remove tomatoes, cover grill, and cook remaining vegetables until almost cooked through, about 2 minutes. Transfer to a cutting board, and coarsely chop. Place chopped vegetables and tomatoes in a large bowl. Add garlic, oregano, parsley, remaining oil, and season with salt and pepper. Toss, and serve.
2. Grilled Sweet Potatoes with Lime Cilantro Vinaigrette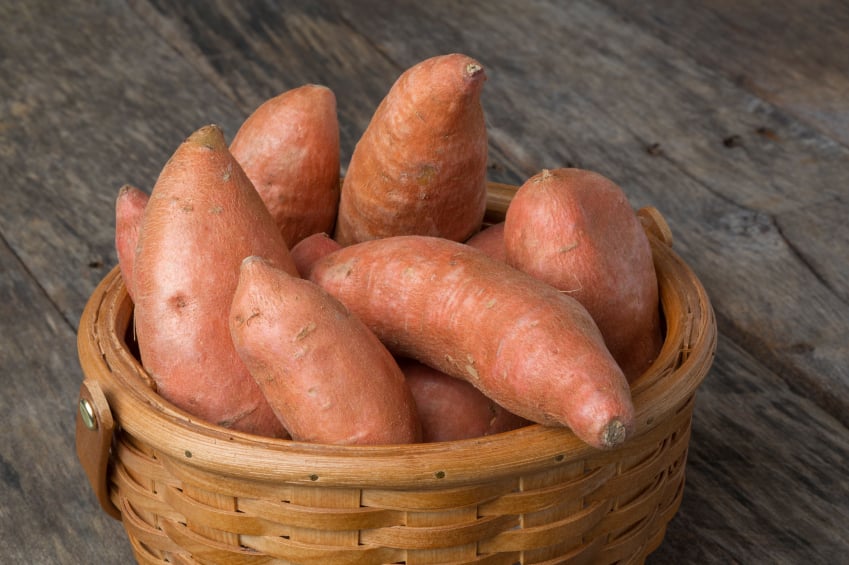 Sweet potatoes usually make an appearance at Thanksgiving, but this recipe from Gourmet via Epicurious shows they're just as stunning during the summer. The sweet flavor gets a little more depth from some time on the grill, and a bright vinaigrette is the perfect finishing touch. Not a cilantro fan? Try using a combination of mint and parsley in the dressing.
Ingredients:
4 pounds sweet potatoes
¼ cup fresh lime juice
1½ teaspoons kosher salt
Pepper
½ cup olive oil
¼ cup chopped fresh cilantro
Directions: In a large pot, cover sweet potatoes with cold, salted water. Bring to a boil, then reduce to a simmer. Cook until potatoes are slightly resistant when pierced with a sharp knife, 25 to 30 minutes. Transfer to a large bowl of cold water to cool, and drain. When cooled, peel potatoes, and quarter lengthwise.
Preheat grill to high heat. Whisk lime juice, salt, and pepper to combine. Slowly whisk in oil, then add cilantro.
Grill potatoes in two or three batches, turning, until grill marks appear and potatoes are just tender, 3 to 6 minutes. Serve potatoes drizzled with dressing.
3. Grilled Polenta and Radicchio with Balsamic Drizzle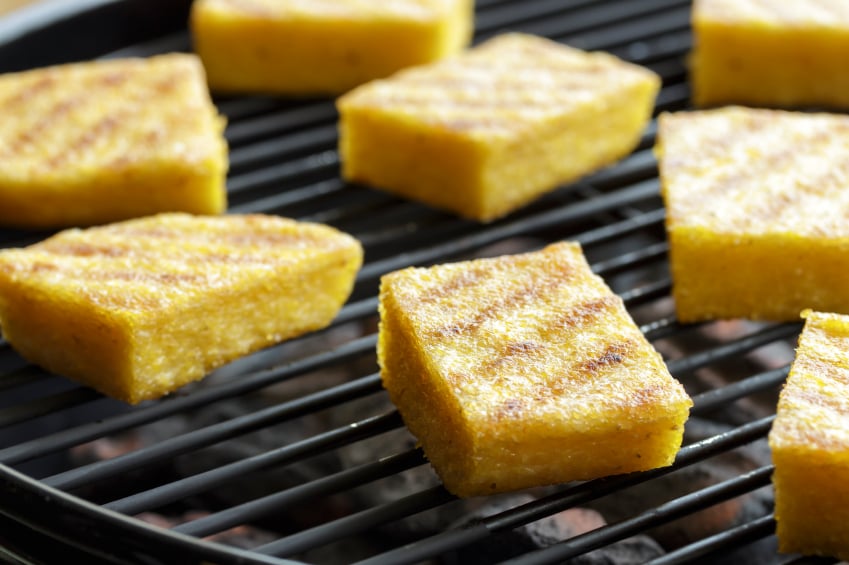 Most cookouts are brimming with pasta and potato salads, so this sweet and savory polenta from Food & Wine is a welcome way to shake things up. While making polenta usually takes a long time, this dish uses the instant kind to speed things along. After about 10 minutes, it'll be fully cooked. But heads up, it needs to chill for 2 hours before you can slice.
If you're really in a time crunch, you can opt for precooked polenta logs at the grocery store. All you have to do is slice, then grill. No matter what type of polenta you use, the bitter radicchio and sweet balsamic will make it sing.
Ingredients:
2 cups water
2 cups milk
2 garlic cloves, smashed
1 rosemary sprig
1 thyme sprig
1 cup instant polenta
Salt and freshly ground pepper
1 cup balsamic vinegar
2 medium heads radicchio, cut into 1-inch-thick wedges, core intact
Extra-virgin olive oil
Directions: Lightly oil a 9-inch square baking dish. In a medium saucepan, combine water, milk, garlic, and herbs. Bring to a boil. Remove from heat, and let steep 10 minutes.
Discard garlic and herbs, then return mixture to a boil. Gradually whisk in polenta, and simmer over low heat, whisking often, until thick and no longer gritty, about 10 minutes. Season with salt and pepper, to taste. Pour polenta into prepared dish. Let cool, then cover, and refrigerate at least 2 hours.
In a small saucepan, boil balsamic vinegar over medium-high heat until reduced to ¼ cup, about 15 minutes. Let cool.
Light a grill. Drizzle radicchio wedges with oil, and season with salt and pepper. Grill radicchio over moderately high heat until lightly charred and just tender, about 3 minutes per side. Clean grill with brush.
Unmold polenta, and cut into 8 squares. Brush polenta squares with oil, and grill until charred and bottom easily releases, about 4 minutes. Flip, and grill 4 mintues longer. Arrange polenta and radicchio on plates. Drizzle with balsamic, and serve.
4. Mexican Street Corn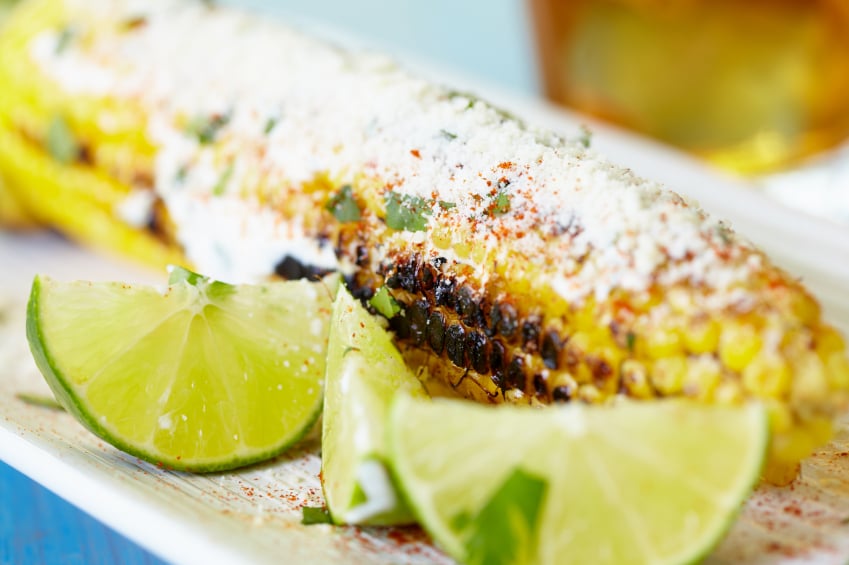 With eats like tacos al pastor and ceviche, it's no wonder Mexico City, Mexico, was named one of Forbes' top 10 destinations for street food. Though everything is delicious, the corn with chili, lime, and cotija cheese might be the best snack of them all. Bring the south-of-the-border taste to your kitchen with Serious Eats' delectable recipe. You'll never want to go back to a simple, buttered cob.
Ingredients:
¼ cup mayonnaise
¼ cup sour cream
½ cup finely crumbled cotija cheese, plus more
½ teaspoon ancho chili powder, plus more
1 medium garlic clove, minced
¼ cup finely chopped cilantro
4 ears shucked corn
1 lime, cut into wedges
Directions: Light one chimney filled with charcoal. When covered with gray ash, pour over half of grill. If using a gas grill, set half of burners to high heat. Set grate in place, and let preheat 5 minutes. Clean and oil grate.
Combine mayonnaise, sour cream, cheese, chili powder, garlic, and cilantro in a large bowl. Stir to combine.
Cook corn over hot side of grill, and cook, rotating occasionally, until cooked through and charred in spots, about 8 minutes.
Transfer corn to mayonnaise mixture, and toss with a large spoon to evenly coat. Sprinkle cobs with extra cheese and chili powder. Serve with lime wedges.
5. Grilled Peach and Avocado Salad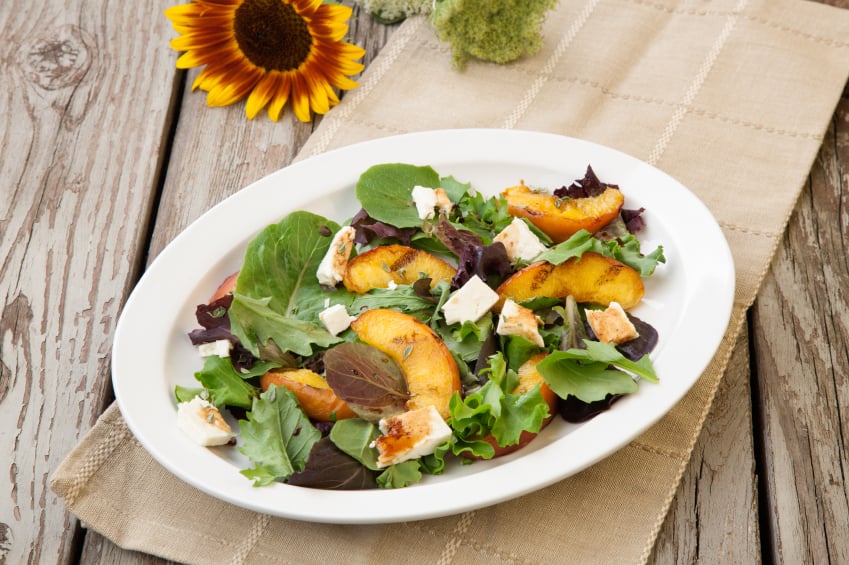 You've probably seen plenty of desserts starring grilled fruit, but that sweet produce is just as delicious in some savory sides. We like Southern Living's Grilled Peach and Avocado Salad. The combination of juicy fruit, creamy avocado, and peppery arugula makes this one side everyone will love.
Don't worry if your peaches aren't perfectly ripe, because the grill will soften the flesh and bring out the sweetness. And feel free to substitute any of your other favorite stone fruits. For a really fancy finish, top the salad with some chopped pistachios or pecans.
Ingredients:
1 large peach, peeled, pitted, and chopped
7 tablespoons canola oil, divided
2 tablespoons Champagne vinegar
½ teaspoon honey
¼ teaspoon kosher salt, plus more
⅛ teaspoon freshly ground pepper, plus more
3 large peaches, peeled, and halved
2 firm avocados, peeled, pitted, and quartered
½ cup grated Manchego cheese
Directions: Preheat grill to medium-high heat. Process peeled peach, 6 tablespoons oil, vineagar, and honey in a blender until smooth. Add ¼ teaspoon salt and pepper. Gently toss halved peaches and avocados with 1 tablespoon oil, salt, and pepper. Grill, covered, until charred, about 2 minutes per side. Slice, and serve over arugula. Top with peach dressing and cheese.
6. Grilled Garlic Bread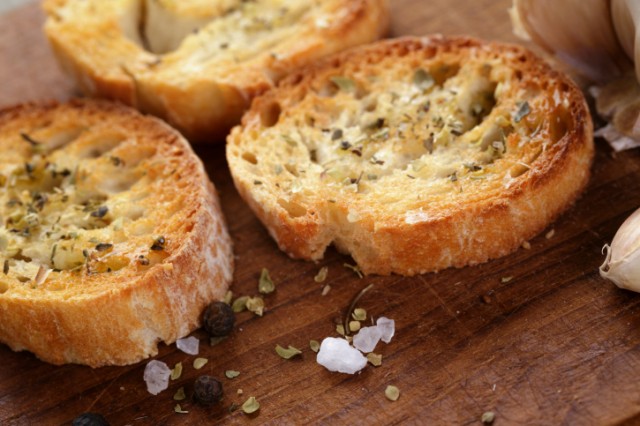 Garlic bread is a winter favorite, usually appearing alongside a bowl of pasta. Introduce it to summer with Fine Cooking's easy grilled version. You don't need anything more than a quality loaf, a few garlic cloves, olive oil, and salt for a simple and delicious side. You can also dress it up with a sprinkle of herbs or use it as a base for bruschetta.
Ingredients:
8 (¾- to 1-inch-thick ) slices crusty bread
¼ cup extra-virgin olive oil
1 to 2 garlic cloves, peeled, and halved
Sea salt
Directions: Preheat grill to medium-low. Brush both sides of bread slices with oil, and grill, covered, turning once, until golden on both sides, 1 to 3 minutes per side. While bread is still hot, rub one side with cut sides of garlic. Sprinkle bread with salt, and serve.
7. Minty Grilled Snap Peas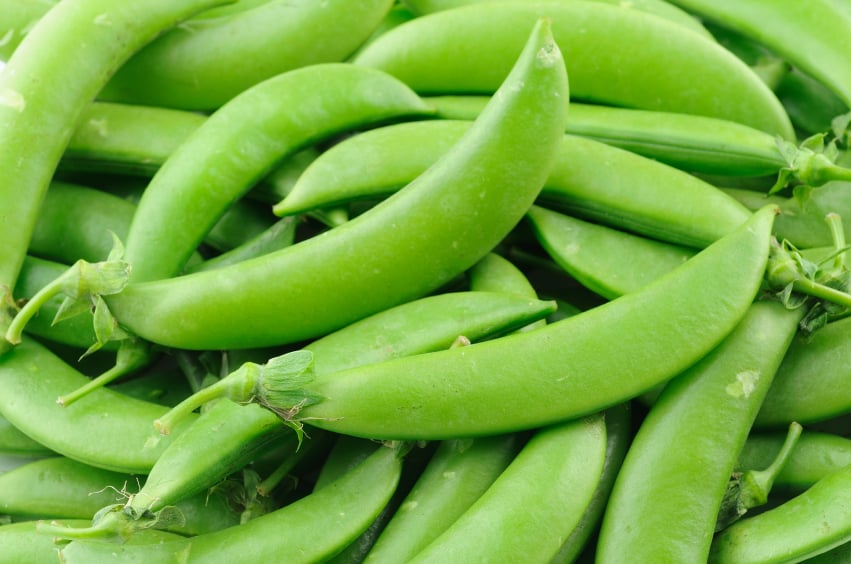 Move over asparagus, because there's a new veggie ready to shine on the grates. The Wimpy Vegetarian's grilled snap peas take on tons of flavor when they get a bit of char, and they couldn't be any easier. Just toss the peas with oil and salt, cook with a grill basket, then toss with some sliced mint. Say hello to your new favorite vegetable dish.
Ingredients:
2 cups snap peas, trimmed
1 tablespoon peanut oil
½ teaspoon kosher salt
¼ cup mint leaves, sliced into slivers
Directions: Preheat a grill to high heat. Toss peas with oil and salt. Using a grill basket, cook peas, with lid closed, until darkened in spots, about 5 minutes. Flip peas with spatula, and cook until second side is darkened.
Remove from grill, and place in a bowl. Toss with mint. Serve.
More from Culture Cheat Sheet:
Want more great content like this? Sign up here to receive the best of Cheat Sheet delivered daily. No spam; just tailored content straight to your inbox.