7 Dessert Cocktail Recipes to Make This Winter
Winter is officially here, and it's time to warm ourselves with a liquid blanket for dessert. With the winter woes and lack of sunlight, some people need a cocktail more than ever, and luckily, there are many recipes ready to deliver on that front. Out go the fruity drinks of summer, and in come the heavier, creamy ones. Whatever your spirit of choice may be, you'll find a winter cocktail on this list that calls to you. After dinner, treat yourself and warm up to winter with one of these, and it'll be spring again in no time.
1. Toblerone Cocktail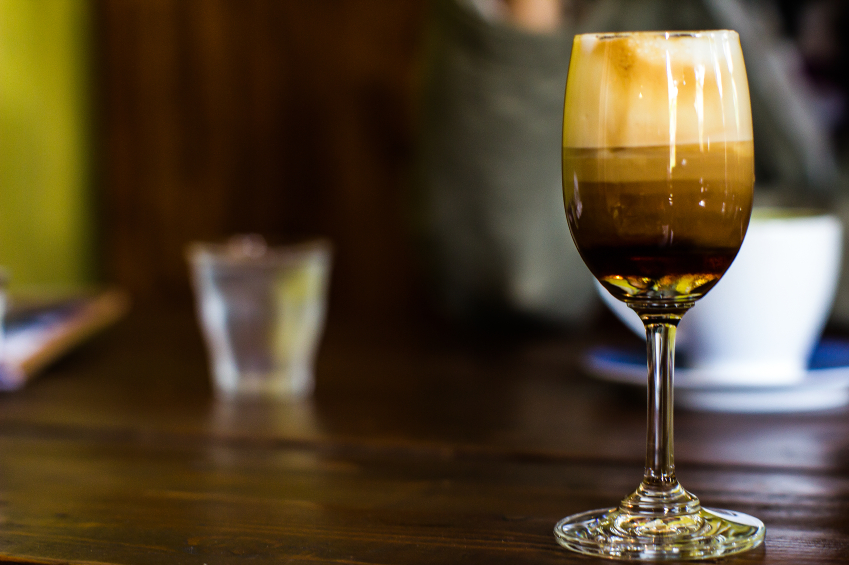 The star ingredient for our first drink from My Best Cocktail is Baileys Irish Cream. The Irish whiskey and cream-based liqueur lends a certain sweetness and creaminess to every cocktail or drink it stars in, and it warms you from the inside out. In the case of the Toblerone Cocktail, the Irish cream pairs with Kahlúa, Frangelico, cacao cream, and chocolate syrup to yield an especially sweet drink. The extra addition of ice cream also helps up its appeal to drinkers' sweet teeth.
Ingredients:
½ ounce Kahlúa
½ ounce Frangelico
½ ounce Baileys Irish Cream
½ ounce cacao cream
2 dashes chocolate syrup
3 scoops ice cream (vanilla)
Directions: Add Baileys, Kahlúa, Frangelico, and crème de cacao in a blender. Add 2 to 3 spoons of ice cream. Blend until smooth. Pour into a large cocktail glass. Garnish with chocolate syrup and chocolate powder.
2. Winter Old Fashioned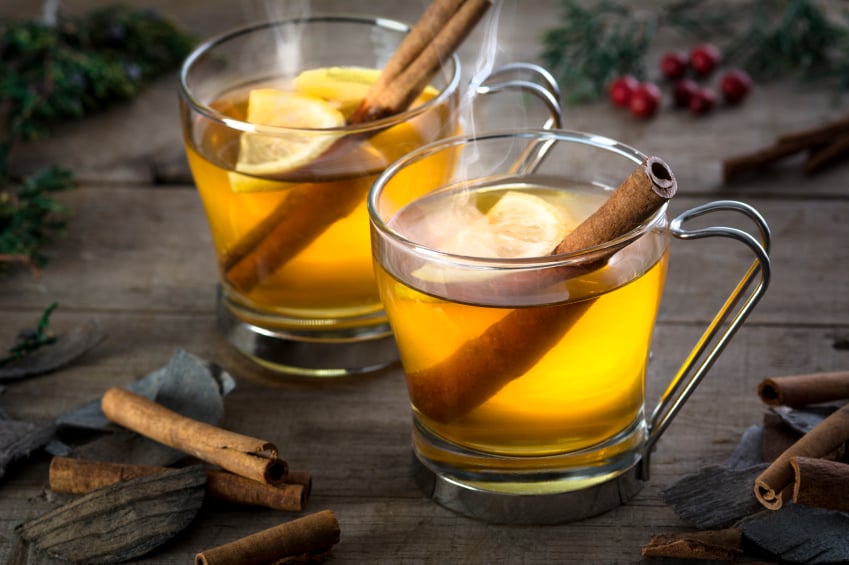 Give your favorite Old Fashioned a spin with a spike of spice. This recipe from Spoon Fork Bacon for a winter Old Fashioned serves up your traditional drink with a kick that comes from the addition of cardamom, star anise, and a cinnamon stick. The sweet bourbon will warm your soul, and the spicy drink doesn't even require that you walk out in the cold. Make this drink from the comfort of your own heated home.
Ingredients:
1 cup sugar
1 cup water
3 cardamom pods
1 star anise
1 cinnamon stick
12 ounces sweet bourbon (or whiskey)
1 orange, cut into 8 wedges
8 maraschino cherries
Optional garnish: 4 cinnamon sticks
Directions: Place first five ingredients into a saucepan and simmer over medium heat until the sugar dissolves.
Bring the mixture to a boil then cover and remove from heat. Allow the mixture to steep for 30 minutes. Strain the spices from the simple syrup. Allow the mixture to cool completely before placing in the fridge for an hour to chill.
Divide an orange wedge and two cherries into each four glasses and muddle together. Place the chilled syrup, bourbon, and ice into a large shaker and shake until well combined. Divide the mixture into each glass and top with an extra orange wedge, squeezing the wedge before dropping into the glass. Garnish each glass with a cinnamon stick, if using, and serve.
3. Modern Royale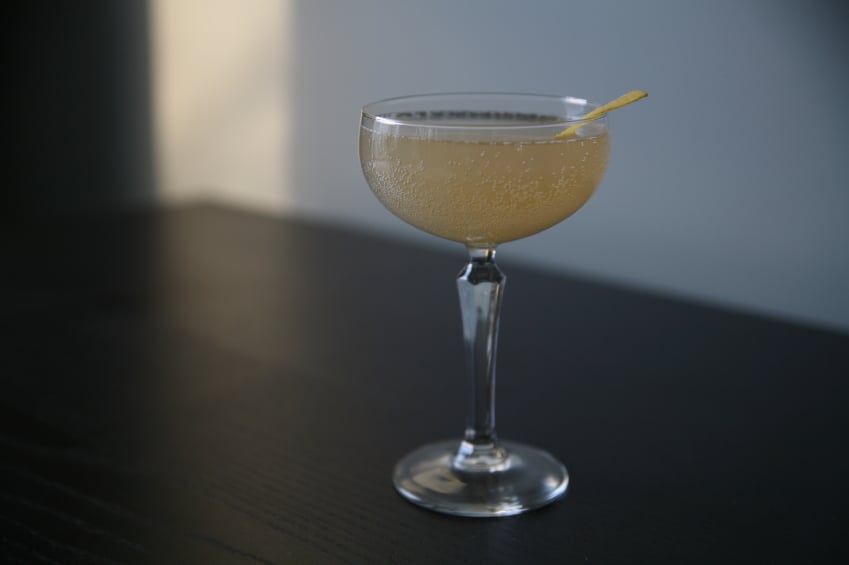 Many make the mistake of believing nothing is in season in the winter, but they're wrong. Winter citrus is in all its glory during the coldest months of the year, and it's high time we take advantage. Enlist the citrus in drinks such as this Modern Royale featured on Saveur. Fresh grapefruit, lemon, and lime juice are the stars of the show as they pair with vodka and elderflower liqueur, and a splash of champagne perfectly finishes the cocktail off.
Ingredients:
1 ounce vodka
1 ounce elderflower liqueur, preferably St. Germain
¼ ounce fresh grapefruit juice
¼ ounce fresh lemon juice
¼ ounce fresh lime juice
1 ounce brut champagne or sparkling wine
Directions: Combine all ingredients except champagne in an ice-filled shaker. Shake vigorously and strain into a chilled coupe glass. Top with champagne and serve.
4. Frostbite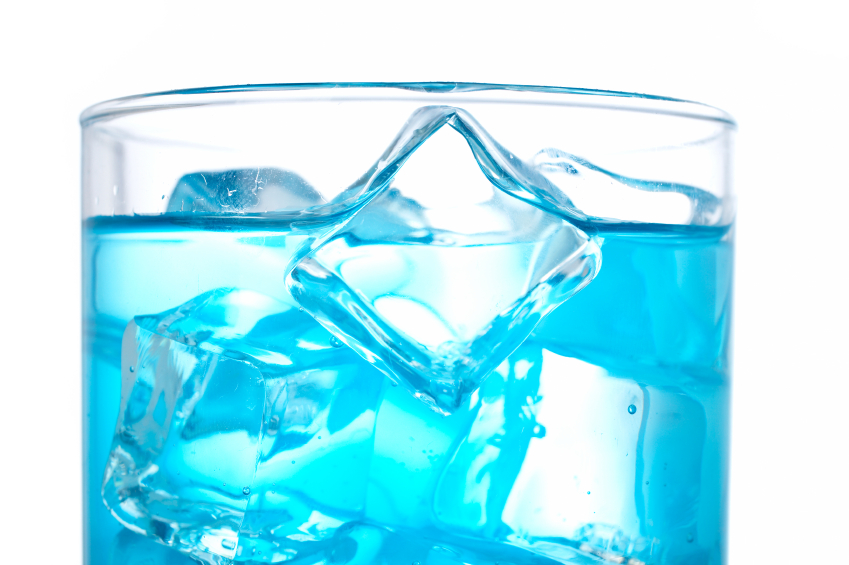 Cure a case of frostbite with a drink that gets its name from it. Midnight Mixologist has a formula for a Frostbite that enlists tequila, blue curacao, white creme de cacao, and half-and-half. The creamy, dreamy drink is the best way to enjoy tequila in the winter, and whether you serve the Frostbite in a cocktail glass or over ice, you'll find yourself unexpectedly warming up with the welcomed liquid blanket.
Ingredients:
2 ounces tequila
1 ounce blue curacao
½ ounce white creme de cacao
2 ounces half-and-half
Directions: In a shaker, pour all ingredients and shake well until cold. Serve in a cocktail glass or over rocks in a chilled highball glass. Garnish with a cherry.

5. The Blizzard Cocktail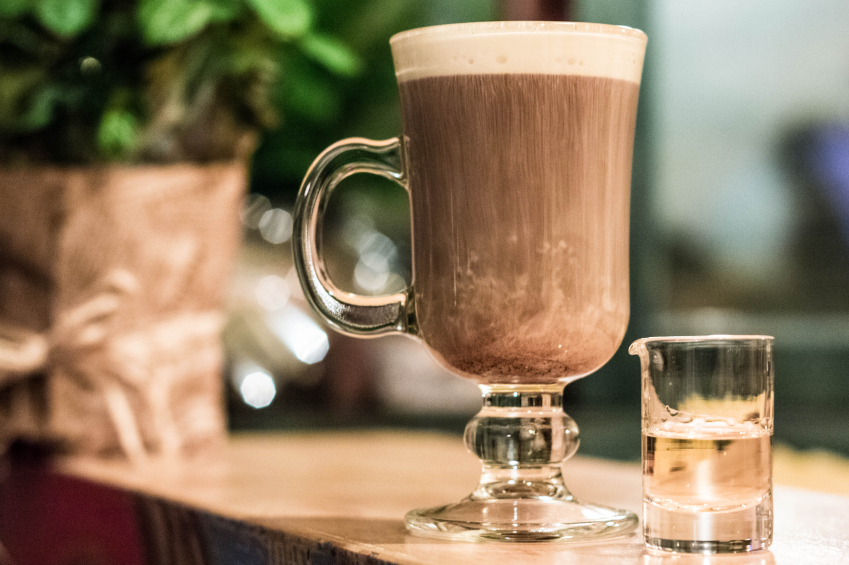 Martha Stewart can also cure your case of the winter blues via this recipe for The Blizzard Cocktail. Once again, the drink gets its names from the conditions outside, but it promises to cure your case of the winter blues with a combination of Irish whiskey, hazelnut liqueur, Irish cream liqueur, and hot coffee. This recipe serves 1 but should be multiplied to accomodate as many guests as you're having over. Enjoy this heavy drink now while everyone is dressing in layers.
Ingredients:
1½ ounces Irish whiskey or rum
½ ounce hazelnut liqueur, such as Frangelico
½ ounce Irish cream liqueur, such as Bailey's
Hot coffee
Dollop of Grand Marnier whipped cream
Directions: In a glass coffee mug, stir together whiskey, hazelnut liqueur, and Irish cream; top with coffee. Garnish cocktail with whipped cream and serve immediately.
6. Hot Ginger Toddy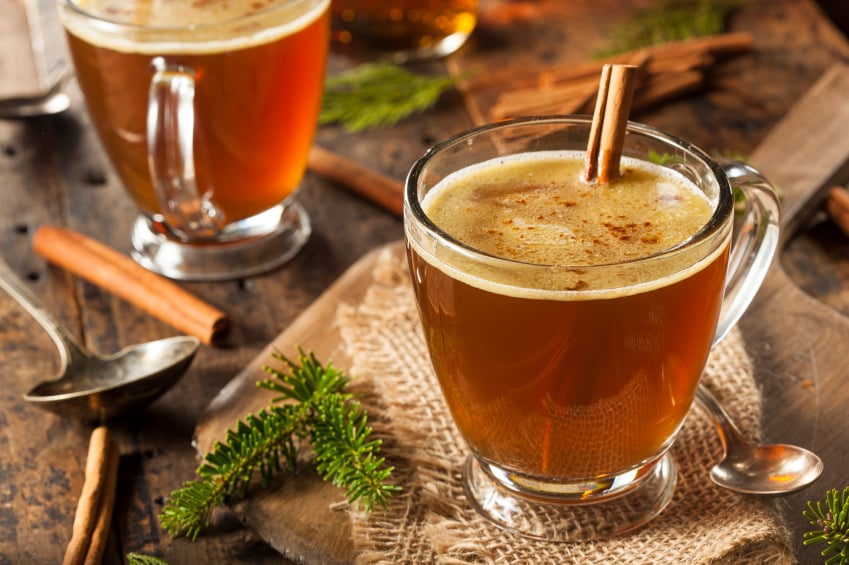 A Hot Ginger Toddy is the perfect winter cocktail as it'll not only warm you up but it may also clear you out. The rich ginger syrup employed in this recipe featured on Food Network is homemade with lemon, fresh ginger, sugar, and water. That ginger syrup will get combined with honey, bourbon, and lemon juice to yield a unique spin on the classic Hot Toddy that is ideal for winter.
Ingredients:
2 to 3 ounces bourbon, top shelf preferred
1 ounce honey
½ ounce ginger syrup, recipe follows
½ ounce freshly squeezed lemon juice
Ginger syrup
1 lemon
2 cups coarsely chopped fresh ginger with peel, about 8 ounces
1 cup sugar
2 cups water
Directions: Warm the whiskey, honey, ginger syrup, and lemon juice in a small saucepan until honey dissolves and the drink is hot, but not boiling. Pour into a large snifter or mug. Serve.
For ginger syrup: Remove the outer peel of the lemon with a vegetable peeler, taking care not to include too much of the bitter white pith. Finely chop the lemon peel and ginger in a food processor.
Transfer the lemon-ginger mixture to a medium saucepan, add the sugar and water, and bring to a boil. Reduce heat, and simmer, partially covered, for 15 minutes. Strain the mixture and cool. Cover and refrigerate for up to a week.
7. Winter Spice Negroni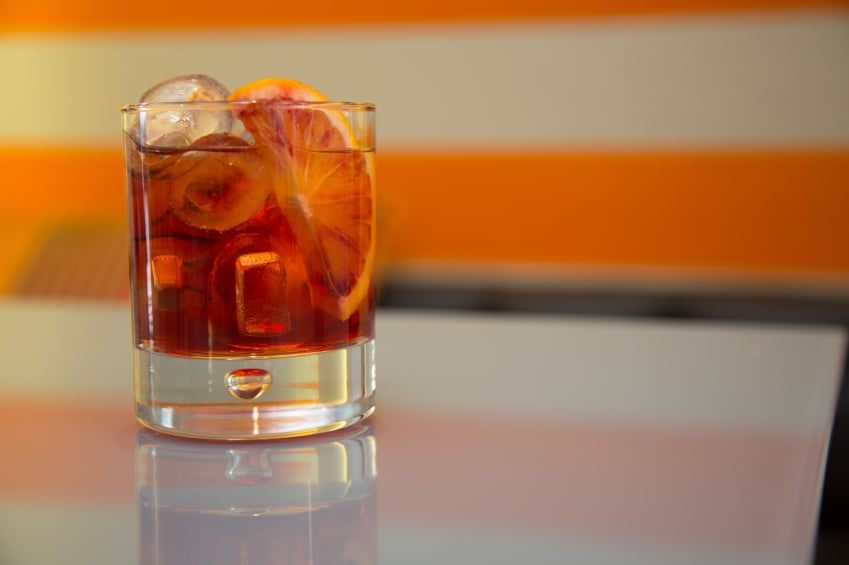 Last but not least: This Negroni is warm, spicy, and smooth for the coldest months of the year. Enter: the winter spice Negroni from Little Sugar Snaps. The festive spices and charred orange in the classic drink give it a kick, and it's something you can sip with friends or enjoy alone from the comfort of your own home. Make your spiced gin, and then combine it with red vermouth and Campari over ice. Serve with charred orange segments.
Ingredients:
Spiced gin
500 milliliters gin
1 star anise
2 cloves nutmeg
2 cinnamon sticks (each approximately 7.5 centimeters/3 inches in length)
15 cloves
Winter spice Negroni
30 milliliters (1 fluid ounce) spiced gin
60 milliliters (2 fluid ounces) red vermouth
60 milliliters (2 fluid ounces) Campari
2 chunky segments of orange
Sunflower oil (or other tasteles oil)
Directions: Roughly smash up the spices using either a pestle and mortar or the end of a rolling pin. Put the spices into a dry frying pan and heat gently for 1 to 2 minutes to release their aromas. Tip the spices into a large screwcap jar, pour over the gin, and seal. Store for 5 days giving the jar a gentle shake every day or so. After 5 days, strain the gin through a muslin cloth to remove the spices. Store the strained gin in a glass bottle for up to 3 months.
To make the Negroni: Put an un-oiled frying pan over a high heat while you brush the orange segments lightly with the oil. Place both segments flesh side down in the pan and cook for 1 to 2 minutes until beginning to char. Flip over and cook the other side in the same way. Remove from the pan to cool.
Put a few ice cubes into your glass, add one of the charred orange wedges, and top with a little more ice. Pour the gin, red vermouth, and Campari over the ice. Stir briefly. Add the remaining orange segment and serve immediately.
More from Culture Cheat Sheet: